San-A Urasoe West Coast Parco City opened in June 2019 as a new hot spot in Okinawa! It hosts a wide variety of shops, including fashion, cosmetics, souvenirs, and miscellaneous goods. You can enjoy all sorts of food, too, including sushi, yakiniku, ramen, and other Japanese foods. I went to check out this three-story shopping mall with a total of 250 shops, 94 of which are new to Okinawa. Allow me to introduce some of my favorite shops and restaurants.
Design-focused! Fashion and everyday items for stylish women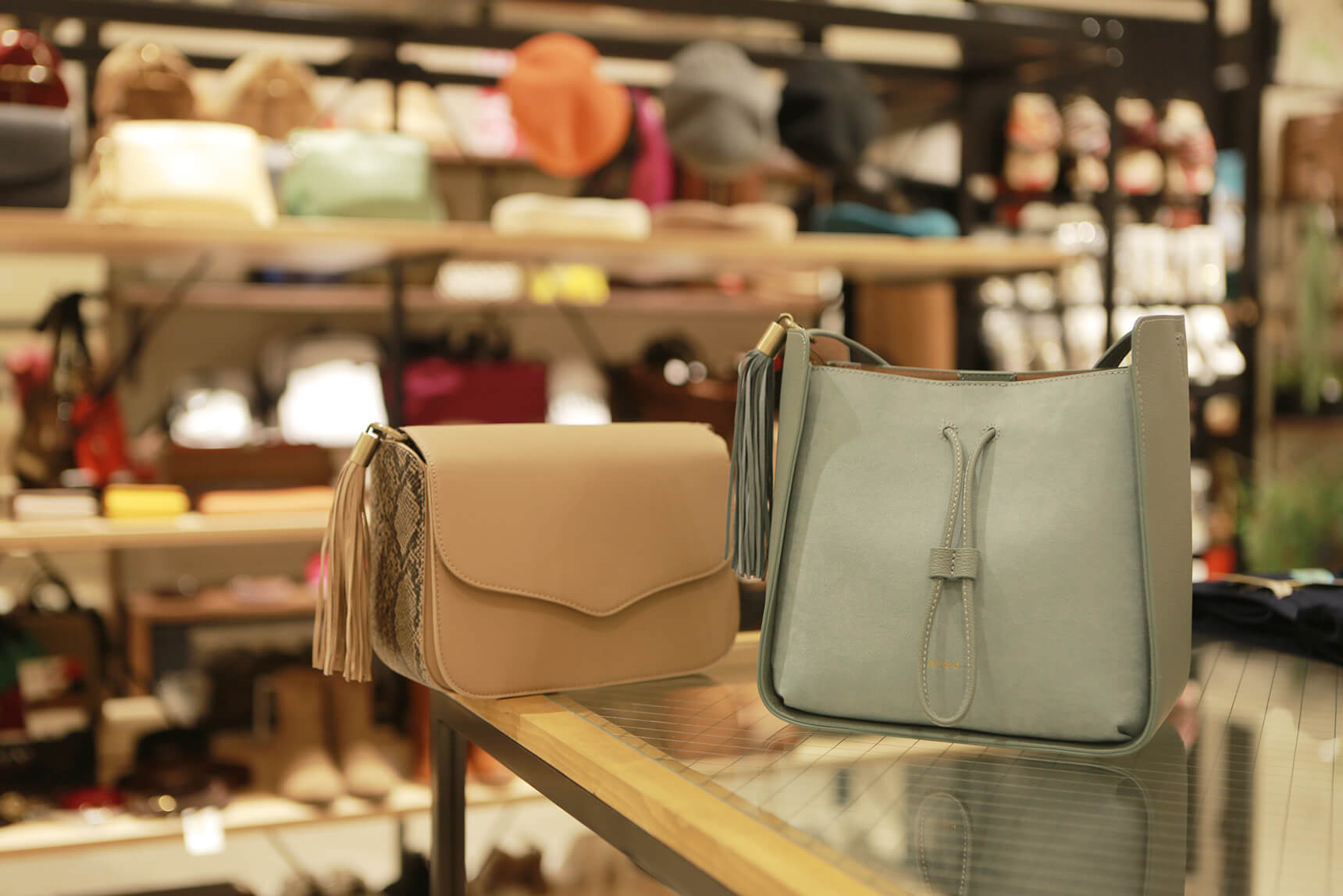 (2nd floor – Orange Zone)
Nico and … is a Japanese fashion brand I recommend to stylish women; its target audience is women in their 20s, 30s, and 40s. Their clothes, shoes, and purses are made with quality materials that give them a vintage feel. The shop also carries zakka (everyday objects)—you'll find a wide variety of items!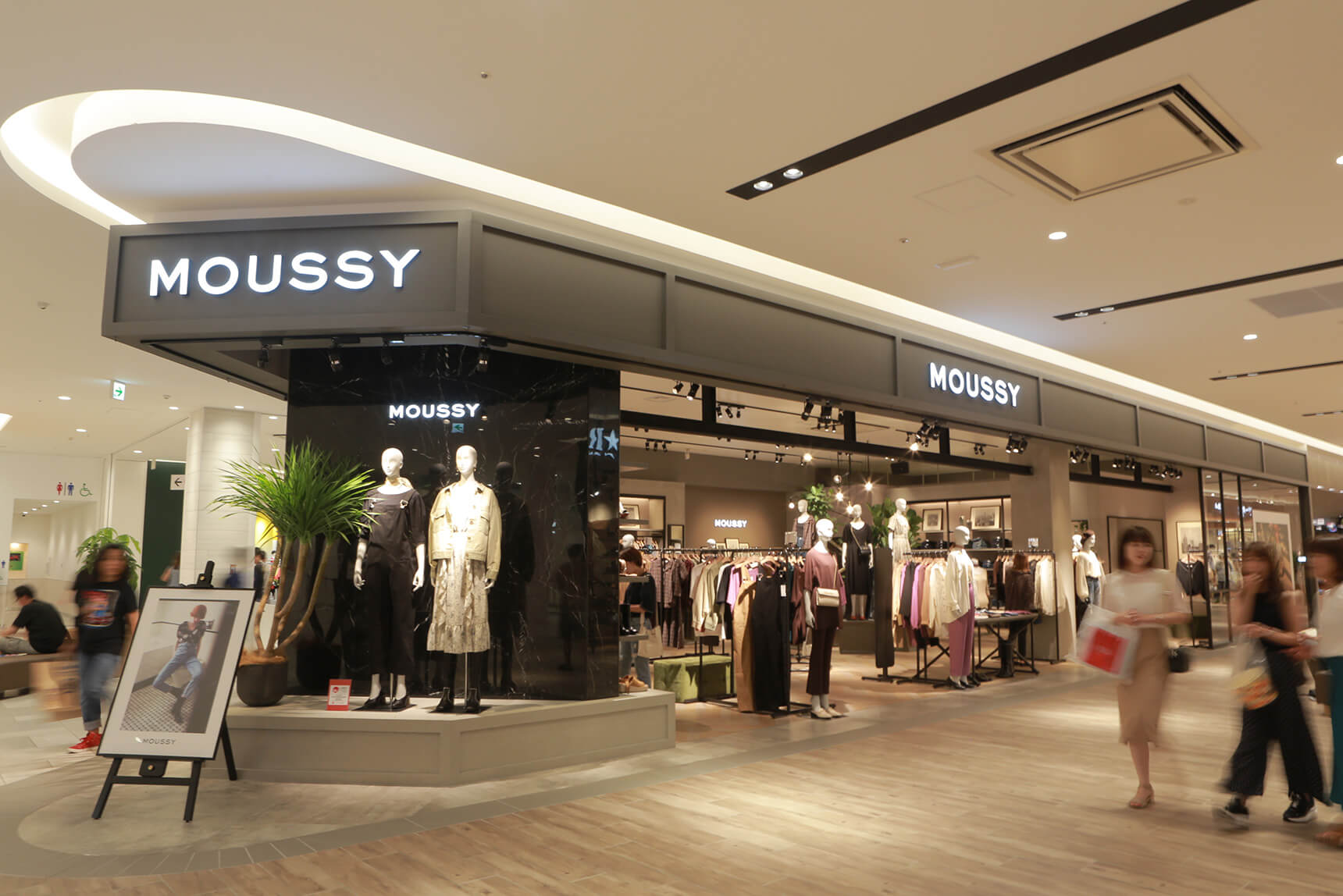 (2nd floor – Green Zone)
MOUSSY is another shop on the second floor with an urban style—their clothes bring out the inner strength and beauty of women, making them extra attractive.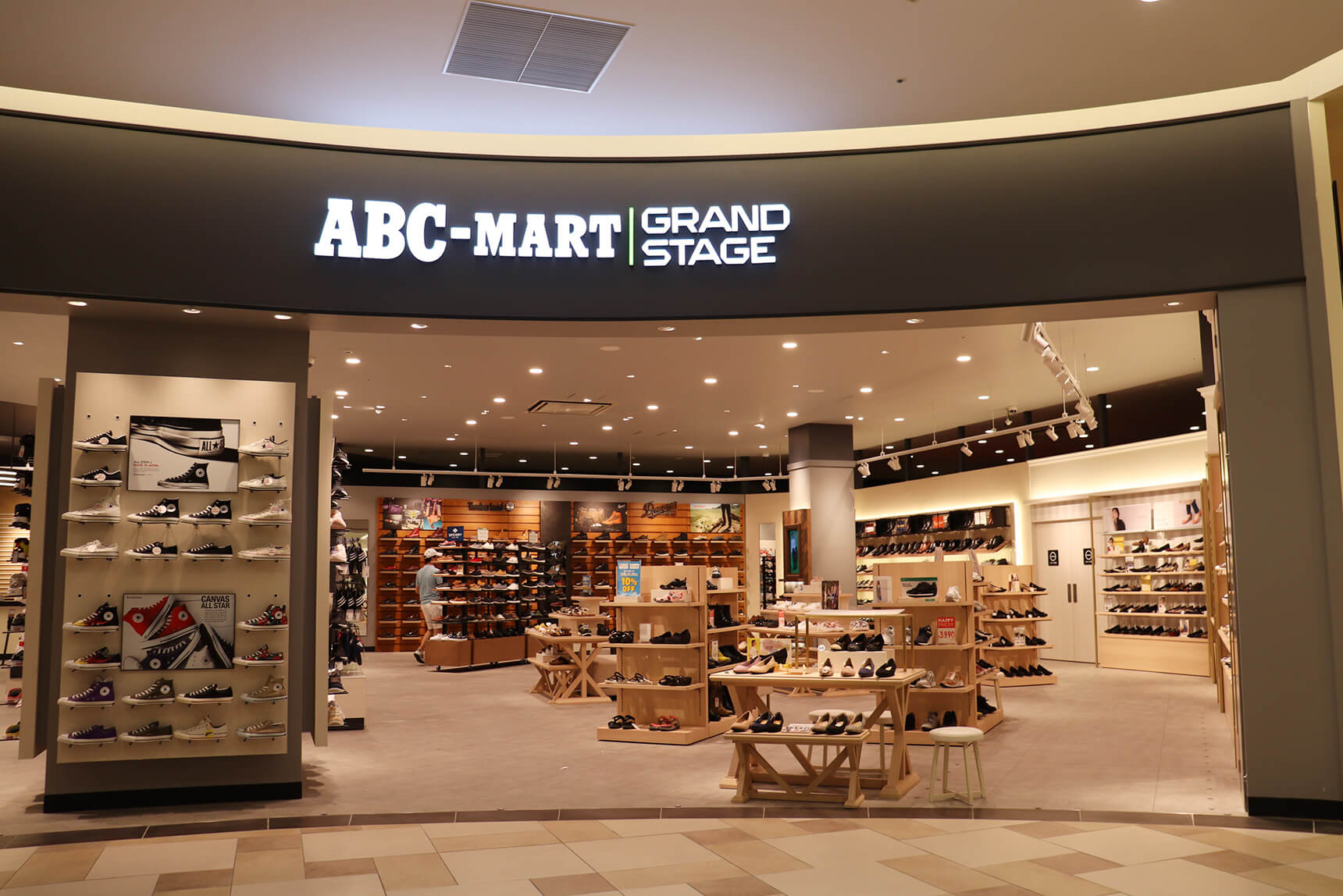 (3rd floor – Blue Zone)
ABC-MART GRANDSTAGE is a large-scale shop where customers find not only shoes but also various fashion inspiration and lifestyles. It carries a vast majority of top-quality footwear and apparel product lines by brands like NIKE and adidas. You'll also have access to many products that are not available at regular ABC-MARTs. Definitely stop by if you're into athletic fashion!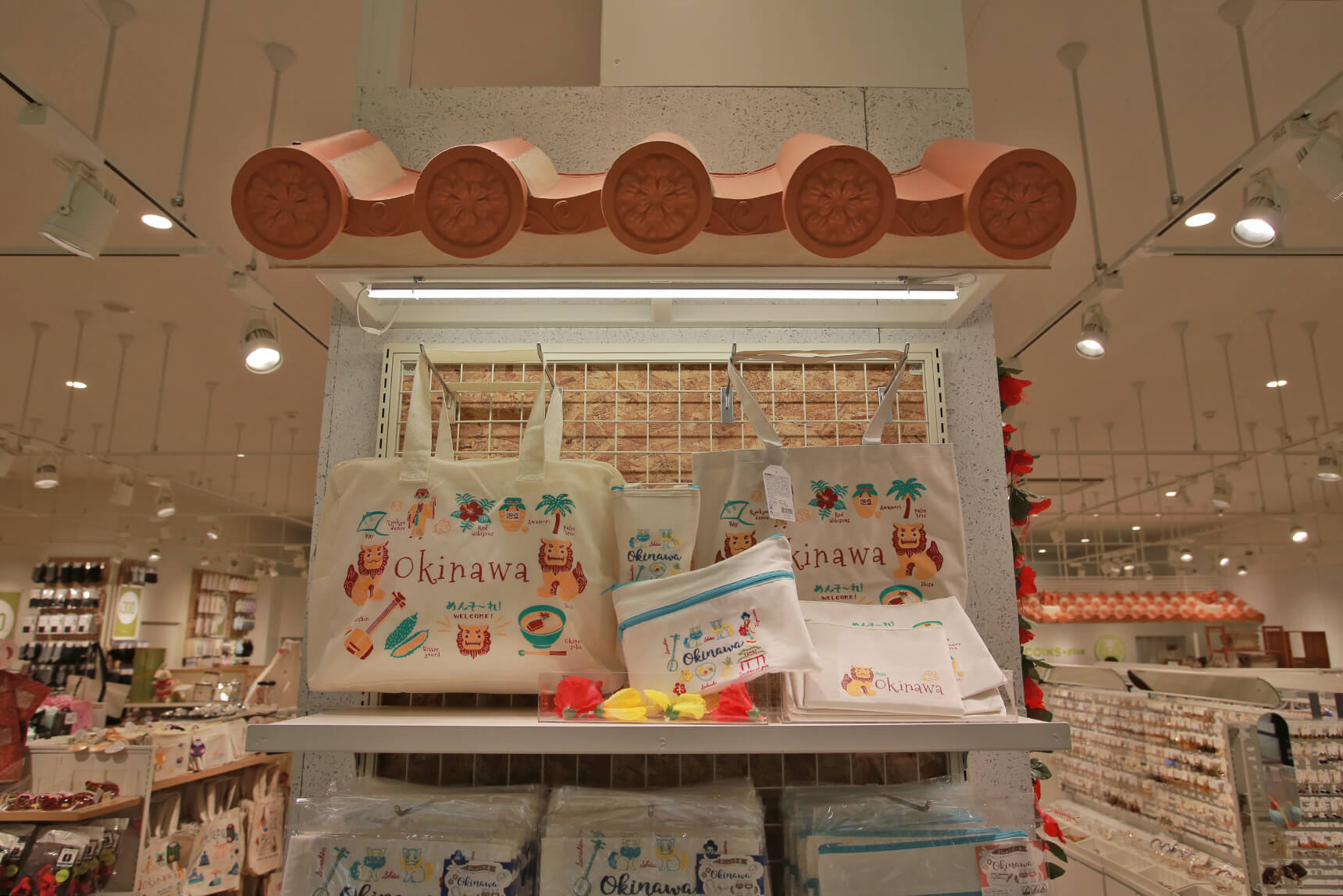 (1st floor – Green Zone)
3COINS +plus is a casual but stylish zakka (everyday items) shop. You'll find kitchen items, decorative items, socks, accessories, and many others for around 300 yen. The tote bag only available in Okinawa is the store clerks' top-recommended item; it's perfect as a souvenir or as a gift for yourself.
Must-visit shops for families with kids!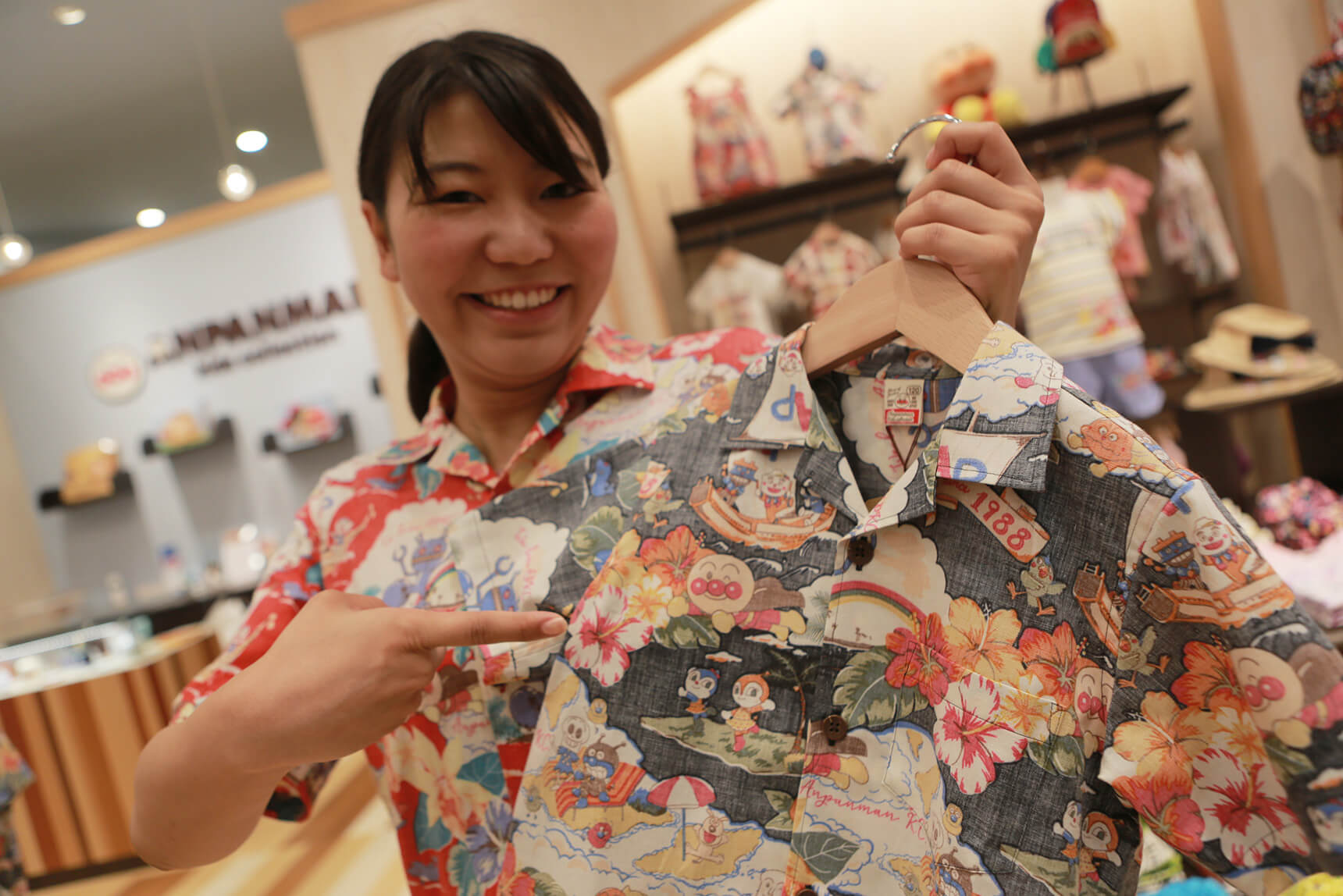 (3F – Green Zone)
Definitely check out the following four shops if you have kids! Anpanman Kids Collection, a kids' clothing brand, commemorates its first shop in Okinawa with an Okinawa-limited Anpanman Aloha Shirt! This shirt, limited to Parco City, is made in Japan and boasts both design and comfort. It's available in kid and adult sizes, so get it as matching family shirt!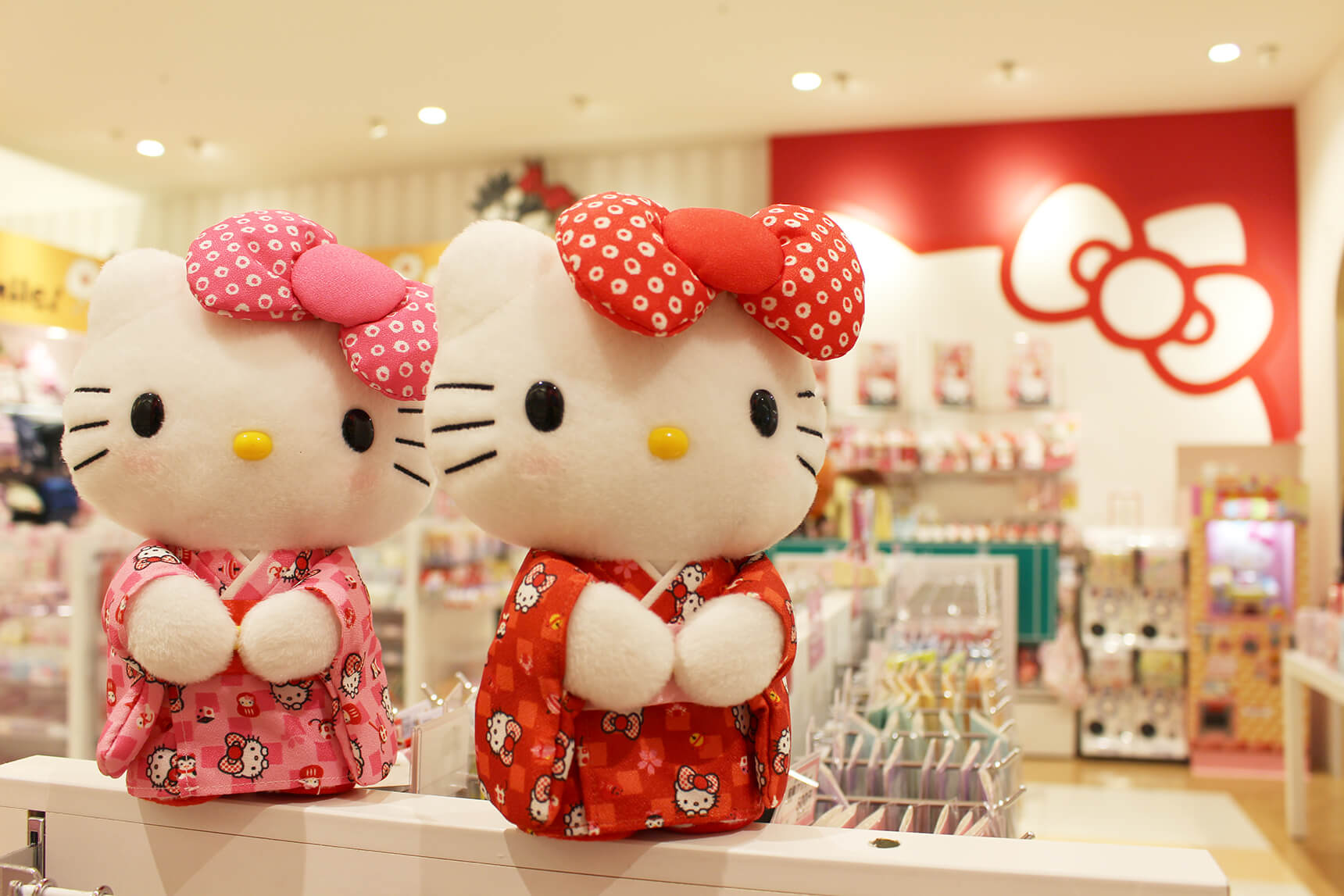 (3rd floor – Green Zone)
Your excitement won't stop once you enter "Sanrio Gift Gate", with a sight of Hello Kitty straps, soft toys and other cute items all lined up in front of you! There is also a lucky draw that you can purchase to enjoy with your children, and every lucky draw will come with a gift of Sanrio character. Double the excitement!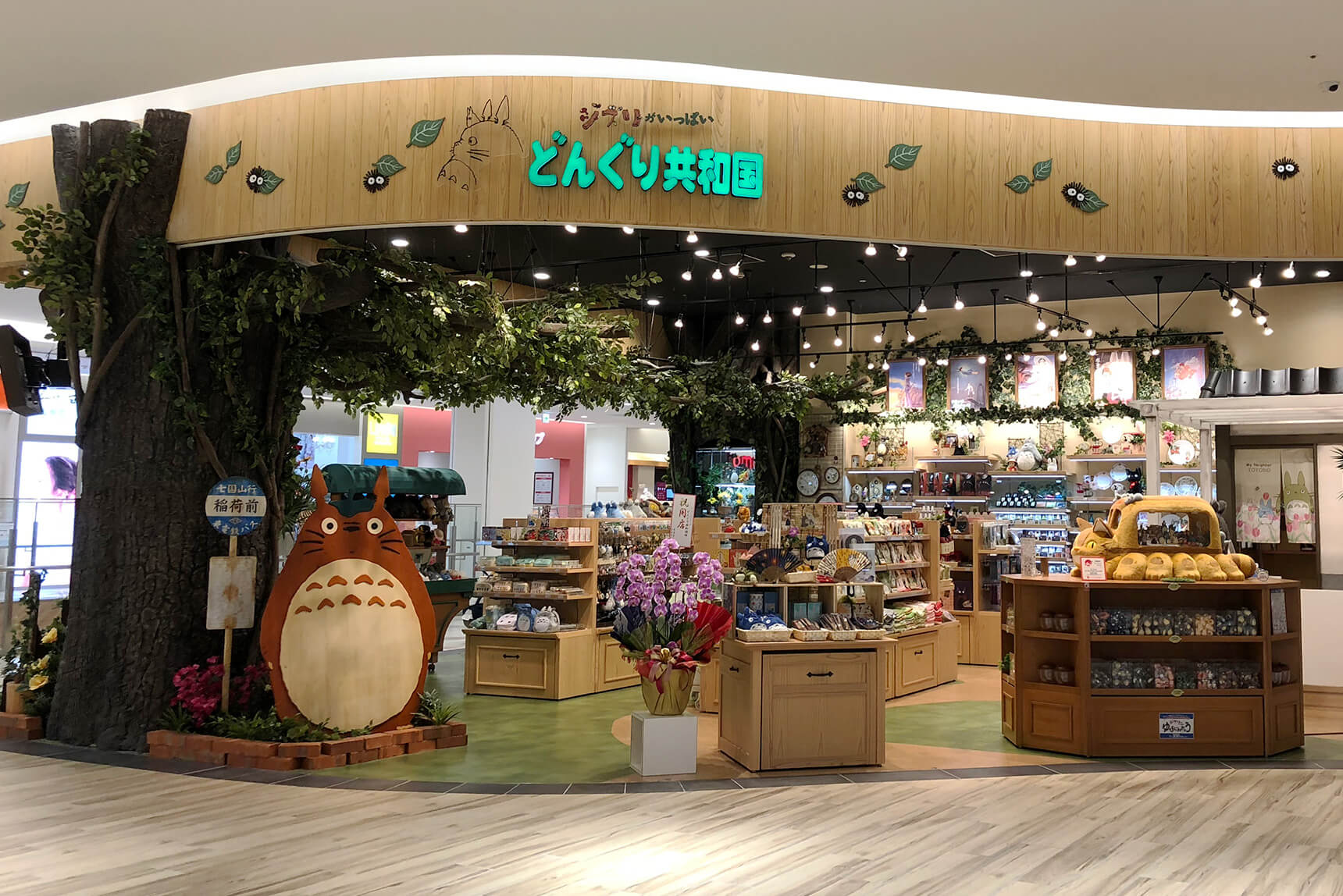 (3rd floor – Green Zone)
Find items from Studio Ghibli films at Donguri Republic, which is designed to feel like the movies' atmosphere and a warm forest. Many collectors' items and everyday items of characters from favorites like "My Neighbor Totoro" and "Spirited Away" line the shelves. Come find your favorites!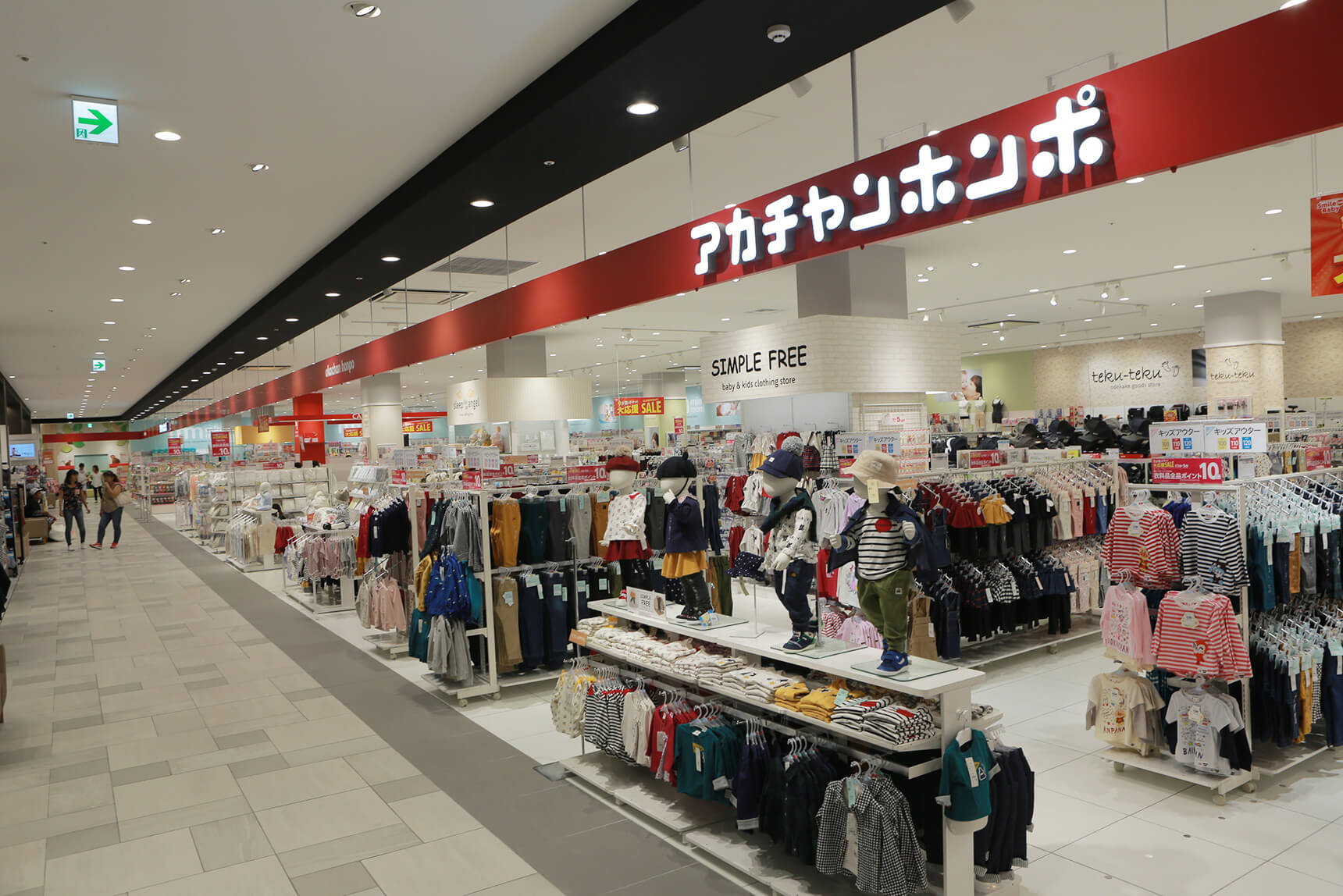 (2nd floor – Green Zone)
Find a wide variety of maternity, baby, and kids' items at the first Akachanhonpo in Okinawa, located on the 2nd floor. Inside this convenient shop is a kids' play space, so while one parent entertains the kids, the other can focus on shopping. The store is well-organized and it's easy to find the items you're looking for. If you're looking to do all your kids-related shopping at one place, there's no better option!
Hair and make-up to bring out your feminine charms!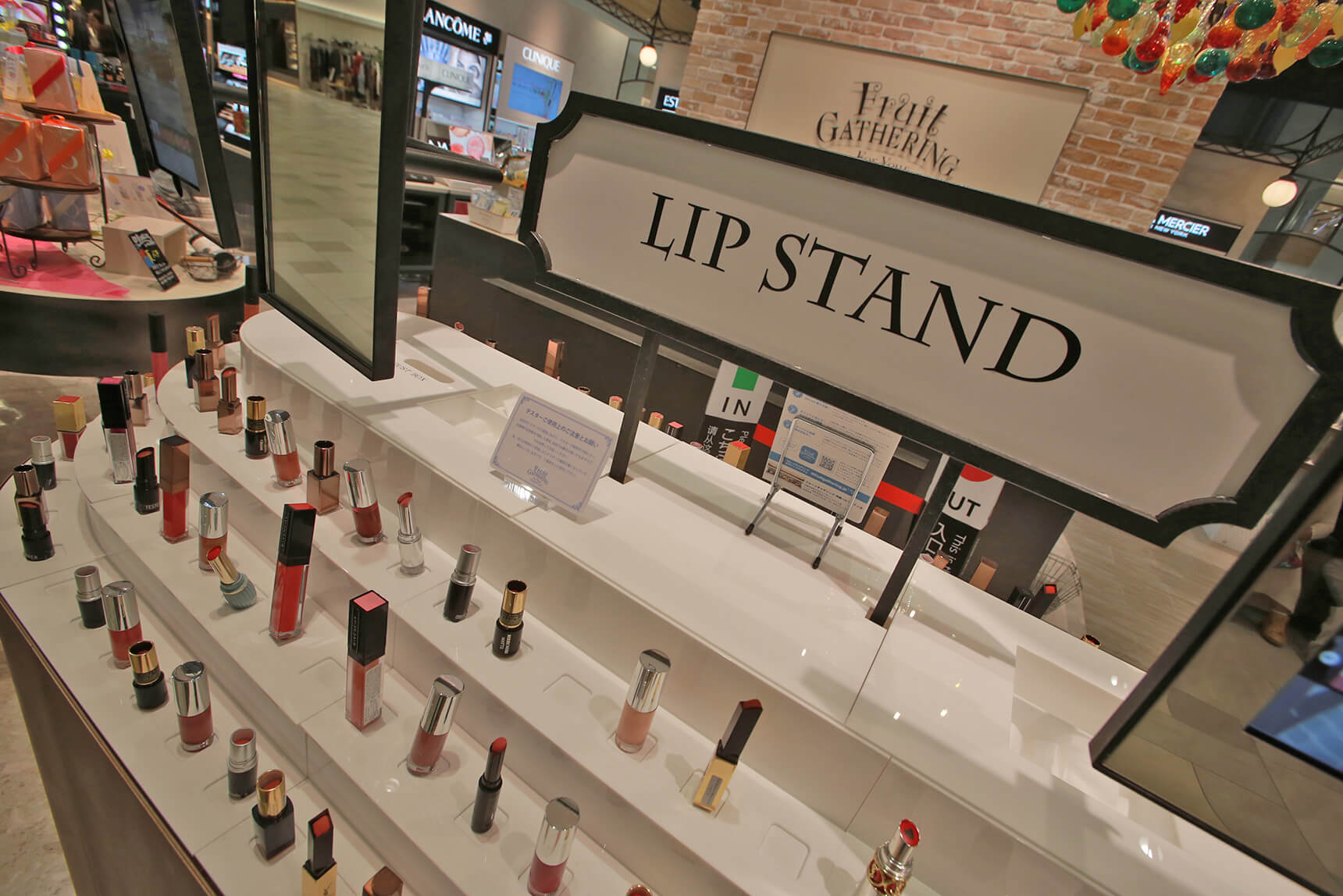 (2nd floor – Orange Zone)
FruitGATHERING is a select shop that offers 25 cosmetic brands, including Lancome and M·A·C. Try what you want from the wide variety of options and choose what you like best. At the special lip stand (lipstick counter), only available at FruitGATHERING, you can choose a color that suits you while using a make-up camera.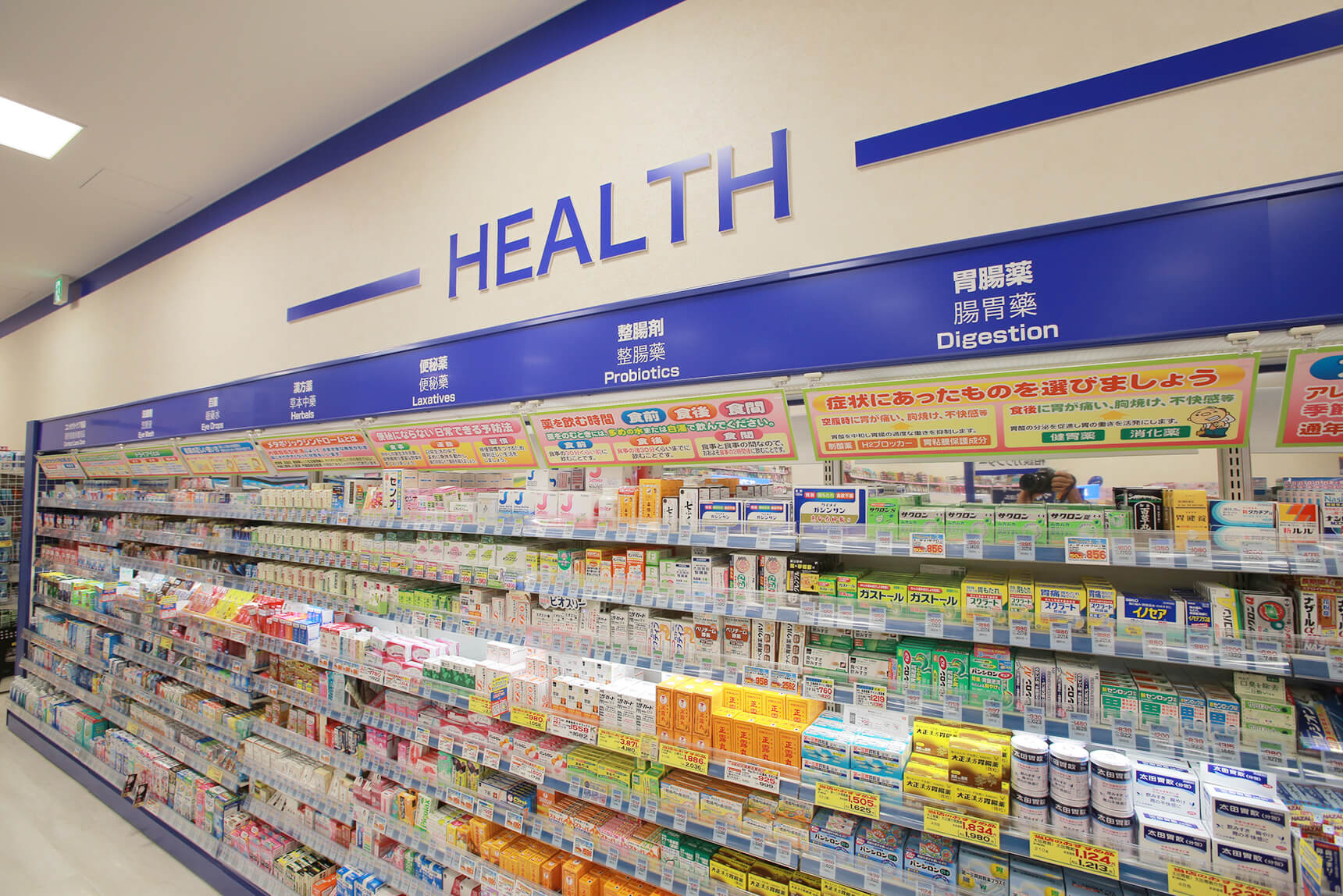 (1st floor – Orange Zone)
Matsumoto Kiyoshi is one of Japan's major drugstores. Of course you'll find medicine here, but they also sell health foods and Matsumoto-brand makeup. Get what you need here while out shopping and eliminate the need for another drugstore run. Take advantage of tax exemption benefits here, so the only worry is buying too much!
Okinawa souvenir recommendations at San-A Parco City.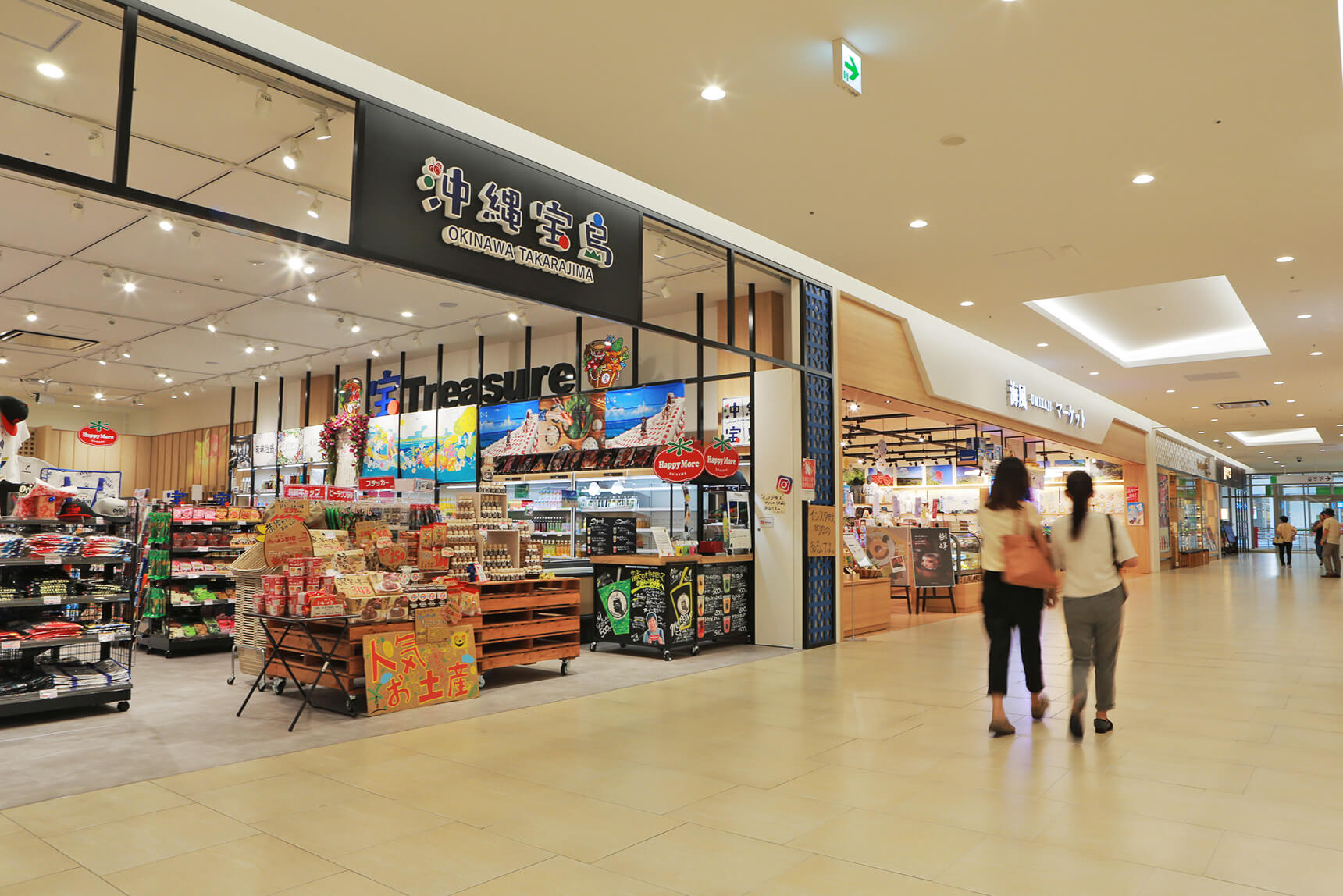 (1st floor – Green Zone)
Those who want to take home souvenirs from their trip to Okinawa can't miss the souvenir area on the 1st floor of Parco City. Find a collection of stores that offer everything you might want, from sweets and awamori to artwork.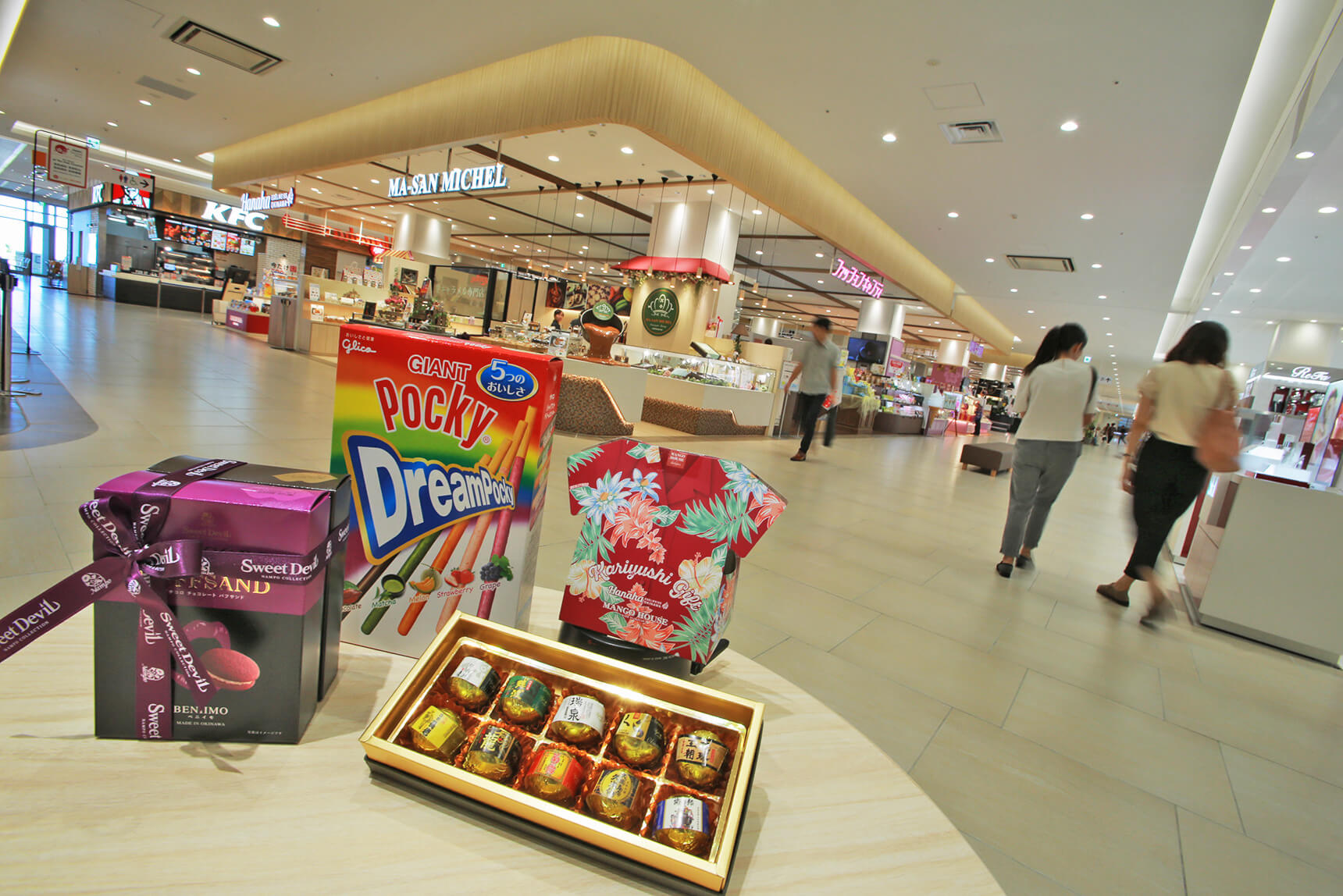 (1st floor – Orange Zone)
Even among all these great options, this caught my attention!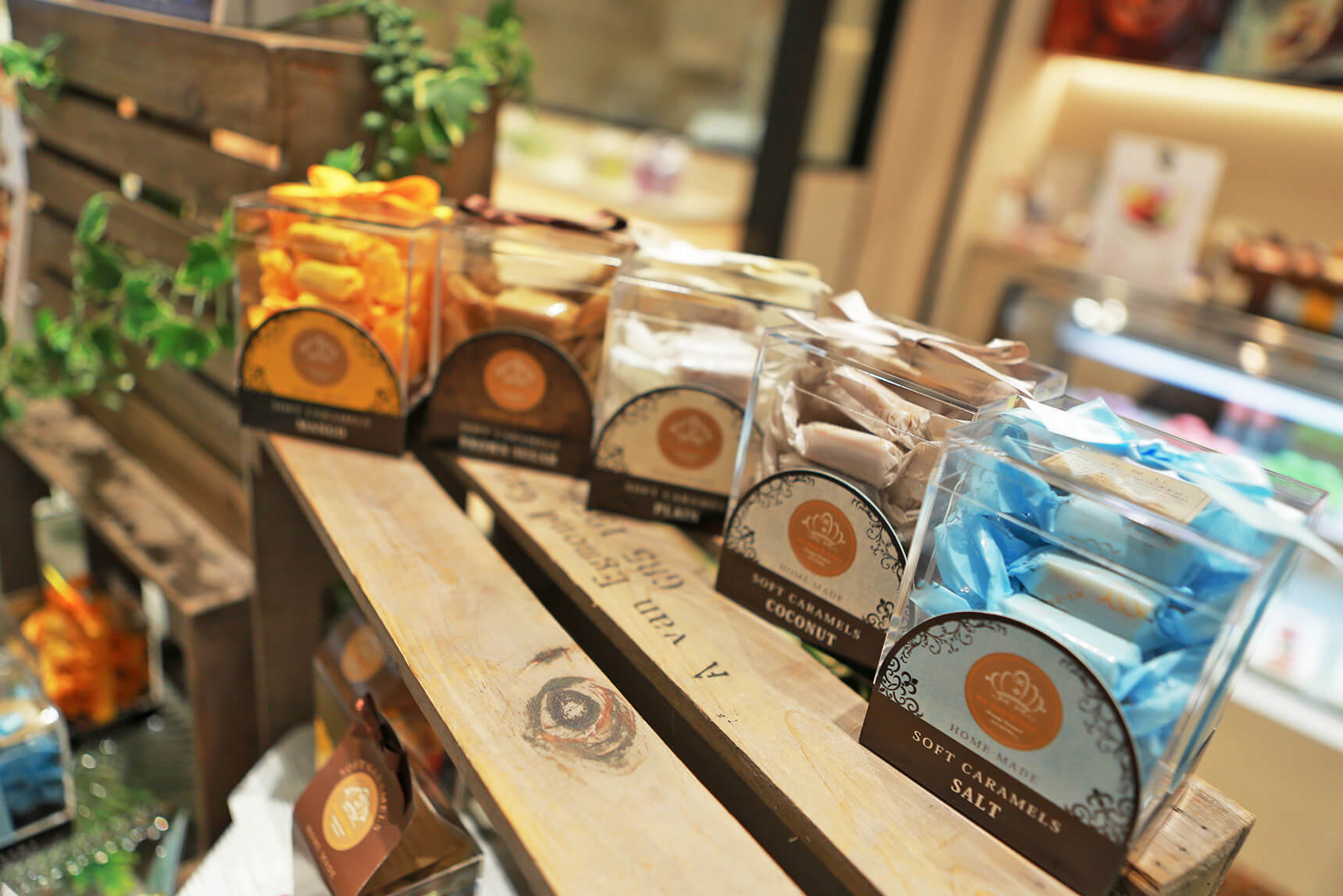 (1st floor – Orange Zone)
Ma-san Michel, the new regular Okinawa souvenir, uses Okinawan ingredients to make its soft caramels. Highly recommended for fashionable ladies. There are five flavors: plain, brown sugar, mango, salt, and coconut. The mango soft caramel made with fruit produced in northern Okinawa is the most popular. The rich flavor of mango spreads right when the candy enters one's mouth, as the soft caramel gently melts away. Each candy is made with the utmost care.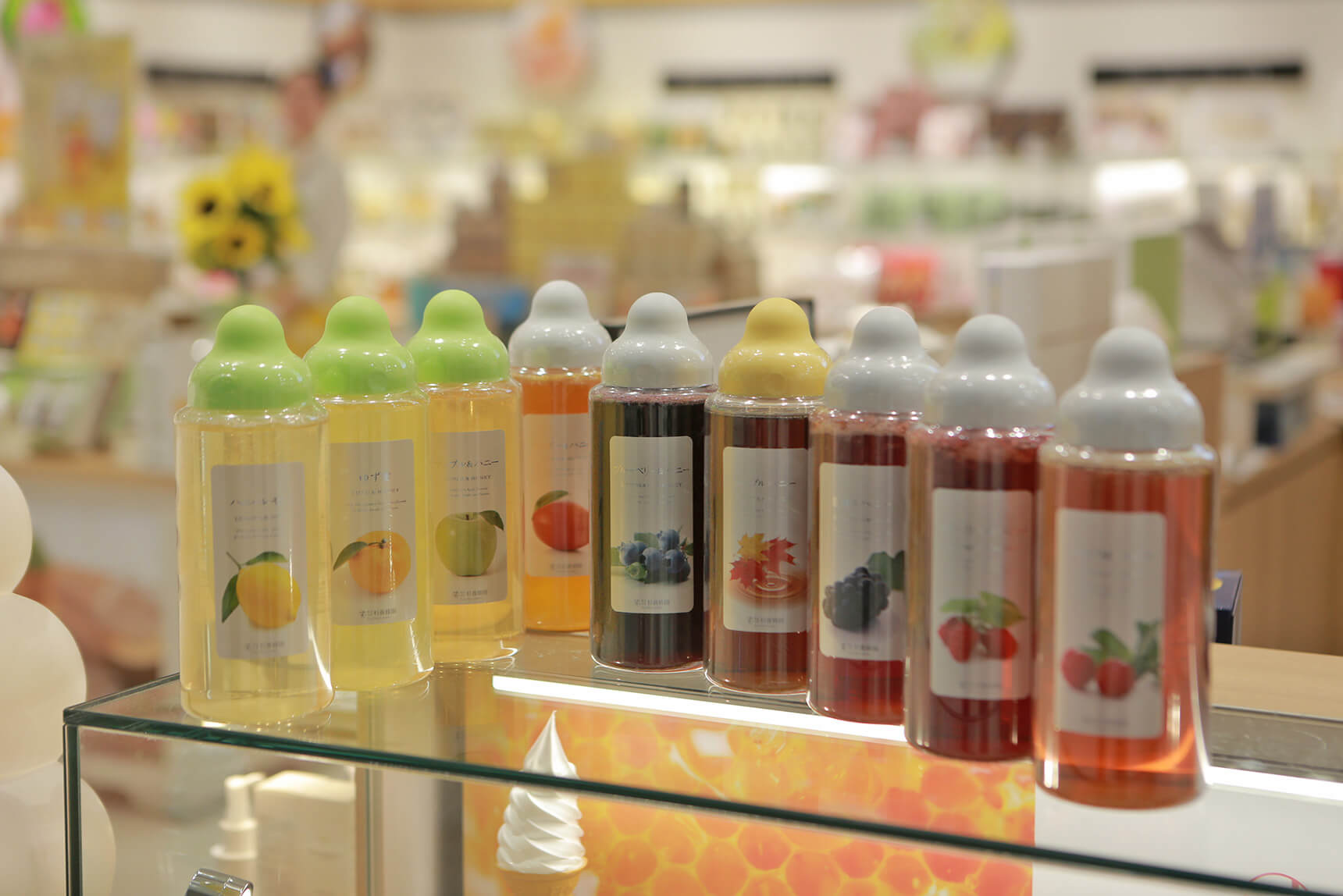 (1st floor – Orange Zone)
SUGI BEE GARDEN sells honey produced in Kumamoto prefecture. Find nine different fruit-juice-infused honeys, which are made by blending fresh fruit juice and honey. We recommend mixing it with cold or hot water for a healthy drink or drizzling it over ice cream or yoghurt. Honey is said to be good for diets and beautiful skin. It's a popular souvenir.
Once you're done with all your shopping on each floor, don't forget to bring your passport and receipts to the tax exemption counter on the 1st floor to complete the process.
Select gourmet restaurants worth the wait!
You can enjoy more than just shopping at Parco City; take full advantage of the gourmet food options too! The food zone spans the 1st through 3rd floors and has beautiful food from all over. We'll introduce some restaurants where you might find long lines.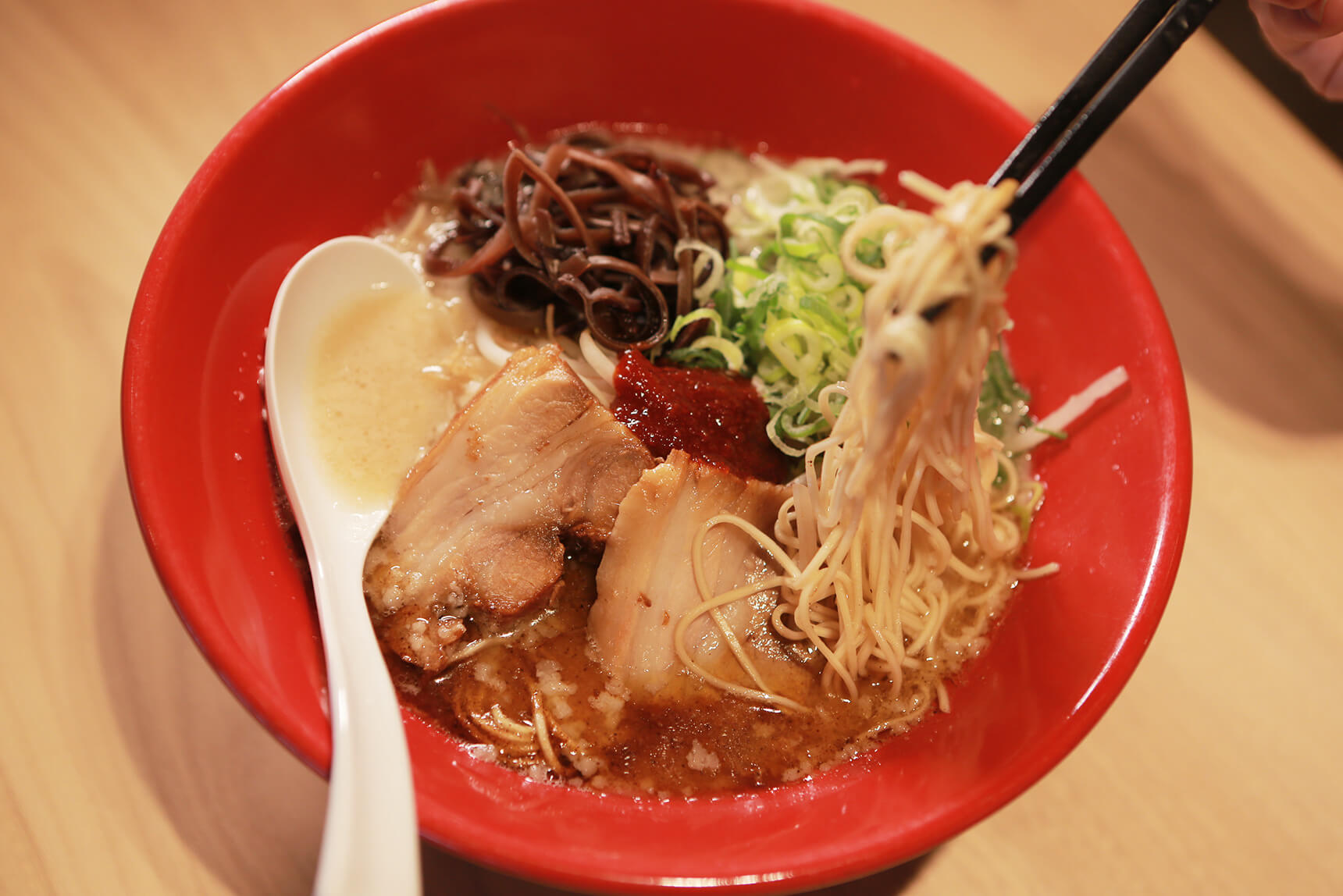 (2nd floor – Green Zone/Food Floor)
Ippudo, which is well known in Taiwan, has arrived in Okinawa! Their sweet, creamy pork-bone broth is made with a unique method—the rich flavor is irresistible. Ippudo's banner dish is Akamaru shin-mi, made with homemade flavored oil and spicy miso. Savor many flavors in just one bowl of ramen. This is one dish you'll never tire of.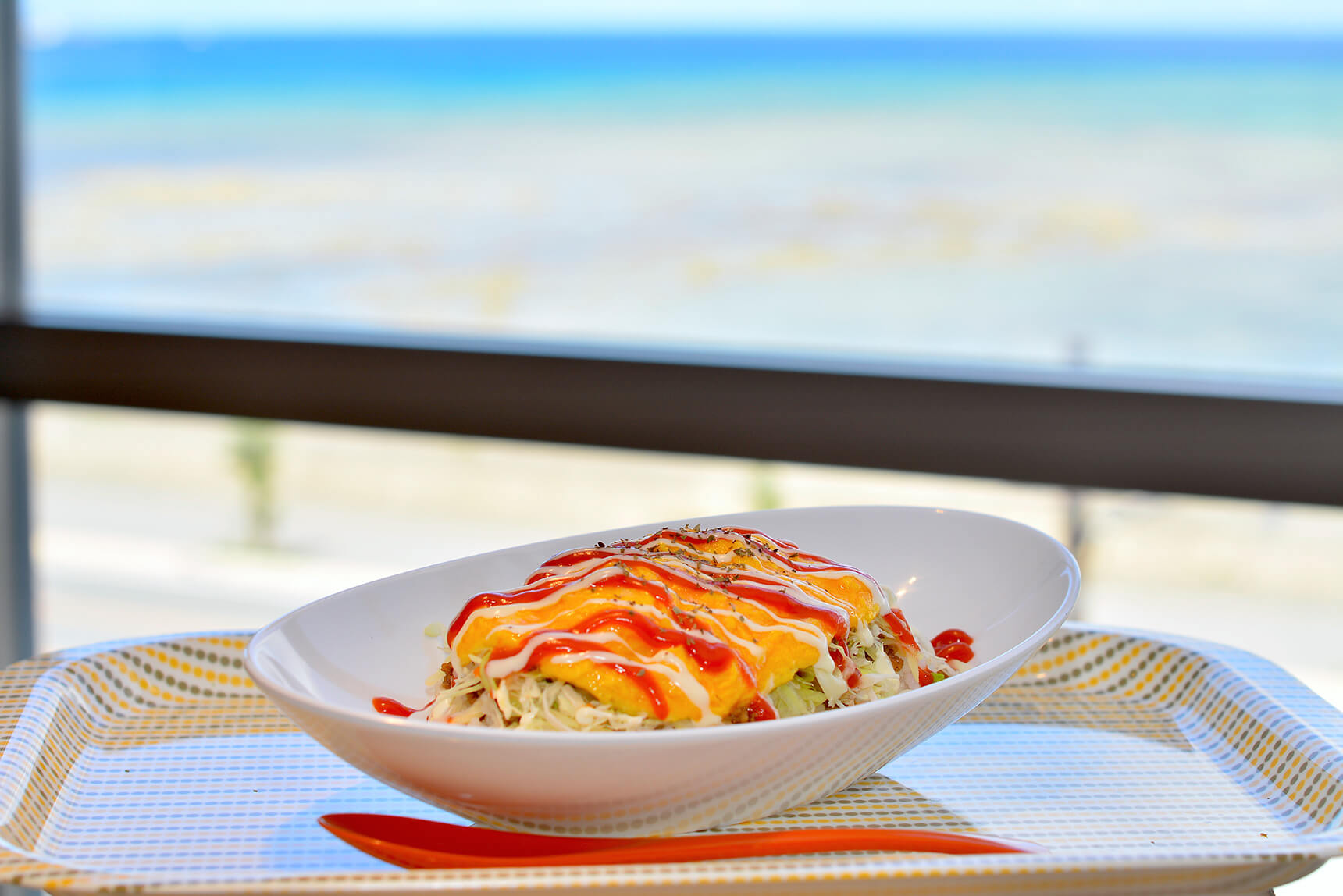 (2nd floor – Green Zone/Food Floor)
Kijimuna is a taco rice restaurant on the same floor as Ippudo. Try the "omu-taco," which is taco rice, the soul food of Okinawa, gently wrapped in a fluffy omelet. The mild flavor is popular with women and children. The view from the food court is unrivaled. On a clear day, you'll be able to enjoy your meal looking out over the emerald green ocean. We recommend the window seats shown in the picture.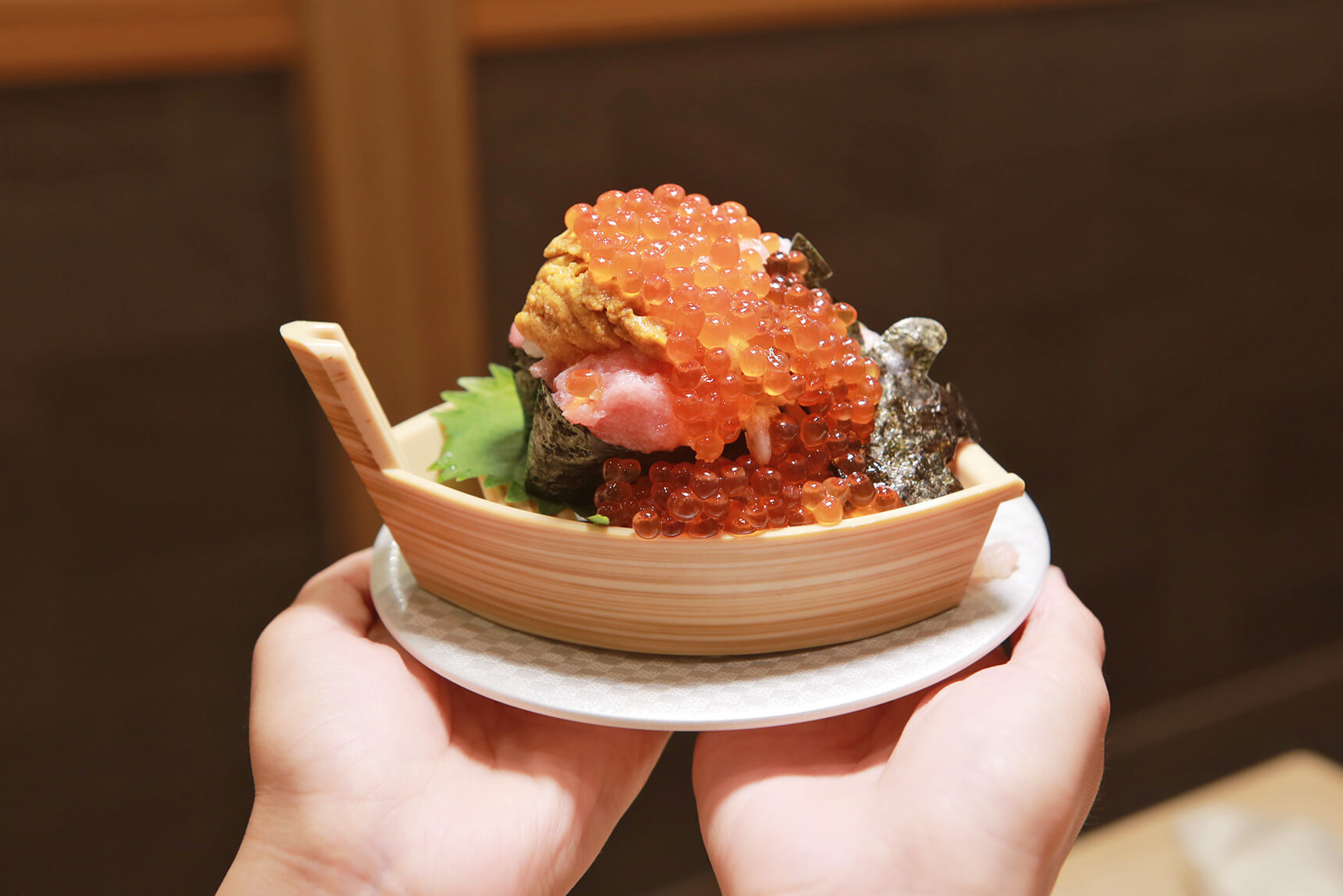 (3rd floor – Green Zone)
Those who want the best seafood shouldn't miss Maguro Tonya Miura Misaki Ko Megumi, which serves fresh fish at reasonable prices. Pirate Gunkan is the store manager's top-recommended sushi that will satisfy your stomach and your heart. The sushi chef will pile on the salmon roe in front of you while saying "yoisho!" You gotta get your camera ready!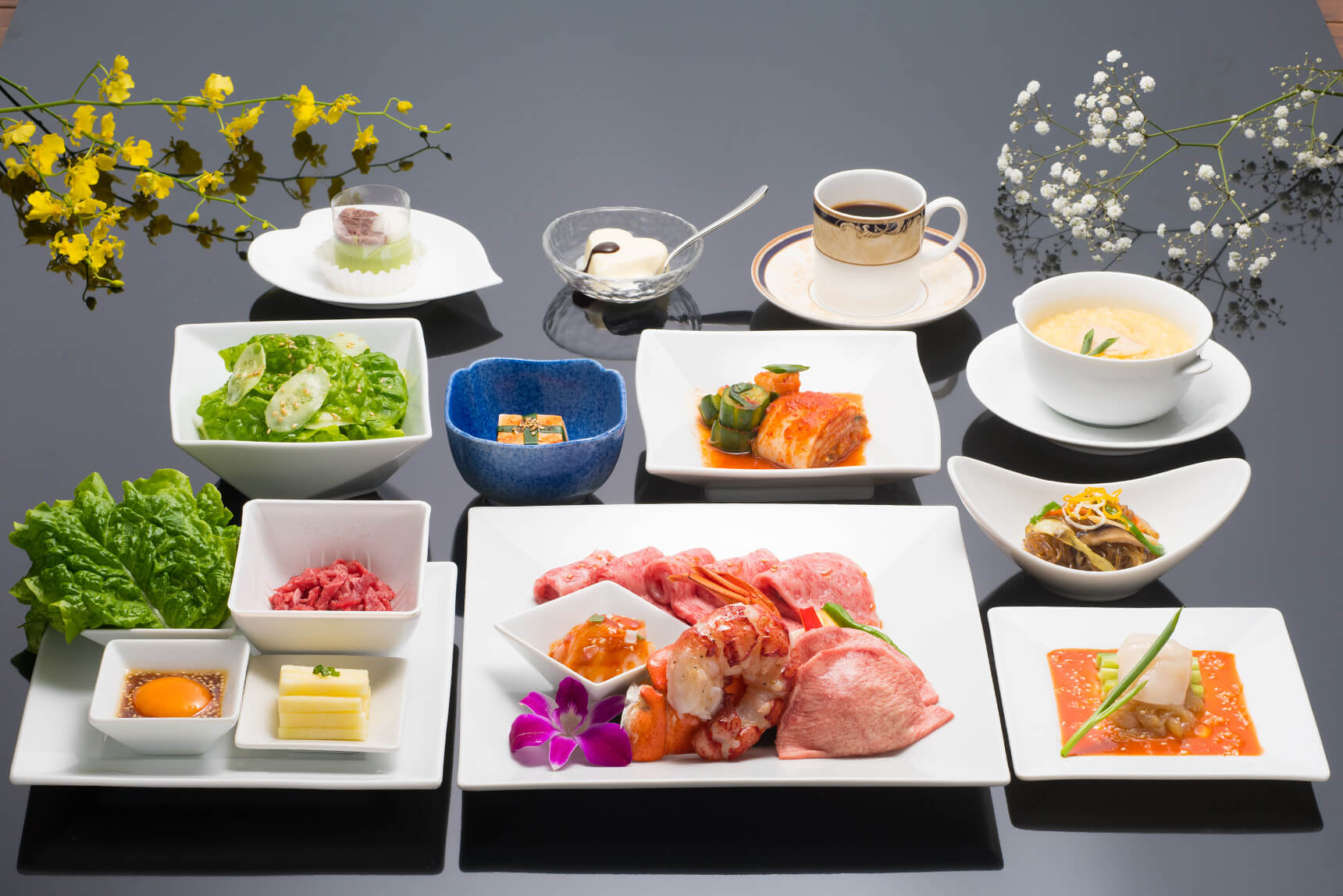 (3rd floor – Green Zone)
Jojoen is a high-quality yakiniku restaurant well known in Japan and abroad. This is the 2nd restaurant in Okinawa. The sophisticated interior boasts a nice and relaxing atmosphere. Nothing beats their satisfying tender meat and the sound of it filling the air as it hits the grill. You work hard every day, so why not treat yourself with some of the less expensive lunch options?
Must-save information! Directions to San-A Parco City.
San-A Parco City is a new facility so navigation systems in rental cars may not be able to get you there. Here's how to get there in a rental car or by bus.
When heading out after renting a car from nearby the airport.
After getting your car, return to the road in front of the airport and head towards Naha Umisora Tunnel. At the intersection with the first light (pictured), turn left.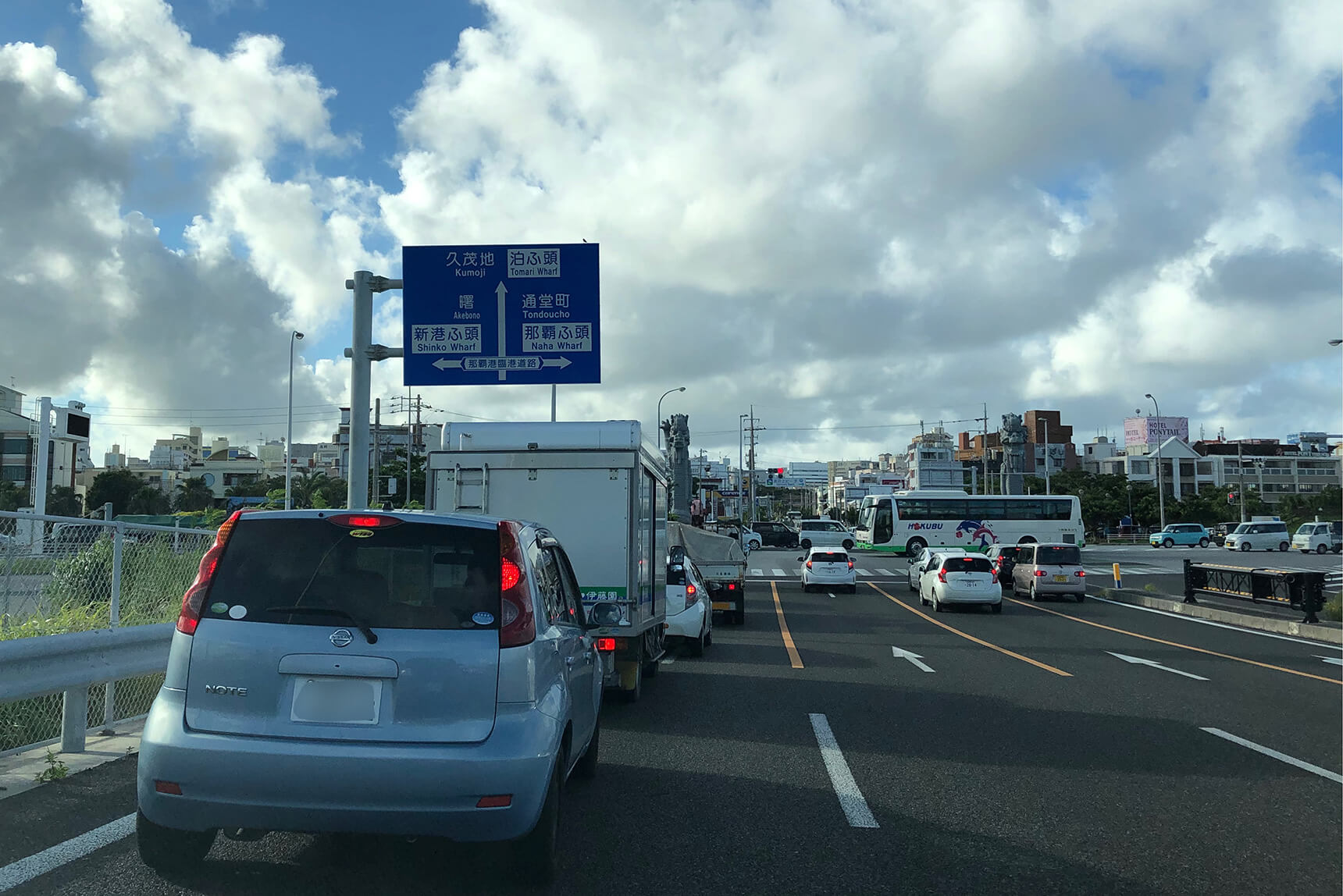 (Turn left at this intersection.)
Then keep following the road and you will see Parco City on your right.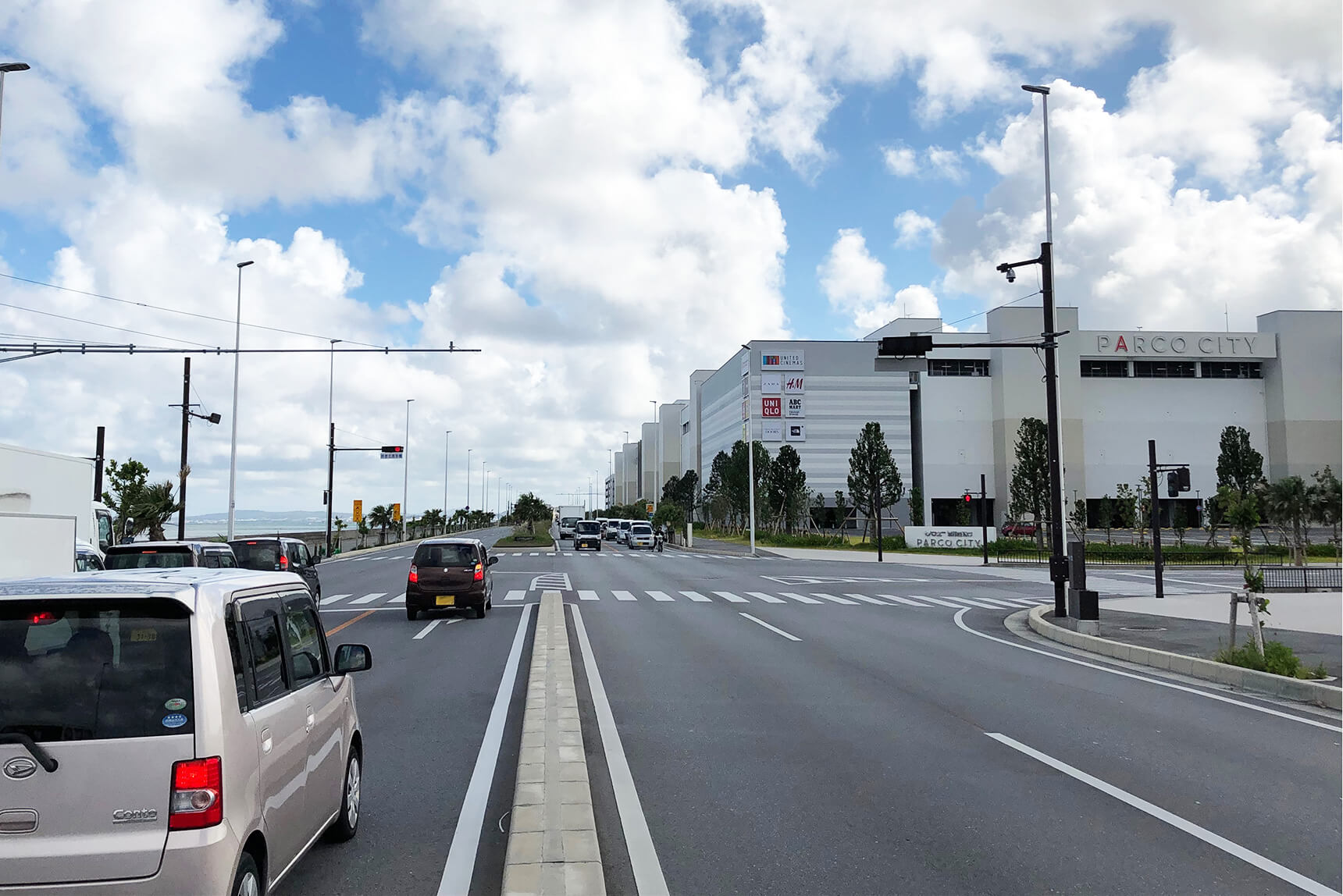 At this light, turn right and you will find the parking lot.
When coming from within Naha or the resort areas in the north.
Head towards route 58. Those coming from Naha should turn left at Shiroma intersection. Those coming from the resort areas in the north should turn right.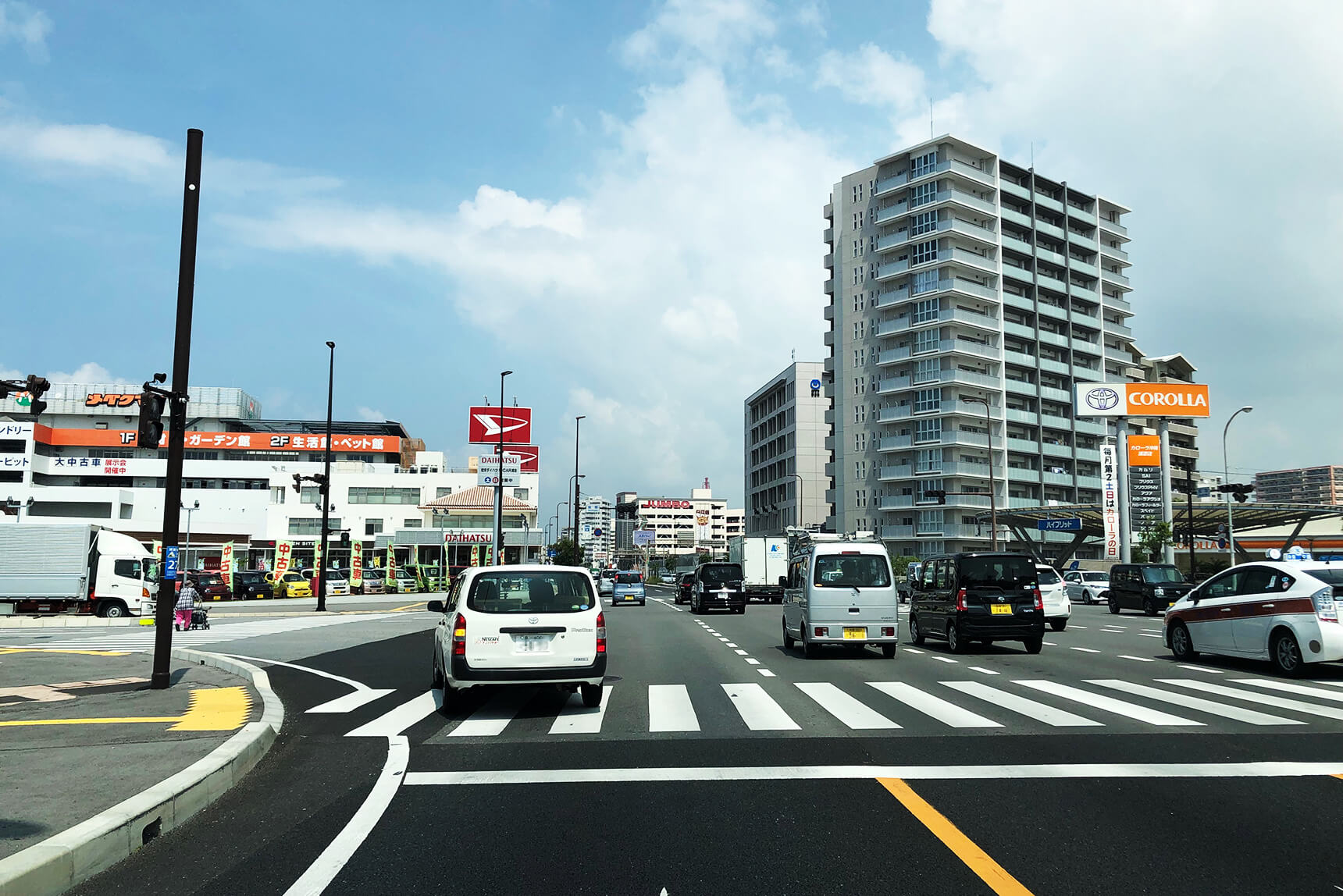 Follow the road, and you will come to a T intersection with a light. Turn left.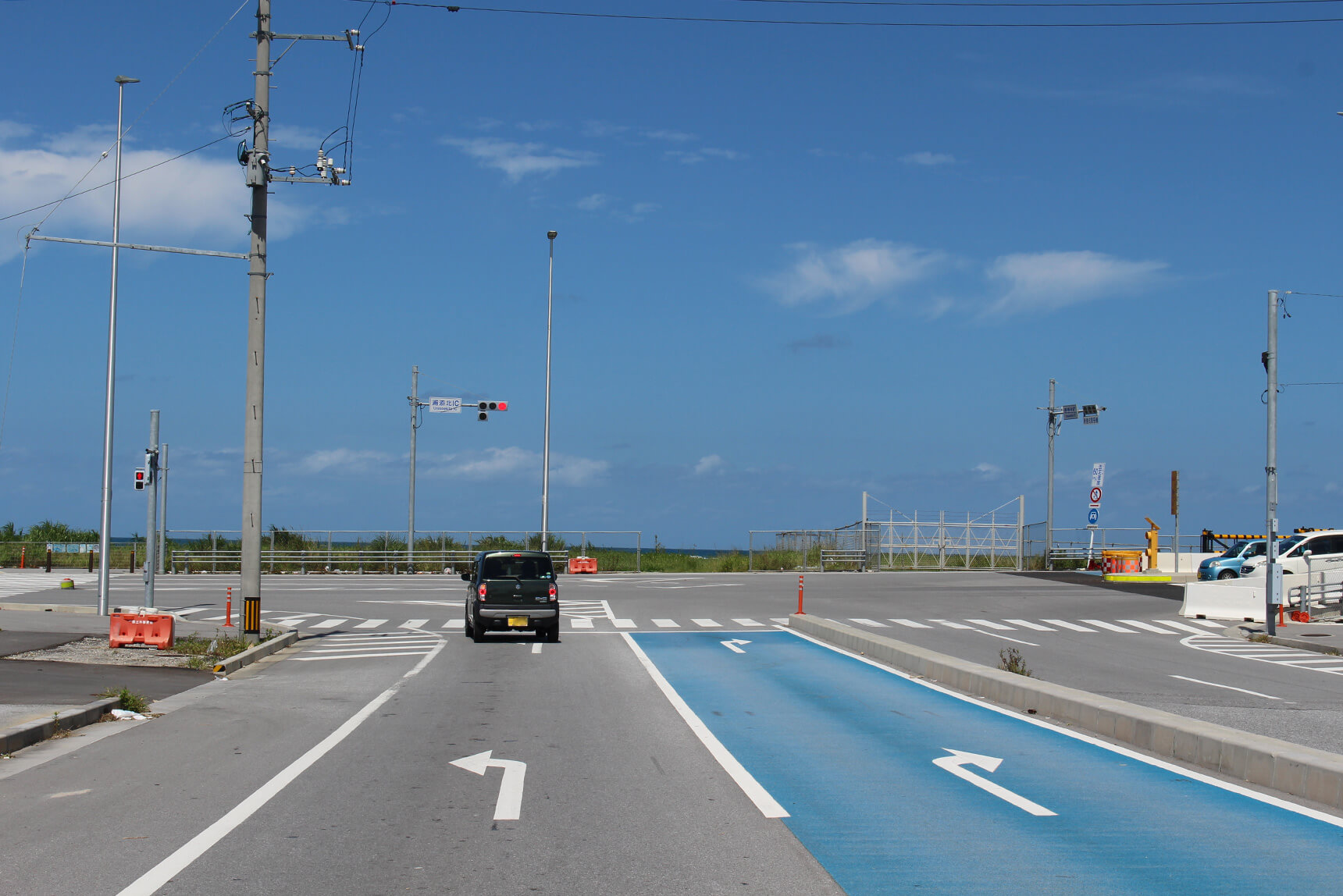 You will then see Parco City on your left. Turn left into the parking garage.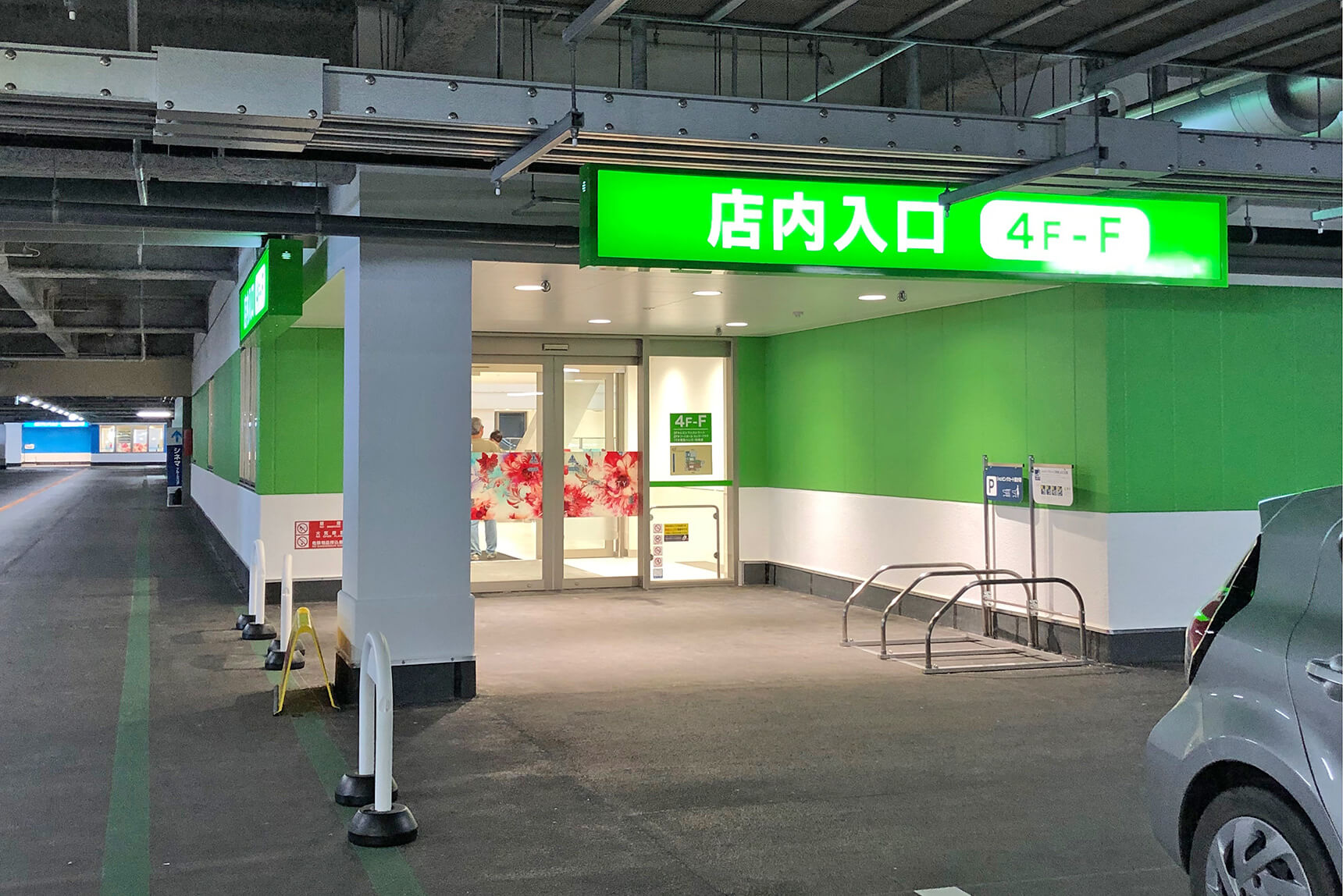 The Green Zone on floors 4 and 5, as well as sections F and G are close to the central escalators in the shopping building. Parking there will be convenient to get to all shops.
【Mapcode】33 308 867*47
When coming by bus:
You can use Ryukyu Bus #26, Ginowan Airport Line, when coming from Naha Airport and within Naha, but on weekdays there is only one each way and only three on weekends and holidays. Please check the departure and arrival times before your trip. (This is based on the bus timetable as of September 18, 2019. Based on road conditions, departure and arrival times may shift.)
〇 Getting there (depart Naha Airport to San-A Parco City via Naha Bus Terminal)
※ Board at stop 11 at Naha Bus Terminal
[Weekdays]
Depart Naha Airport 8:30 – depart Naha Bus Terminal 8:45 → arrive San-A Parco City 9:14
[Weekends and holidays]
Depart Naha Airport 10:25 – depart Naha Bus Terminal 10:38 → arrive San-A Parco City 11:04
Depart Naha Airport 12:55 – depart Naha Bus Terminal 13:09 → arrive San-A Parco City 13:36
Depart Naha Airport 15:45 – depart Naha Bus Terminal 16:01 → arrive San-A Parco City 16:30
〇 Getting back (depart San-A Parco City to Naha Airport via Naha Bus Terminal)
[Weekdays]
Depart San-A Parco City 16:53 → arrive Naha Bus Terminal 17:27, arrive Naha Airport 17:33
[Weekends and holidays]
Depart San-A Parco City 11:54 → arrive Naha Bus Terminal 12:28, arrive Naha Airport 12:35
Depart San-A Parco City 17:23 → arrive Naha Bus Terminal 17:23, arrive Naha Airport 18:06