You won't want to miss these summer highlights in Okinawa! Breathtaking fireworks that adorn the Okinawan night sky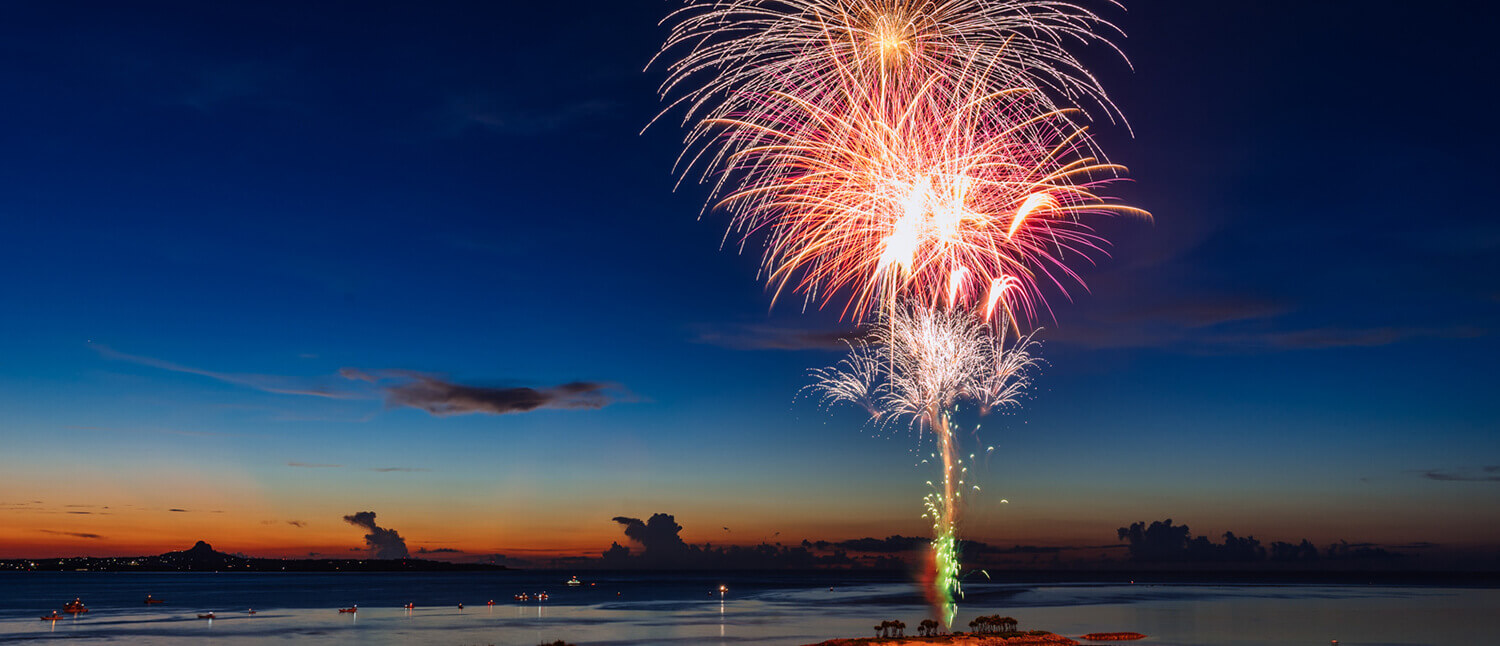 Numerous festivals and fireworks unique to Okinawa are held all over the island in July. These events bustle with excitement and are held at famous tourist destinations and their surroundings, so you can easily check them out during your stay in Okinawa. It'll be perfect for making great memories with your family or friends!
Ocean Expo Park Summer Festival – Breathtaking Spectacle of 10,000 Fireworks!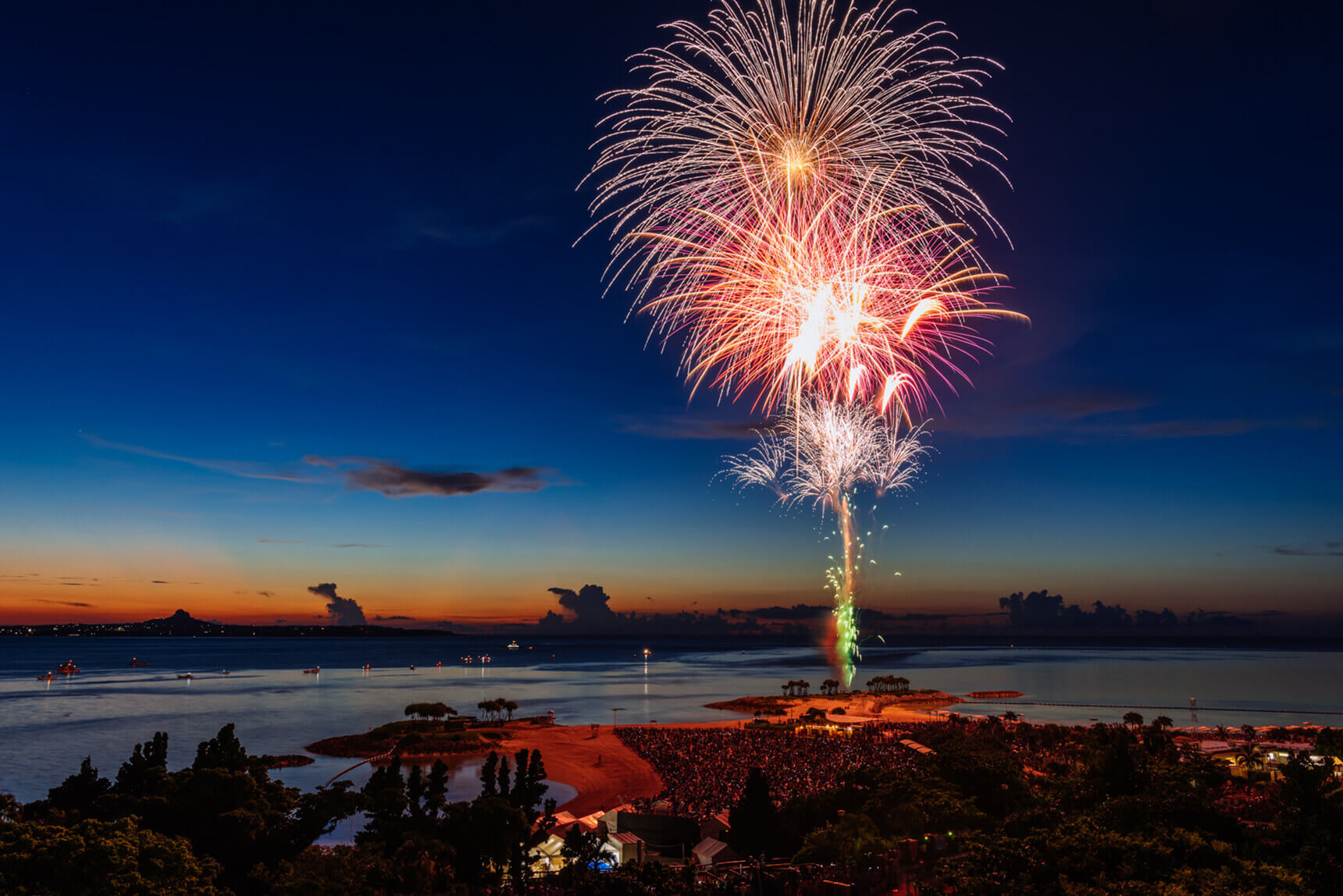 Ocean Expo Park Summer Festival is held at Emerald Beach in the northern area. The highlight is the fireworks that adorn the Okinawan night sky! You'll be delighted by the spectacle for sure.
The festival also has kids' events; every year, their program entertains the public with a wide variety of events.
Emerald Beach is a part of Ocean Expo Park, which also has Okinawa Churaumi Aquarium and Okichan Theater, where dolphin shows are held, so you can check these out while you wait for the fireworks to start.
Recommended Points
[Event date/time] July 15, 2023 (Sat) 12:00 – 21:00 (The 45th Ocean Expo Park Fireworks Festival: 20:00 – 21:00)
※Will be cancelled in the event of severe weather. (It will not be postponed.)
[Location] Emerald Beach
[Entrance fee] free
※Entrance restrictions will be in effect.
※Traffic controls will be in effect near the venue. Please check the website for more details.
Seaport Chatan Carnival – Blooming Flares above the Ocean!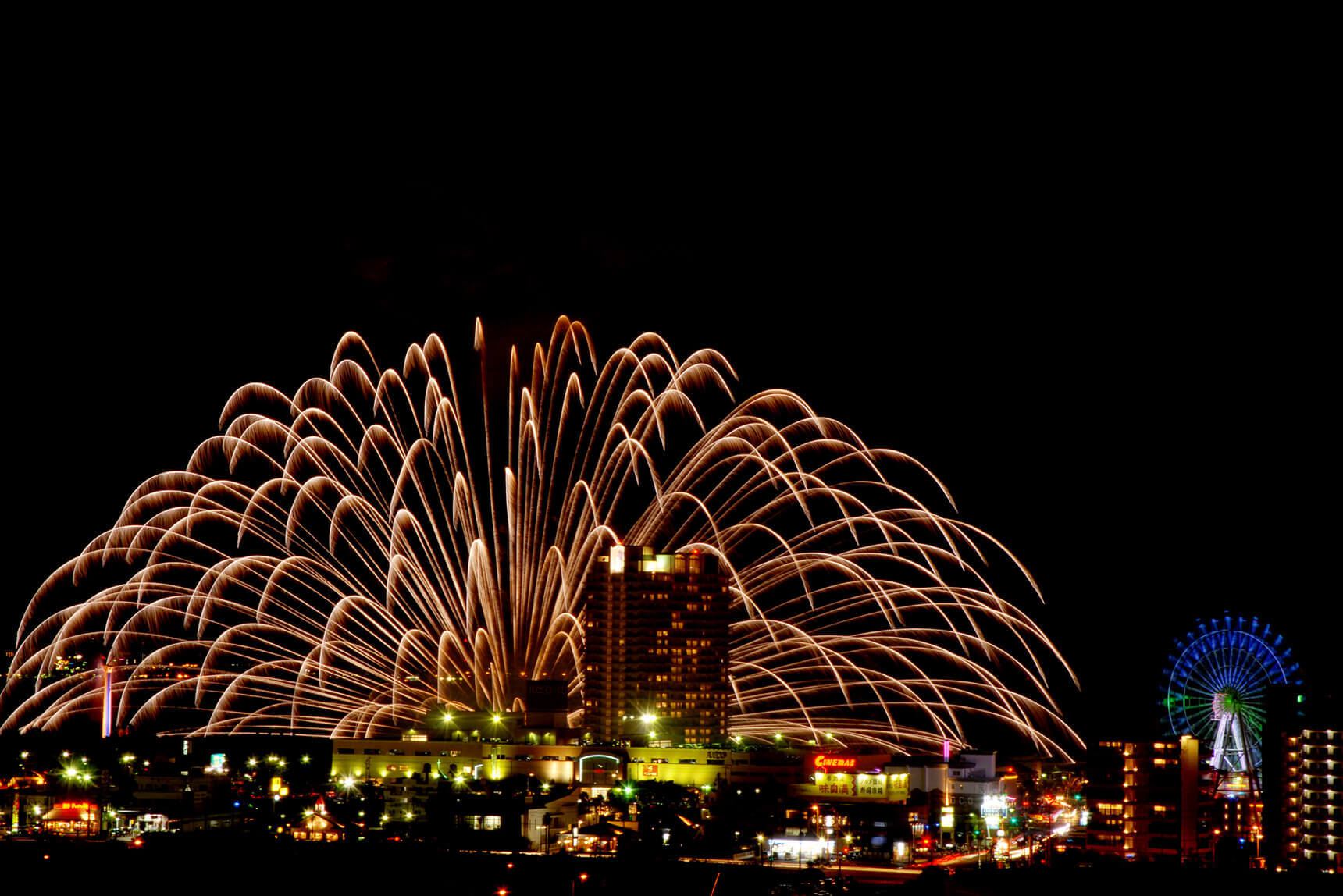 Seaport Chatan Carnival is held at and around Sunset Beach, Chatan Park in central Okinawa.
The event highlight is the underwater fireworks! Instead of bursting in the sky, they burst on water surface. You will be enthralled by the light reflected on the ocean—it's really that beautiful.
The wide variety of performances on stage will never tire you. Mihama American Village is located near the venue, so spend some time shopping prior to heading to the event!
Recommended Points
[Event date/time] The fireworks show is held every Friday during the period of July 21 (Fri) – September 29 (Fri), and on August 20 (Sun), 2023, for a total of 12 displays. The fireworks start at 20:00 and are launched at the Hamakawa Fishing Port.
[Location] Chatan Park Sunset Beach and its surrounding
Nago Summer Festival – Where You Get to Drink Tasty Beers!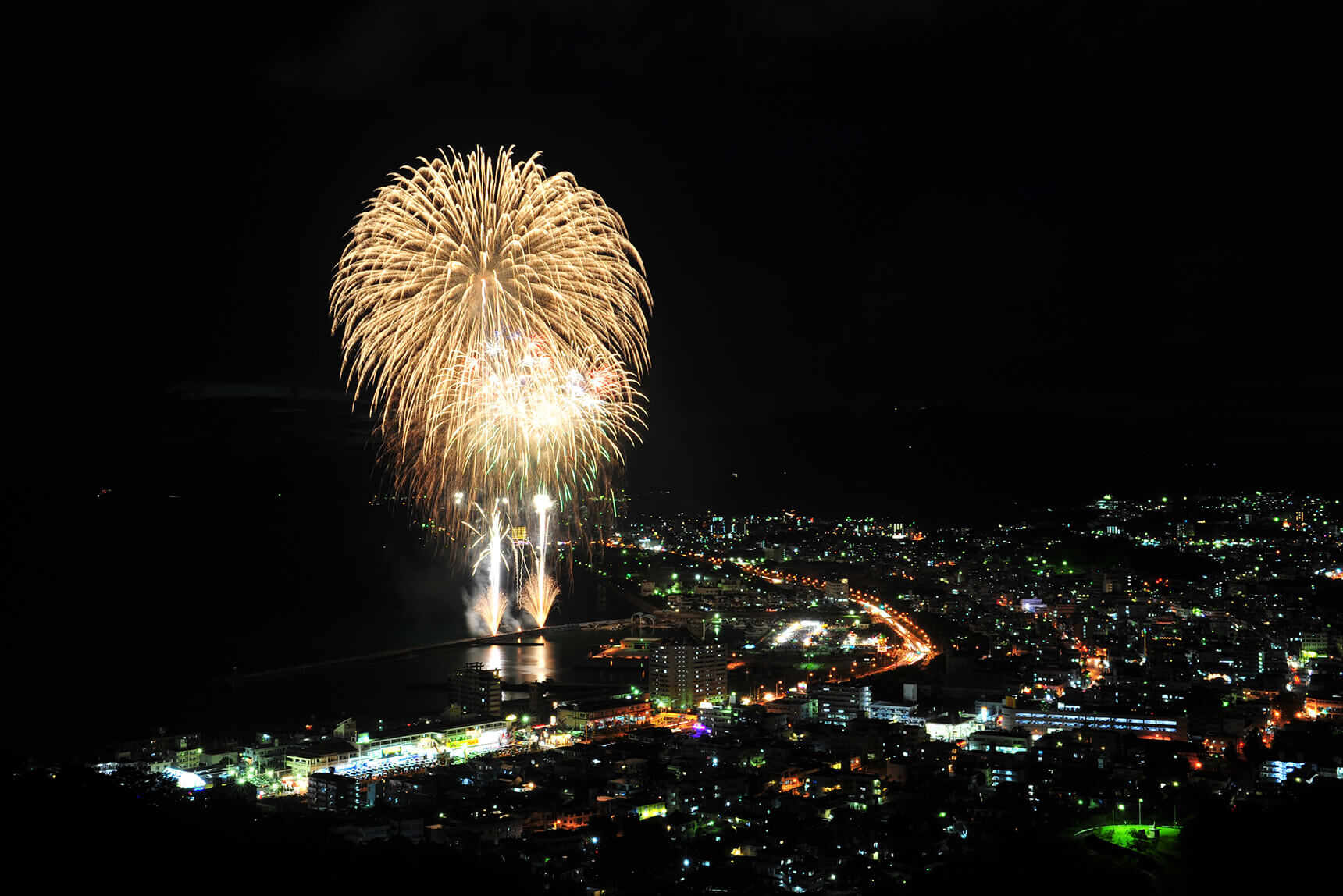 Nago Summer Festival is held in Nago, the largest city in the northern area. You'll be blown away by the fireworks that launch right in front of your eyes—it'll certainly be a memorable part of your trip!
There's more to this amazing festival. Orion Beer is a local beer brewery Okinawans take pride in, and its factory is located near the venue (Nago Fishing Port). At the festival, you'll be able to enjoy freshly made Orion beer delivered directly from the factory. You can enjoy the festival however you want—try out all sorts of foods at the stalls, or enjoy the stage performances with tasty Orion beer in hand. If you have a plan to visit the northern area, definitely check out this festival!
Recommended Points
[Event date/time] July 29 (Sat) – 30 (Sun), 2023, 13:00 – 21:00 (Fireworks are launched from 8PM on both days.)
[Location] Nago Fishing Port