Enjoy the Okinawan ocean from above with parasailing, an exciting marine activity. Try it out at Cosmo Outdoor Club!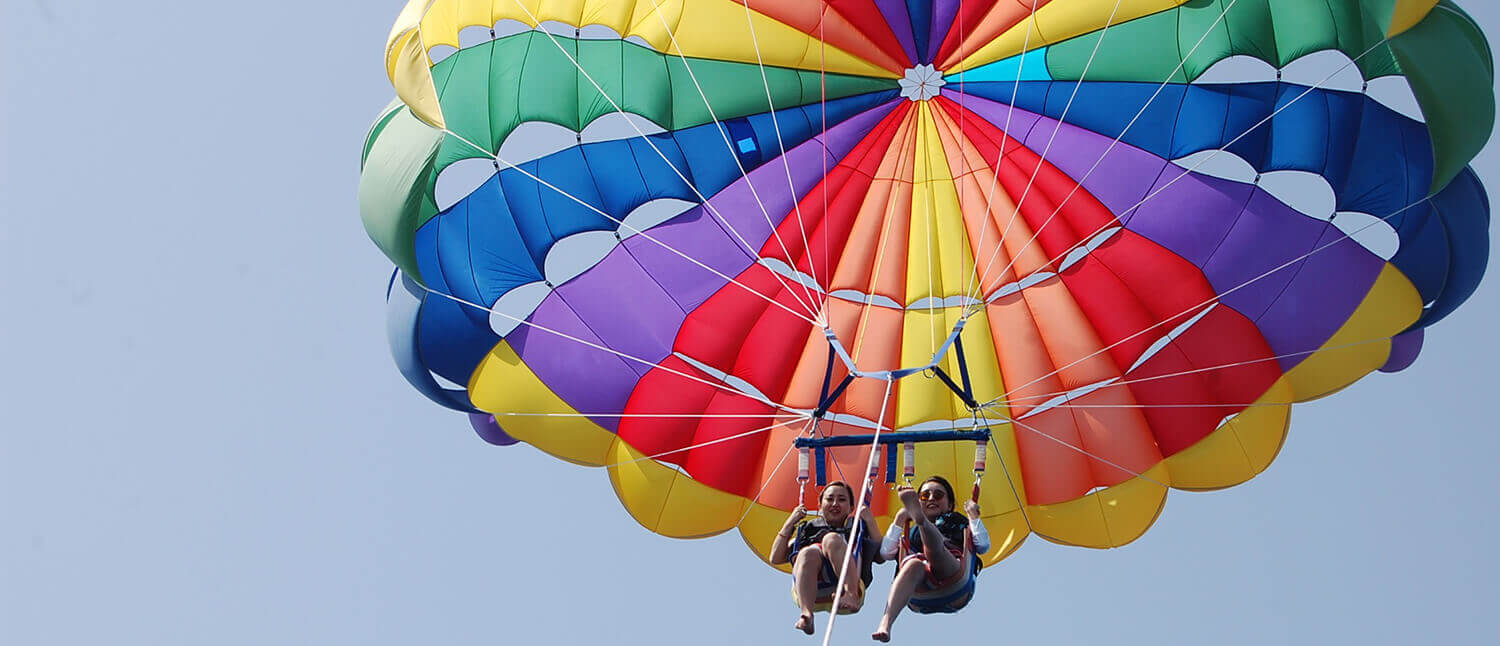 Parasailing is an increasingly popular marine activity in Onna village, which is home to many resorts. One gets to see Okinawa's vast, multi-colored ocean from high up in the sky. You get to choose the altitude between 40-50 meters and 200 meters; the thrill takes new shape at different heights.
Here's our report on the excursion in the vast sky with Como Outdoor Club!
The meeting location is in a convenient area, close to resorts in Onna village!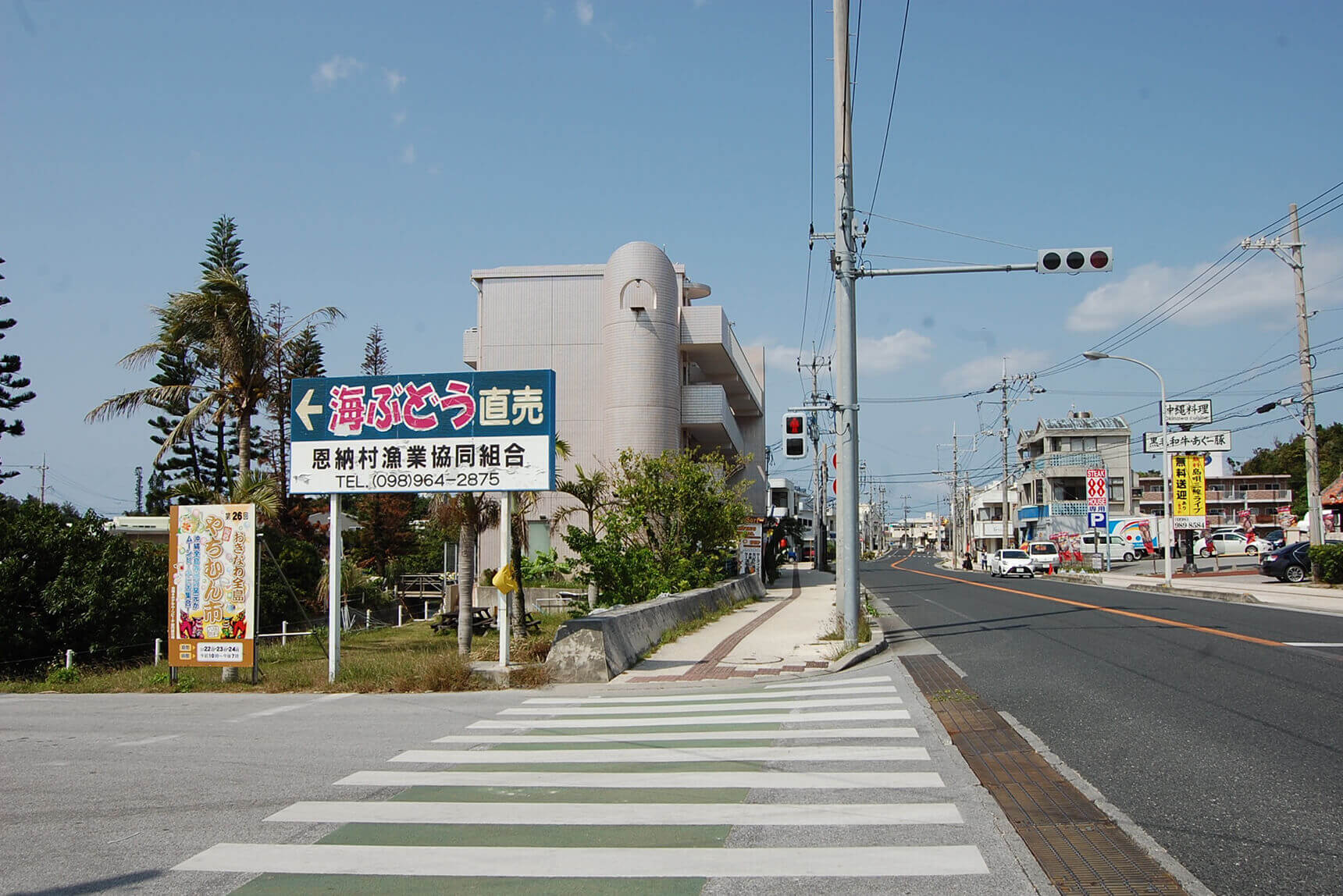 The meeting location is Maeganeku Fishing Port, the one closest to the Blue Cave in Onna village. It's only an eight-minute drive from the Okinawa Expressway's Ishikawa exit. After the exit, turn left at the sign for a sea grape farm.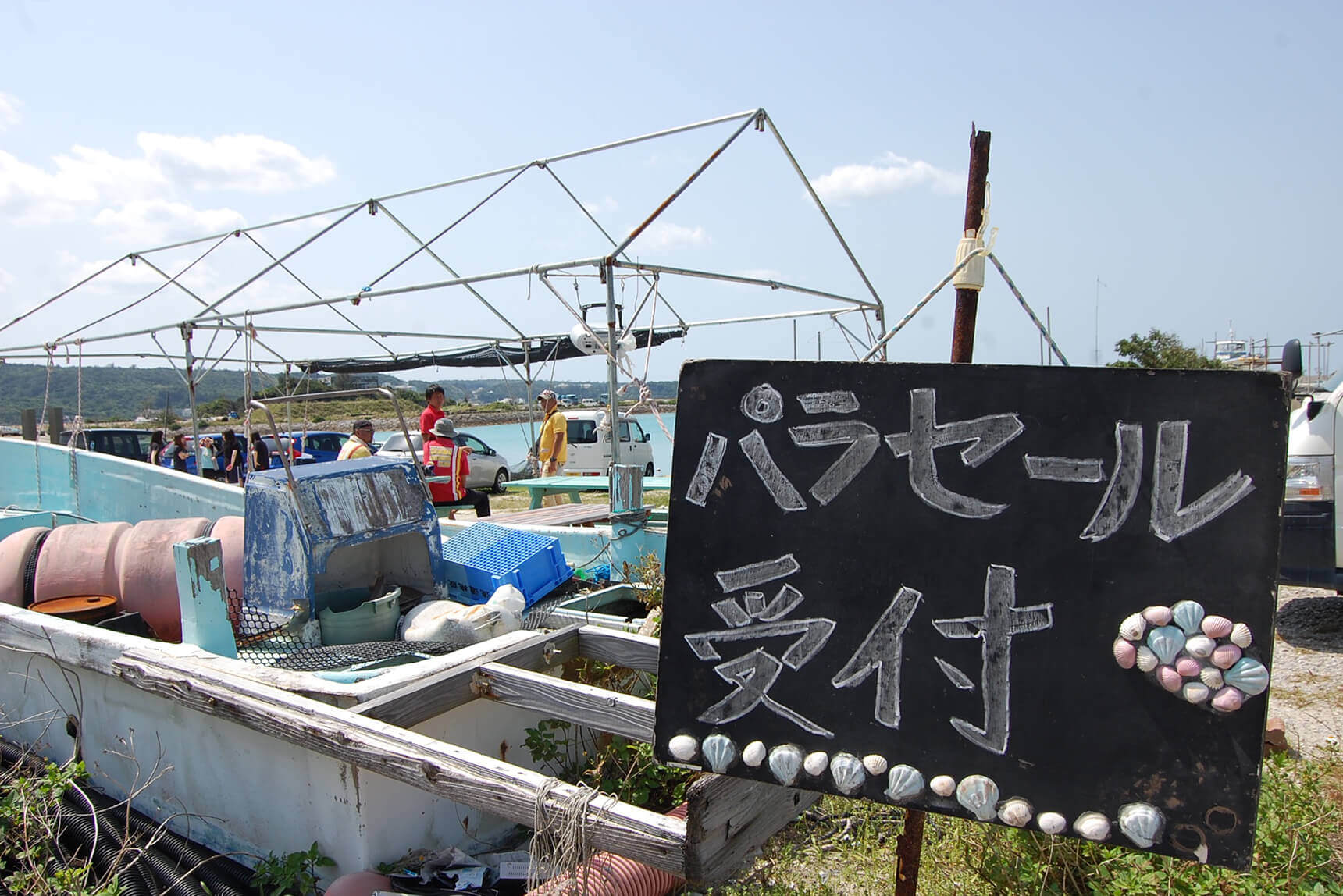 The sign-up desk for parasailing is at the corner eighty meters inside the entrance to the fishing port. Staff member(s) stand near the sign for parasailing, so it should be easy to find. Park at the lot next to the sign-up desk if getting there by a rental car.
You'll make a payment after filling out paperwork. Electronic payment is available; they take mobile payment too, like Alipay and WeChat!
Parasailing takes place four times a day. (9:30, 11:00, 13:30, and 15:00). Get there half an hour before the scheduled start time. The activity itself takes about an hour and a half; it's relatively short, so it can easily fit in your schedule even if you have many other places you want to visit in Okinawa or are tight on time.
Have the spectacle all to yourself! Take in the breathtaking view of the vast ocean from 200 meters above water.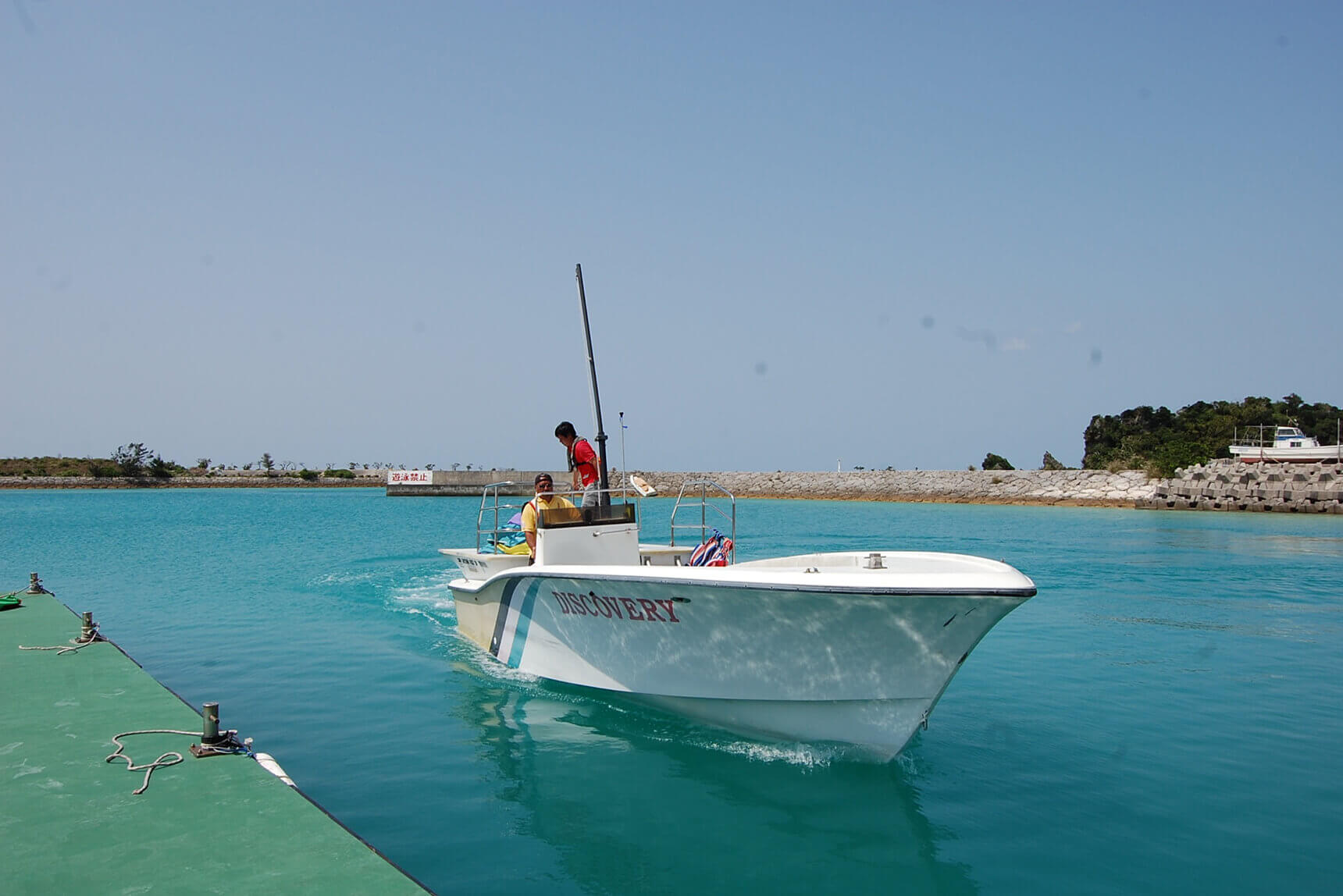 You can head to the meeting place in any outfit, as long as you're okay getting wet in it. Wear flipflops! If you're worried about the sun, bring a long-sleeve shirt. At the briefing, you'll be given an overview of the tour, then you'll put on a life jacket and head to the parasailing site by boat. Enjoy the wind and the waves during the few-minute ride. It can be rocky depending on the weather, so we recommend that you take a motion sickness pill ahead of time if you're likely to get sick.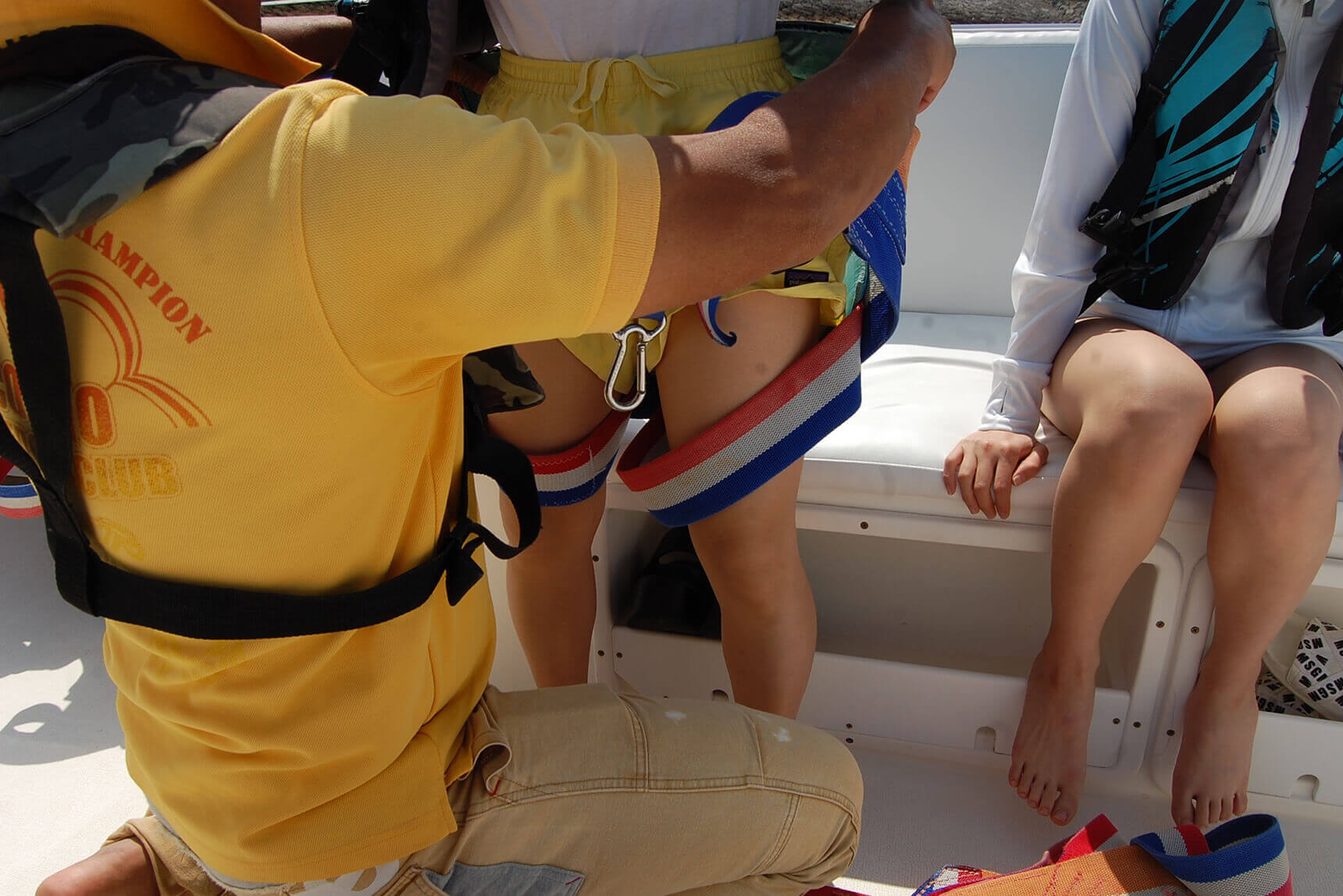 You'll put on a harness once you get to the parasailing site.
More than one person can go at the same time. Imagine it like sitting on a swing. If you start to feel sick, just wave big and they'll bring you back to the boat; you're well taken care of!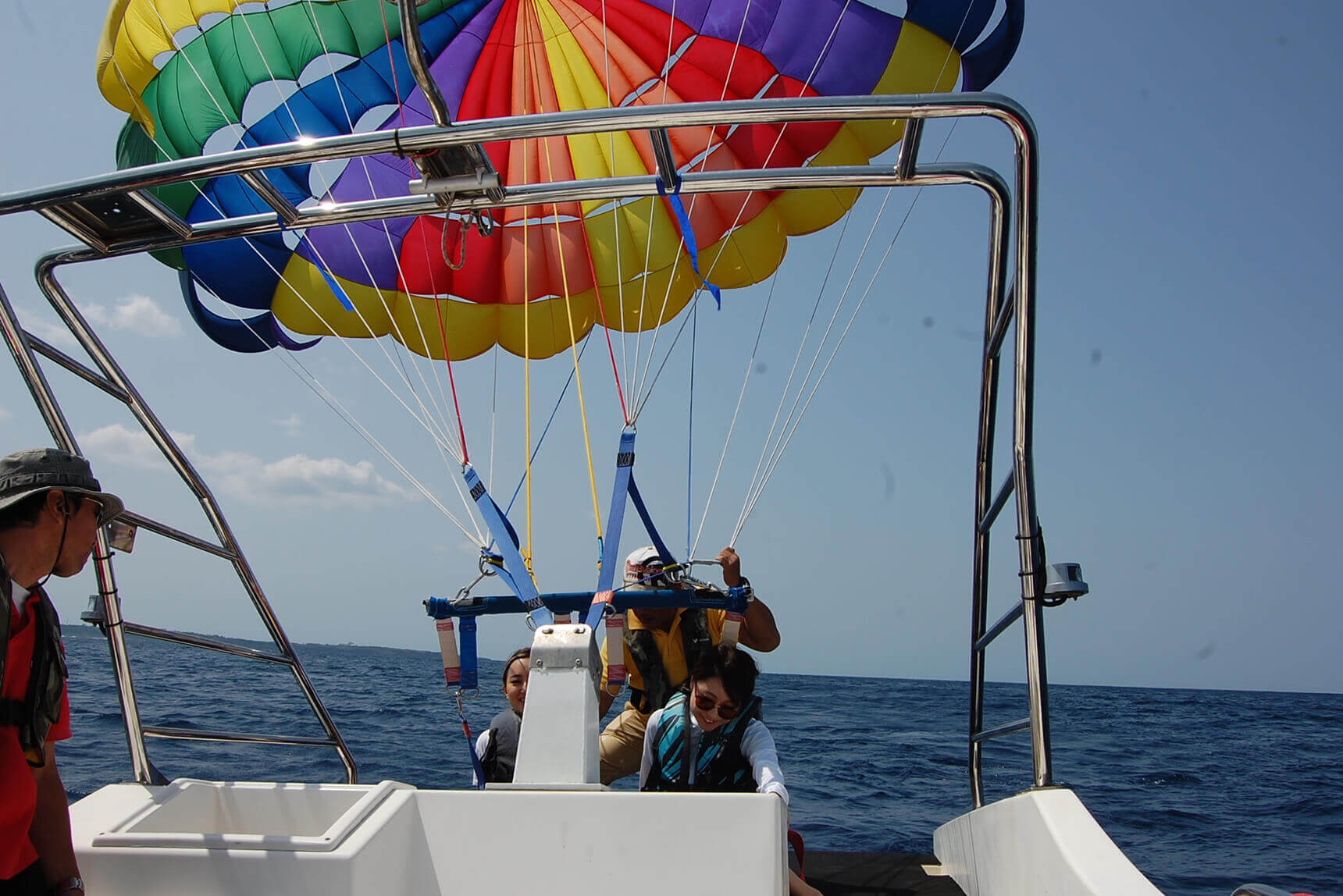 For a two-person ride, you take off and land on the back (stern) of the boat. You might get a little wet, but never soaking wet. For people who don't mind getting wet, they can get dipped in water up to their chests. Let staff member(s) know ahead of time if you don't want to get wet.
It's time for take-off once you get to the back of the boat.
The staff member(s) will attach your harness to a parasail, then you'll take off when they say "Itterasshai (Have a good trip.)"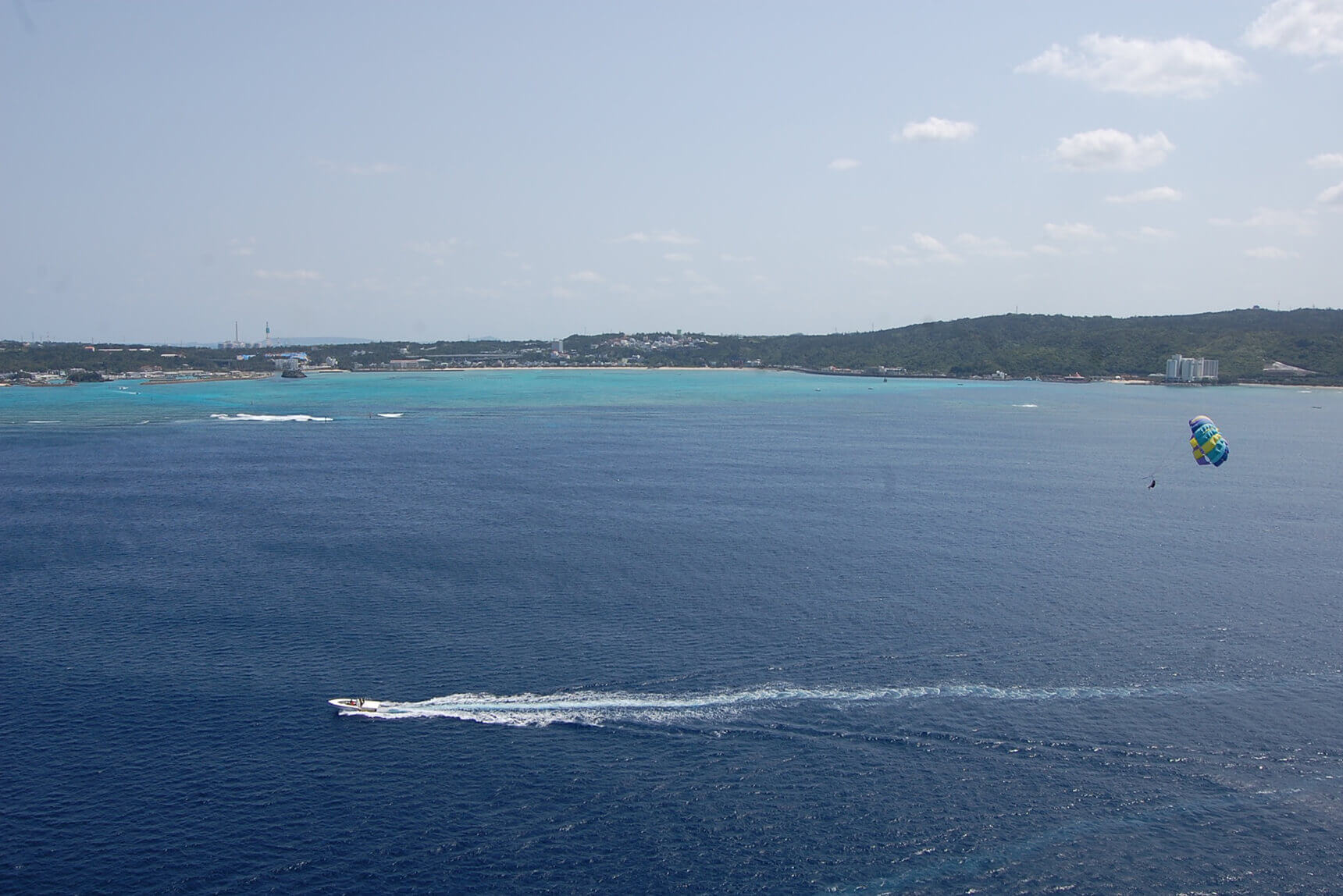 As the boat picks up speed, you'll get farther and farther away, and soon you'll be as high as 40 meters above water.
The nervousness you might have felt prior to take-off will be blown away by the spectacle of the vast ocean. Beautiful water with the contrasting colors of blue, emerald green, and azure blue lie ahead limitlessly. You'll be able to see coral reefs in the extremely clear water, and if you're lucky, maybe even sea turtles and dolphins. When we went, we were also able to see the entrance to the Blue Cave, the ever-popular diving spot, and a white beach that belongs to a hotel.
Enjoy the world underwater from a glass-bottom boat after parasailing. It's free!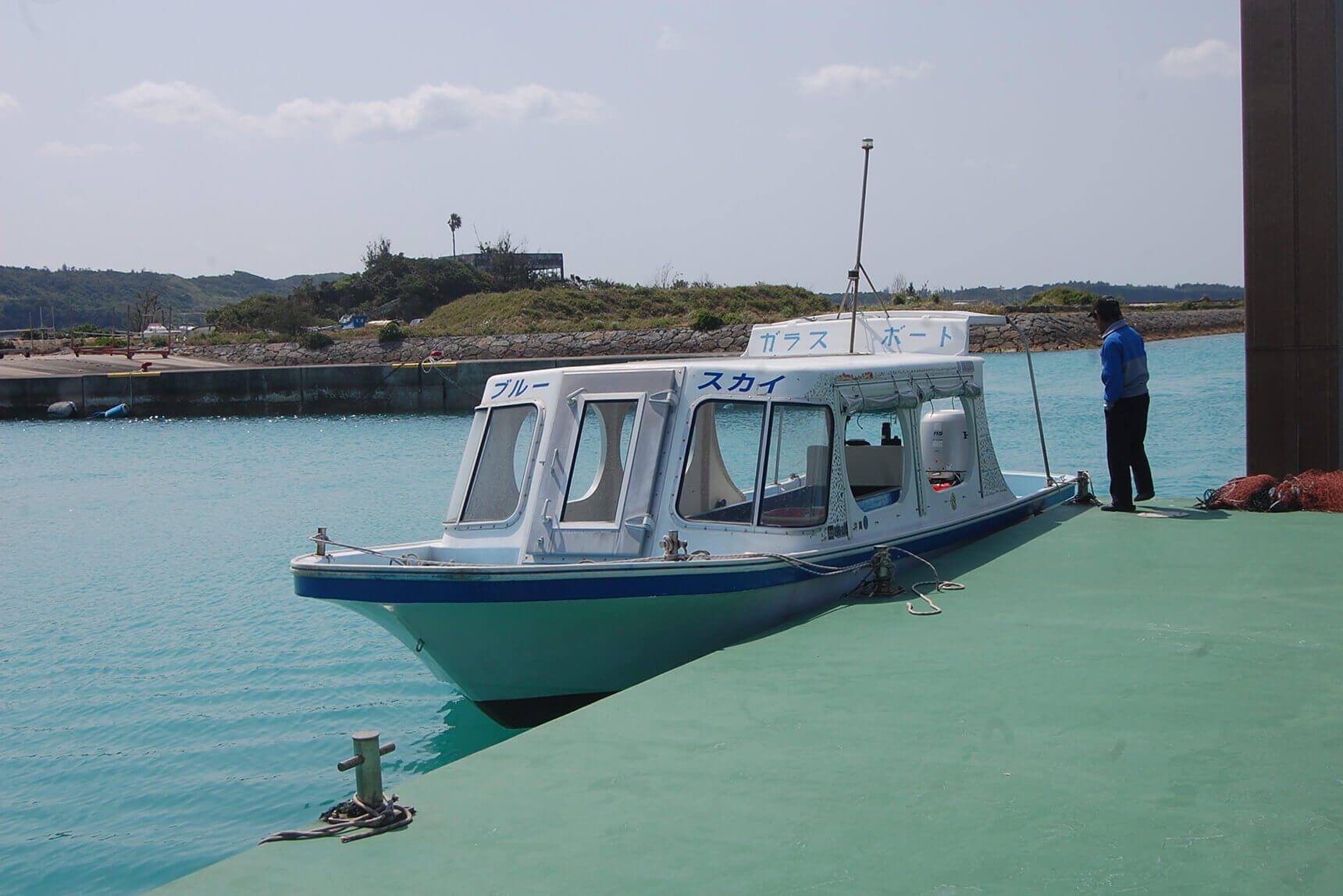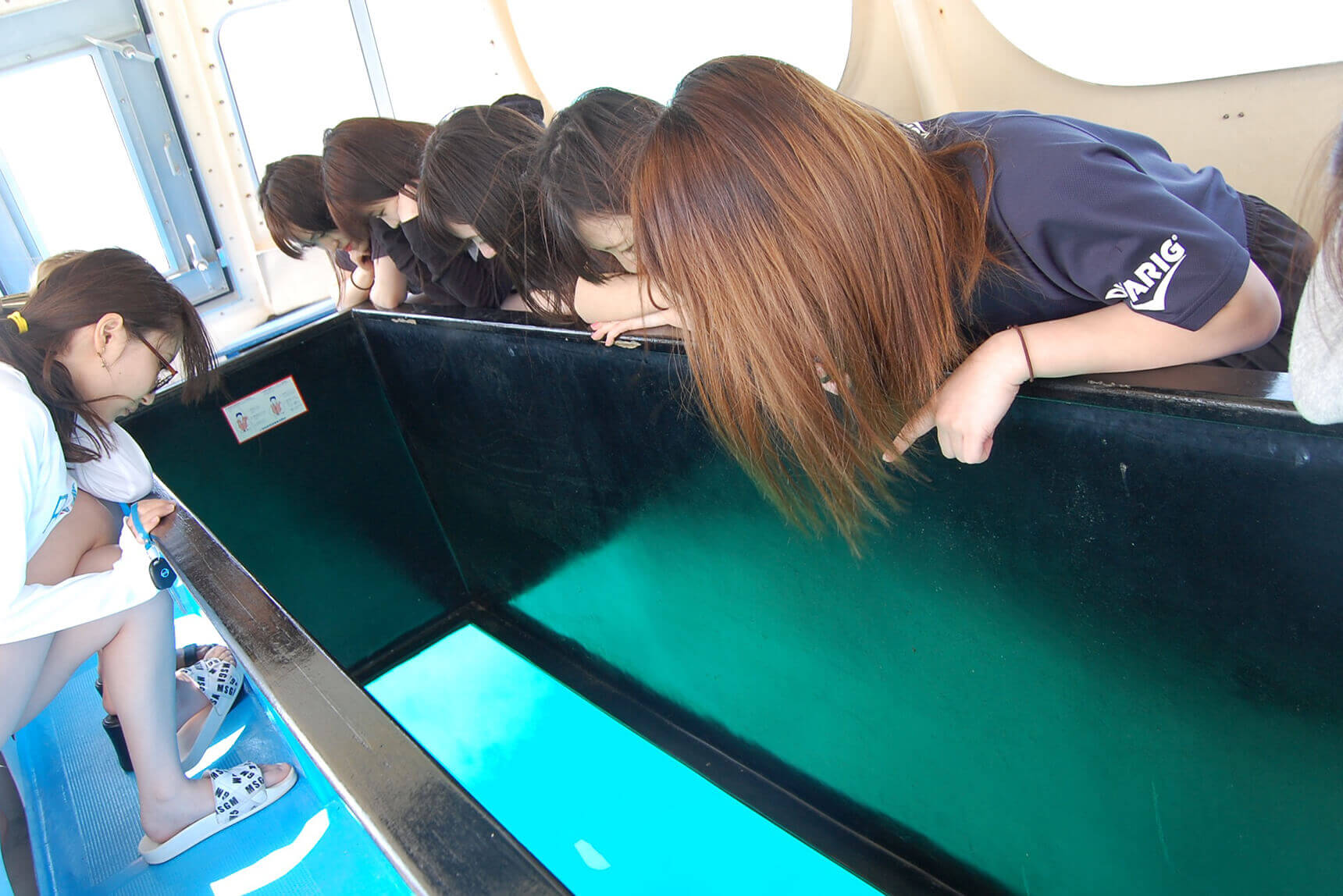 After getting back to the fishing port, we got on a glass-bottom boat. During the ten- to fifteen-minute excursion, they took us to multiple sites, where we could enjoy the underwater world that flourishes with coral reef and freely swimming tropical fish. The glass-bottom boat tour is free—such a great deal! It's a service unique to Cosmo Outdoor Club.
---
Parasailing is an excursion in the sky that allows you to see the Okinawan ocean from above in a short period of time. Staff member(s) take pictures of you during the activity, and you can purchase them afterwards. This is an activity that can be enjoyed by people of all generations, from age three to age sixty, so we recommend it during a trip with family, partner, or friends. Make another unique memory of Okinawa!