Eight parks in Okinawa with large slides and exciting playground equipment.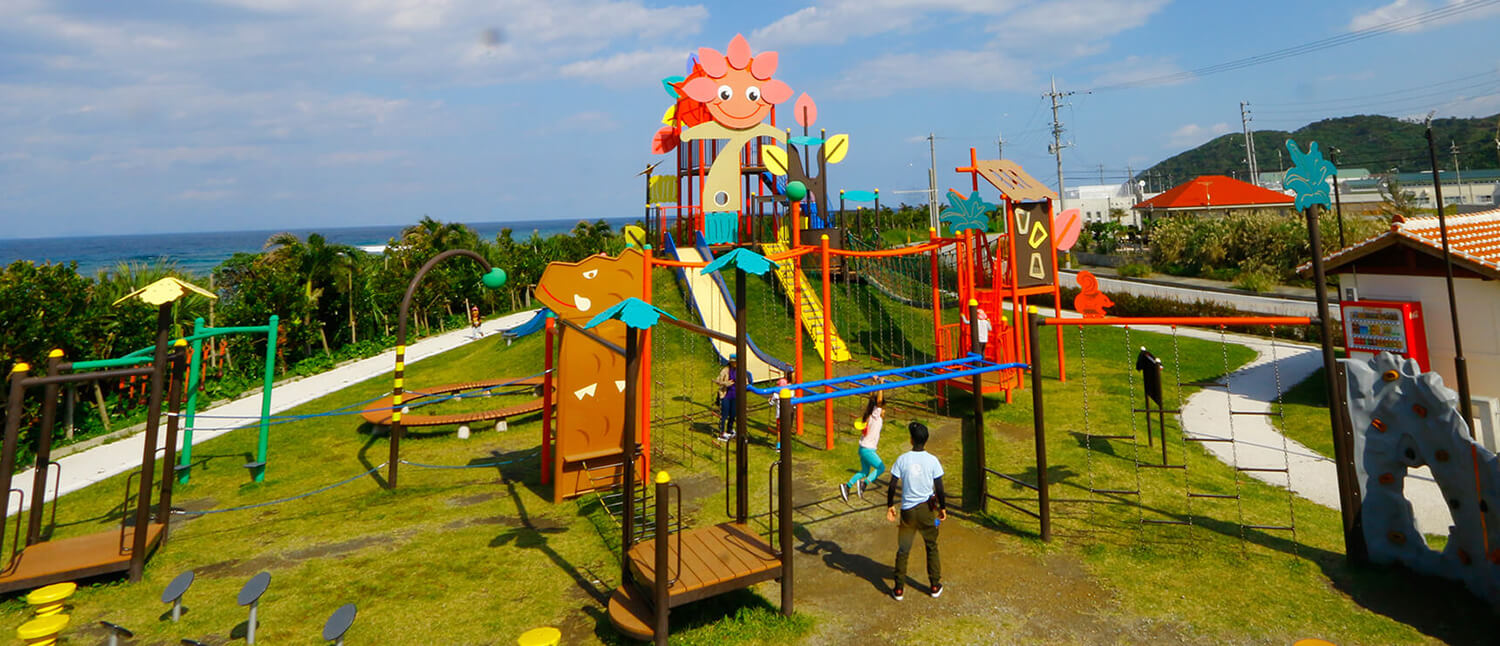 Fun for all ages, from one-year olds to adults.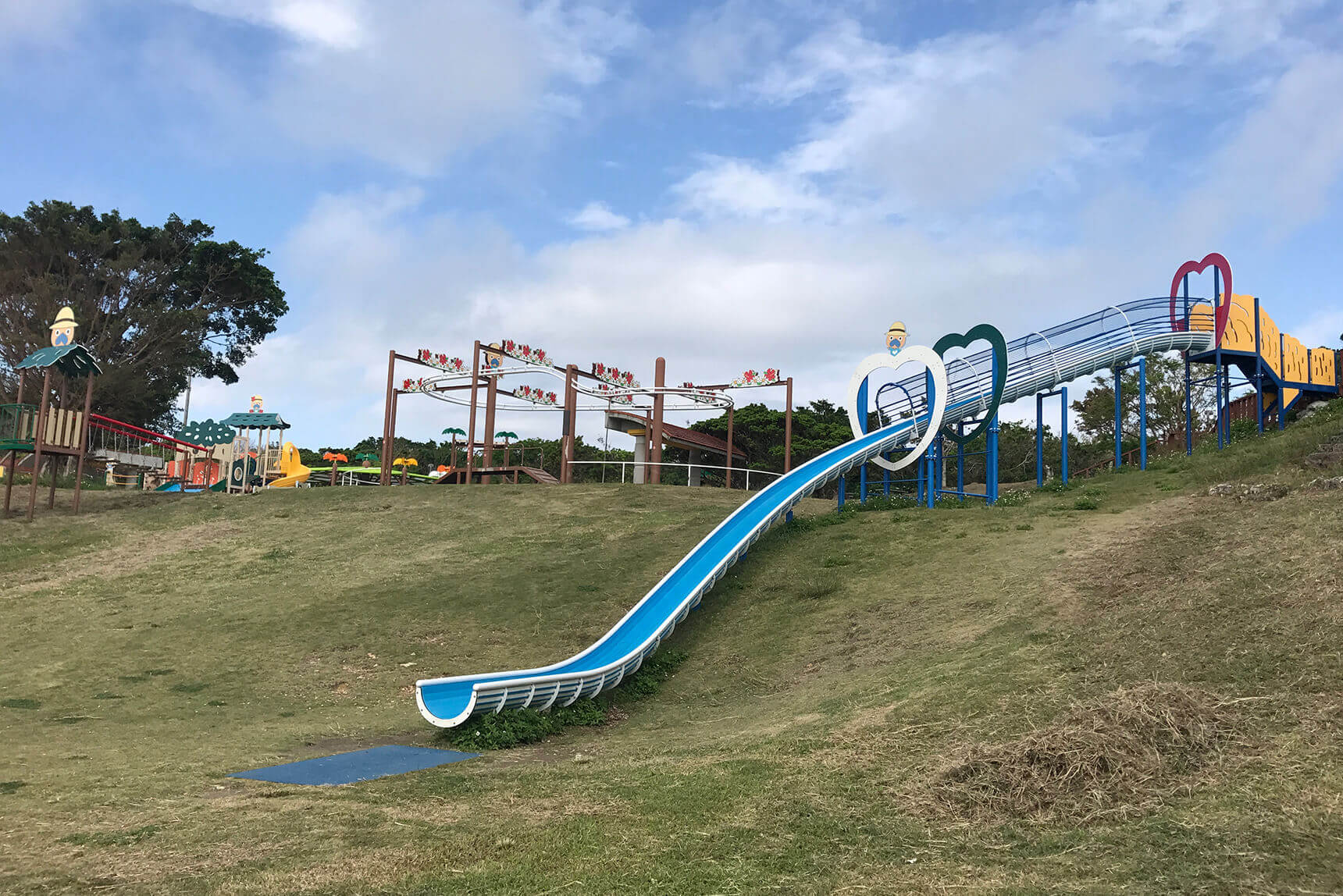 Nanjo city, a city that faces two oceans, has a park called Gusuku Road Park that opened in April 2017 after a period of renovation! The playground has areas for each age group, so kids of all ages can play in the same part of the park. The section for age one to three has a roof, low fences, and rubber ground—great features for small kids. Another section has a large slide with great ocean view and a zip line loop. Kids form lines for these!
---
Play in all five sections and get the most out of the park!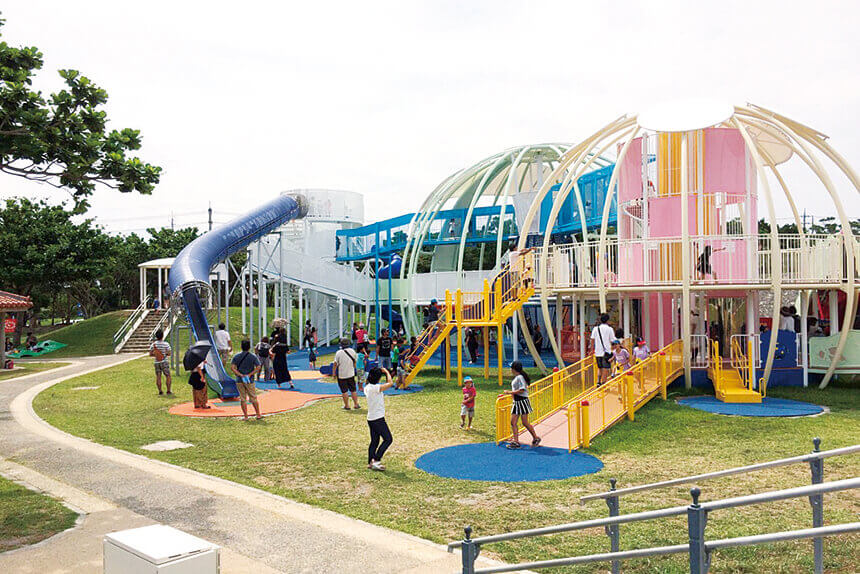 Inochi no Tamago, or "Egg of Life," is a playground at Itoman city's Peace Memorial Park, where Okinawan history is engraved. The round object at the center has ocean creatures carved out, like dolphins and turtles. Large climbing nets are set inside. There are some rare attractions, like climbing walls and a three-person slide. Some pieces of equipment have slopes so that kids on strollers can have fun, too. Head to the "Sky Zone" if your kids love slides. Long Rail Slider, the longest slide in the park, and Tornado Slide, a spiral slide, are some of the most popular attractions.
---
Perfect for vegetable loving kids! The colorful equipment boosts excitement!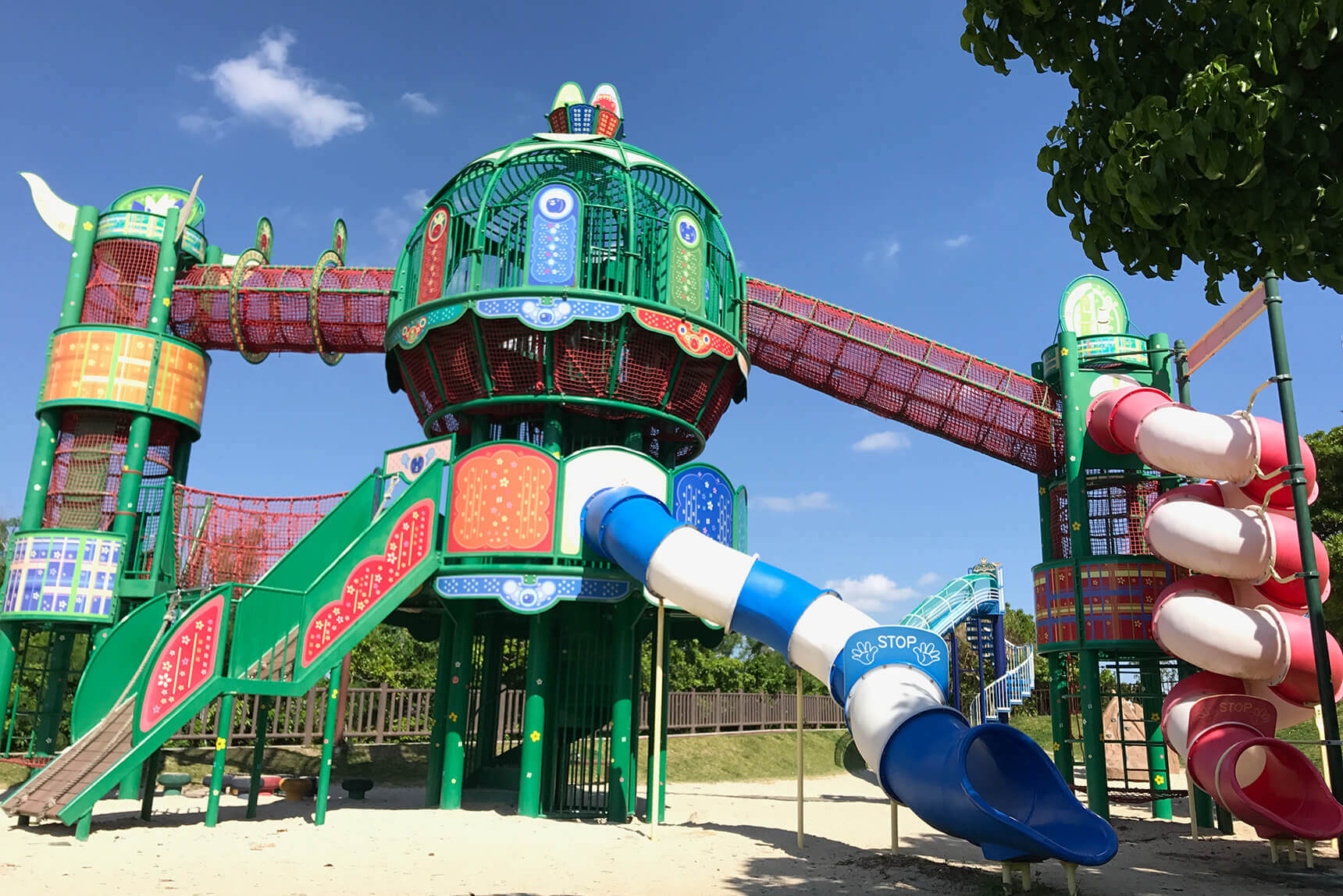 Motobu Park's Vegetable Kingdom Chinkuwa Land is located near an expressway exit in Haebaru village. It boats colorful playground equipment. Chinkuwa means "island pumpkin" in Okinawan dialect—the perfect name for a park in Haebaru village, which is known for its pumpkins. The playground has everything, from standard concrete slides to unique attractions like spider web equipment and climbing walls for smaller kids. Parents can sit at tree-shaded tables and enjoy the cool breeze.
---
Slides, bridges, and so much more! Aozora Park in Oonoyama Park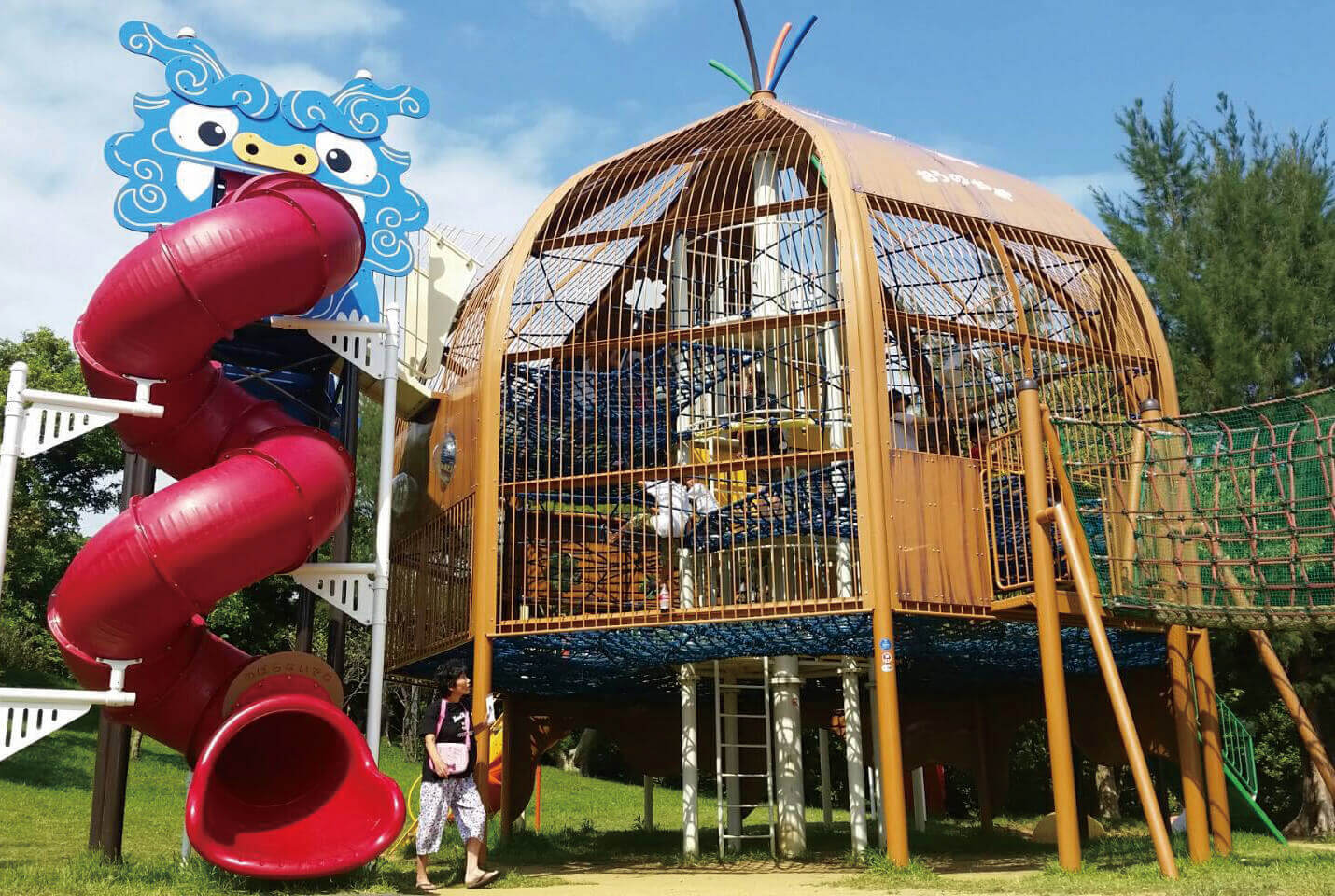 The park is only a five-minute drive from Naha Airport. A large dragon welcomes you to the playground called Nanjamui Toride. Go under the dragon, up the long stairs, and you'll get to the top of a large slide. Keep moving and you'll find a bridge, nets, and a tornado slide that comes out of the mouth of a shisa. An area for younger kids is also available.
---
The slide with a view will certainly get you excited!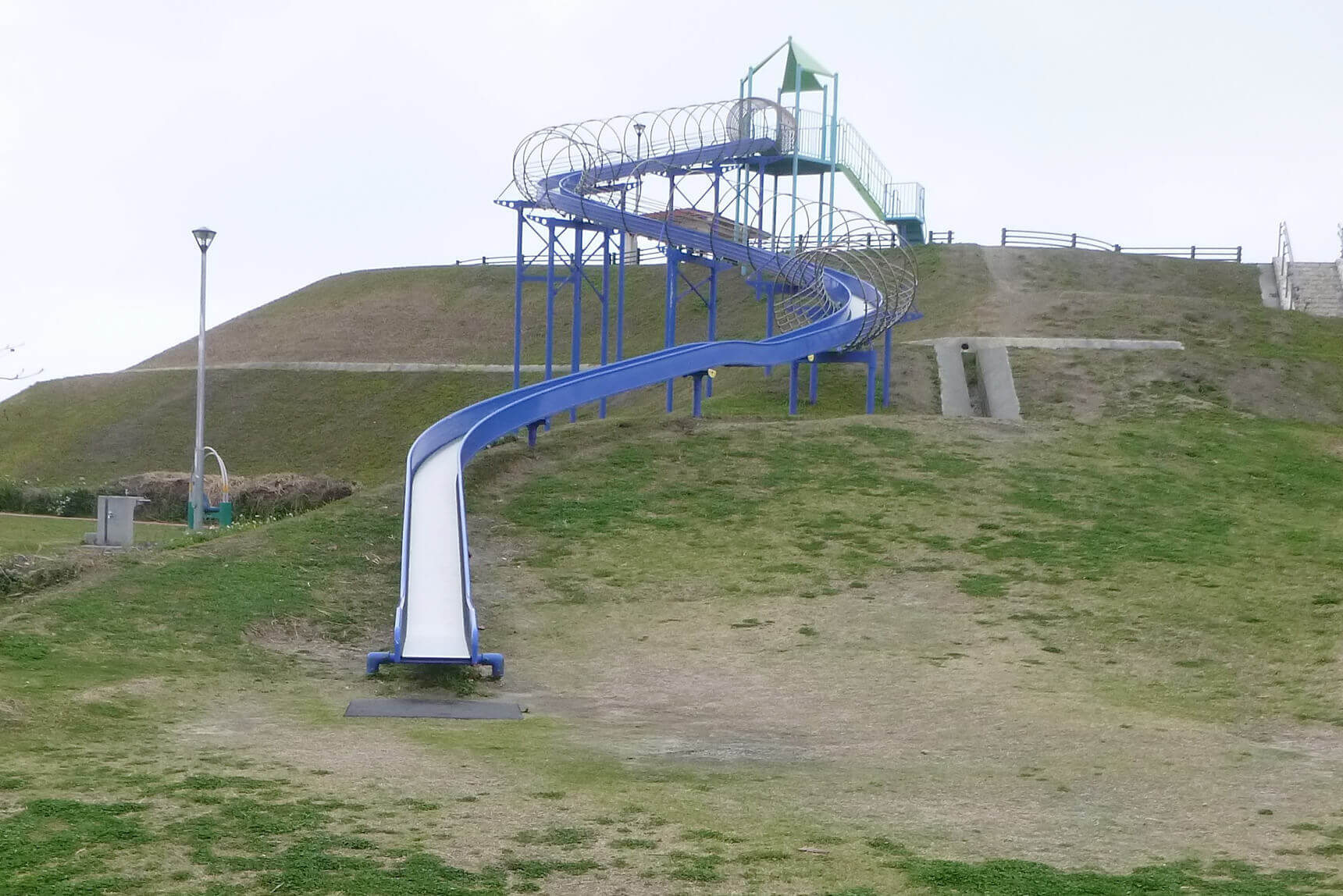 Minamiuebaru Itokama Park is located in Minamiuebaru, Nakagusuku village, which is home to lots of grocery stores and restaurants. The highlight of this park is no other than the large-scale roller slide! This slide with a view of the city and ocean will get both kids and adults hooked! Try out all the slides: straight, curvy, and tube-shaped. They also have standard attractions, like seesaws, swings, and climbing nets. The spacious park is perfect for simply running around, too.
---
Get your energy out at the two large trampolines!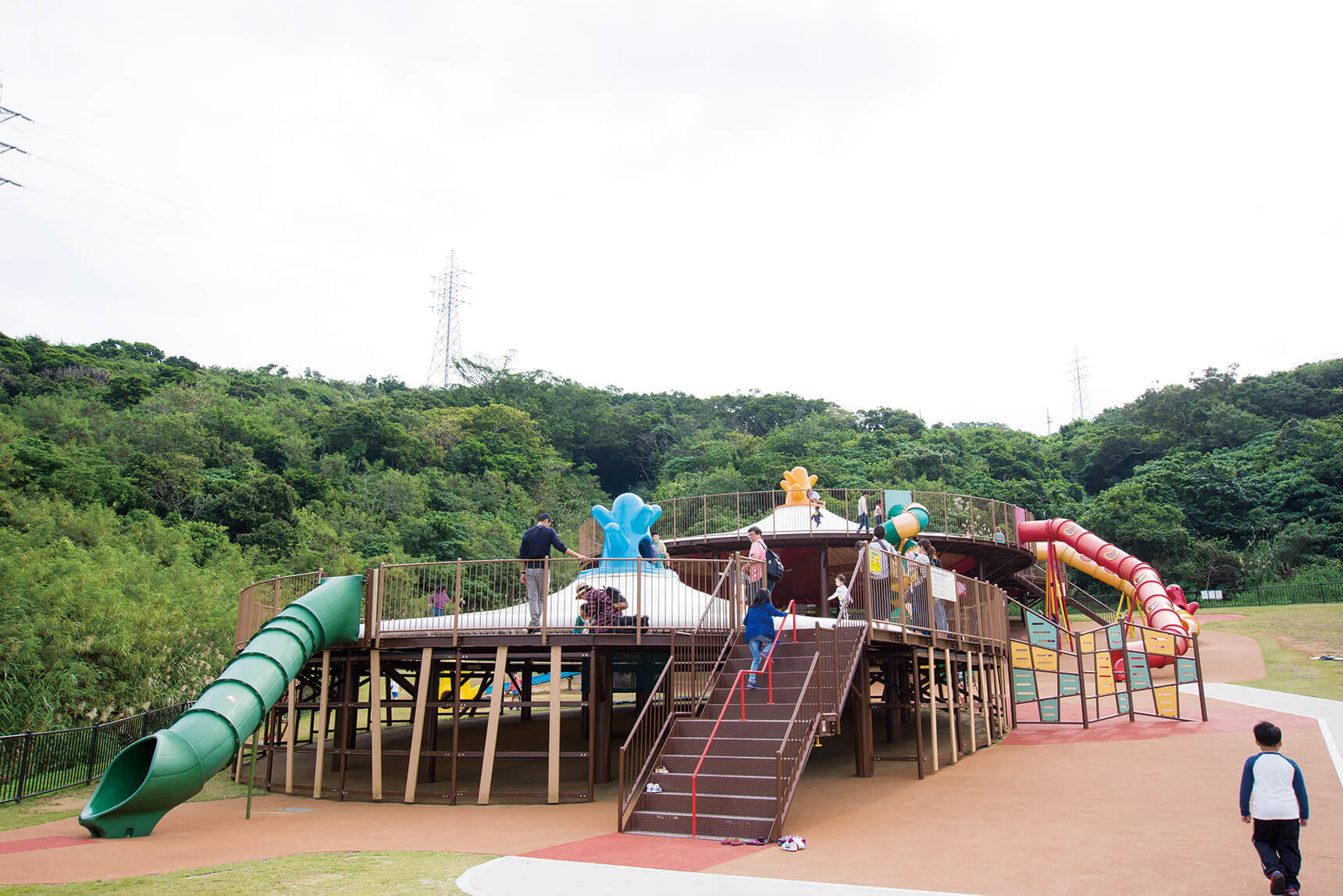 Nakagusuku Park, the largest park in Okinawa, spreads across Nakagusuku village and Kitanakagusuku village. The pair of cone-shaped white trampolines is the most popular feature! Not a single day goes without kids jumping and sliding on them. There are climbing nets underneath the trampolines, which can be used as a resting area, too. They also have tube-shaped slides in the same area, so kids can have all the fun they want in one location!
---
The largest set of climbing nets in Japan!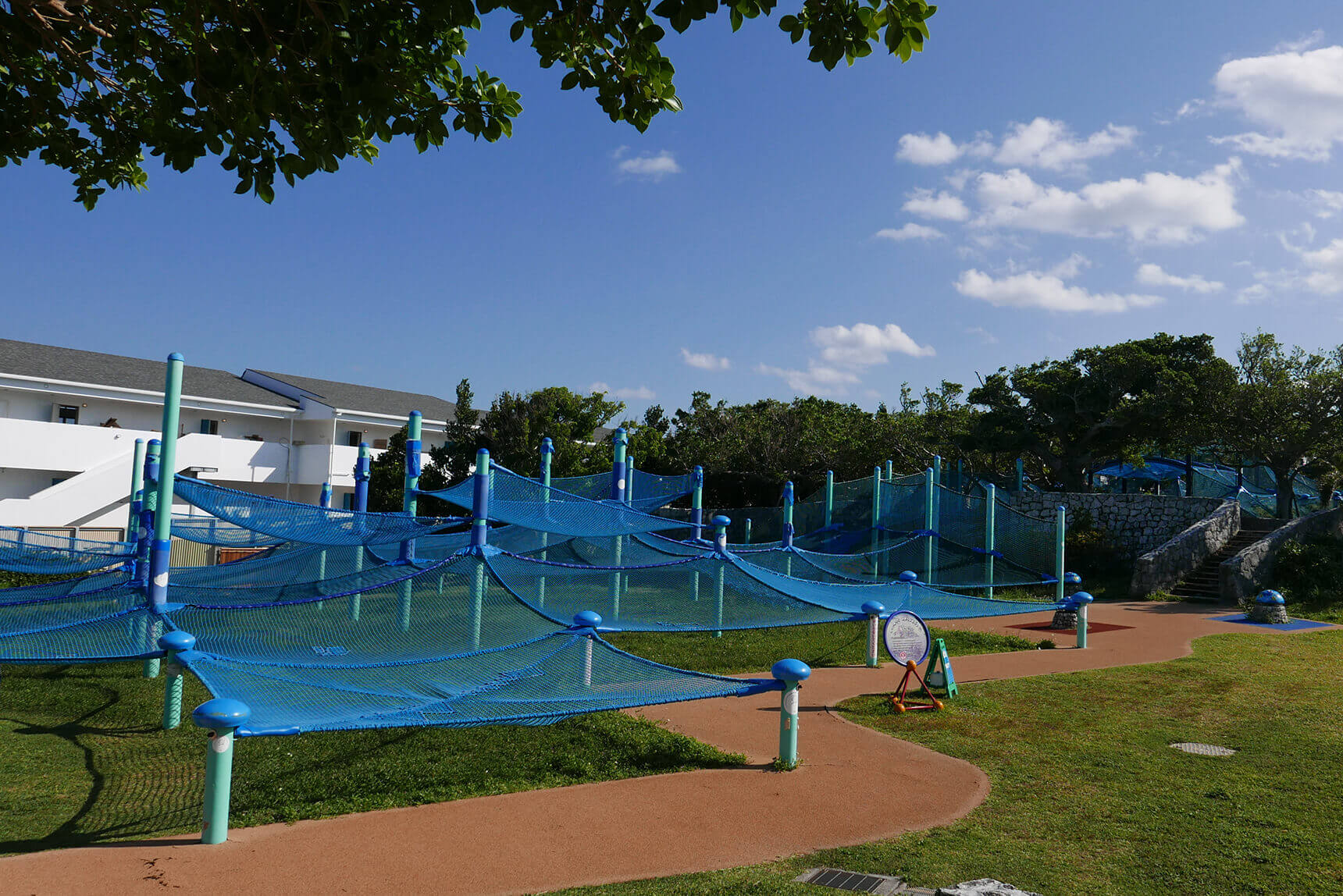 *PHOT provided by Okinawa Commemorative National Government Park (Ocean Expo Park /Kid's Adventure Land)
Ocean Expo Park, known for Okinawa Churaumi Aquarium, has a playground called Kid's Adventure Land. It has one of the largest sets of climbing nets in Japan. It's hard not to sprint towards the gigantic equipment as soon as it comes into view! There are four zones within the playground, each of which expresses a different characteristic of the Okinawan ocean. Those four zones are connected by arch bridges. Other than the large set of more than 200 nets, there is a playground built with soft materials for smaller kids.
Don't miss the Open Sea Zone, where a set of climbing nets expresses the expansive ocean! The target age for this zone, where blue climbing nets are laid out, is six to twelve.
※The playground will be closed when it rains or when the nets are wet in order to secure safety.
---
Feel the Okinawan atmosphere at the park that's also perfect as a resting area.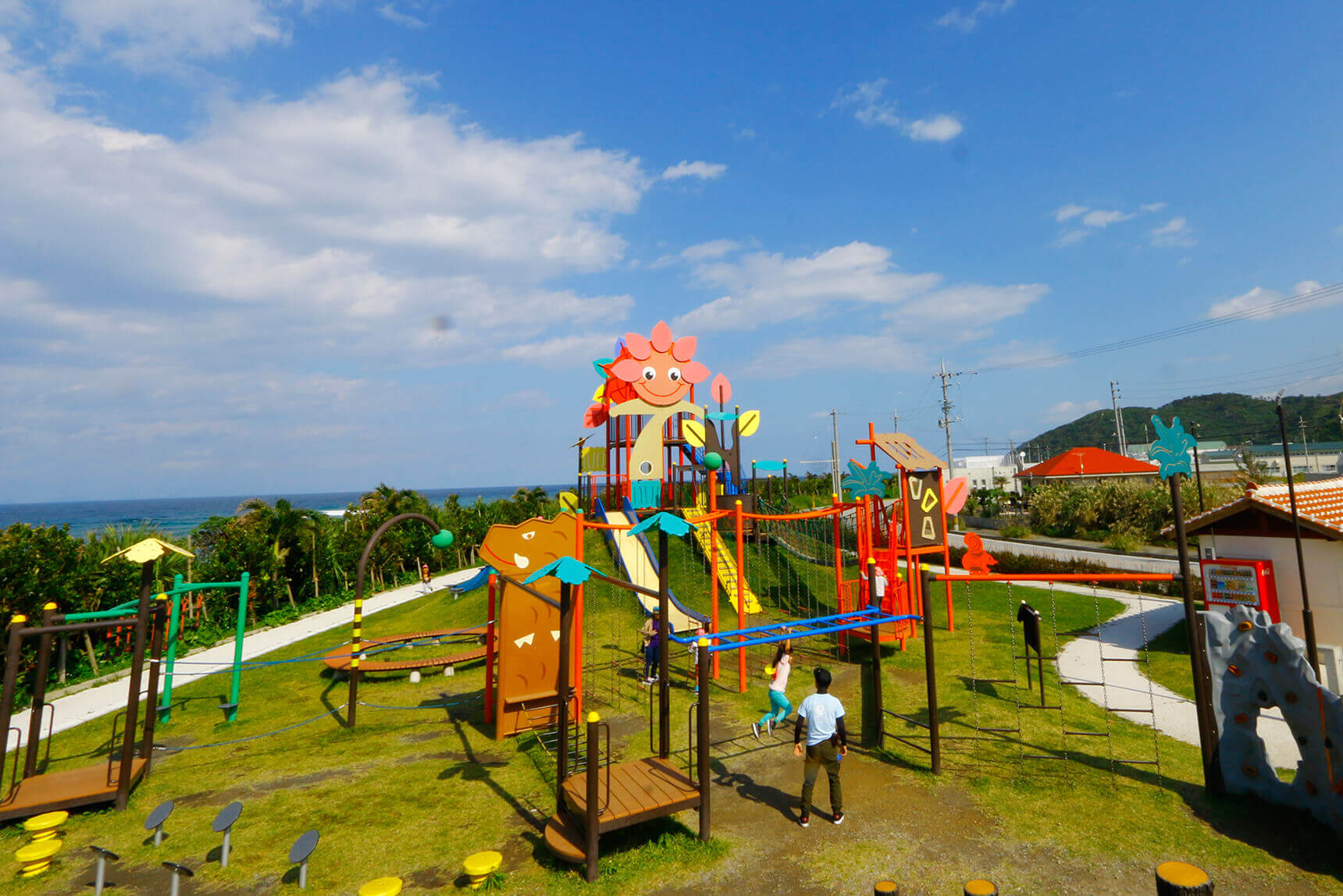 Yui no Hama Park is a two-minute drive from Michi-no-Eki Ogimi. The park is themed after a fairy called bunagaya, which is said to live in forests and rivers in Ogimi. The entire park has an atmosphere unique to Okinawa, with illustrations of scenes from Okinawan folklore on their walls and playground equipment inspired by dragon boat races. There's also equipment that requires higher skills, like climbing poles and rope walks. The observation deck with a view of the East China Sea and the walkway along the water are popular spots. It's a perfect place to rest during a drive in the northern area!
---
So many different parks exist in Okinawa! Kids love running out in the open just as much as playing on the equipment. These parks are just perfect for family fun.
Please use the equipment safely during play time.