Head out and find some cute ceramics and cafés! A stroll along Tsuboya Yachimun Street.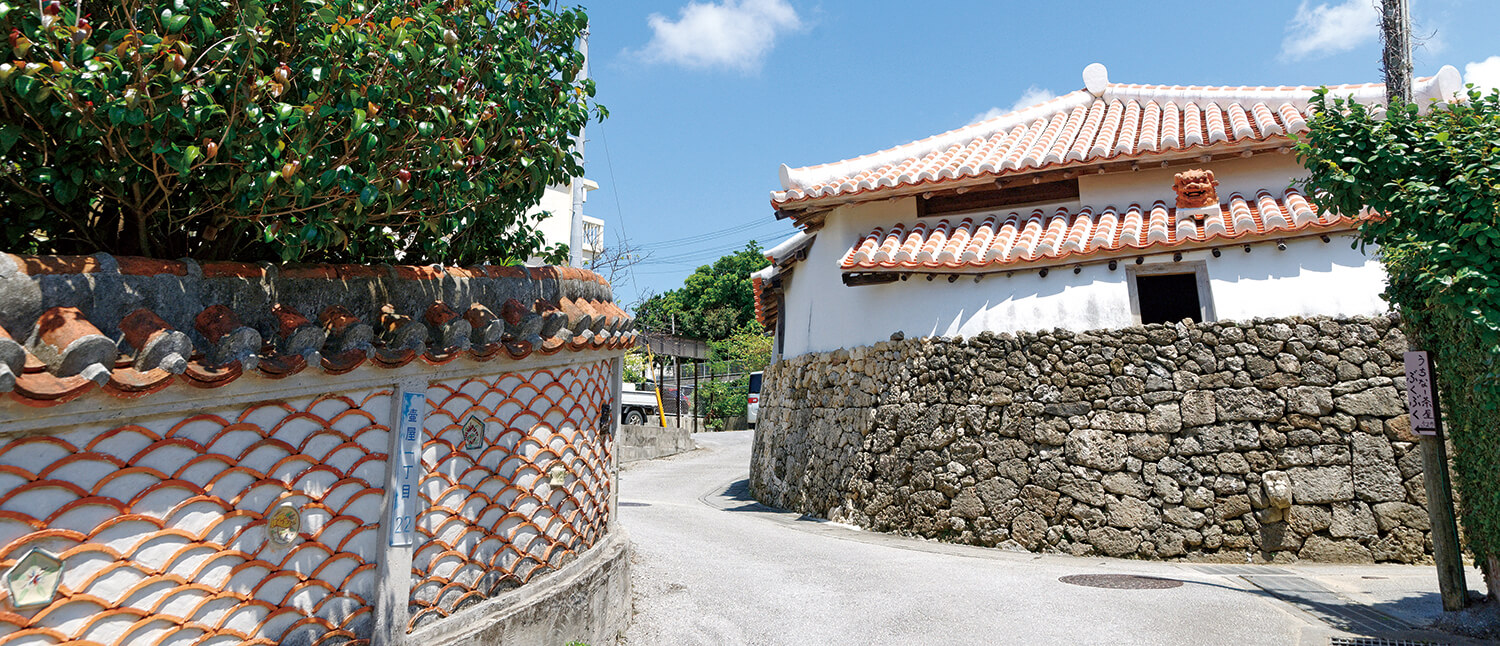 Tsuboya Yachimun Street is a five-minute walk from Naha's Kokusai Dori (International Street). Despite being in the center of Naha, it retains the atmosphere of Okinawa's good old days. Here's our report on the five spots you won't want to miss on Tsuboya Yachimun Street. Take a whimsical stroll along this nostalgic street!
Get to know Tsuboya Yachimun Street, a treasure house of yachimun (Okinawan ceramics).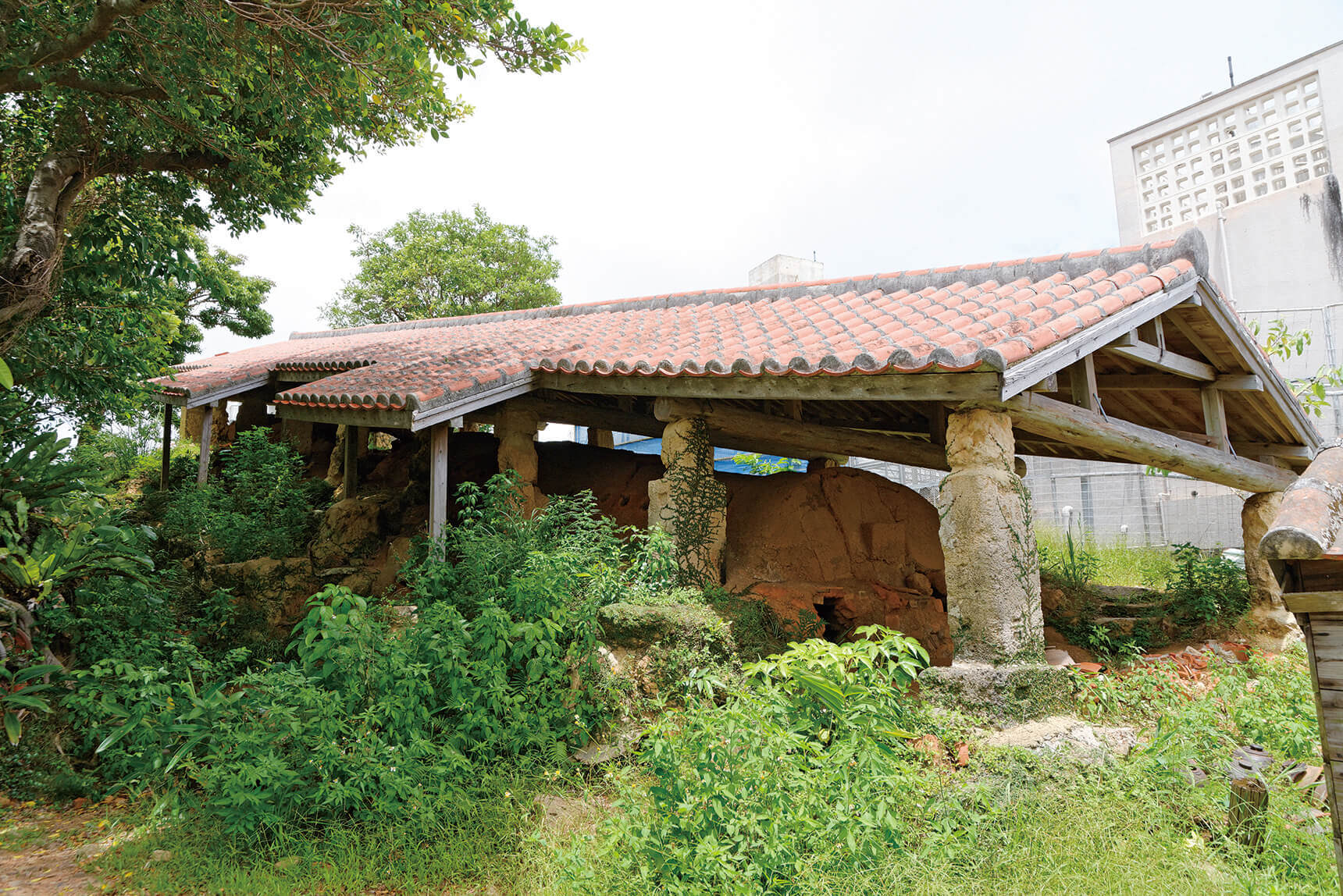 Yachimun kilns, studios, and shops line at Tsuboya Yachimun Street. Yachimun is Okinawa's traditional pottery. The history of this area goes back as far as about 300 years ago, when the Ryukyu Kingdom gathered potters from all over Okinawa in this area. Today, it's a popular tourist destination, known as the birthplace of yachimun.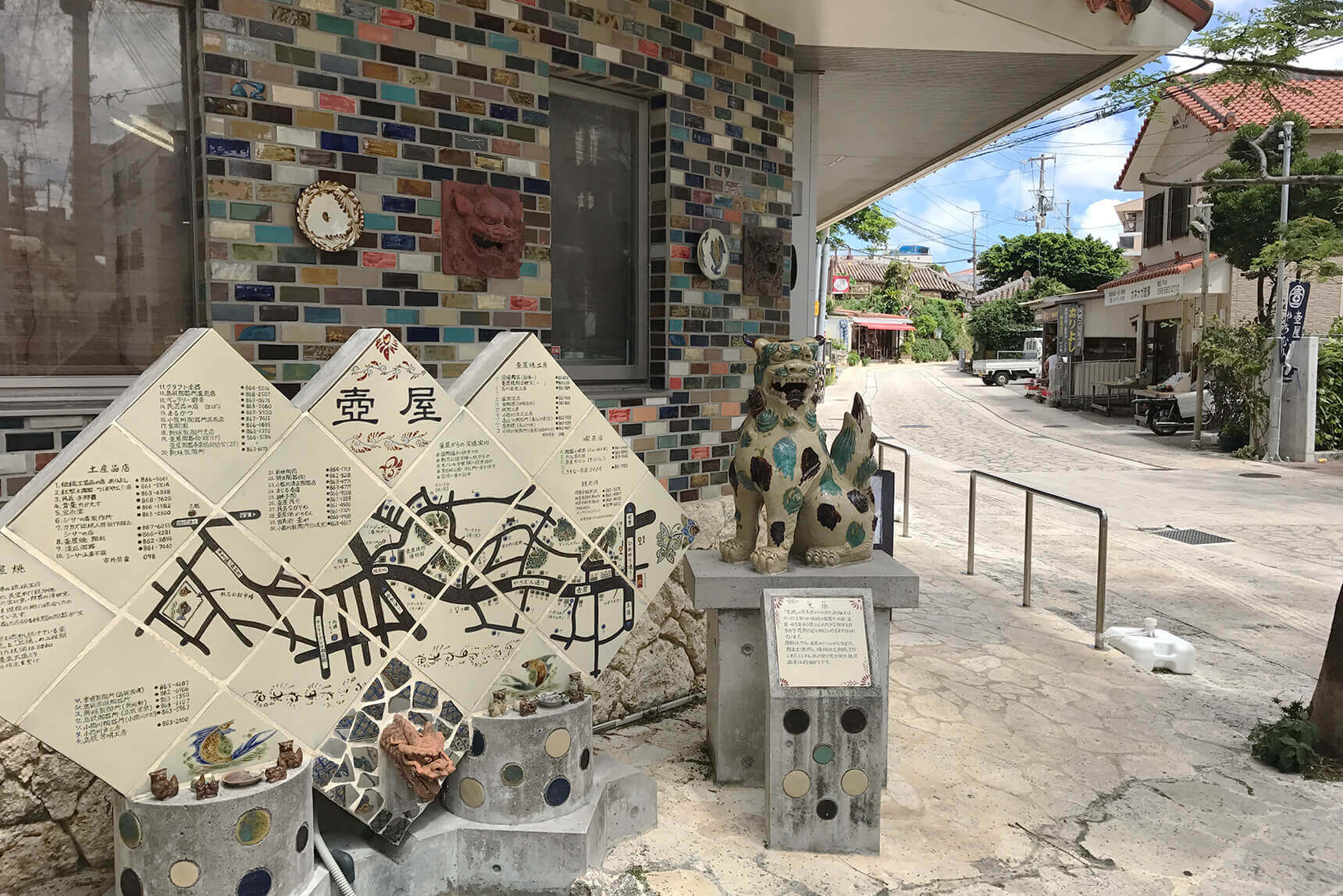 Other than the long-established pottery studios, one will find studios that carry younger artists' work, shops, and cafés. The area is also home to lots of atmospheric back alleys since it survived the war.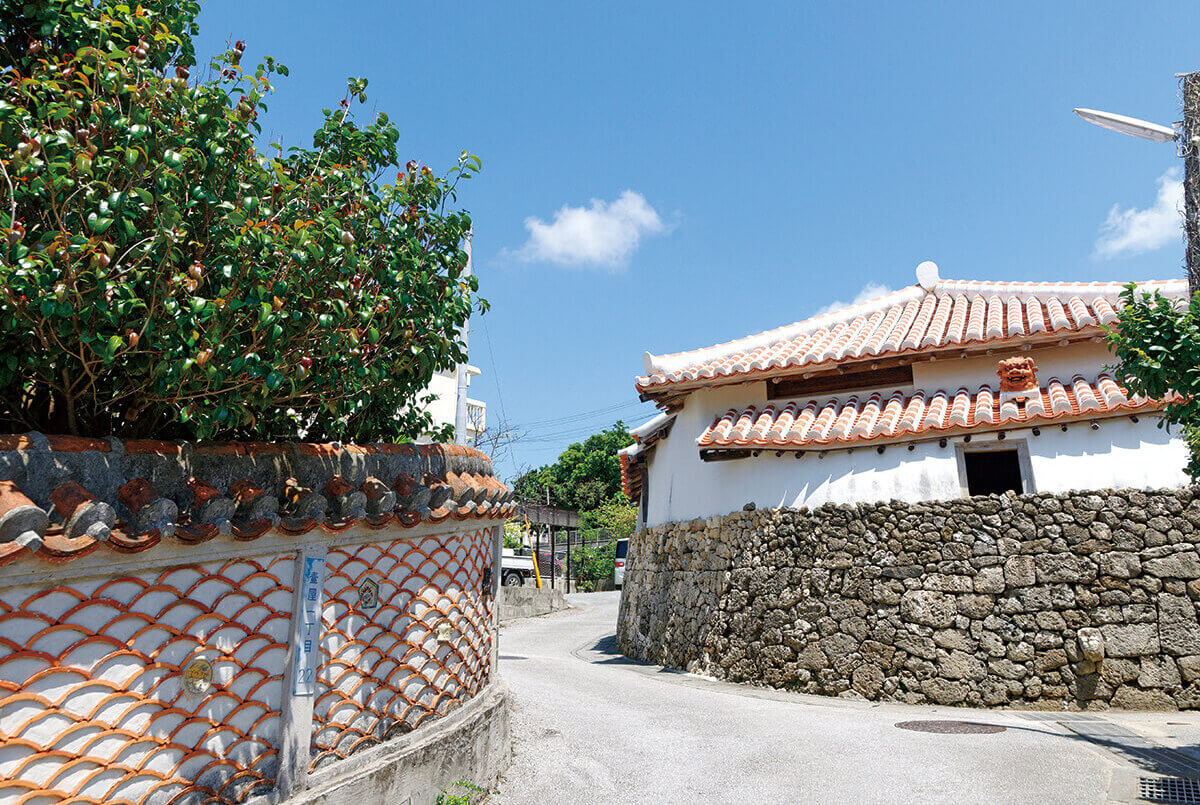 The past and the present coexist in the atmospheric Tsuboya Yachimun Street. The unique streetscape, which makes one wonder if s/he has stepped into another world, is a perfect spot to be for people in search of yachimun as well as for those that want to enjoy a nice stroll.
---
Try your hand at tsuboya-yaki at Ikutoen Yachimun Dojo, a long-standing studio.
The ceramics made in Tsuboya are called tsuboya-yaki. Ikutouen is one of the long-established tsuboya-yaki pottery studios, and it hosts pottery-making activities every day! Even first-timers can casually enjoy this activity since the expert staff members guide you through the process.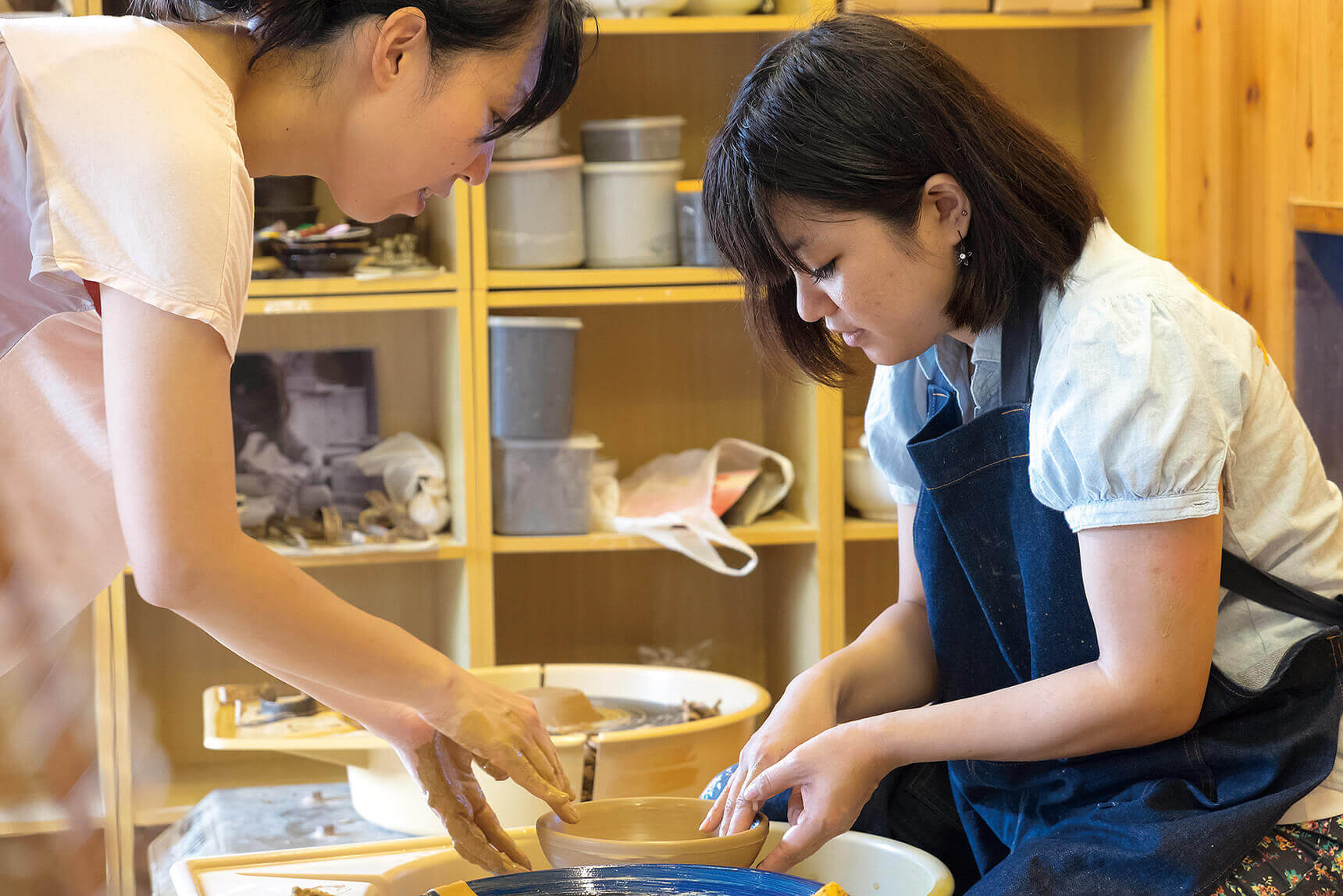 There are many courses to choose from: shisa making, painting, wheel throwing, and tebineri (hand formation). You also have many options for the date, time, and the item(s) to make, so it can easily fit your schedule and taste.
---
Adorable yachimun that match well with western dishes.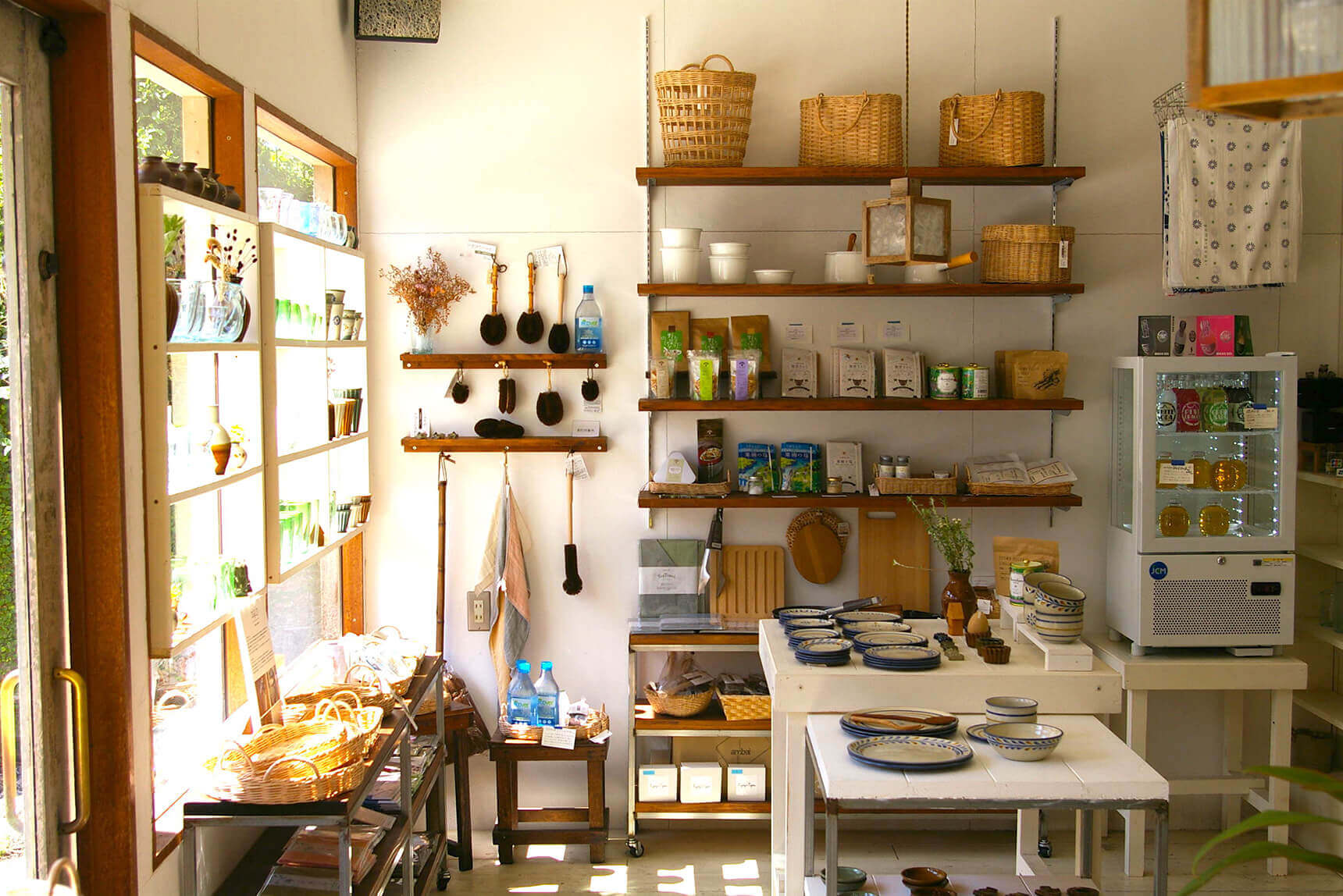 Guma guwa is a shop run by Ikutouen, a long-established tsuboya-yaki studio. Younger potters take the lead at this shop to make items that are easier to incorporate in day-to-day life. Their hope is that yachimun becomes more familiar to the younger generation.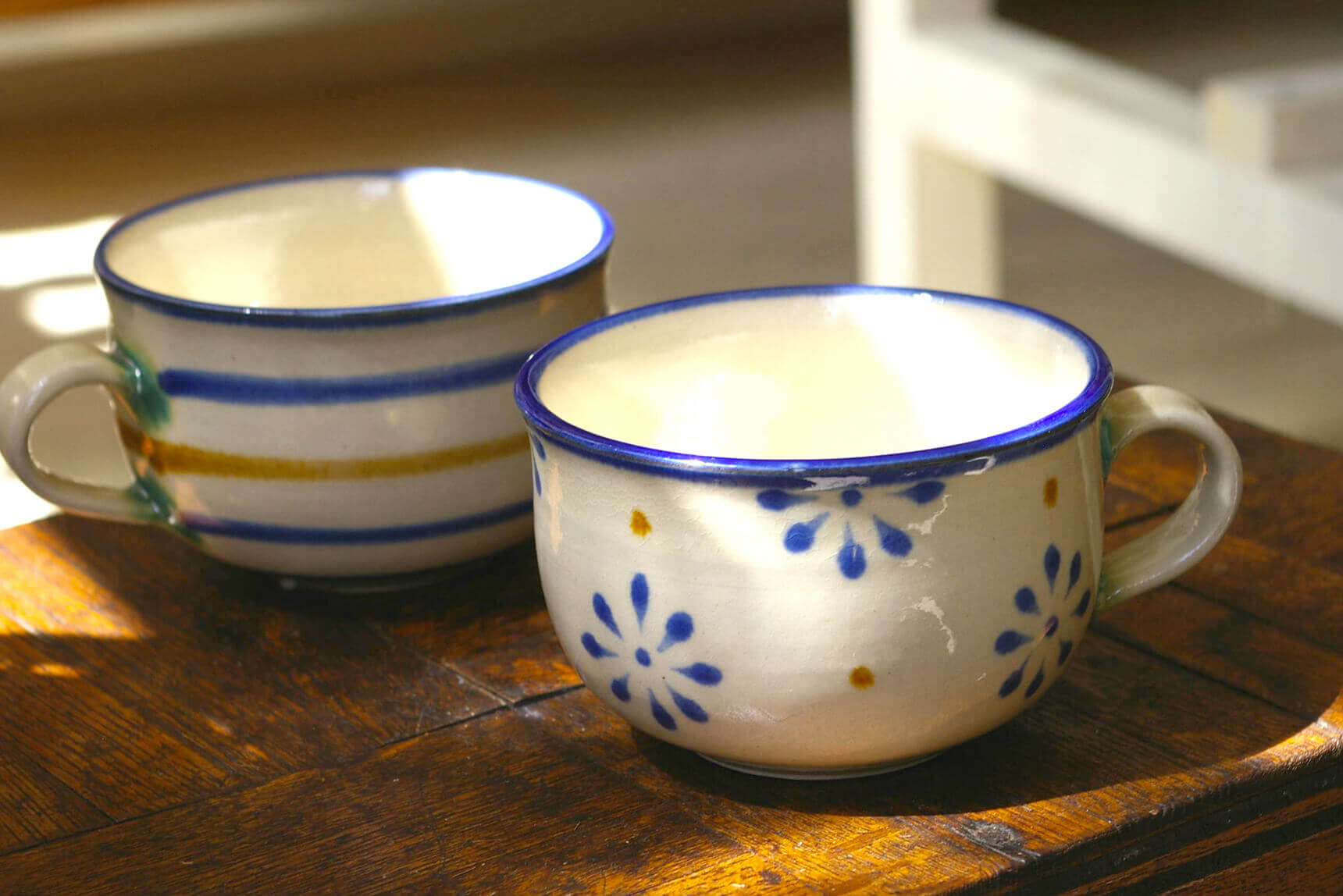 The morning series, one of their major works, include mugs, bowls, and plates. They retain yachimun's unique color and texture, while introducing patterns and shapes that would be perfect for western breakfast or dishes. Many other items line, like stylish chopstick holders and chic goods. You'll be able to find items that will enrich your everyday meals.
---
Enjoy the different traits that come through in the works of three-generation potters.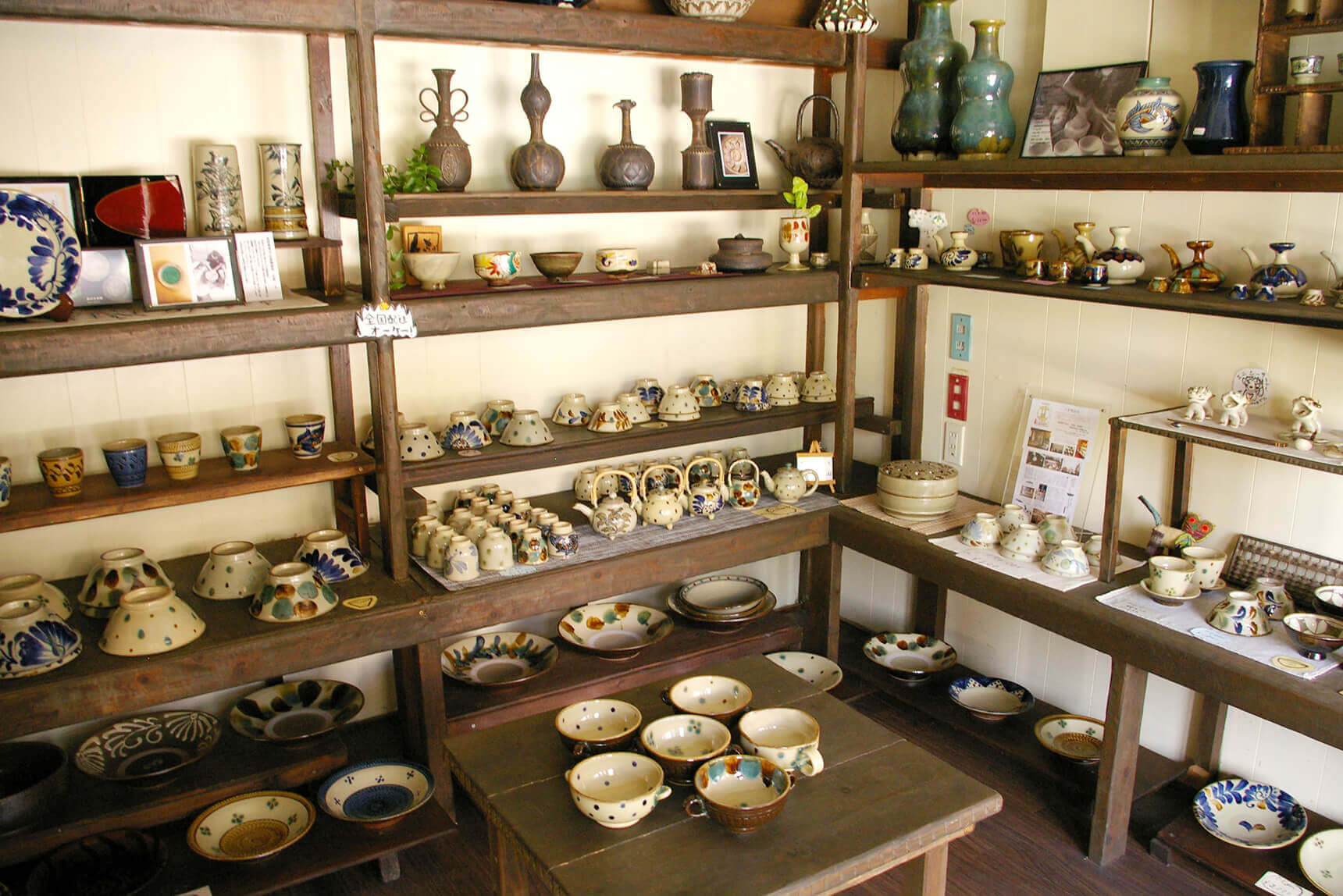 Nchazeku is the name of the shop, and "ncha" means "dirt" and "zeku" means "the maker" in the Okinawan dialect. The works of the three-generation "dirt craftsmen" line the inside of the shop with warm, wooden interior. Mr. Ishikura, the owner, was born into a family of potters in Tsuboya. He was born and raised in Tsuboya, but moved to Nanjo city when he established his own business. They founded Ishikura Tokijo (Ishikura Pottery Studio), and made yachimun pottery the family business.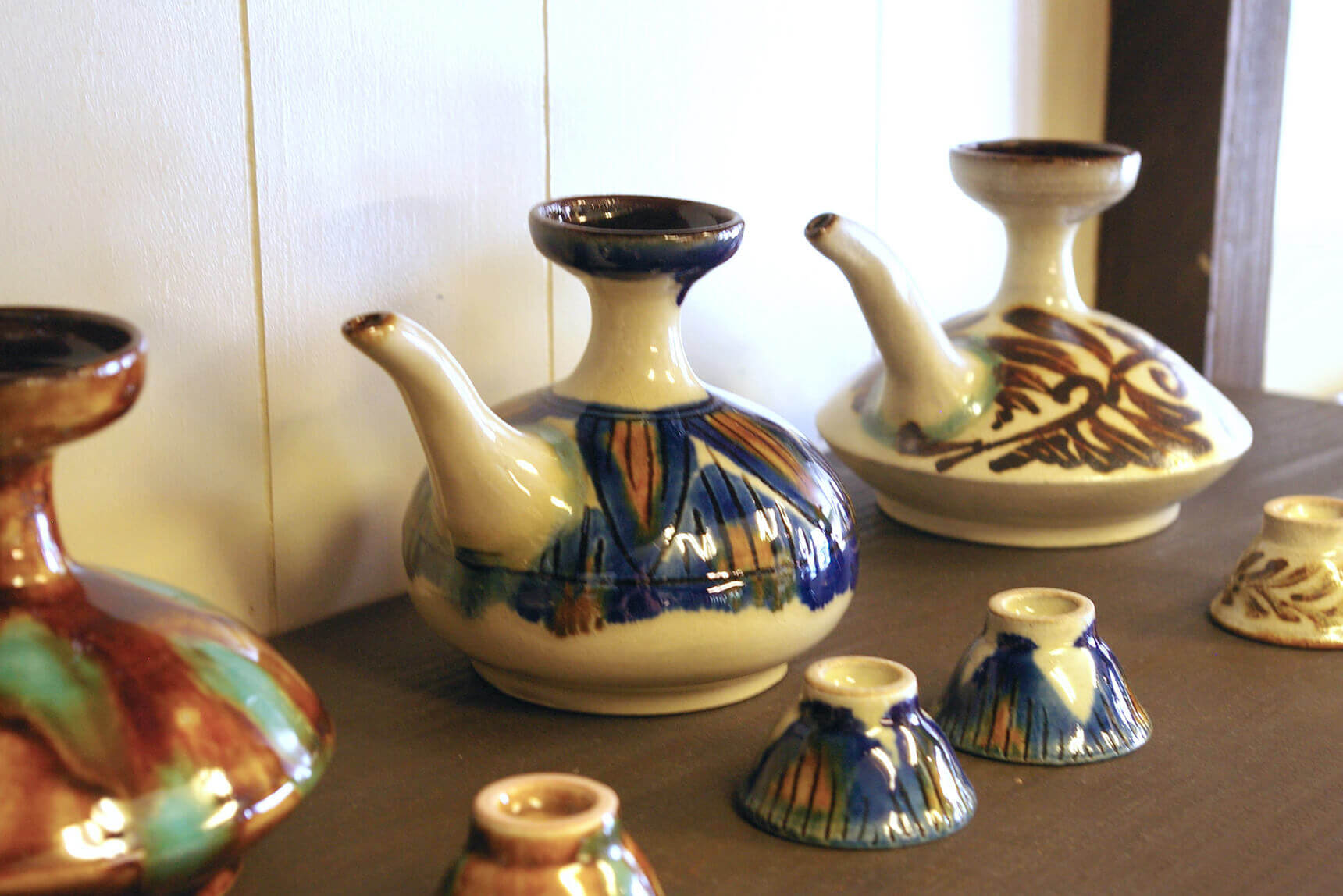 Each potter's work stands out from the other two. The recommended item at the shop is karakara, a ceramic vessel for awamori. These were used where the Ryukyu Kingdom had its influence. The awamori poured from karakara is superb. Many other wide-ranging items line, from traditional ones to modern ones. Their subtle stylishness shines through and would be great for long-time use.
---
Is it cotton candy?! Take a little break with bukubuku-cha, Okinawa's traditional tea.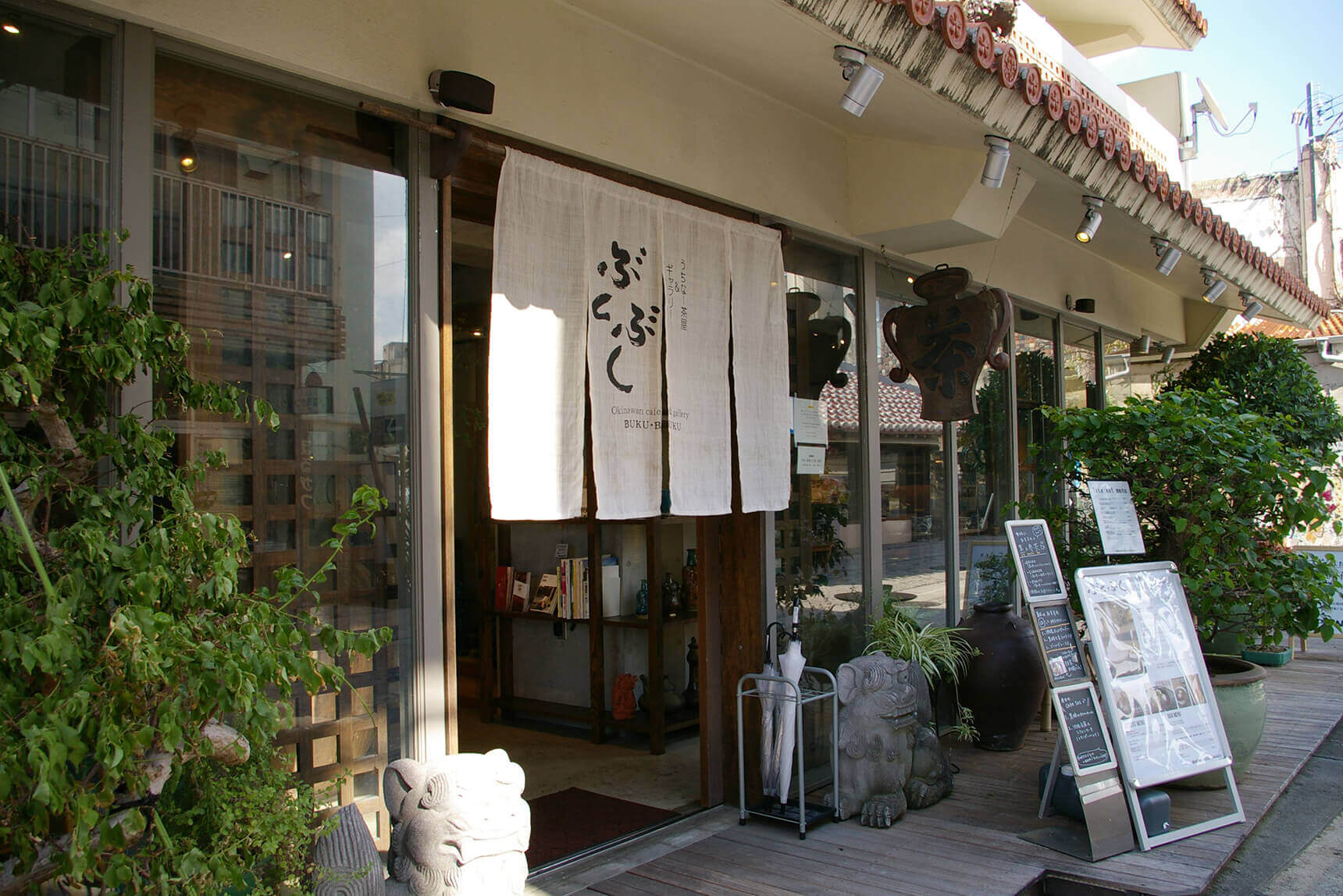 Bukubuku-cha is said to have been served to guests of the Ryukyu Kingdom. You can actually drink this high-class tea at Okinawan cafe & gallery BUKU BUKU, which is located on Tsuboya Yachimun Street.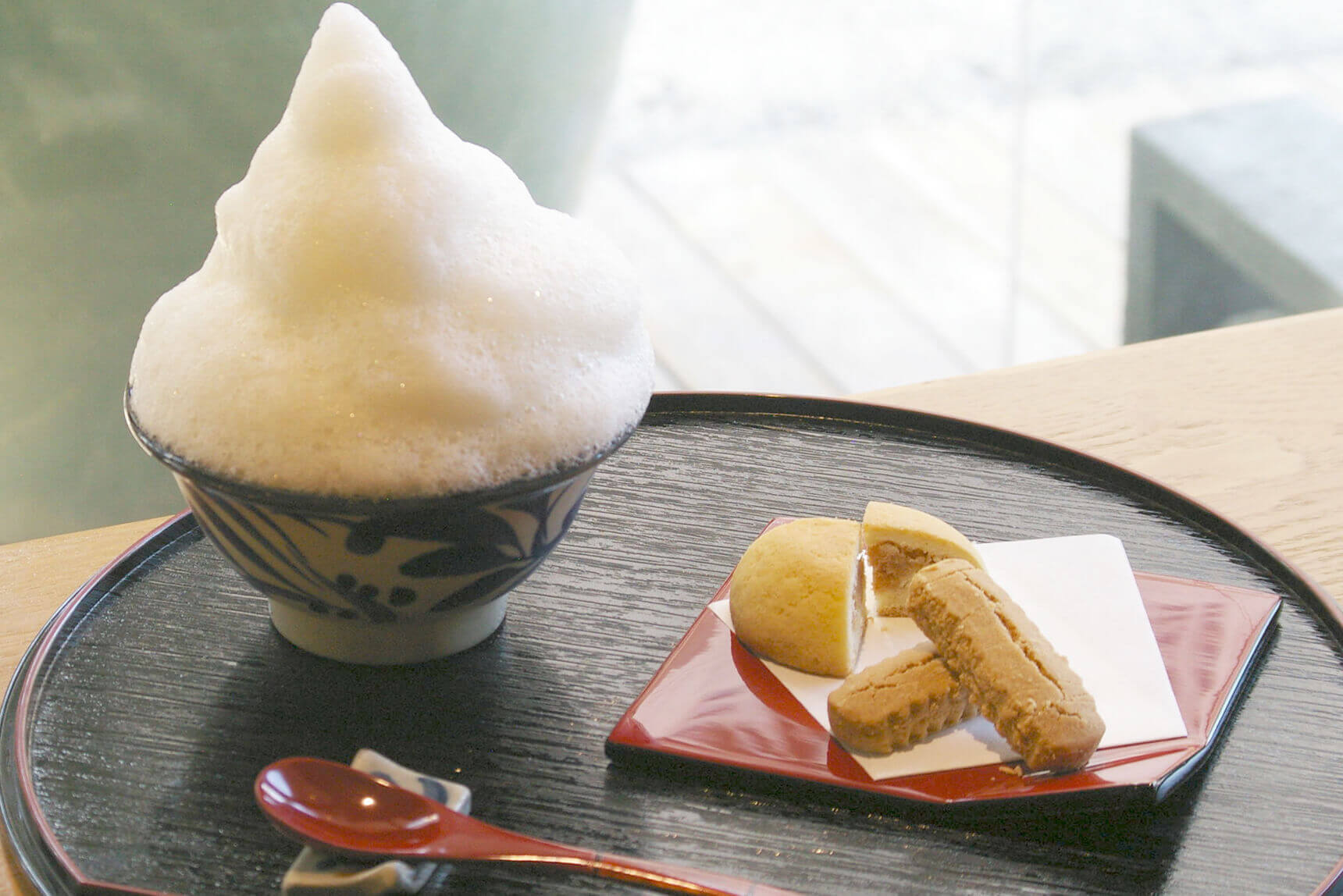 The tea that resembles cotton candy or shaved ice is definitely picture-worthy! The bukubuku-cha is served with chinsuko and kunpen, Okinawan traditional sweets.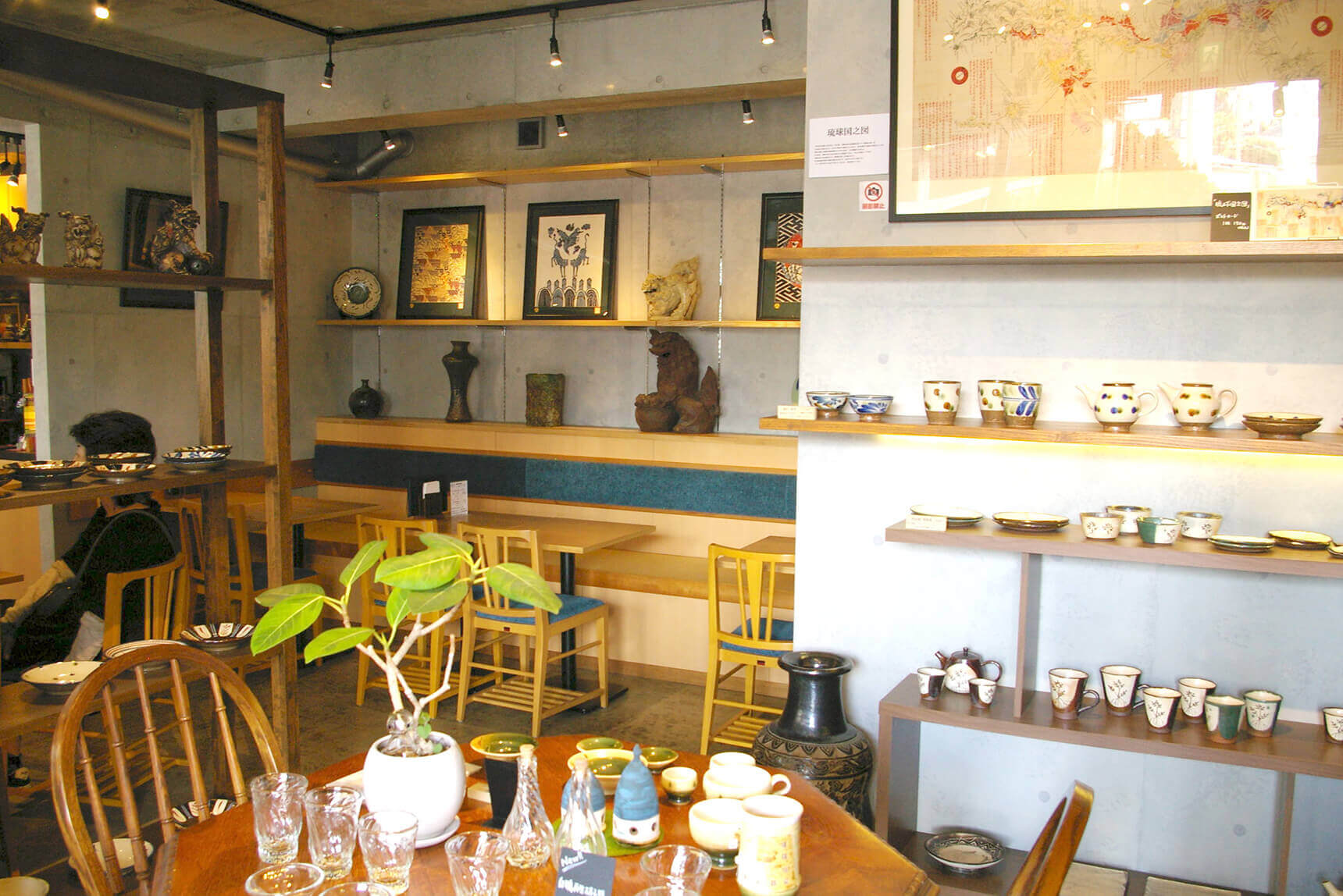 The shop has both a café space and a gallery. Other than tsuboya-yaki, ceramics and glass items from all over Okinawa are available for purchase. Enjoy spending some time with highly skilled Okinawan artifacts after your tea time.
---
Take a break at the red-roofed Okinawan traditional house at a suujigwa.
---
You can tailor your visit to Tsuboya Yachimun Street however you want. Go on a yachimun hunt, try your hand at yachimun making, or take a break at an atmospheric café. Instead of taking a car, we recommend you walk along the street and feel the Okinawan breeze.