Okinawa has lots of tourist spots that are open late. These places are as much fun at night as they are in the day. From family fun activities to illumination spots for date nights, we got a carefully selected list of places on the Okinawa main island you won't want to miss!
The paradise that's open till 10pm on weekdays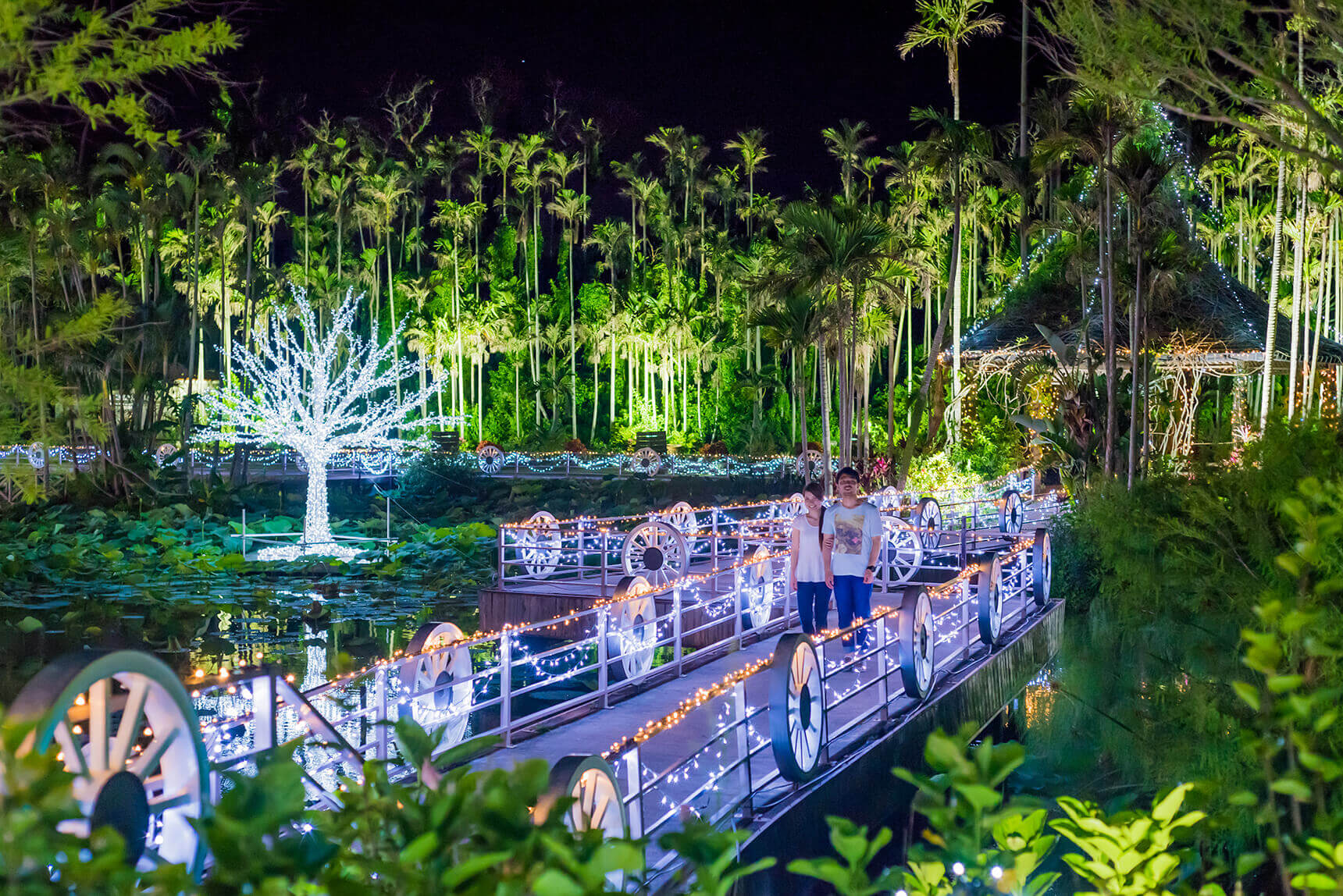 Southeast Botanical Garden is located in the central region, in Okinawa city. In this park, which consists of the Botanical Garden, Water Garden, restaurants, and shops, you'll be able to see extremely rare tropical and subtropical plants that were transplanted from Southeast Asia, Africa, and South America. The Water Garden, which is built around large lakes, is the best photo spot in the park! If the timing works out perfectly, you'll be able to see night lilies. The garden is filled with many other charms. The entire park is lit up until 10pm on weekday nights.
---
Have a romantic night at Senaga Island Umikaji Terrace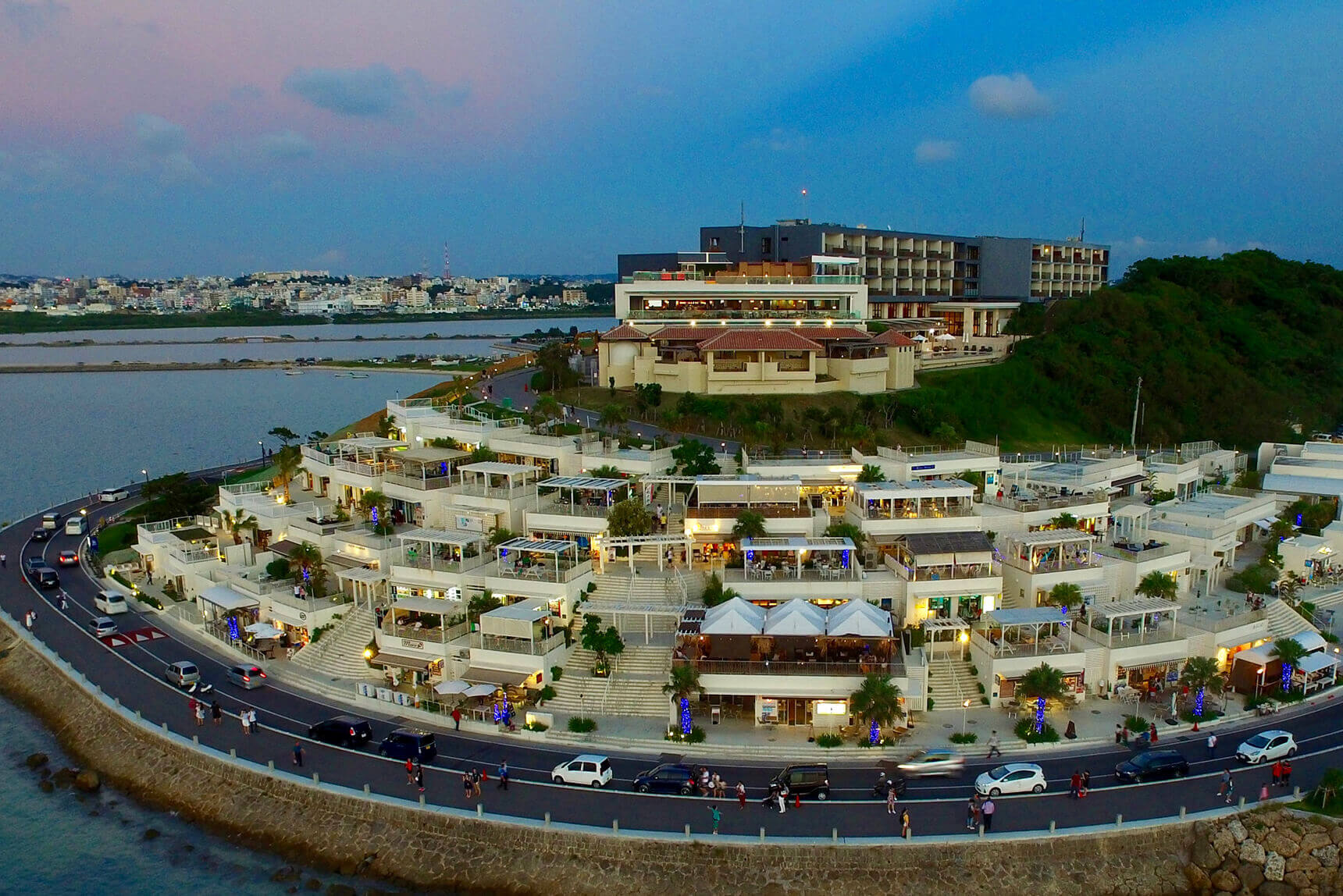 Senaga Island Umikaji Terrace is a hot spot that is reminiscent of the Mediterranean. It's a 15-minute drive from Naha Airport. Inside the eye-catching white architecture stand restaurants that serve Okinawan dishes using local ingredients and Okinawan arts and craft shops. Umikaji Terrace transforms into a romantic wonderland when the sun sets and stores light up. The perfect place to be for a nice walk and elegant dinner.
---
Experience the atmosphere of the American west coast at Mihama American Village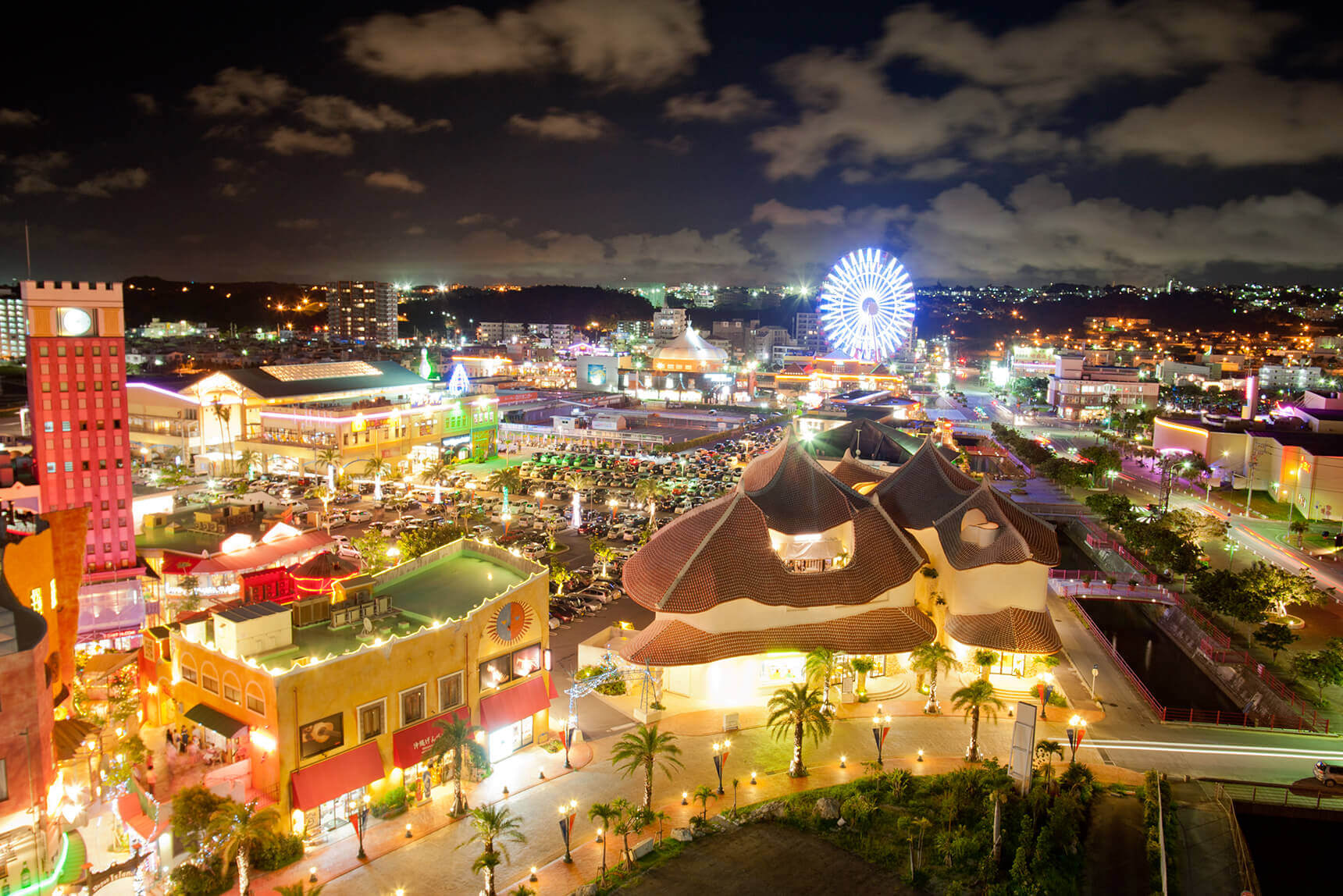 Located in Chatan in the central region, Mihama American Village is a very popular shopping area built on a large piece of land by a beach. Stylish shops, cafés, and restaurants are opening up one after another in this shopping center with liberating atmosphere, which is reminiscent of a beach resort on the American west coast. Ride American Village's symbolic Ferris wheel in Carnival Park Mihama to take in Mihama's magnificent night view from 60 meters above the ground. One revolution takes about 15 minutes. It runs until 10pm.
---
Enjoy some of the best live performances as you eat delicious Okinawan meal.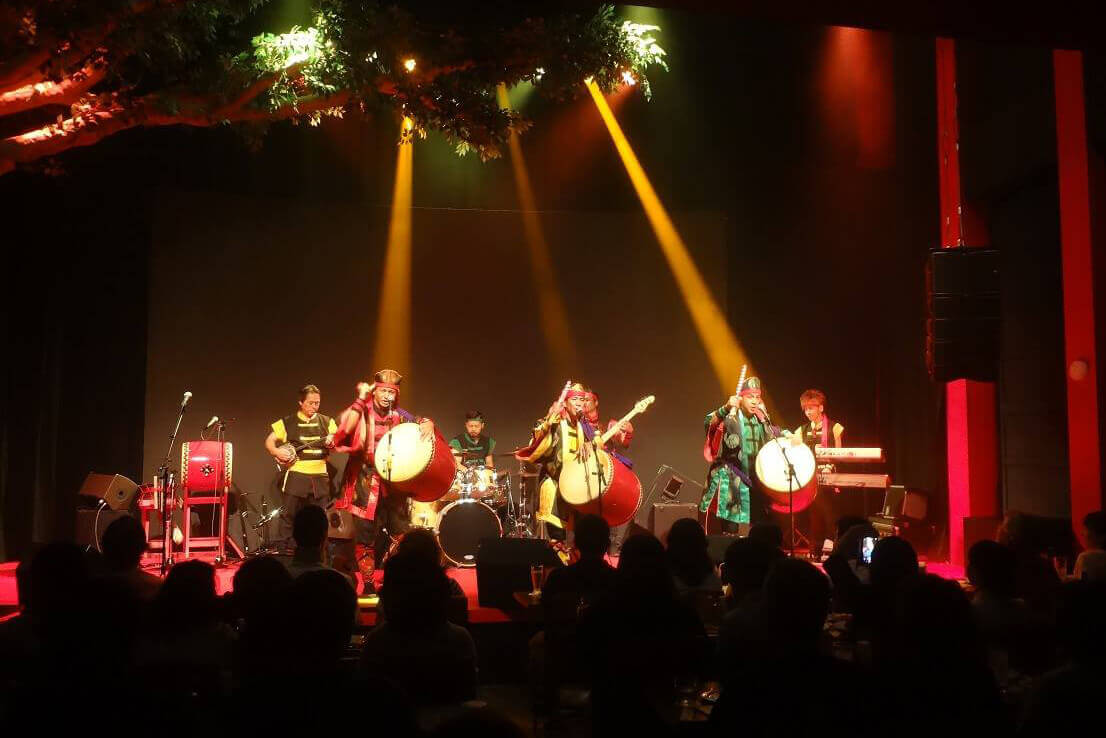 Can't miss Kalahai in Mihama, Chatan if you're looking to enjoy delicious Okinawan food and some of the best Okinawan performances all in one sitting. Exquisite live performances run every night at Kalahai. The main performer is Rinken Band, a band led by Rinken Teruya, who is widely recognized as a leading Okinawan artist. Other performers like female artists clad in gorgeous bingata (Okinawan kimono) enthrall the audience as well. Be ready to have an unforgettable experience with these powerful live performances and the unique Okinawan musical tone. You'll leave completely satisfied from the delicious Okinawan food and the impressive performances.
---
Are you ready to stay out late the Okinawan way? Try a bar-hopping adventure on Kokusai Dori!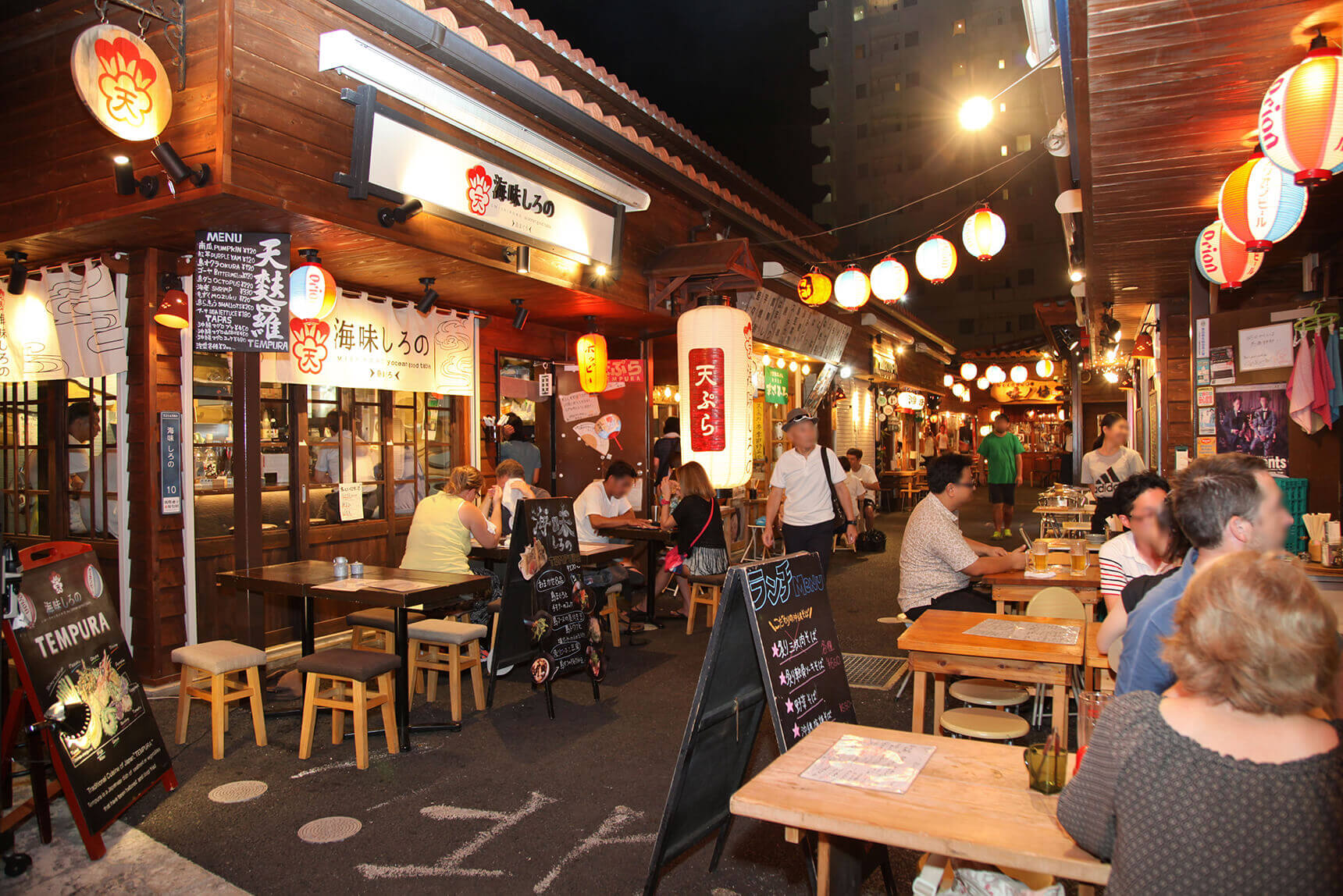 Unique restaurants that cook up Okinawan ingredients line Kokusai Dori Yataimura (Kokusai Dori Village Street). In the daytime it's a relaxing lunch spot, and at night, it stays lively until very late, with food stalls that are open past midnight. (Hours vary depending on shops.) You can enjoy a wide variety of food at any of the 20 restaurants, like Okinawan food, sumibiyaki (char-grilled meat), kushiage (deep-fried skewered meat and vegetables), and motsu nabe (beef or pork offal hot pot). Other than Okinawan alcoholic beverages like Orion beer and awamori, restaurants at Yataimura have all sorts of sake from all over Japan. You'll certainly have a long night, with the temptation to move from one restaurant to another!
---
Go out on a spectacular night snorkeling adventure
Night snorkeling is available at Onna, which is a popular scuba diving spot. The tour starts at early evening. You get to have extraordinary adventures, like watching the sunset as you float in the water and encountering nocturnal sea creatures in the moon-lit ocean. Between March and October, you'll be able to see sea sparkle, a type of marine algae, glowing beautifully in the water like fireflies. The sea sparkle gives out a blue glow when it reacts to your swimming, creating a truly magical scene.
---
The Shurijo Castle illumination is the perfect date spot!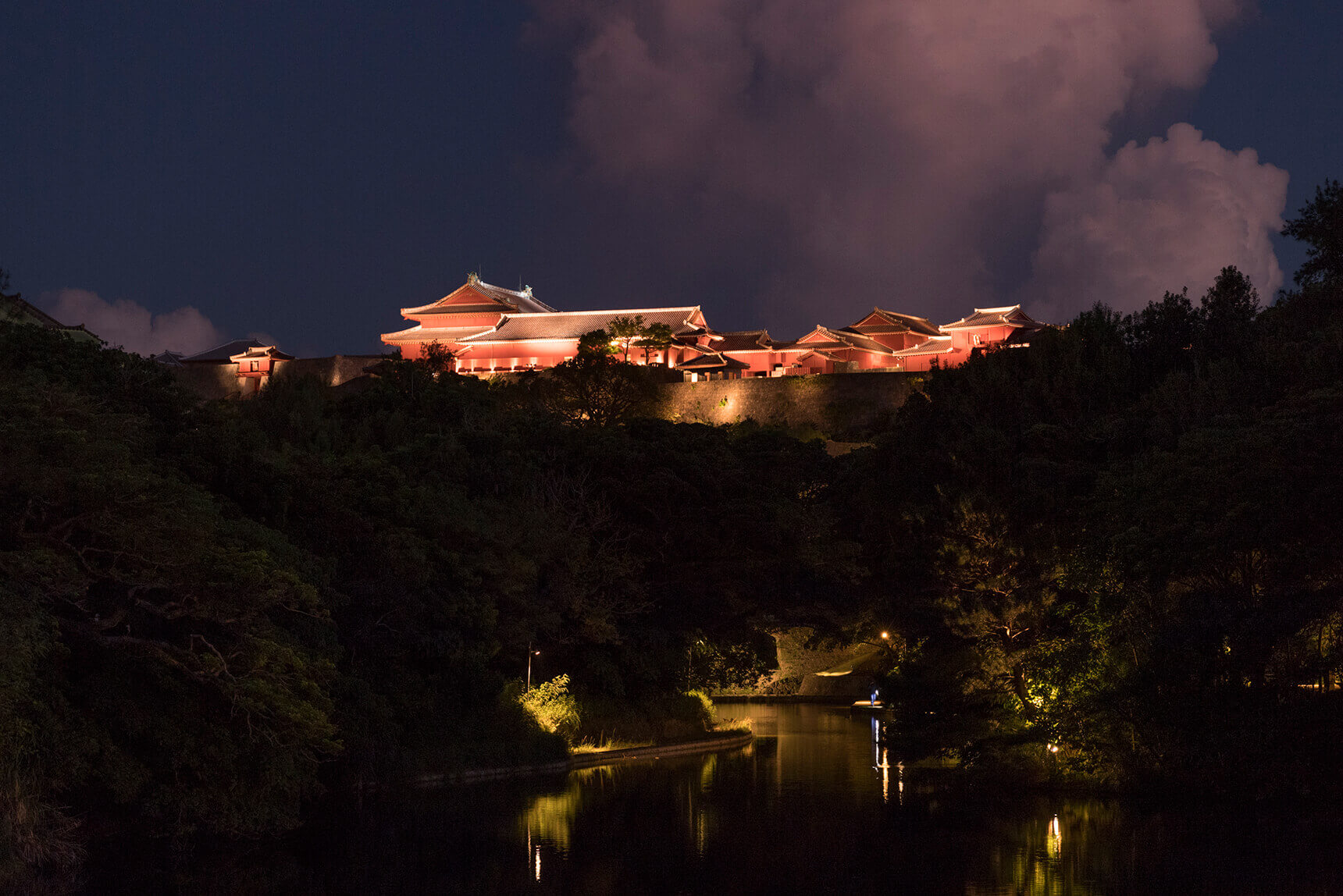 *PHOT provided by Okinawa Commemorative National Goverment Park Shurijo Catsle Park
Shurijo Castle, one of the must-see spots in Okinawa, is definitely worth a visit at night, too. Every night, the vermillion castle and the surrounding facilities like Shurei Gate are lit up from sunset to midnight. Its calming atmosphere—different from the daytime—draws many couples as a hidden date spot. (The paid area is off limits after hours.) The castle seen from Ryutan, the artificial pond on the northern side of the Shurijo Castle Park, is a must-see! Enjoy Naha's spectacular night view from Nishi no Azana, the observation tower in the park.
---
Chrysanthemum illumination – Okinawa's hidden winter spot!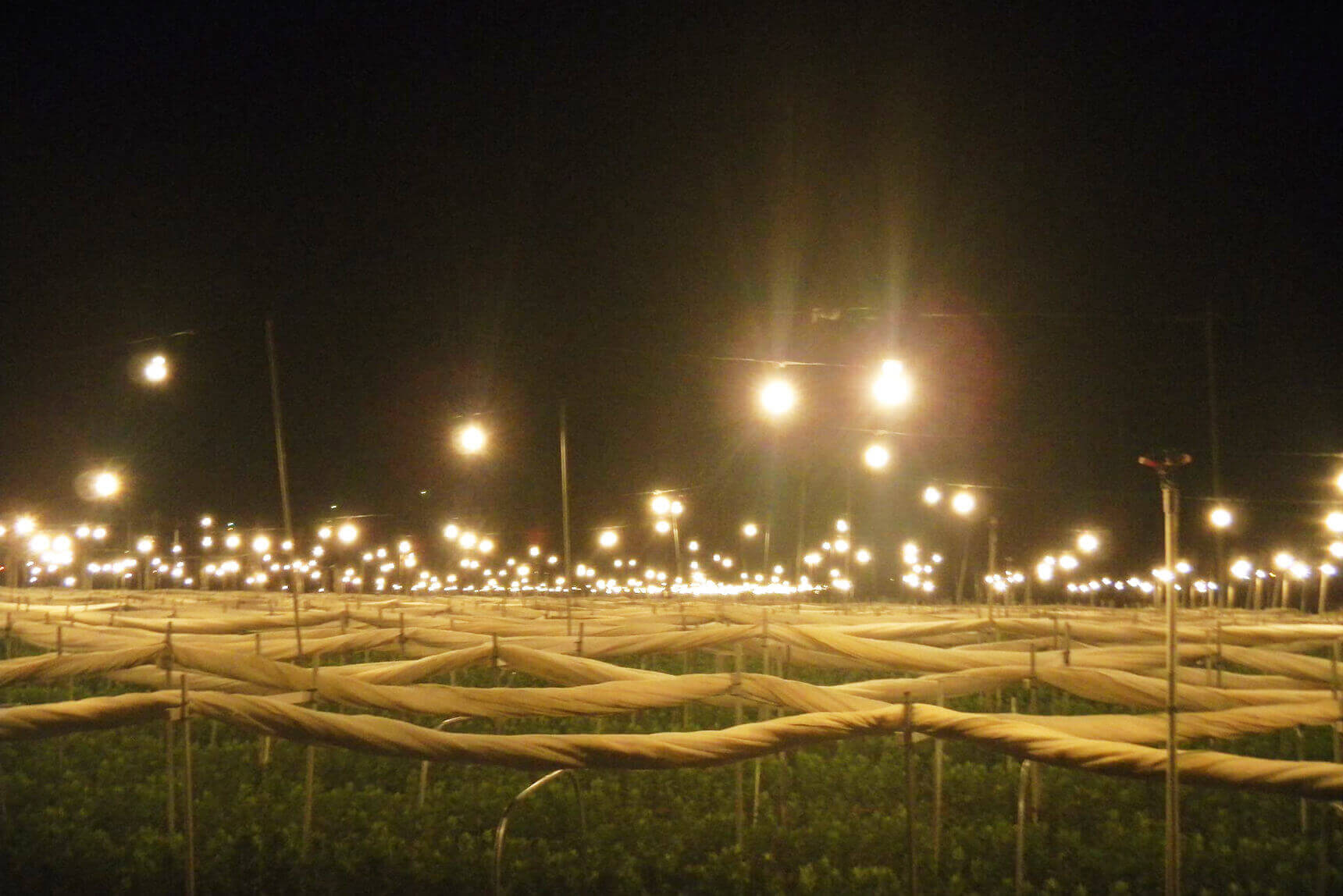 Chrysanthemum fields are slowly becoming popular winter illumination spots among locals. Chrysanthemum fields are lit at night during the harvesting season, from December to March, in order to adjust the blooming time. Some famous fields are in Itoman city in the southern region of the Okinawa main island and in Yomitan village in the central region. Also known as kikumination ("kiku," Japanese word for chrysanthemum + "illumination"), the points of light of these rare scenes blur in pictures, making them even more magical.
---
What did you think? We selected 8 spots you'd want to visit to explore Okinawa through the night, but there are many more activities to do and places to see that are unique to Okinawa. Definitely check out Okinawa's night life after spending your day driving in the sunshine and visiting the blue ocean.