Taco rice is one of Okinawa's signature dishes! Check out our list of seven popular taco rice restaurants.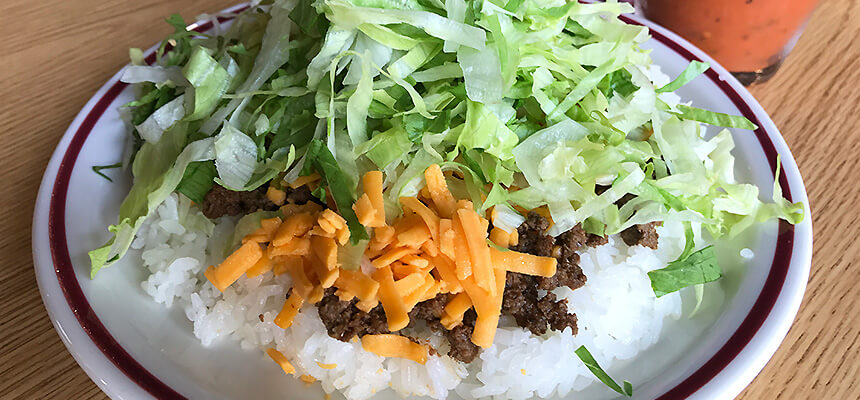 Taco rice is Okinawa's signature rice bowl, topped with ground meat, cheese, and salsa. It's become a popular dish in and out of Okinawa. Here we have a list of some popular taco rice shops, for those of you who want more than just an ordinary taco rice! From a generously portioned, traditional taco rice to a more modern taco rice with fluffy eggs, we got a wide variety for you. Find the shops you're interested in and stop by during your drive or while hitting tourist spots!
The fluffy eggs make the difference! Taco Rice Café Kijimuna (the originator of omutaco), Senaga Island Umikaji Terrace Branch.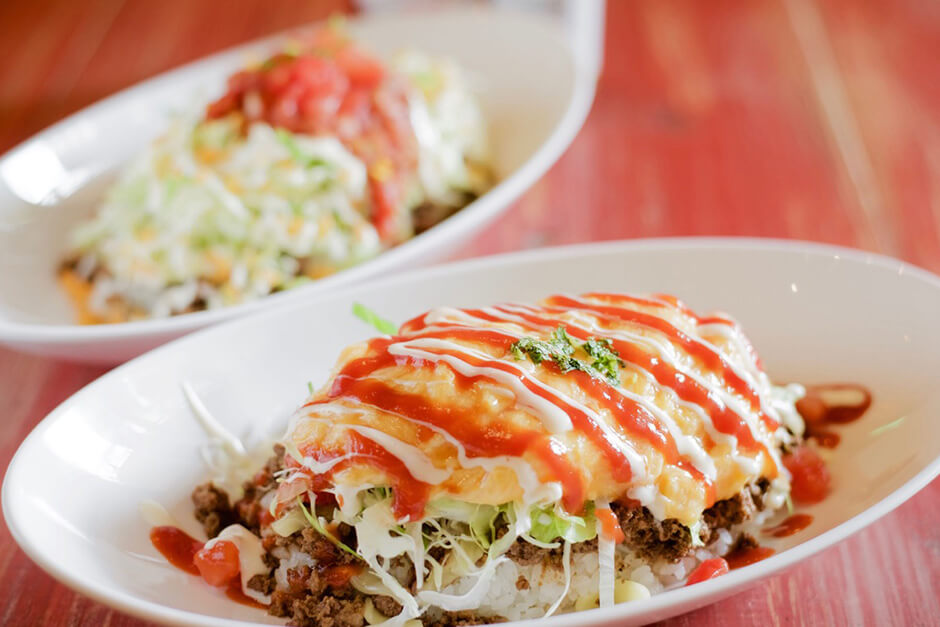 Omutaco is Taco Rice Café Kijimuna's original dish, which is taco rice topped with super fluffy eggs. Numerous customers make a stop every day to seek the flavor that puts a smile on their face. One of the appeals is that you can customize your omutaco with as many as 13 toppings, including avocado, teriyaki chicken, and mozzarella.
The colorful interior has a bright ambience, and you can overlook the ocean from the terrace seating. It's an out-of-this-world experience to savor taco rice as you feel the ocean breeze.
---
Tomishiro Taco Rice – taco rice with a new twist. Seared soki (spare rib) is one of their popular toppings.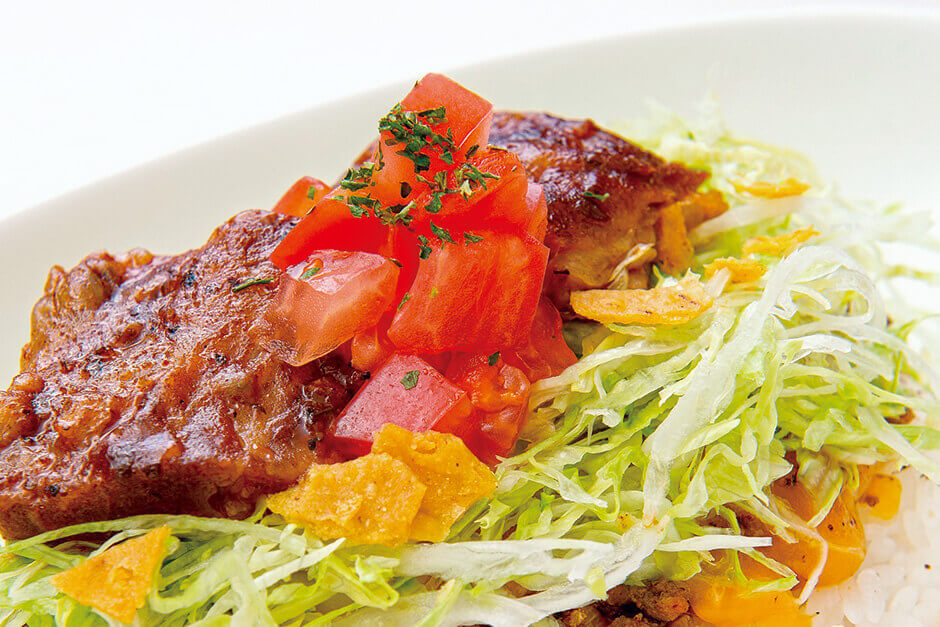 The owner of Tomishiro Taco Rice is a cheese sommelier and a certified spice advisor. He takes an uncompromising approach to his taco rice; fragrant and well-seasoned meat finds its home with three types of cheese and a crispy corn tortilla. Tomishiro Taco Rice is the only spot to offer seared, spice-rubbed soki (spare rib) and raclette cheese as a topping for taco rice. They complement the dish perfectly.
Check the side menu for more mouth-watering options such as crispy hard tacos or cheese-covered fried soki (spare rib).
---
LUCKY TACOS – set apart by its original salsa and 100% beef.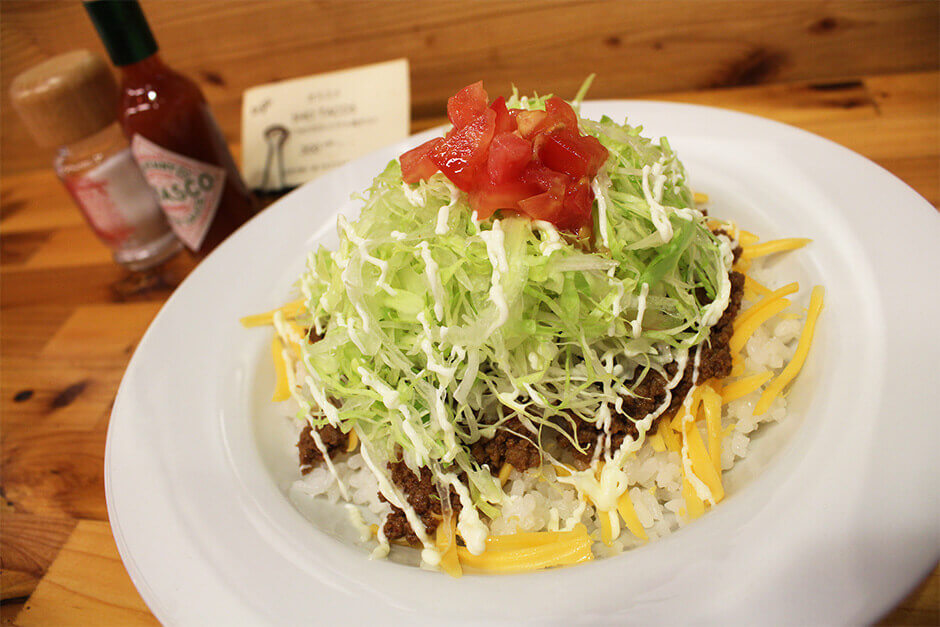 Look for the blue logo sign along Heiwa Dori (Peace Street), one street inside Kokusai Dori to find LUCKY TACOS! Relax inside the stylish interior with your choice of counter or table seating. LUCKY TACOS has been making their own salsa and taco meat (100% beef) since it opened. Choose between 6 to 7 toppings like lime or avocado.
RuLer's TACORiCE – new-style taco rice specialty restaurant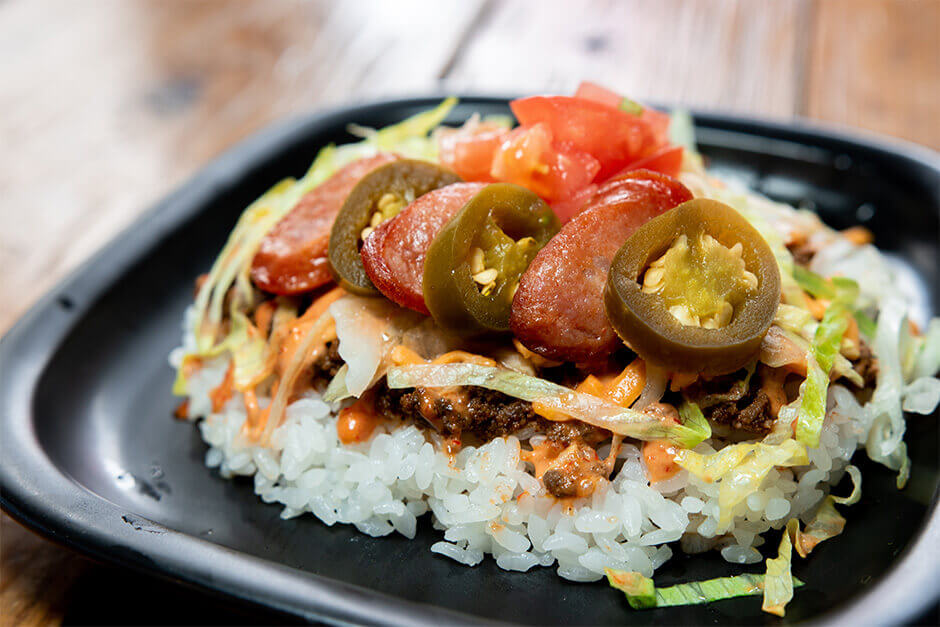 RuLer's TACORiCE is a stylish spot with a café atmosphere in Ginowan city and is getting very popular for its taco rice variety. In addition to the traditional style, you can also try Caesar, BBQ, and avocado taco rice – a total of 10 types! All menu items are available for take-out. There are also many dessert options, like an acai bowl, cinnamon churros, or an Oreo shake to close your meal. Offering a wide selection of items like acai bowls, oreo shakes, and other items that you might want to add to your meal or enjoy as dessert. The photogenic interior of the shop is inviting and you can enjoy taking photos while you wait for your order!
---
Charlie's Tacos Avenue Branch has been a popular local spot for more than half a century.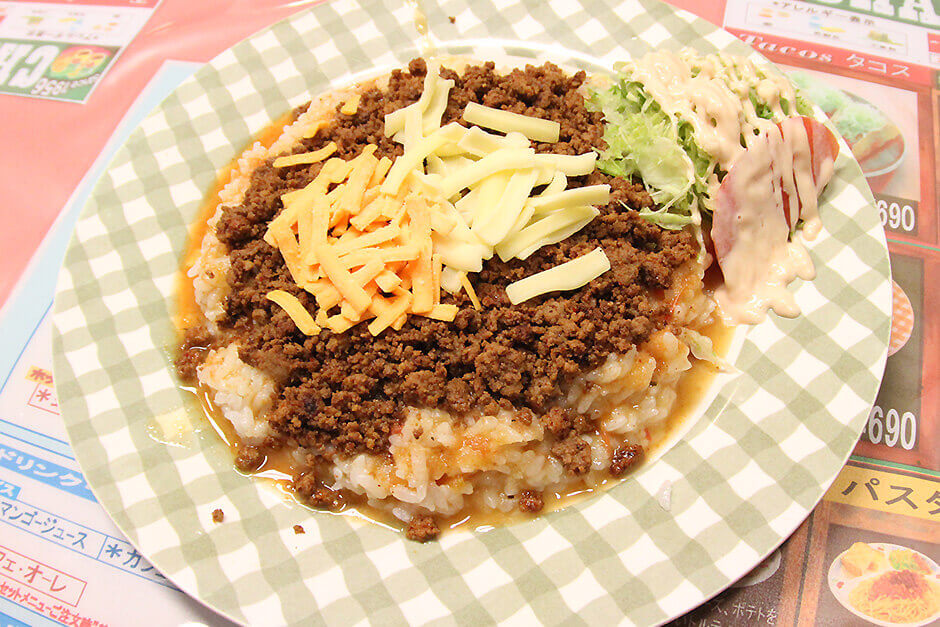 Charlie's Tacos, located on Chuo Park Avenue in Okinawa city for more than 60 years, was the first taco restaurant in Okinawa. No matter the time of day, you will find locals and tourists enjoying the American atmosphere.
The taco rice, also called Charlie rice, consists of rice generously topped with beef taco meat and two types of cheese, with lettuce and tomato on the side. The original sauce comes in mild, mix, or spicy. For those who like the burn, try the spicy sauce with an egg as a topping. The sauce and the egg complement each other really well. You'll be surprised at how quickly it disappears!
---
The original King Tacos in Kin town – be prepared to wait for a seat at the birthplace of taco rice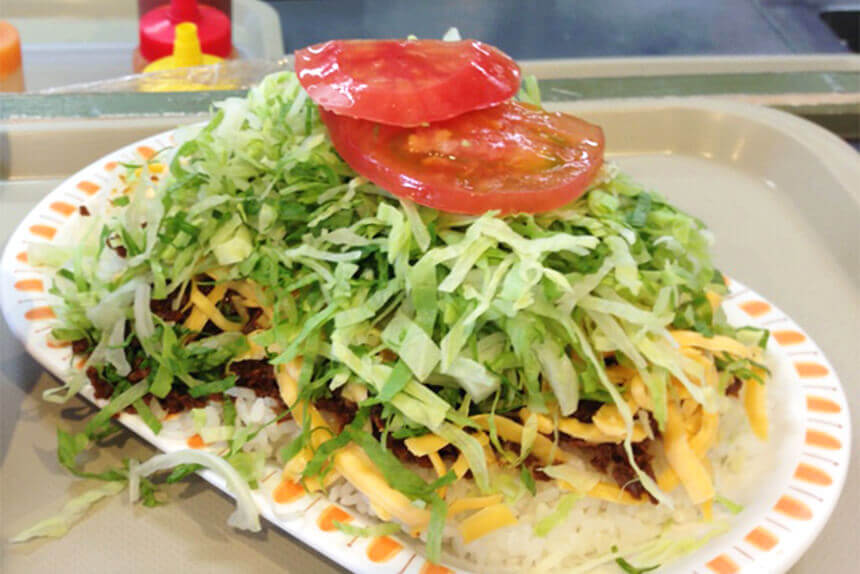 Known with affection as Kintaco, the original King Tacos in Kin takes pride in its long-standing popularity. The restaurant is located in Kin town, which is home to a U.S. military base, and is popular with locals and foreign visitors alike. Try the Taco Rice w/ Cheese and Lettuce: a dish overflowing with taco meat, cheese, lettuce, and tomatoes piled on top of white rice. Take-out option available.
They offer two different sauces, a special spicy taco sauce and sweet ketchup. If you wanna try both at the same time, push the lettuce to the side, then put ketchup on the cheese and the spicy taco sauce on the lettuce.
---
Jambaru Taco – huge portions and out-of-this-world salsa.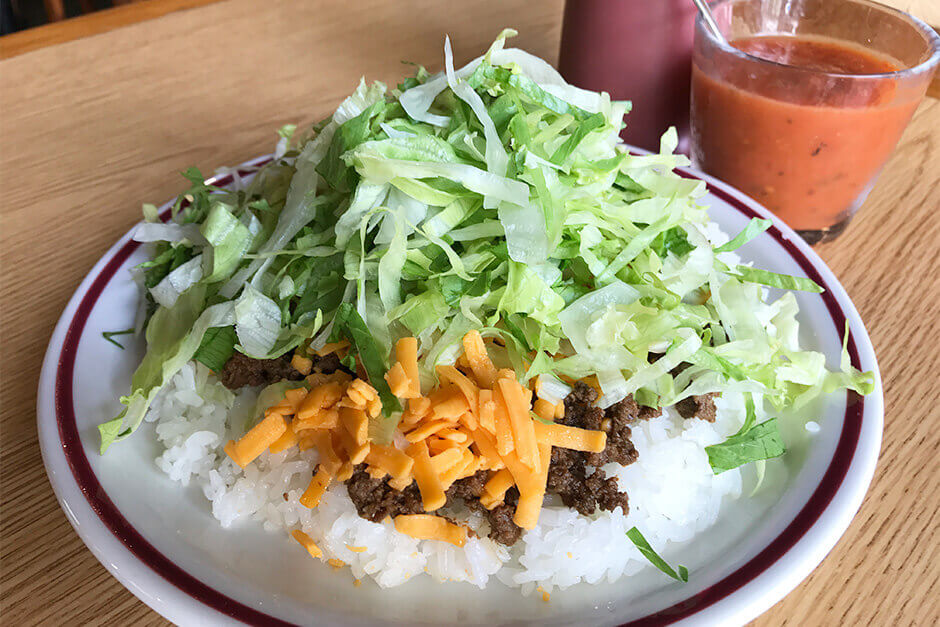 Jambaru Taco is located along the street in Nago with theme parks. Look for the three palm trees out in front of the restaurant. Its taco rice is made with warm white rice topped with well-seasoned meat and a generous helping of cheese, all under crisp, fresh lettuce. It goes perfectly with ketchup and their original salsa, which is made with plenty of tomatoes. The salsa is not super spicy, so even those who don't like hot food can give it a try.
*Presently open for takeout orders only.
---
There are still so many taco rice restaurants that weren't introduced here. Each location offers a unique take on the dish, so why not stop in them all and find your favorite?