A must-visit spot in Okinawa's southern region! What makes Michi-No-Eki Itoman so attractive?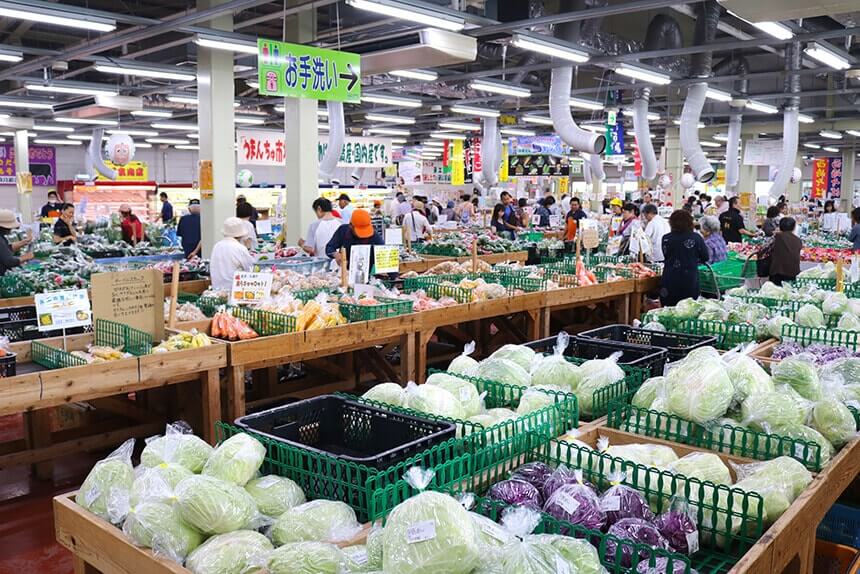 Michi-No-Eki Itoman is the southern-most Michi-No-Eki in Japan. Located in the southern region of Okinawa's main island, it's got a farmers' market (the largest in Okinawa) and a fish market directly run by the Fisheries Cooperative Association. You can purchase fresh vegetables, fruit, and seafood at reasonable prices, which is why it's always packed with tourists and locals. It's also easy to get to from the Naha Airport, and it has a great selection of Okinawan souvenirs—a perfect place to stop during your drive. The food court offers Okinawan dishes, which you can take to-go. This charming place will make you want to try everything you see. Here's our report on what makes it so attractive.
Get there first thing in the morning! Umanchu Ichiba, a farmers' market with fresh vegetables and fruit.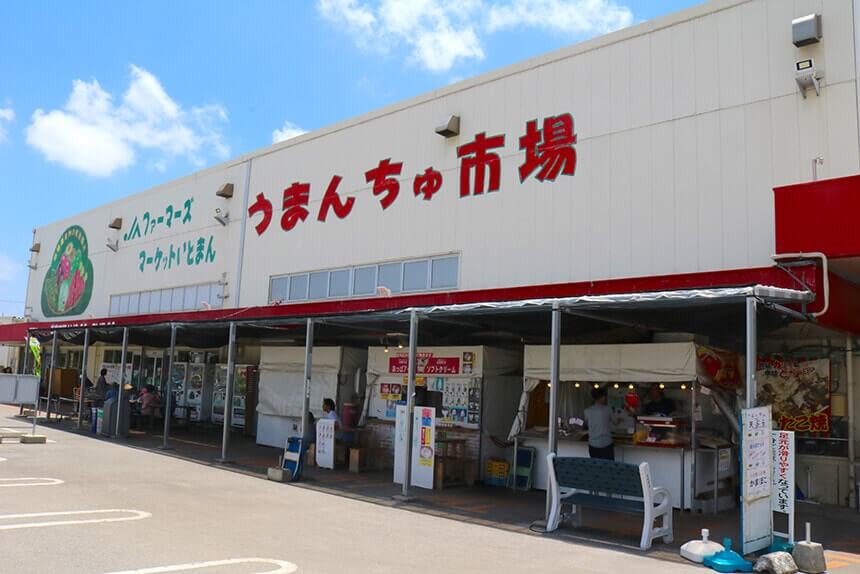 Umanchu Ichiba is the largest farmers' market in Okinawa, where you will find rows and rows of fruit and vegetables. Morning is when they have the freshest products and the most variety, so the locals line up even before the store opens. The market has contracts with more than 1,000 local farmers, so everything comes directly from the farm, which means surprisingly low prices.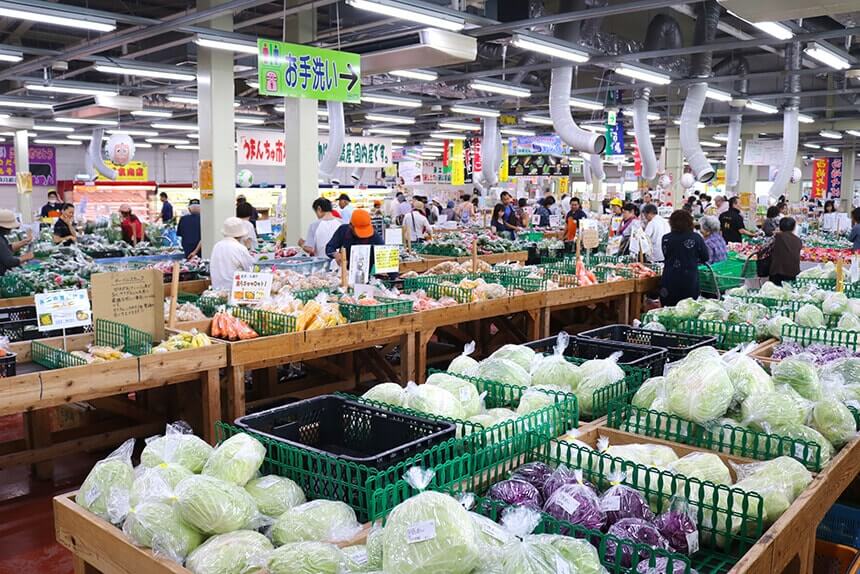 You'll find more than 100 types of vegetables and 30 types of fruit lined up. (The numbers vary depending on the season.) Some herbs and vegetables you won't be able to find anywhere else in Japan, like mugwort leaves and loofahs. Just walking through the store leads to many fresh discoveries. Imperfect fruits and vegetables were set out in a special sale display in the middle of the store, drawing in many interested shoppers.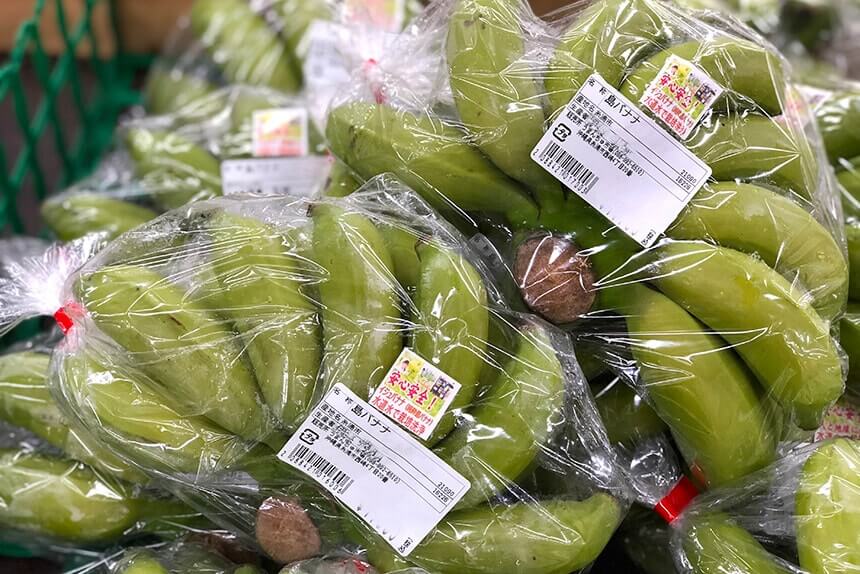 Shima bananas are popular all year round (though you see them less in January and February). They are smaller and have thinner skin than regular bananas. They are also sweeter and more fragrant. They are a part of local life. You often see them growing in farms and in people's yards. They are also used as an offering during obon (festival to welcome back the ancestors).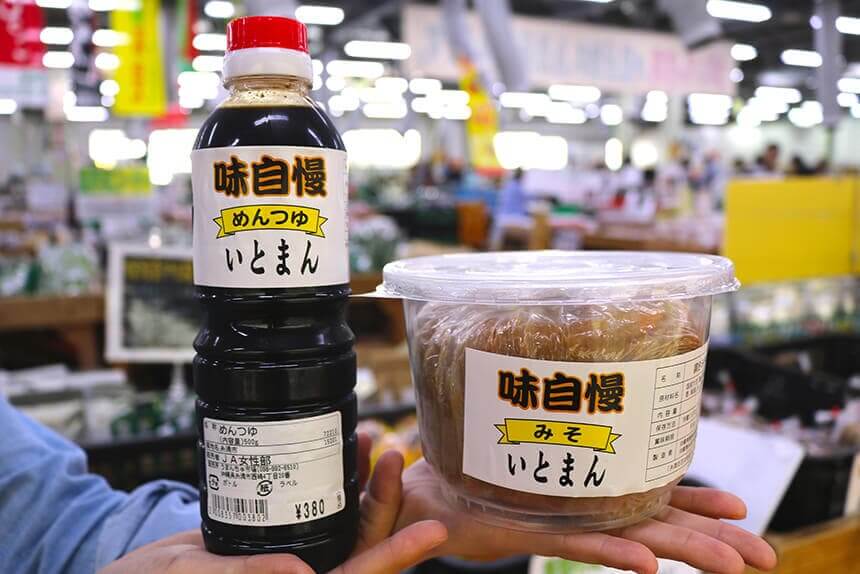 Other than fruit and vegetables, check out processed foods made by JA Okinawa Itoman branch women's group. Their mentsuyu (sauce made of bonito broth, soy sauce, and mirin) and miso are popular all year round. These are versatile Japanese condiments used in a wide variety of dishes. You can ship your purchase from the store, so you won't have to worry about buying too much. However, there are some items that can't be shipped from Okinawa (like purple yam and sweet potato).
The place to get Okinawan food and Okinawan souvenirs! Itoman City Market Yukura.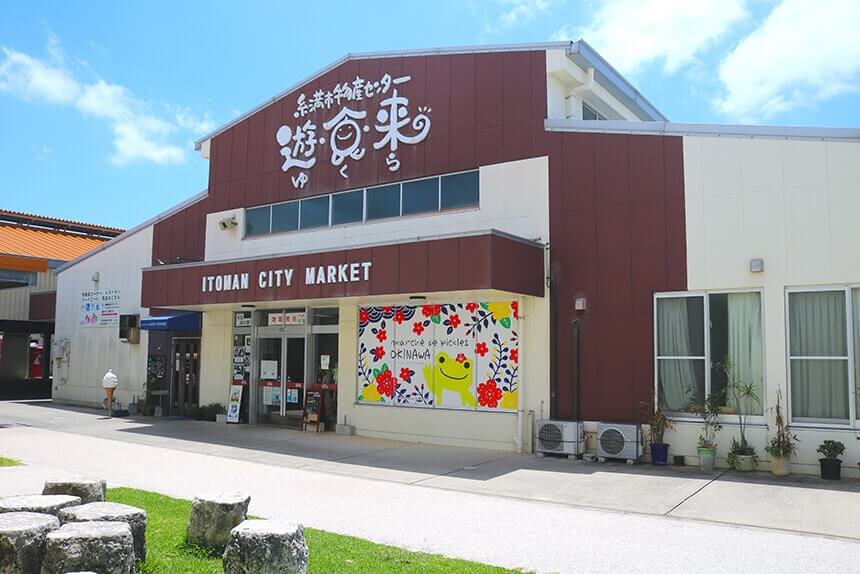 Itoman City Market Yukura has local Itoman's products as well as specialty sweets, artisanal products, and awamori from all over the prefecture (including remote islands). They have more than 2,000 items. It's got a food court, too, so it's perfect for taking a break. The name Yukura means "people come (ra) to hang out (yu) and to eat (ku)."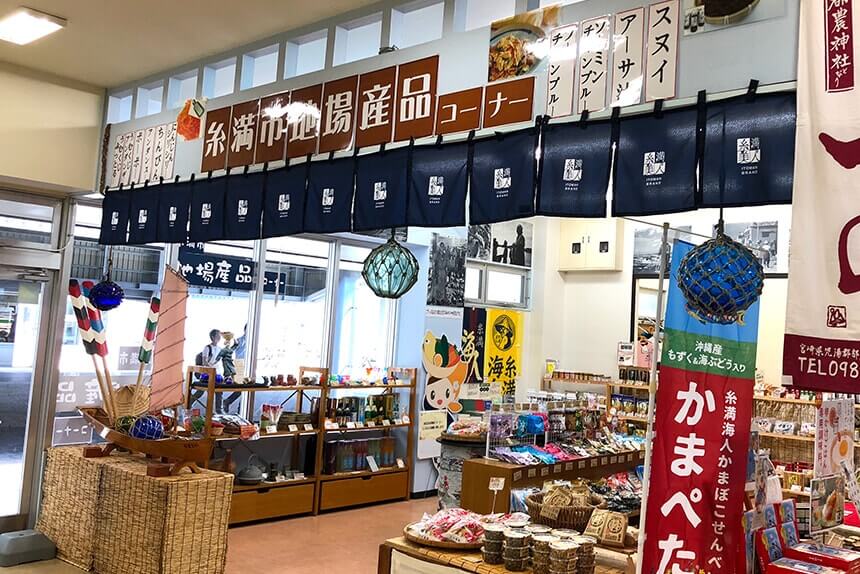 In the same building we found the Itoman City Specialty Products Corner. There are more than 50 Itoman products that can only be purchased here. Some products include Kamapeta (rice cracker made with fish cake) and Ninjin piripiri (spicy condiment made with Itoman carrots). There are so many intriguing products here that I was tempted to go on a shopping spree. This place also has a shipping counter, so you can ship your purchase and continue shopping.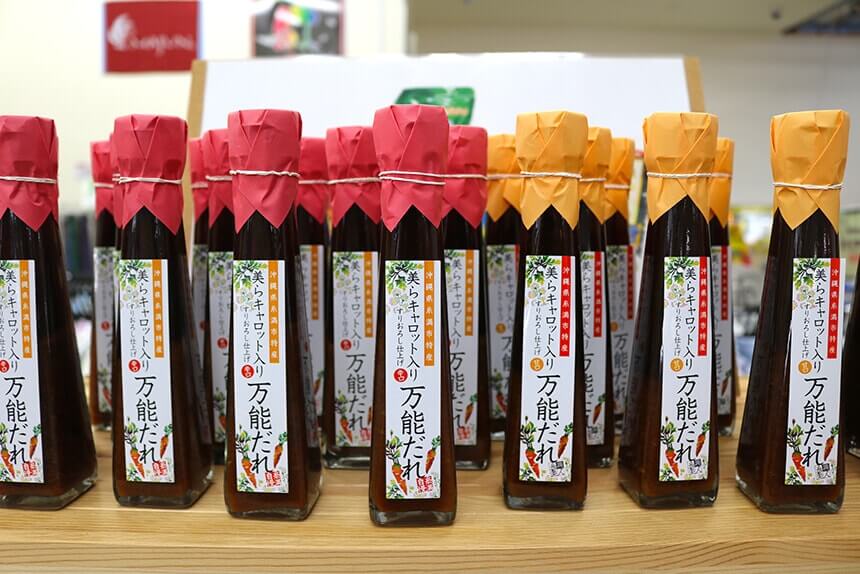 Out of all the specialty products, our recommendation is the Churaumi Carrot Sauce. Choose sweet or spicy. It goes on anything, including stir fry and salad. In the past, it was nominated to be Okinawa's superior prefectural product. Many people keep coming back for more of this popular sauce.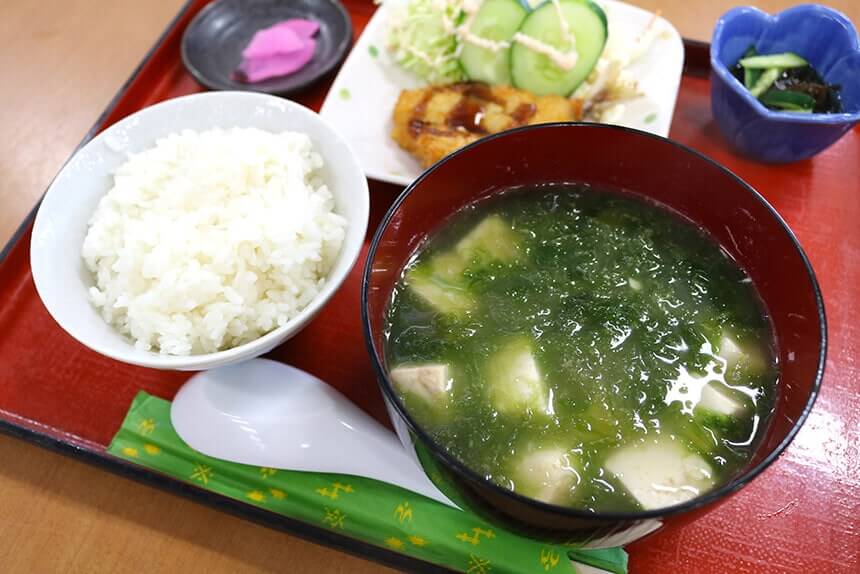 The food court has specialty shops that serve dishes like Okinawa soba, seafood rice bowl, and Itoman specialties. Some shops had lines during lunch hours. If you want to eat quintessential Okinawan food, go to Ichiman Gozen Minami-No-Eki Shokudo. They have a seaweed soup meal, a pork bone soup meal (limited to 10 dishes per day), a stew meal, and many more. All dishes are generously portioned and reasonably priced! Definitely worth a try.
Taste fresh fish on the spot! Itoman Fisheries Cooperative Association's Fish Center.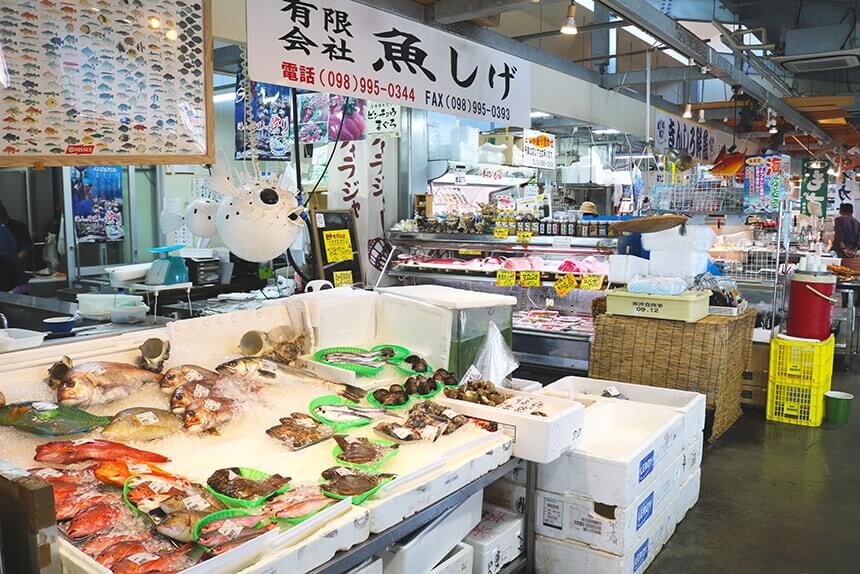 Itoman is well known as a fishermen's town. At Itoman Fisheries Cooperative Association's Fish Center, you'll be able to purchase Itoman fish that were auctioned that morning as well as seafood from all over Okinawa. On weekends, more than 4,000 tourists visit.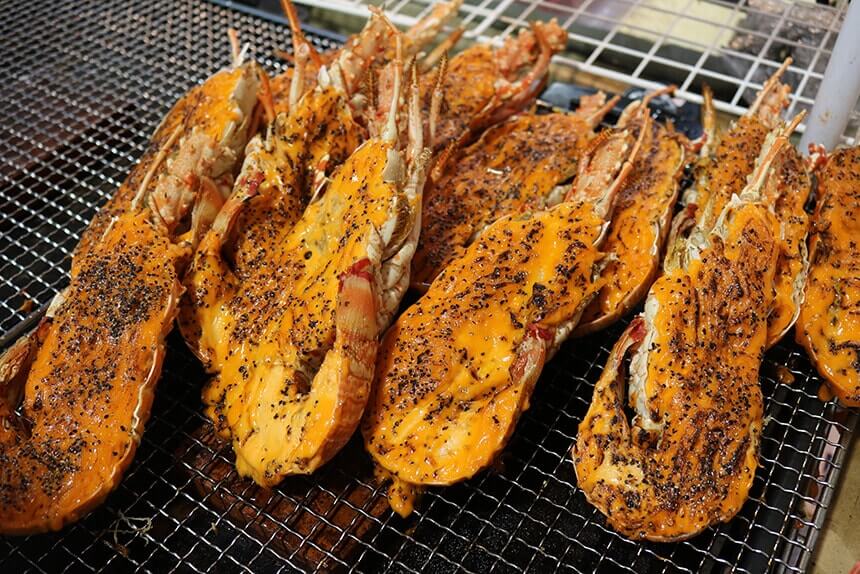 What catches your attention as soon as you walk in are the colorful fish like gurukun (banana fish), akamachi (queen snapper), and irabucha (knobsnout parrotfish). They all have unique appearances and unique Okinawan names. It's hard to resist the temptation to take lots of pictures.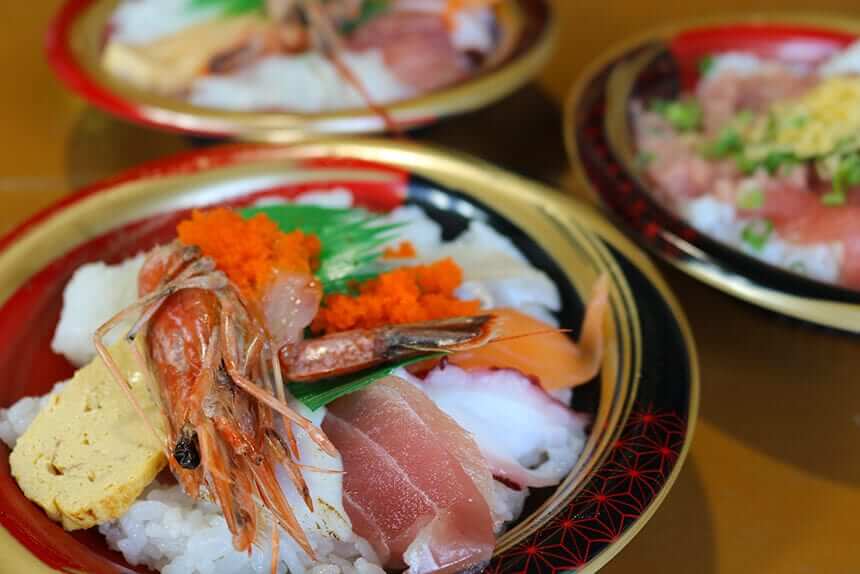 One of the reasons for the Fish Center's popularity is the fact that you get to eat your fresh purchase on the spot. You can, of course, eat inside, but we also recommend that you get it to-go and eat at a nearby beach on a beautiful day.
The center was filled with extremely tempting seafood, like a variety of kaisen don (seafood rice bowls), nigiri sushi, fish soup, fish cake, and freshly grilled scallops with sea urchin sauce. It's easy to overeat here!
---
Michi-No-Eki Itoman has more food than we could cover in this report. Definitely stop by when in southern Okinawa, and enjoy the Okinawan dishes and souvenirs you can only get here.