Kouri Island – A Mainstay of Northern Okinawa Tourism that First-time Visitors Must Check Out.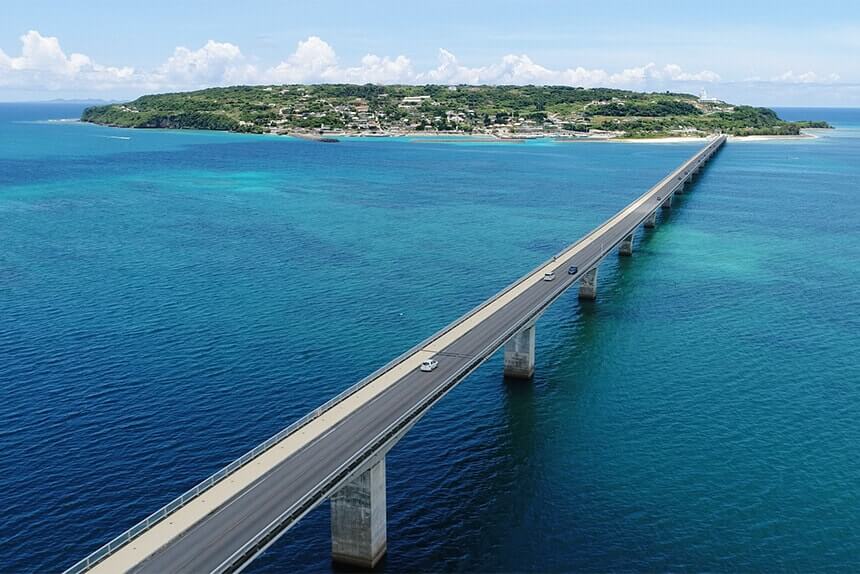 Kouri Island is a popular destination for those visiting the northern part of Okinawa and is also known as the "Island of Love." Driving on the 1960m bridge that connects the island to Okinawa mainland is exhilarating! The panoramic view of the emerald green will have you feel like you're driving on the water and leave you breathless. Highly recommended to stop by on your trip to northern Okinawa.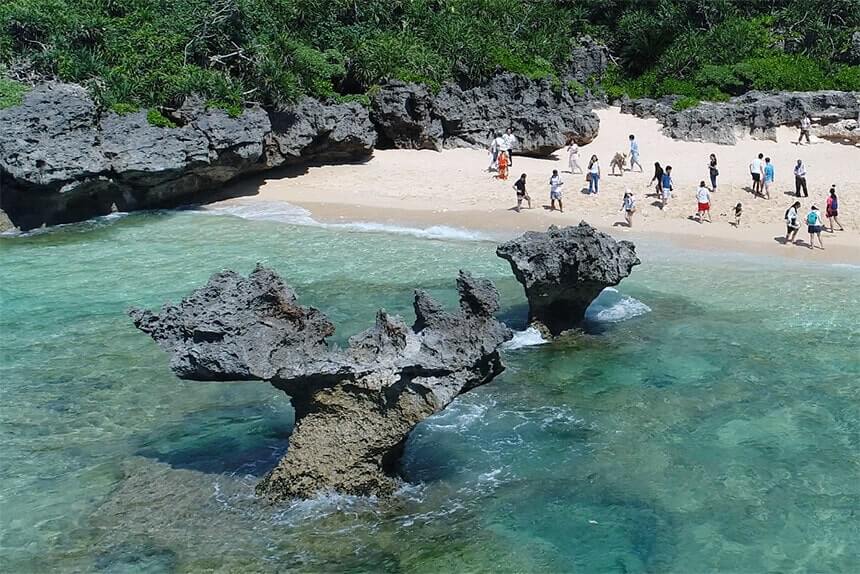 On the northern tip of Kouri Island, the opposite end of where the bridge touches, is a heart-shaped rock aptly named "the Heart Rock". This spot is always lively with tourists because the rock was used as a background in a commercial featuring a popular Japanese idol group. The shape of this rock, and the fact that the island is known as "the Island of Love" has made this place the holy land for romantic couples. The slope leading to the Heart Rock is slippery, so you should wear sneakers to avoid injury.
---
Sesoko Island – Beautiful Ocean and Sunset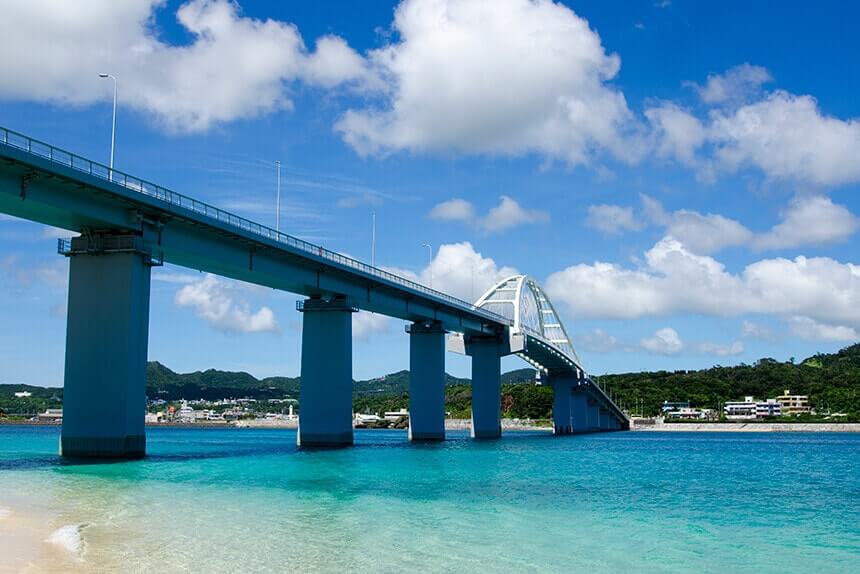 Sesoko Ohashi Bridge, which connects Sesoko Island and Okinawa mainland opened in 1985. The island is a mere 10 minutes away from Churaumi Aquarium, so we recommend that you visit it on your way to, or back from, the aquarium. The hump near the midpoint of the bridge is there to allow ships to travel under it. The beautiful ocean and the unique shape of the bridge make it very picturesque. There is free parking available once you cross the bridge to the island on your left hand side, so you should go explore the island by foot.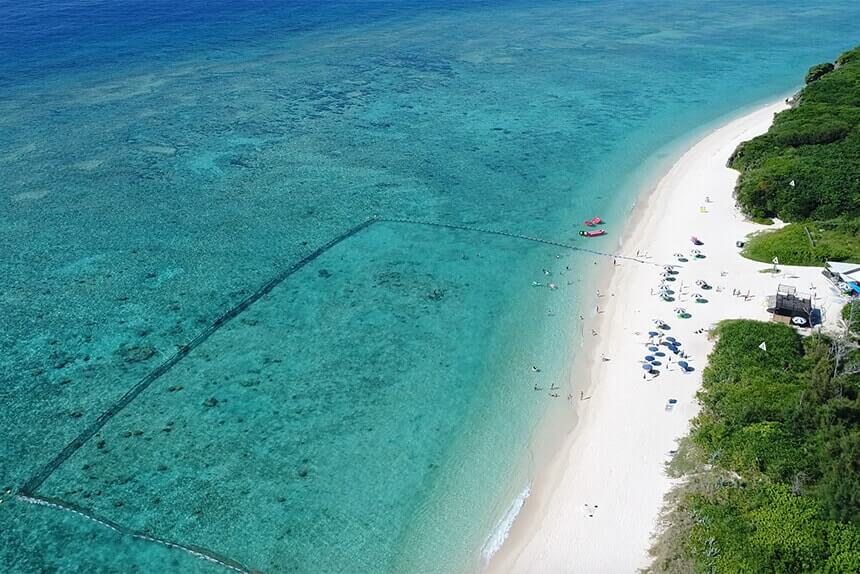 Sesoko Beach is one of the most beautiful beaches in the prefecture. The natural beach with its crystal-clear waters and white sand beaches that spans about 800m, is loved by locals and visitors alike. The shallow waters allow swimmers to see coral and tropical fish without the need for any special equipment, and a great snorkeling spot. From mid-April through early October, there would be lifesavers on the beach so you can enjoy swimming safely. The sunset you can see here is fantastic, and you can see Ie Island as well as Minna Island.
---
Kaichu Road – the Gateway to Outer Islands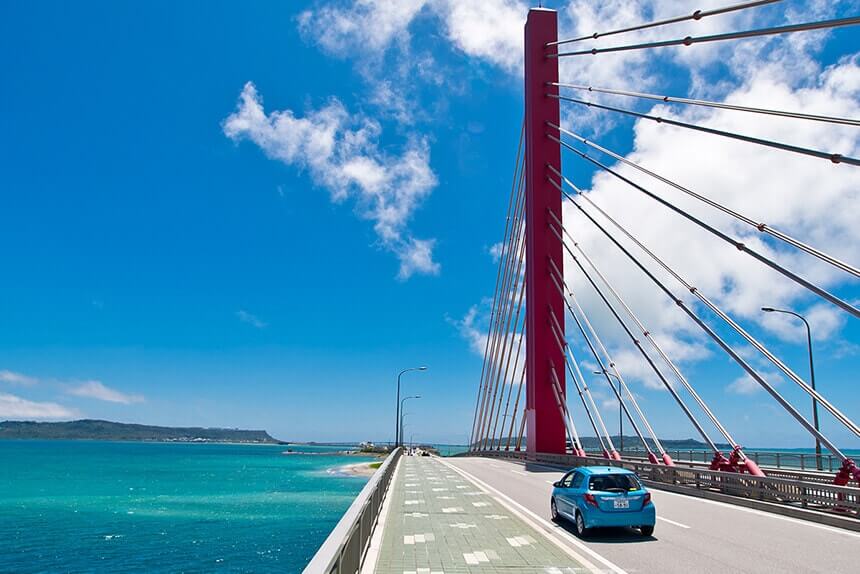 Kaichu Road, which is actually a bridge that spans 4.7km, is located in Uruma City of Okinawa mainland. It allows access to Hamahiga Island, Henza Island, Miyagi Island, and Ikei Island. It would be a waste to simply drive on this road. You're surrounded by a panoramic view of the bluest ocean and there are several spots for you to stop and sit to enjoy the view. Find a spot you like, and just relax. If you're feeling a bit peckish, you could go to the "Umi no Eki Ayahashi Kan (Ayahashi Ocean "Station") and pick up some local delicacies like Okinawan tempura.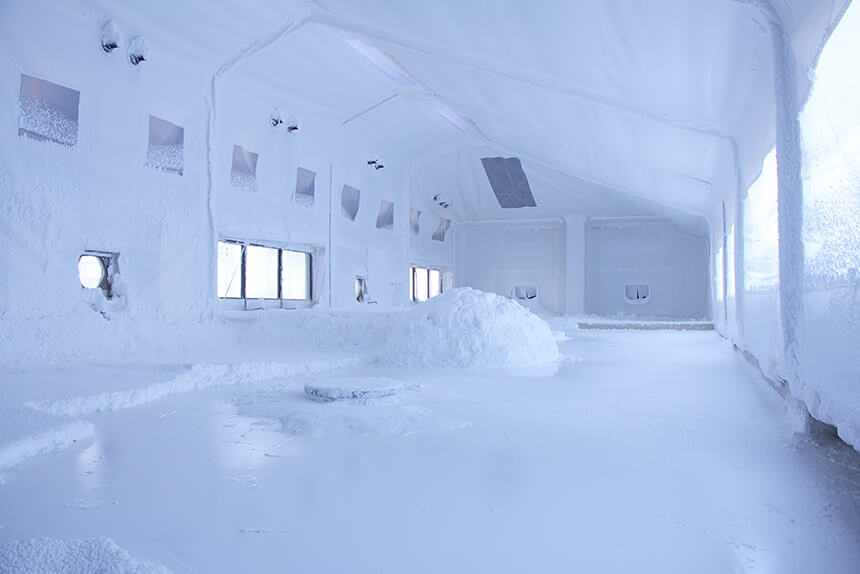 You'll find the "Nuchimasu Sightseeing and Salt Manufacturing Factory" as you drive up toward Miyagi Island's plateau. The manufacturing method is unique and was a world-first. The salt they produce is holds the Guinness World Record for being the world's most mineral rich salt. The factory guide takes you around the factory and what you'll see there will make you think you're in a snowy winter wonderland. The salt that is produced there is very fine and powdery. Visitors can buy Nuchimasu cosmetics and food condiments that are known for their beauty and health properties.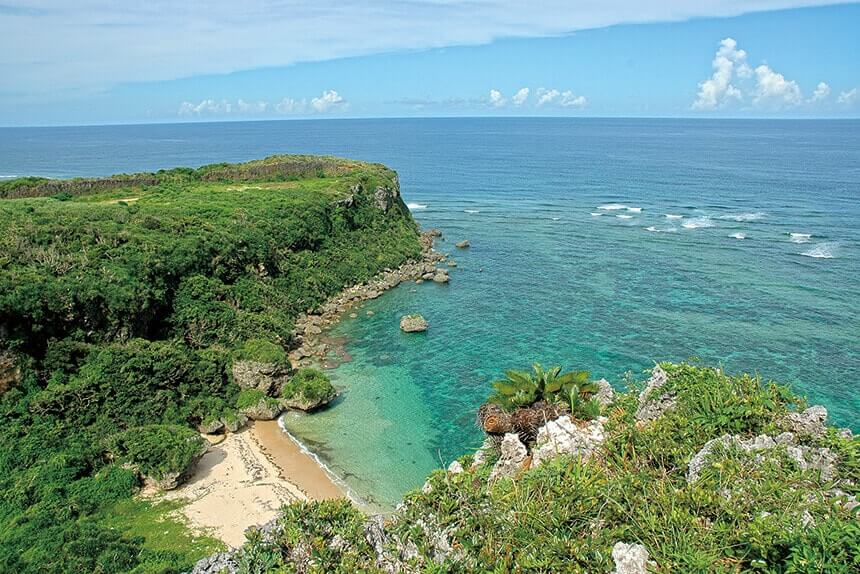 After the fun factory guide, head over to "Kahou Banta," a scenic spot found within the premises. "Kahou Banta" translates to "Cliff of Happiness" in Okinawan. This cliff and its surrounding area is a holy spot and the view from the 80m cliff is fantastic. Feel the spiritual energy flow through you as the cool ocean breeze passes by. Nuchi no Hama Beach, the white sand beach at the foot of the cliff is famous for being the nesting grounds for sea turtles.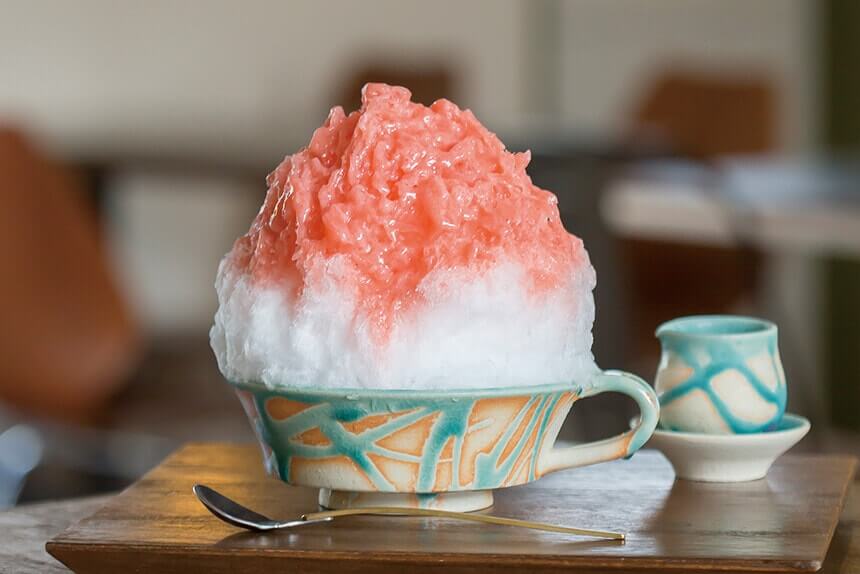 If you like shaved ice, you should definitely visit Ruan Plus Shimairo. The store is a result of a collaboration between a homemade shaved ice maker and pottery. The shaved ice is made with special ice and the shaving method is adjusted according to the day's temperature and humidity. Most of the syrup they use are home made, and you'll have a difficult time choosing from over 20 different types ranging from strawberry, mango, matcha, cane sugar milk, and many more! The ice instantly melts on your tongue and the flavor of the syrup leaves you wanting more. The plates used in the store are available for purchase. They would make great gifts and souvenirs.
---
Senaga Island – the Epitome of Resort Islands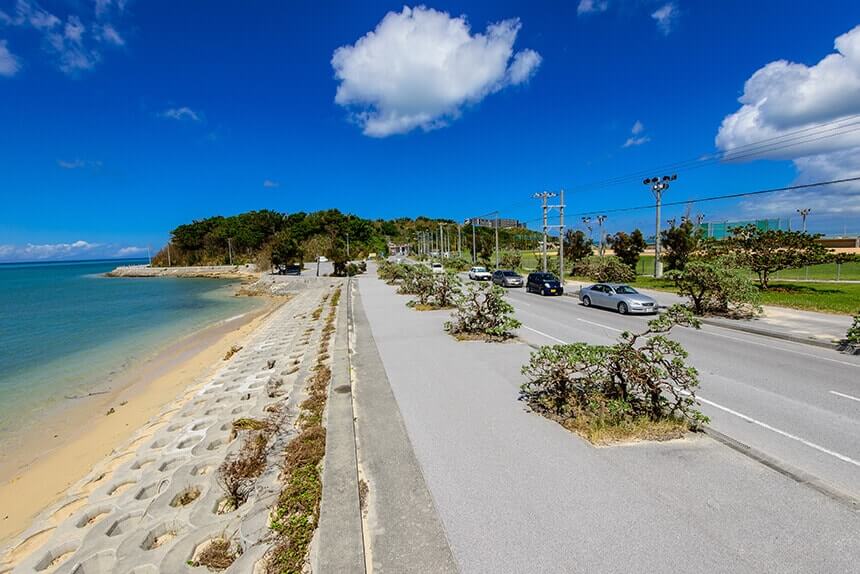 Senaga Island is an island with various facilities like resort hotels, hot springs, and stores that's just a 15 minute drive from Naha International Airport. You can drive around the entire island in just 3 minutes but don't let its compact size fool you. The island offers fun, flavors, and relaxation that will take an entire day to fully enjoy. The planes flying overhead is also very exciting! There's always something going on the island so keep your eyes open.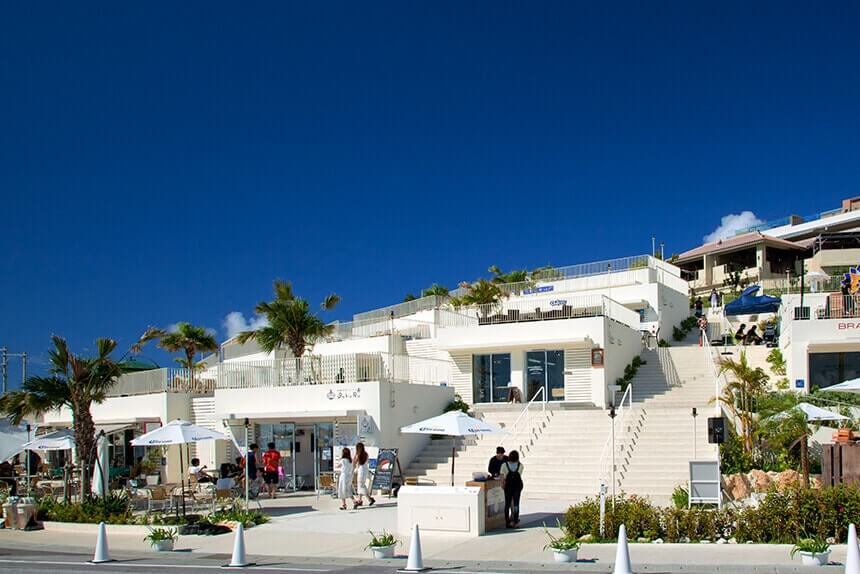 Umikaji Terrace is a shopping facility built along a slope that opened in August of 2015. Visitors can enjoy their time in photogenic cafes that offer tastes of Okinawa, or try some restaurants that serve mainland Japanese and international flavors. The sun beams down brightly on the white buildings of Umikaji Terrace by day, but the shopping area looks completely different when lit by 40 torches at night. This is a resort island where visitors can enjoy the fancy offerings of a resort that doesn't require them to spend the night.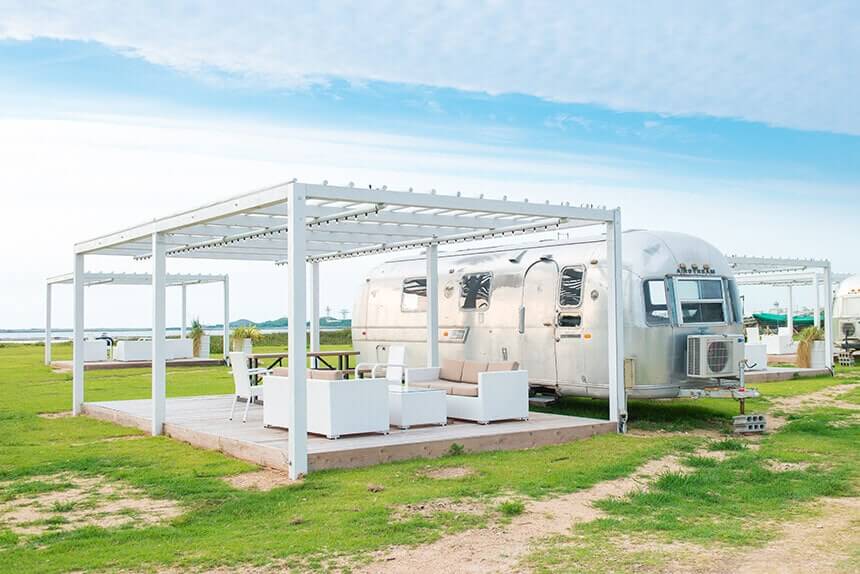 "ISLAND MAGIC SENAGAJIMA by WBF" is a facility where you can enjoy beach-side glamping and barbecues. There are several separate facilities available on their premises: a glamping area where campers stay in camping trailers; a barbecue area where visitors can enjoy American-style BBQ with an ocean view; and a fire-pit area where you can relax by the fire. Choose the plan that suits your schedule as BBQ times are limited between noon and 9PM. You can check their reservation status on their official website.
---
Ou Island – a Treasure Trove of Deliciousness!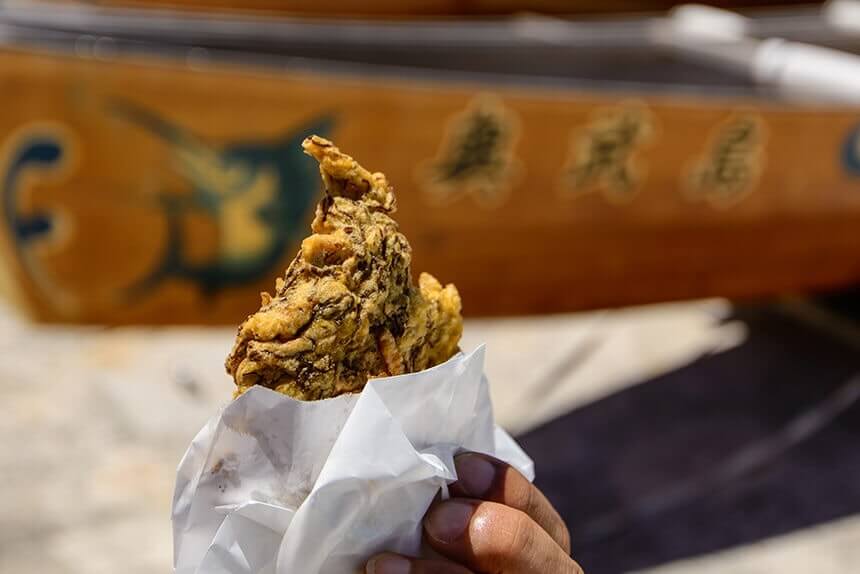 Ou Island is about a 40 minute drive from Naha. Many people, locals and visitors alike, make their way to the island to get a bite of the island's specialty tempura. The tempura here is different from the ones available in mainland Japan. The batter is thick and the texture is soft and chewy. They make them out of various ingredients such as fish, squid, and vegetables and they're surprisingly big for the reasonable price. There are several tempura shops on the island so you should try them all and compare.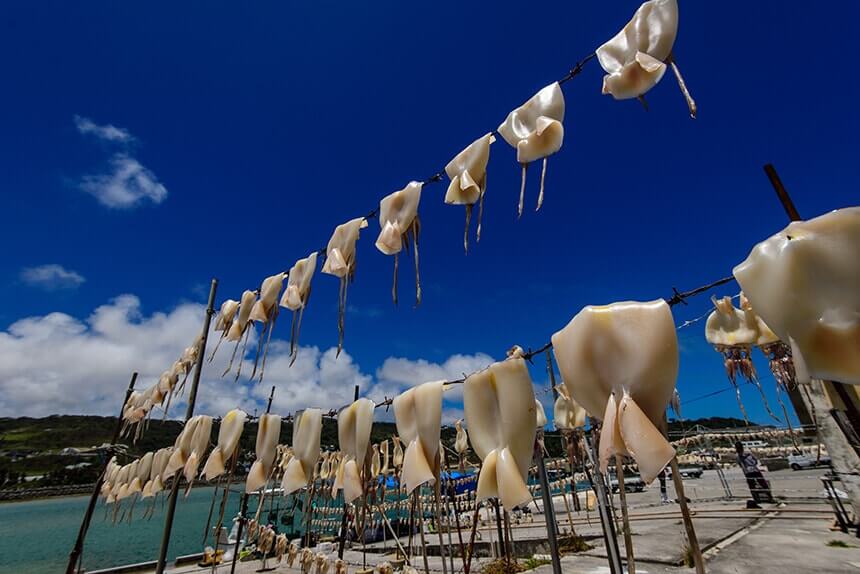 The sun-dried flying squid is a staple of Ou Island's summers. As the name suggests, the flying squid glides along the surface of the ocean and is said to be able to fly over a distance of up to 50m. Sun-drying the squid for half a day concentrates the flavors. You can eat it just like that, but boiling it and making a stew or an ichagarasu (salted fish, or squid in this case) out of them is also delicious. You can only see them drying the squid between June and October, so be sure to check it out when you're visiting Ou Island.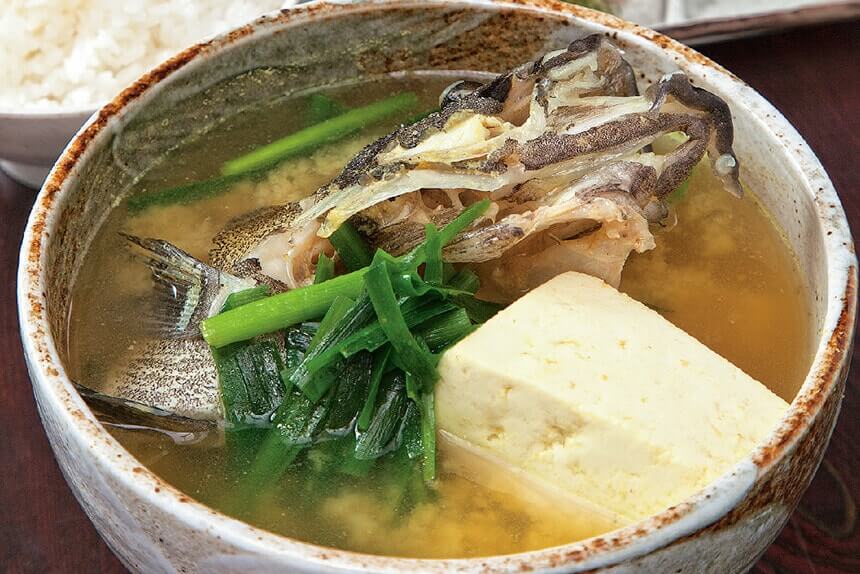 "Imaiyu no Mise Ou Island Seafood Cafeteria" is a nostalgic-looking local store that's situated right in front of the fishing port. Imaiyu translates to "fresh fish" in Okinawan, so, obviously, the fish you can buy here are caught on that day and super fresh! You can enjoy them in soup, as a butter saute, or stew. There are also plenty of other local delicacies such as Okinawa soba noodles and umibudo sea-grapes. Indulge yourself to some delicious imaiyu while enjoying the ocean view that spreads before your eyes.