Matsumoto Fruits and Vegetables – Try their fluffy shaved ice topped with local fruits!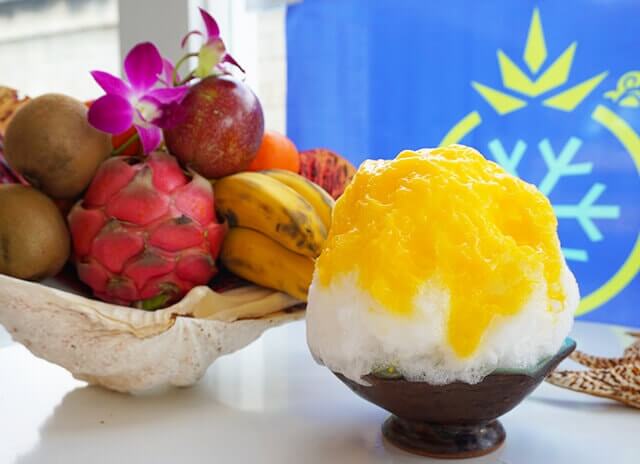 Matsumoto Fruits and Vegetables is a store that specializes in shaved ice that opened just last year in Onna-Village, 1 hour from Naha International Airport. As the name implies, they're known for using Okinawan fruits. The shaved ice topped with their home-made mango, pineapple, or guava syrup is a must-try.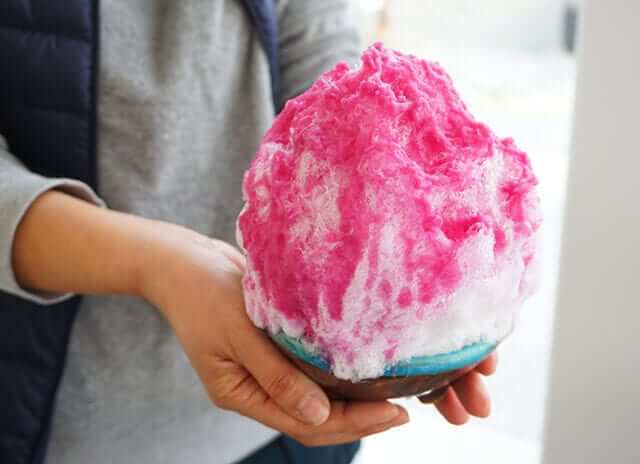 What makes good shaved ice, of course, is good ice, and they are very picky. They won't shave their block of ice straight out of the freezer. They only start shaving the ice after the surface gets a little wet. This way, they can get a softer texture and it apparently causes less brain-freeze. And to make sure the ice melts as soon as it touches your tongue, they shave it as thinly as possible. This causes the finished product to melt really quickly, so it's recommended that customers eat their order in the store instead of taking it to go.
The beni-imo and jasmine milk tea shaved ice flavors are also very good and worth a try. Their coldpress juice made from local fruits are also quite popular and great for take-out orders. For an extra 500 yen, they can make your shaved ice with ice made from natural spring water from "Shogetsu Himuro" in Nikko.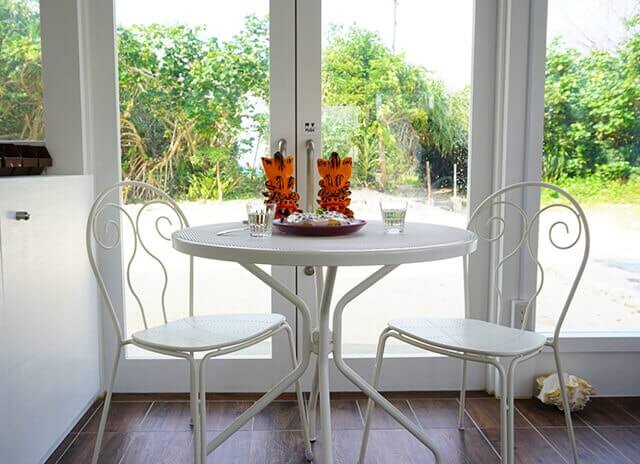 There about 12 seats so you could go in a group. It's a great spot to relax after swimming or sight-seeing in Onna-Village. There is a beach behind the shop so you could even enjoy a nice walk with a cup of shaved ice or juice in hand. They run a hotel on the second and third floors of the building. You can contact them if you'd like to stay there.
Matsumoto Fruits and Vegetables
30 Nakama, Onna Village, Okinawa
※Temporary closed
---
Uraniwa – Enjoy Okinawan cuisine that uses plenty of local specialties!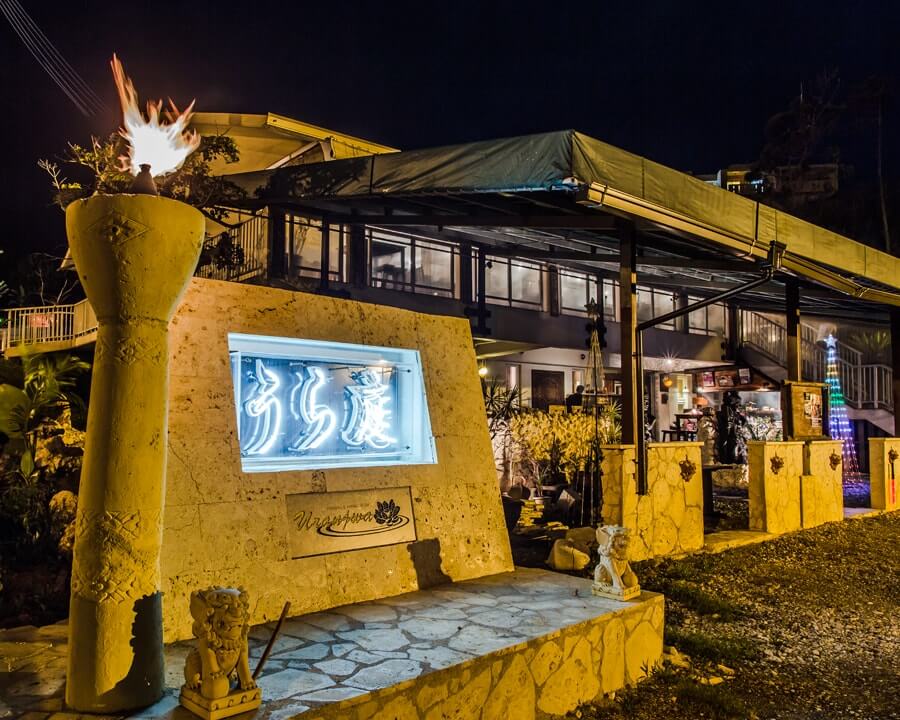 Uraniwa is a hidden hole in the wall in Onna-Village. Located in the island's most famous resort area and with great access, they even have a free shuttle service to nearby resorts, so you can enjoy the food and alcohol to your hearts content without having to worry about driving back. The restaurant is very spacious with about 140 seats. The Japanese-style floor seats are also comfortable and comes equipped with low chairs for children. There are menus for children and, of course, kid-sized utensils so you can come enjoy with the entire family.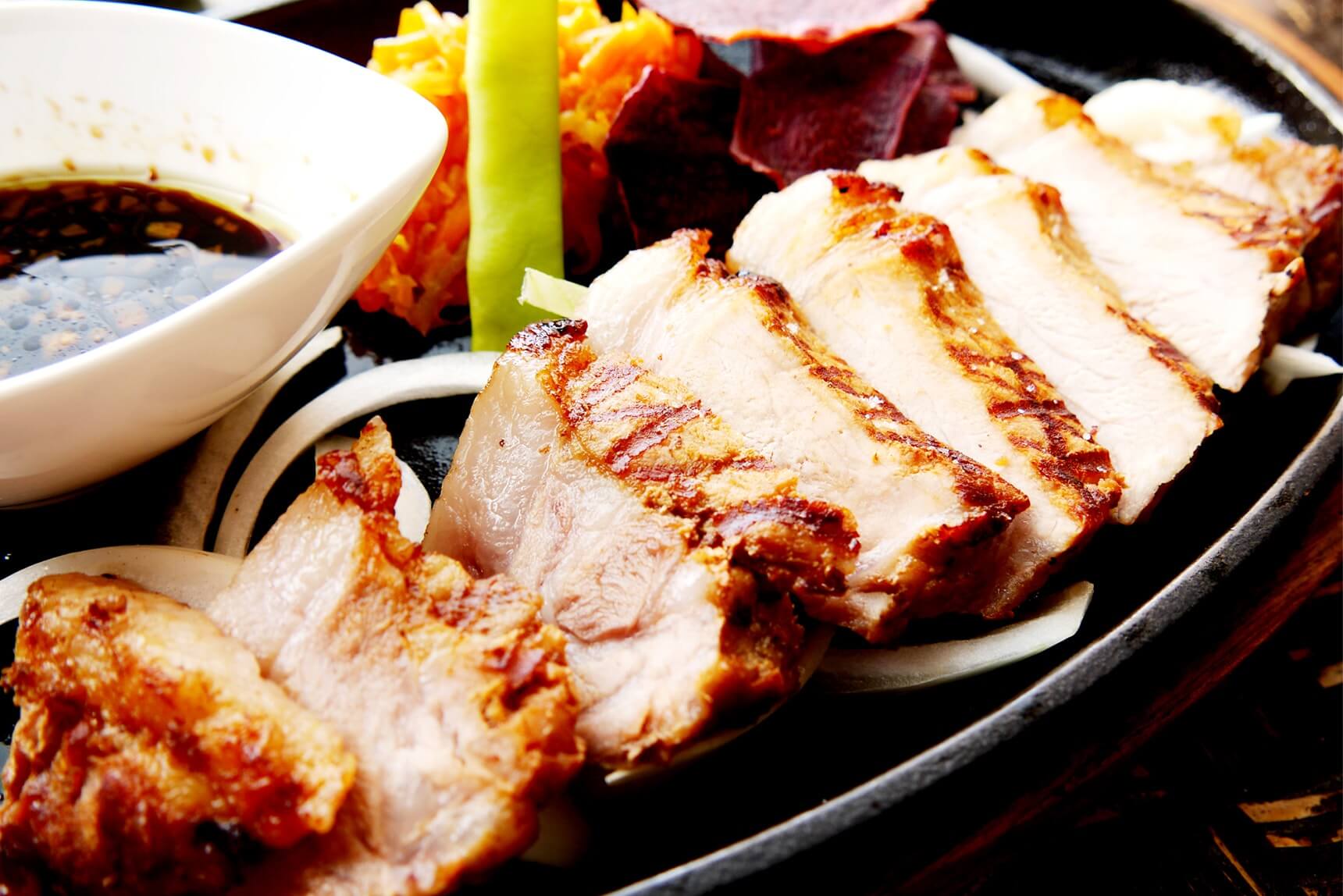 This restaurant provides many different kinds of cuisine including Okinawan, Japanese, and Western. Their motto is to "eat from the land" and as such, their dishes use plenty of local ingredients. The most popular of which is probably the Agu pork. The Beni Agu is considered one of the rarest type of Agu pork and is known for its fatty meat that melts in your mouth, and its flavorful red meat. Beni Agu loin grill is best served with Uraniwa's homemade sauce made with Okinawan shallots and balsamic vinegar. Kume shrimp and Yambaru spring chicken are also available on the grill. They also have different types of champuru, pork belly stew, and other typical Okinawan dishes, sashimi from the local ocean, as well as tropical fruits like mangoes and pineapples. They always have about 30 to 40 different kinds of Awamori in the restaurant, so you should ask the staff for some recommendations to find the perfect Awamori for you.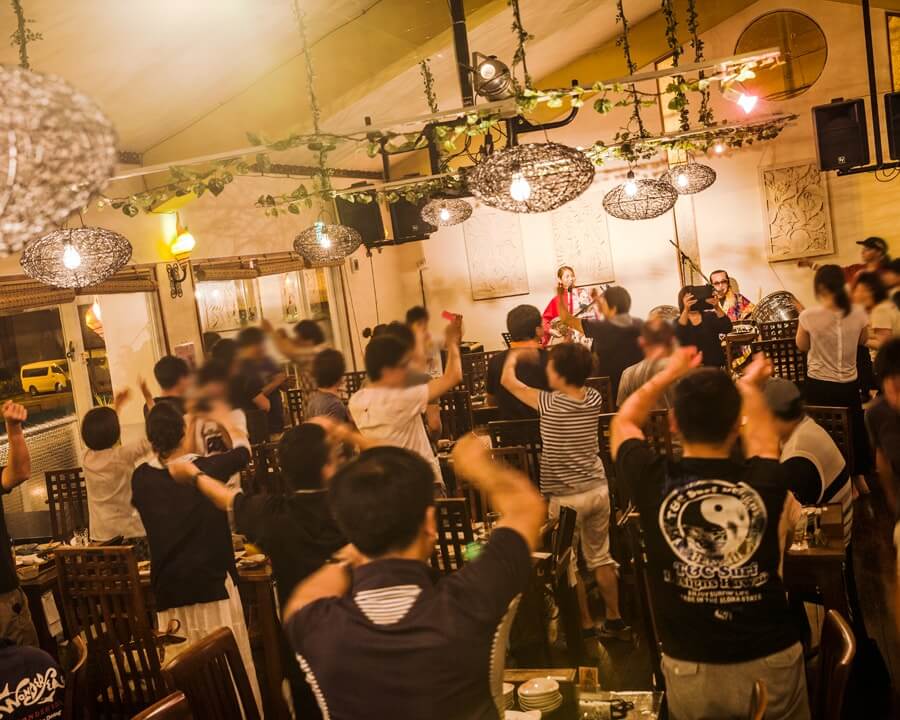 The food is great, but so is the music! You can listen to live Okinawan folk music after 7PM. Many visitors dance to the music, so you should make great memories by joining in!
Dining Awamori Bar Uraniwa
256 Huchaku,Onna Village,Okinawa
---
Ryumi – try Yambaru Agu on a shichirin or shabushabu-style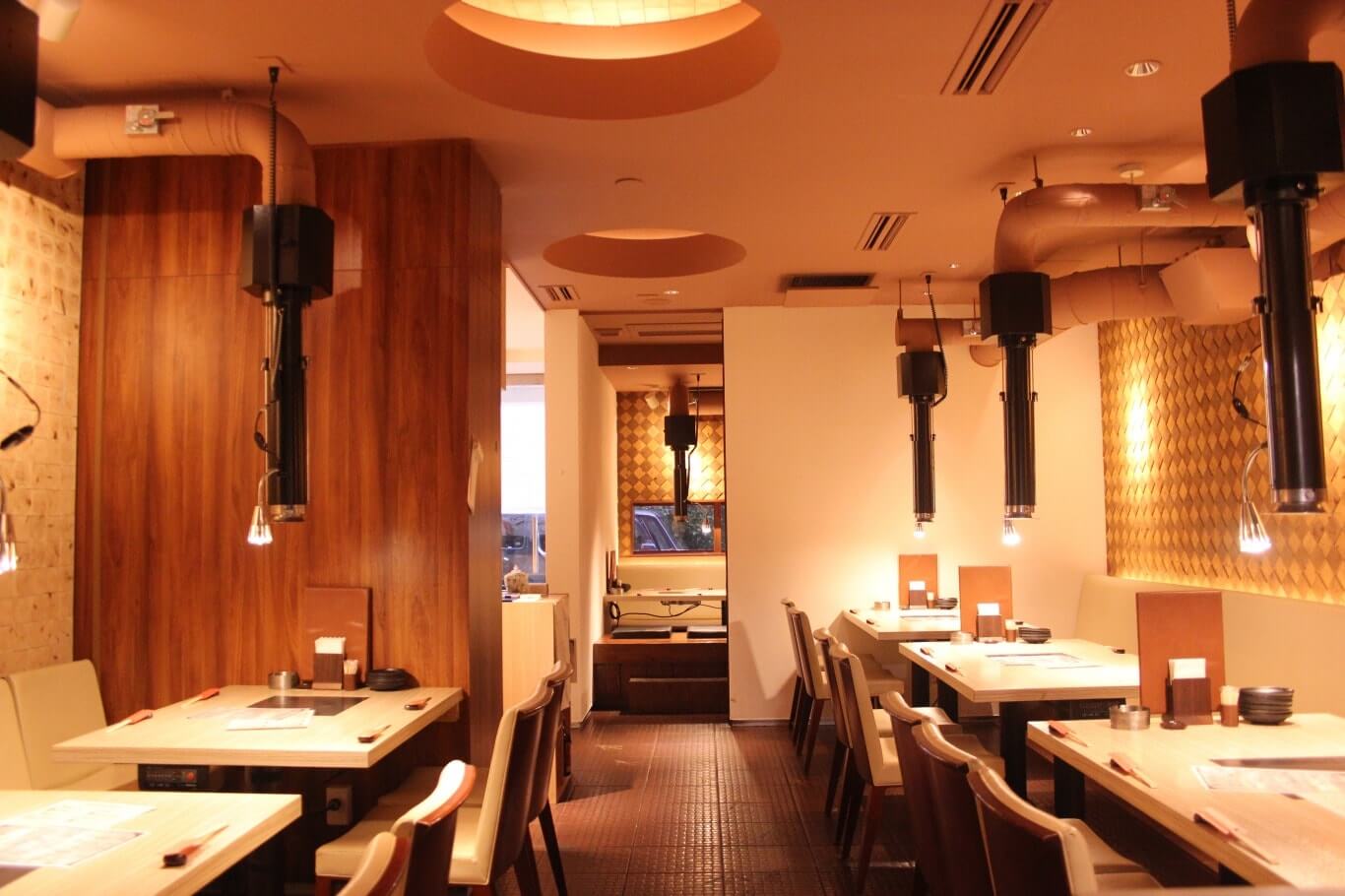 Ryumi is just a two-minute walk from Kenchomae Monorail Station. Here you can try both the shichirin style and shabushabu style to enjoy your Yambaru Agu pork.. Other than the Agu pork, you can also try the Ryubi pork, fresh Okinawan pork innards, typical Okinawan food, as well as fusion food. The store has a very relaxed atmosphere and even has private rooms with horigotatsu (tatami seats with holes in the middle of the room). And because they offer private rooms, the restaurant is recommended for visitors with some baggage or families with children.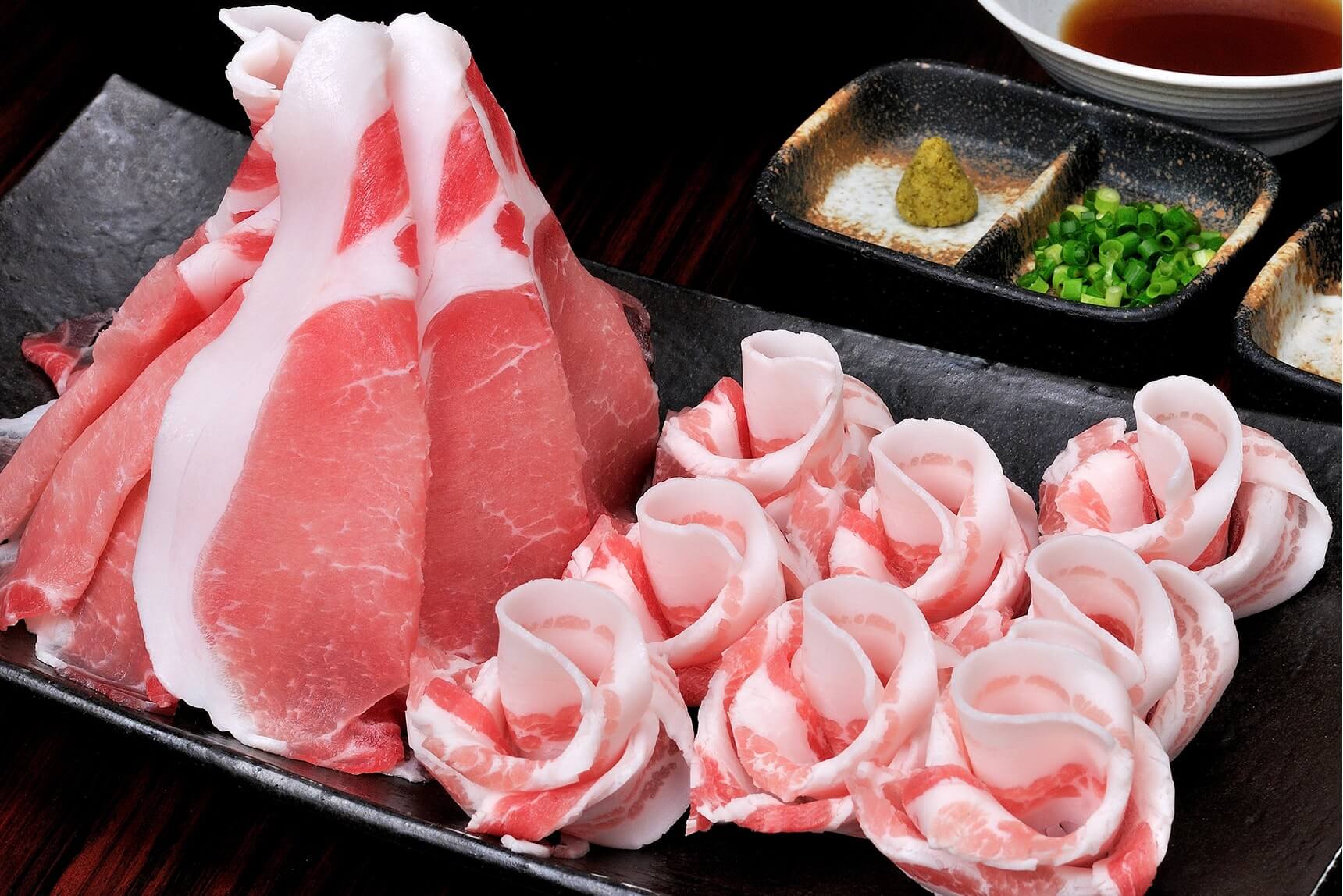 The Yambaru pork from Ganaha Farm has a sweet and rich flavor, but is low on cholesterol and high in nutrients, so it's quite popular with health-conscious ladies. The stock used for the shabushabu is a simple kelp seaweed soup that lets you enjoy the flavor of the Yambaru pork itself. First, it's recommend to try with just a bit of salt. The moment the pork enters your mouth, it fills it with Yambaru Agu's famous sweetness. You can order some vegetables with your meat so you can get some fiber and nutrients with your dish. The lettuce in the shabushabu changes colors so you can enjoy your meal with your eyes too.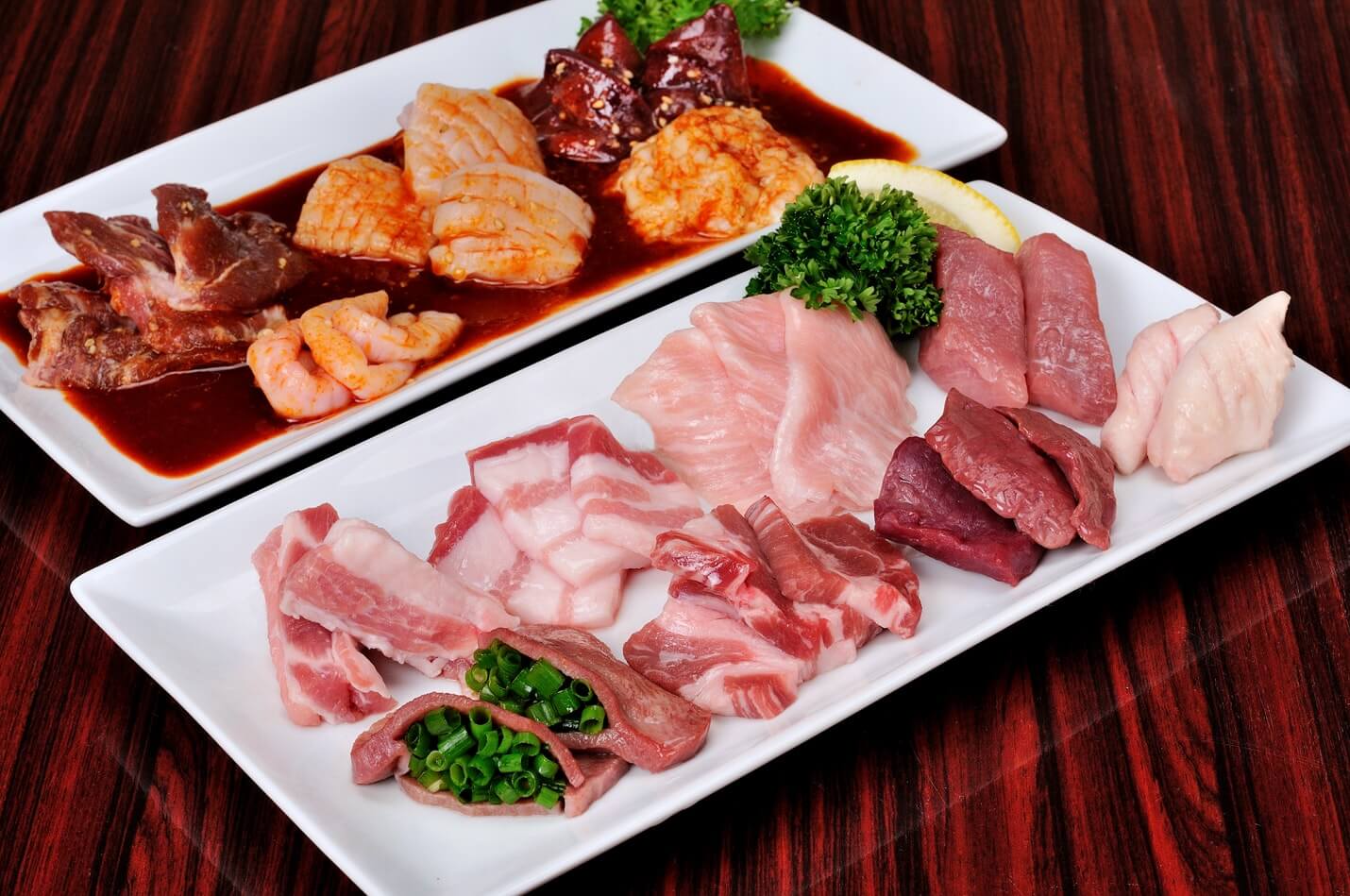 When ordering the shichirin, you can get an Agu set to try different parts of the pork. The best part about Yambaru pork is the fact that its fat is just so delicious. For those who love fatty meat, the kalbi is highly recommended, but for those of you who prefer leaner meat, the loin is the best choice. While the food choices are great, you can't forget about their choices in Awamori, Sake, Shochu, and wine. They have over 100 different kinds of Awamori from 47 different local distilleries. They have a branch in Shinotshin as well and the store has several autographs of famous Japanese actors and comedians on display. Why not go for some Agu pork after shopping at Naha Mainplace?
Ryuu-mi Shabu-shabu cooked on Shichirin Kumojiten
2-1-12 Kumoji, Naha City, Okinawa
---
Helios Pub – come try some craft beer only available here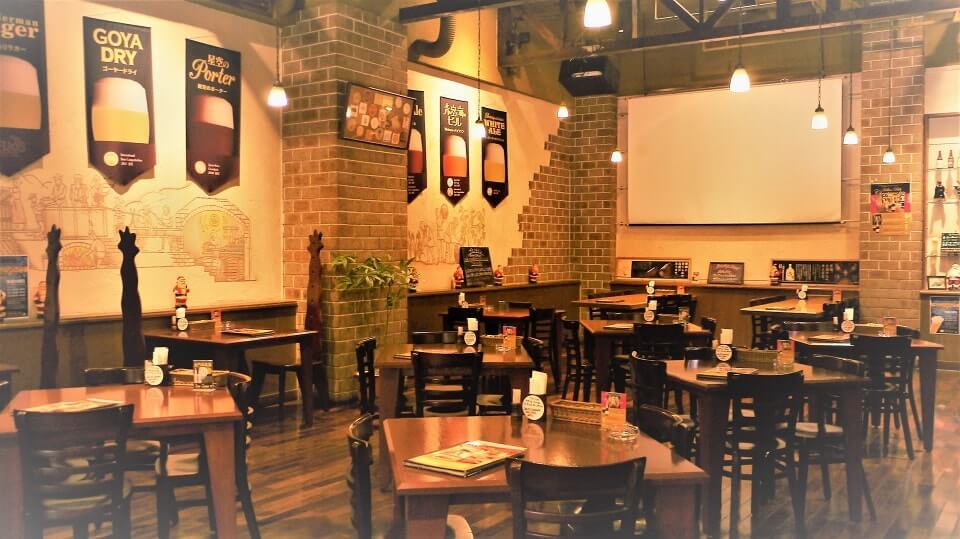 The Helios Pub – which opened in 1996 – is run by a brewery, so you can enjoy fresh craft beer. They have Okinawan food as well as dishes that go perfectly with beer made with local ingredients. The all-wood décor of the pub is very nice, and the high ceiling gives it a very open and spacious feeling. The store is right on Kokusai Dori Street, so it is a popular spot for locals and visitors alike.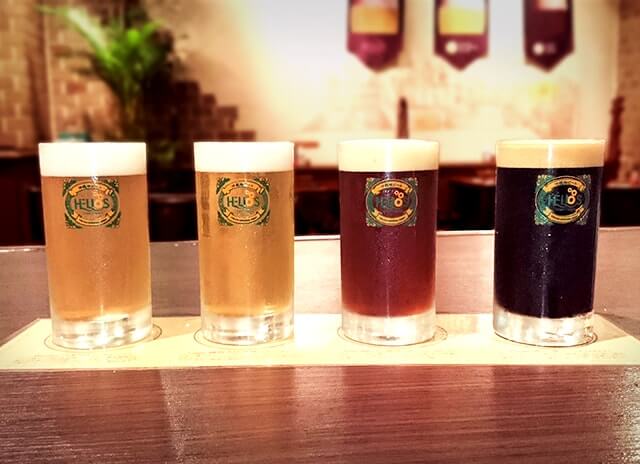 All regular-sized beer is 500 JPY, 700 JPY for the tall-sized beer, and a 1L German Style beer is 1400 JPY (all of which is tax excluded). The most popular beer at the pub is the Goya Dry, which features a slightly bitter flavor of both the beer and goya, and has received the golden award for the International Beer Competition. Other than that, the Weizen beer, a fruity and rich style of beer from Germany is quite popular at the pub, and also gaining popularity among beer-drinking nations. If you can't decide what to drink, try the "Otameshi (taster) set" that comes with three beer of your choice. If you're lucky, you may be able to try some seasonal beer that they only brew a few times a year. They also serve Awamori and cocktails that are perfect for the Okinawan climate.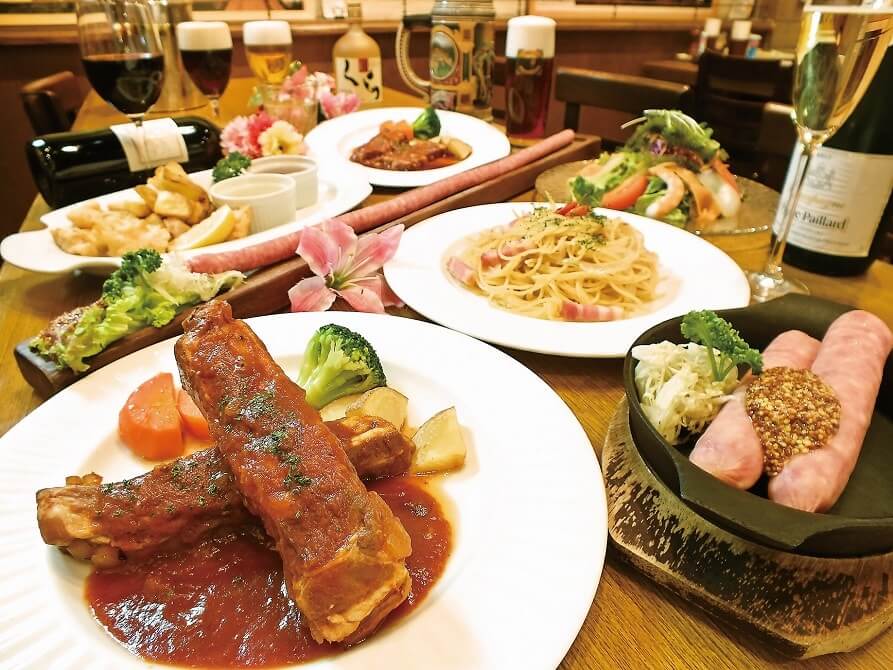 The head chef goes to buy all the ingredients including fish and meat, and only gets ingredients that pass his strict standards. The fish and chips, and the Agu pork sausage go very well with beer. They also have the typical Okinawan food such as sea grapes and Goya Champuru. They also serve steak and hamburger steak so you could just go there for some hearty meal too even if you're not into drinking.
Helios pub
1-2-25 Makishi, Naha City, Okinawa
---
jef – a fast food chain only found in Okinawa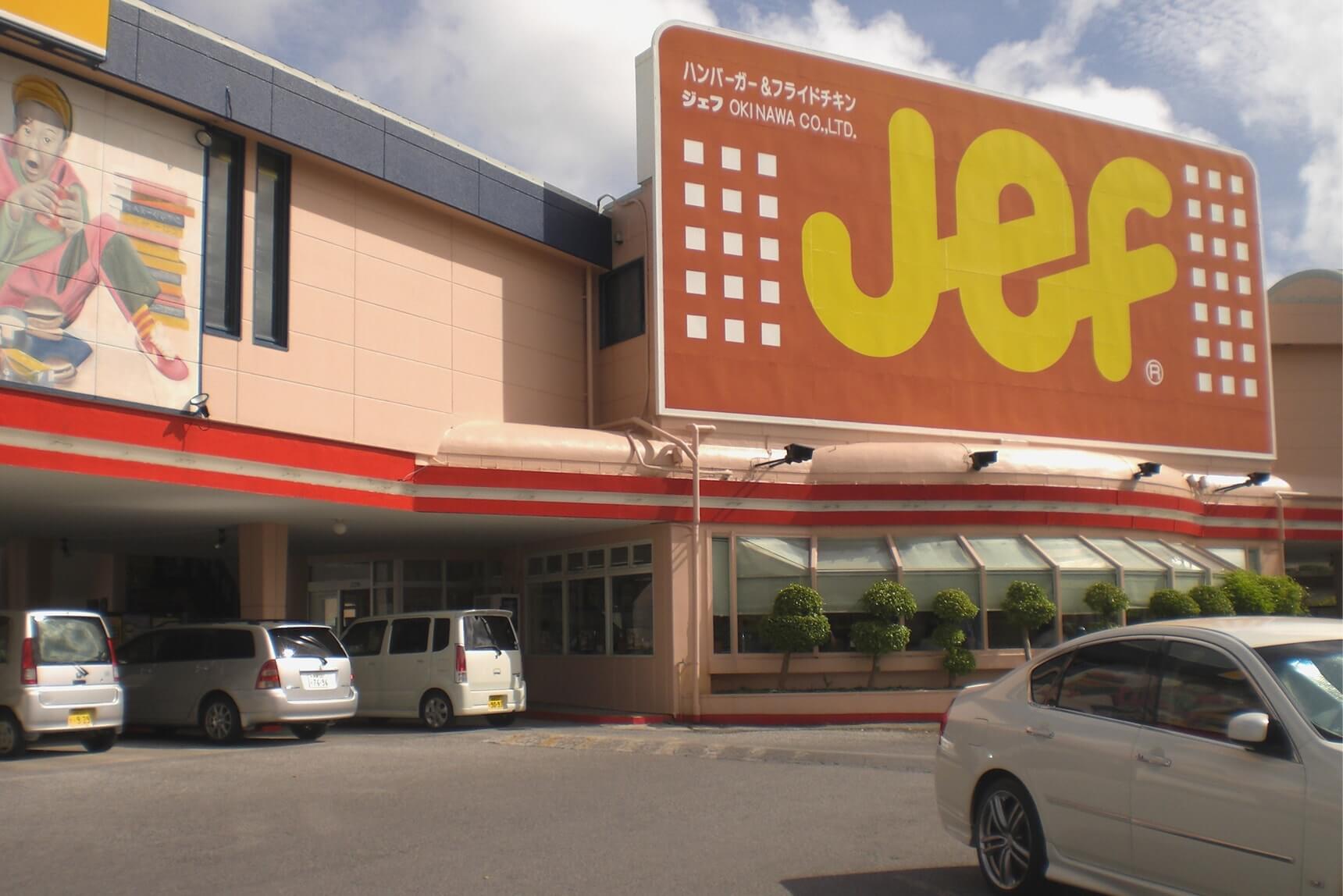 There are tons of burger shops in Okinawa, but the one we'll be introducing now is one that is born and raised in Okinawa called jef Yonabaru branch. If you're wondering about what "jef" means, it stands for "Japan Excellent Food". The Yonabaru branch has 99 seats and the building has large windows that give it a very spacious feel. It's great for families with children. Of course, you can order in the store, but the drive-in style of ordering is very American and interesting. Park your car in the parking lot and use a special telephone to order your food to eat in your car.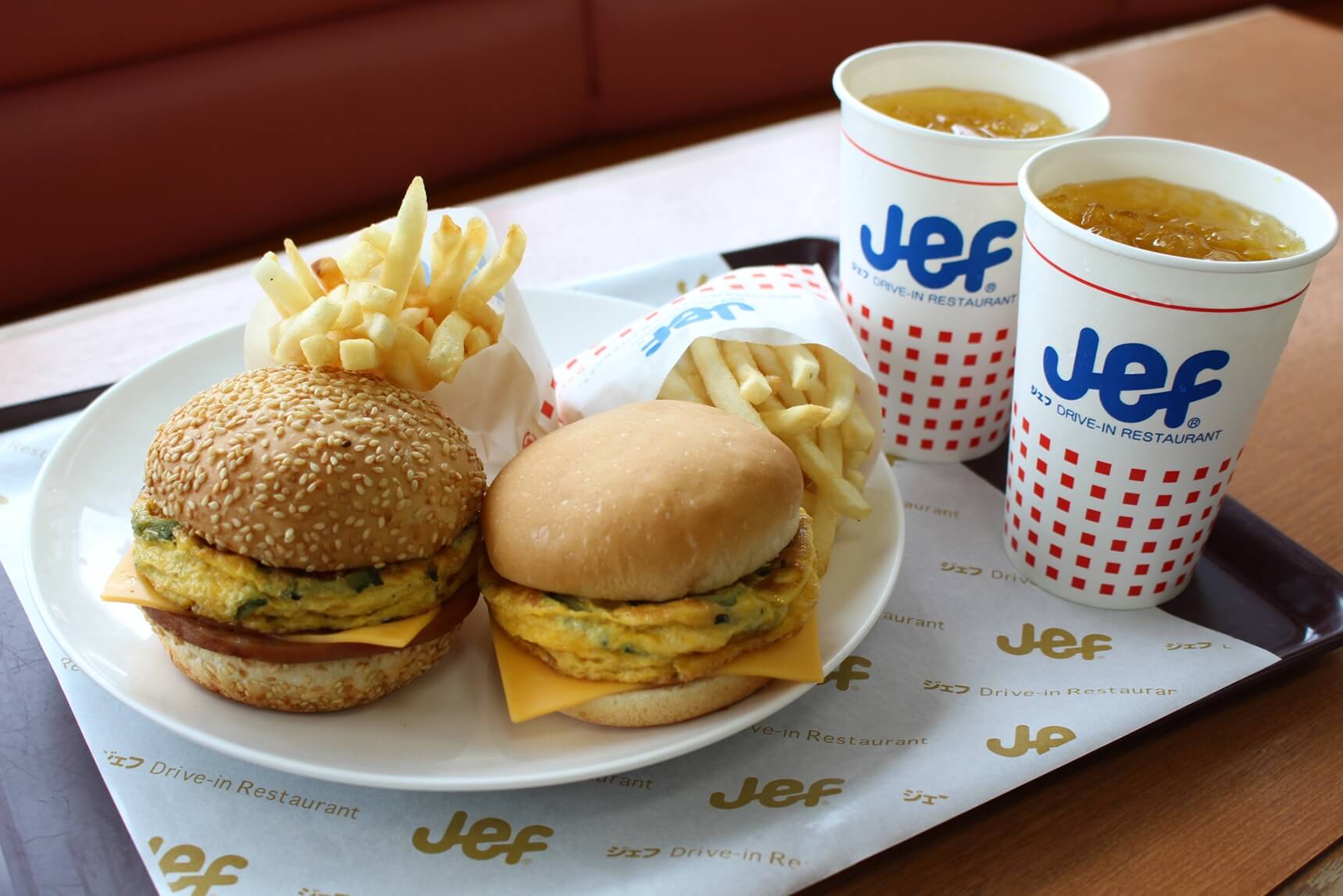 The Nuyaru Burger is jef's most popular item on the menu. Nuyaru is Okinawan for "what are you doing?!" So what's in this mysterious burger? It's pork luncheon meat with scrambled goya slices and eggs. The blend of bitterness from the goya, the mayo flavor, and the salty pork luncheon meat is a surprisingly great match. That being said, the bitterness is almost unnoticeable so it's easy for people who don't like goya. The eggs used in the Nuyaru Burger are provided by local farms so you know you're always eating great fresh eggs.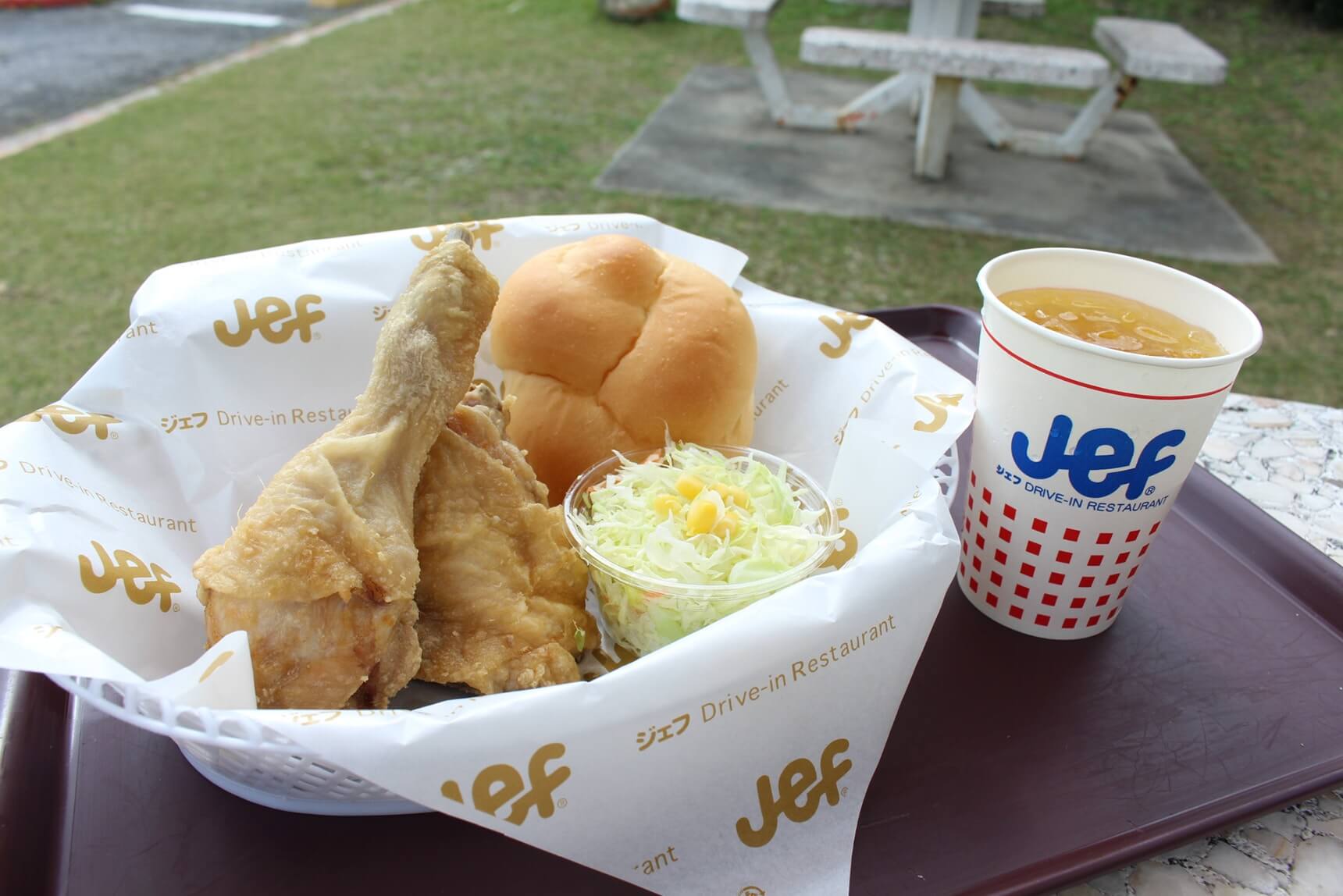 The Goya Burger is an egg and goya "patty" burger with no meat, and the Jumbo Pork Sandwich – which is sandwiched pork cutlet of 15cm in diameter and coleslaw – are one of the few unique burgers they have on offer. Their fried chicken is also very popular. They get fresh local spring chicken every day, and deep fry them every day by hand. Jef is also famous for their variety of side dishes. They have fries, cookie-fries, mashed potato fries, goya ring, coleslaw, and Caesar salad.
Jef Yonabaru restaurant
467 Ueyonabaru, Yonabaru Town, Okinawa