Check out Calbee+ Okinawa Kokusai Street. It's full of deliciousness!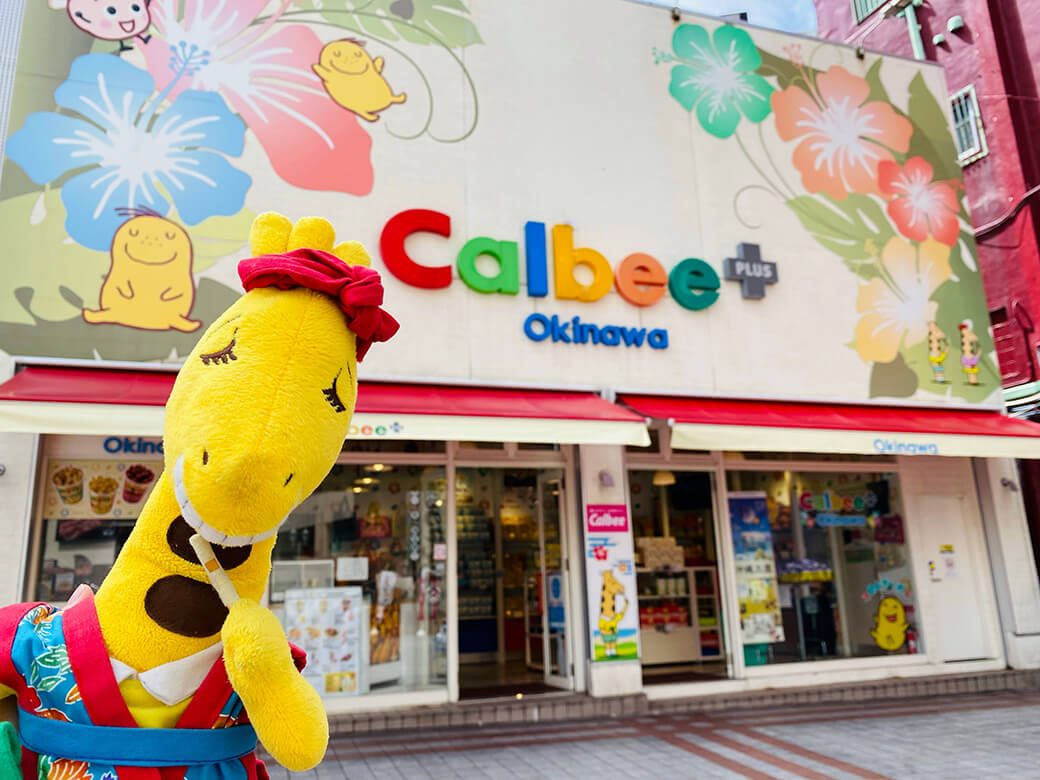 If you're visiting Okinawa and hope to visit places off the beaten track or find unique gifts and souvenirs to take home with you, then you won't want to miss this!
Introducing Calbee+ (Plus) Okinawa Kokusai Street Branch, a spot that offers a delightful shopping experience to all its visitors. Here, you can enjoy freshly made hot snacks and find Calbee products that are only available in Okinawa. Read on and find out more.

Take a break on Kokusai Street. Head over to Calbee+ for your afternoon snack.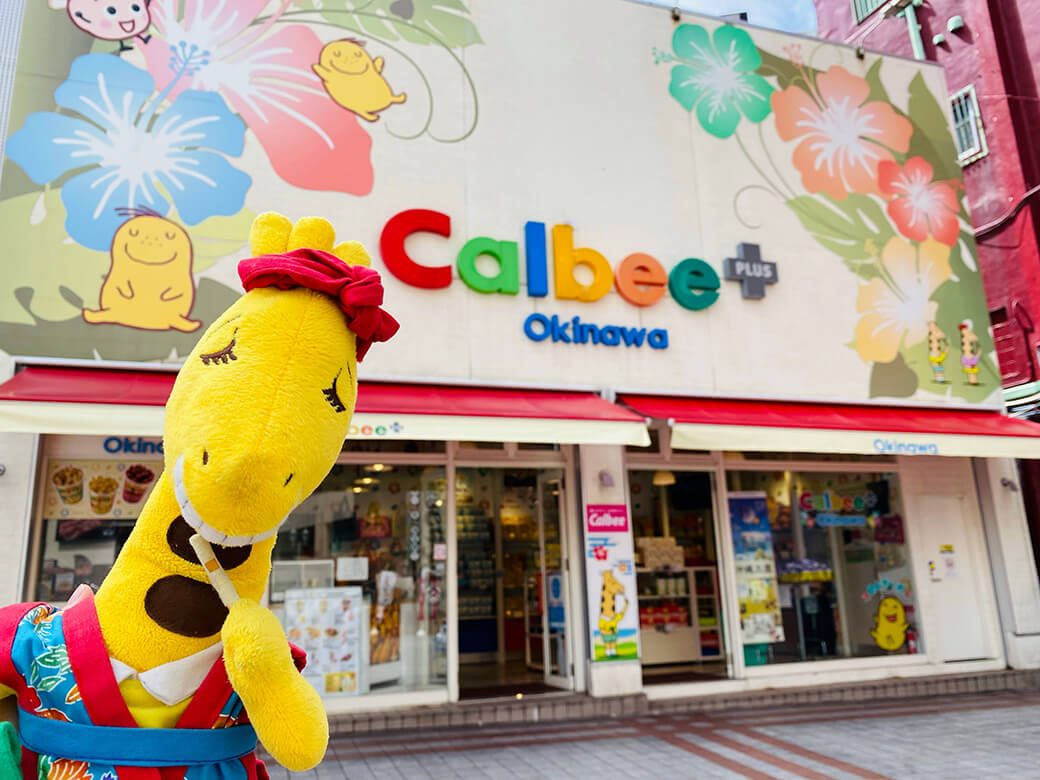 Calbee+ is a nationwide storefront for Calbee, a snack company famous for Potato Chips and Jagarico. These shops are popular not only among locals but also with visitors for the "fun and tasty" experience that Calbee offers.
Opened in 2012, Calbee+ Okinawa Kokusai Street Branch offers a wide selection of merchandise, from limited Calbee+ items and those made with particular tastes and attention. You can't help but feel that "kid in a candy store" excitement surrounded by all the colorful and tasty-looking choices. The shop offers freshly fried hot snacks and other items on their food menu, so stop by for gifts and souvenirs, and a delicious snack, too!
Fresh and hot food choices only found in-store!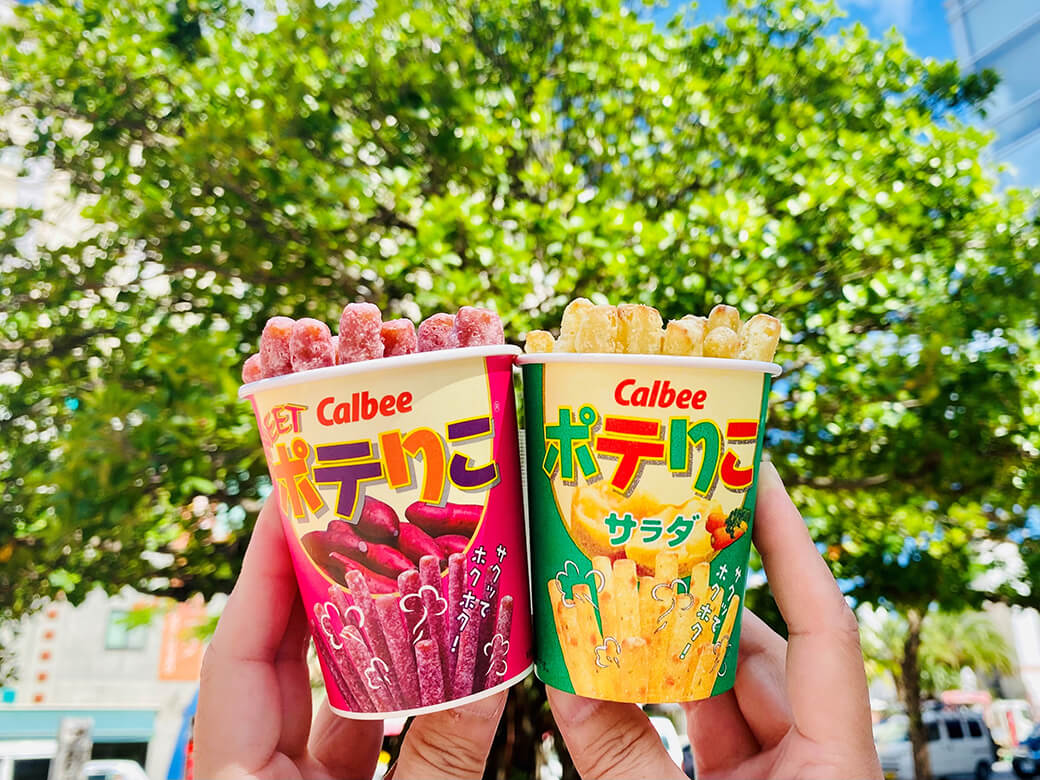 One of the best things about Calbee+ Okinawa Kokusai Street is the food menu.They offer a wide variety of items on their menu and also those that are limited to the Okinawa Kokusai Street Branch.
Among them, a popular choice is the Poterico, a hot snack inspired by Jagarico, a very popular snack from Calbee. While the Jagarico has a crunchy texture, the Poterico has a light crispiness on the outside and a delightful potato texture on the inside. The texture, along with the taste, is what keeps people coming back for the Poterico. If you're by the shop, be sure to stop by and give it a try.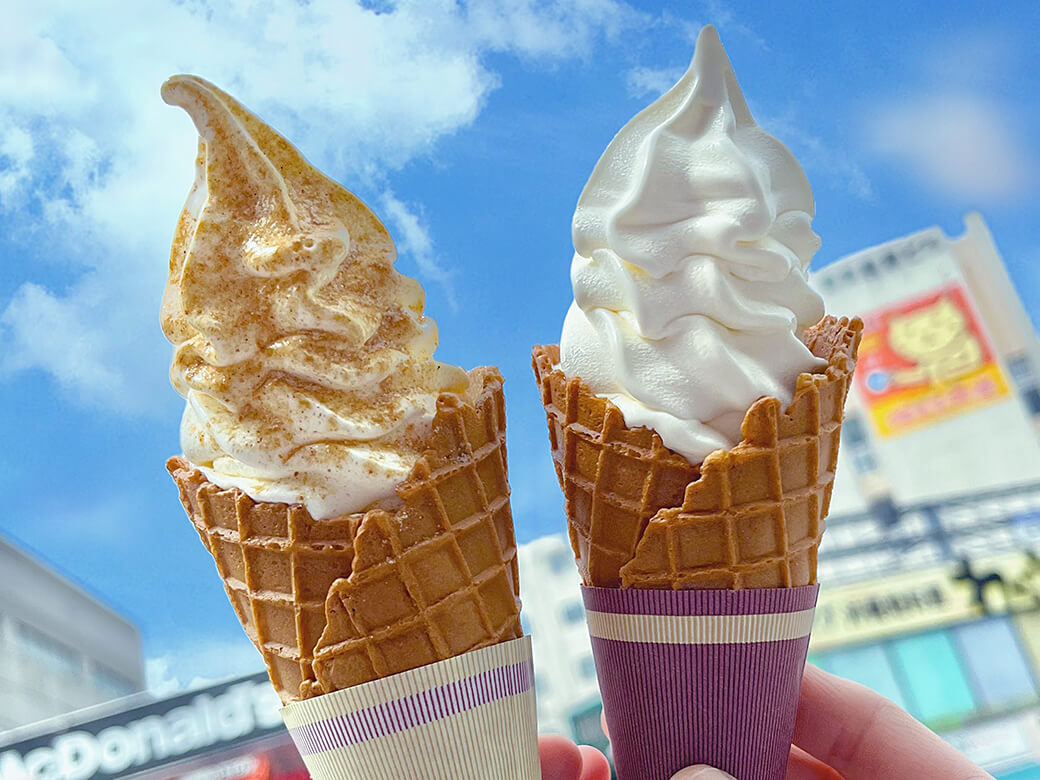 Besides the freshly fried menu items, you'll also find Kokuto (brown sugar) soft-serve ice cream and various other cold refreshments including soft drinks, so it's a perfect spot for a break on your stroll along Kokusai Street.
Great for gifts! Check out these products that are only found at the Okinawa Kokusai Street location.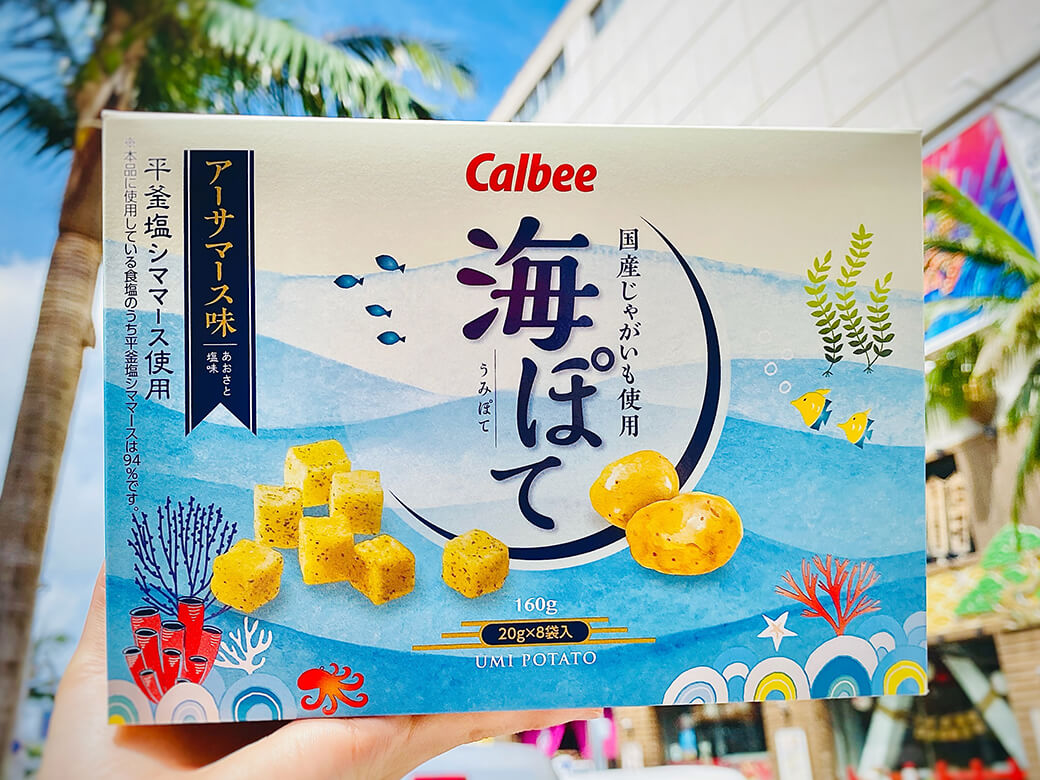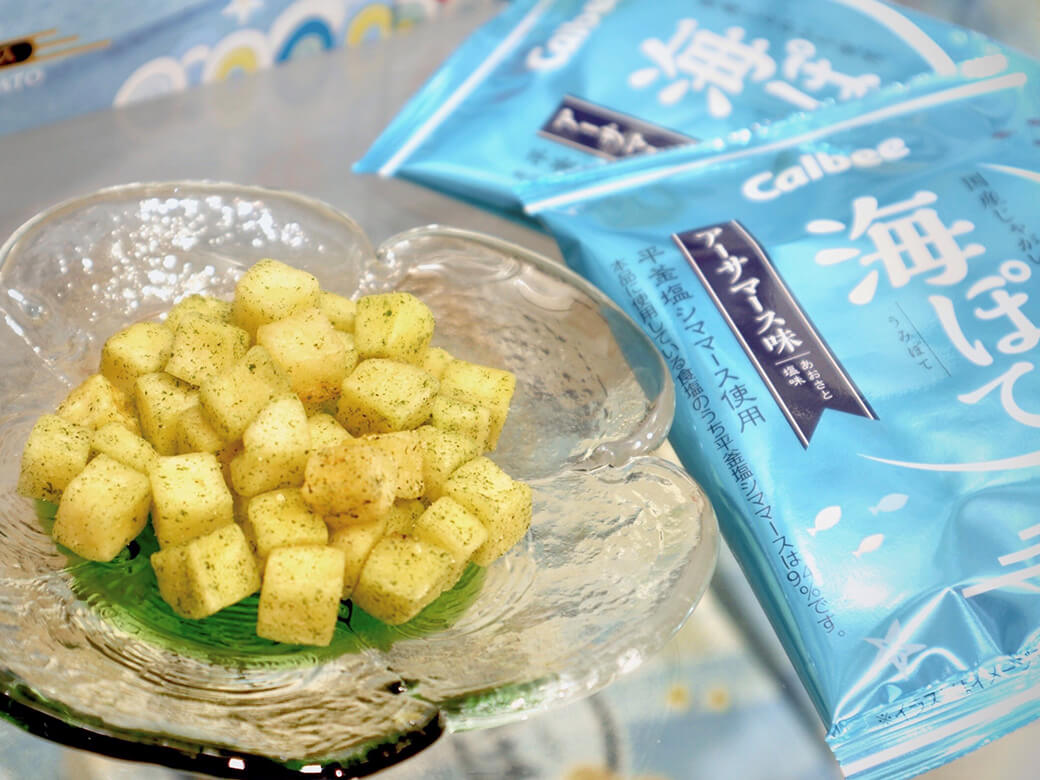 Calbee+ Okinawa Kokusai Street Branch is also a great place to find gifts and souvenirs to take home to your friends and family. They offer various snacks that will surely be a hit, as well as a wide range of souvenirs.
Their top-selling item is the Umipote Asa-Masu Flavor, a simple, cubed potato snack seasoned with aromatic Asa seaweed and mild Hirakamaen Shima Masu salt. The colorful packaging is inspired by the Okinawan seas, making it a perfect gift from this southern paradise!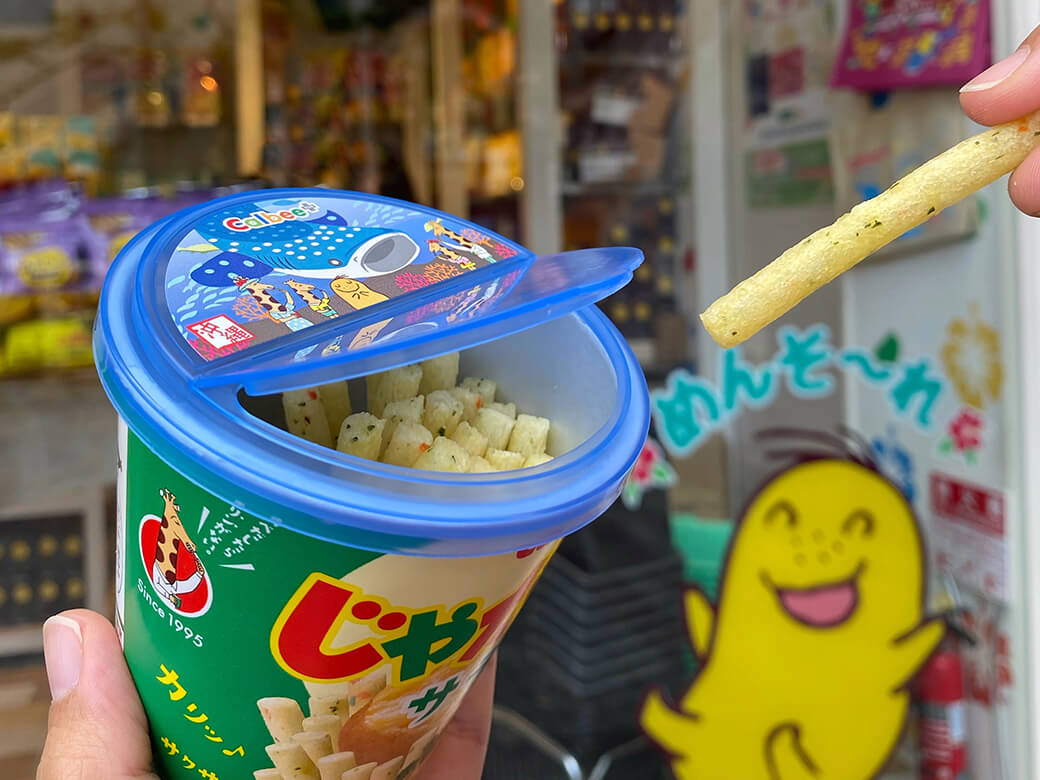 The Jagarico lid with the pop design is also limited to the Okinawa branch, and the shop also has a great selection of miscellaneous goods and stationery inspired by the many types of familiar snacks produced by Calbee. Be sure to check them out, too.
Please drop by when you're visiting Okinawa because we're sure you'll find something you'll love at Calbee+ Okinawa Kokusai Street!