Indulge in Okinawan delicacies in Onna no Eki Nakayukui Market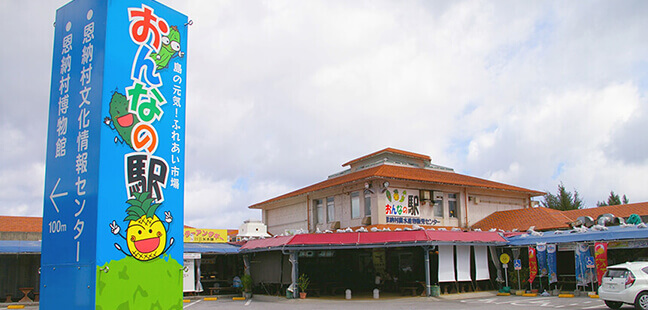 Tourists can enjoy the many tastes of Okinawa in Onna no Eki Nakayukui Market, situated in Onna Village. It's a great place to stop by while driving or even to make a trip just to go eat there. There are local flavors you can try out and various tropical sweets and seafood. We'll introduce you to some great stuff they've got to offer.
From fresh veggies and fruit to souvenirs. There are tons of local Onna Village specialties.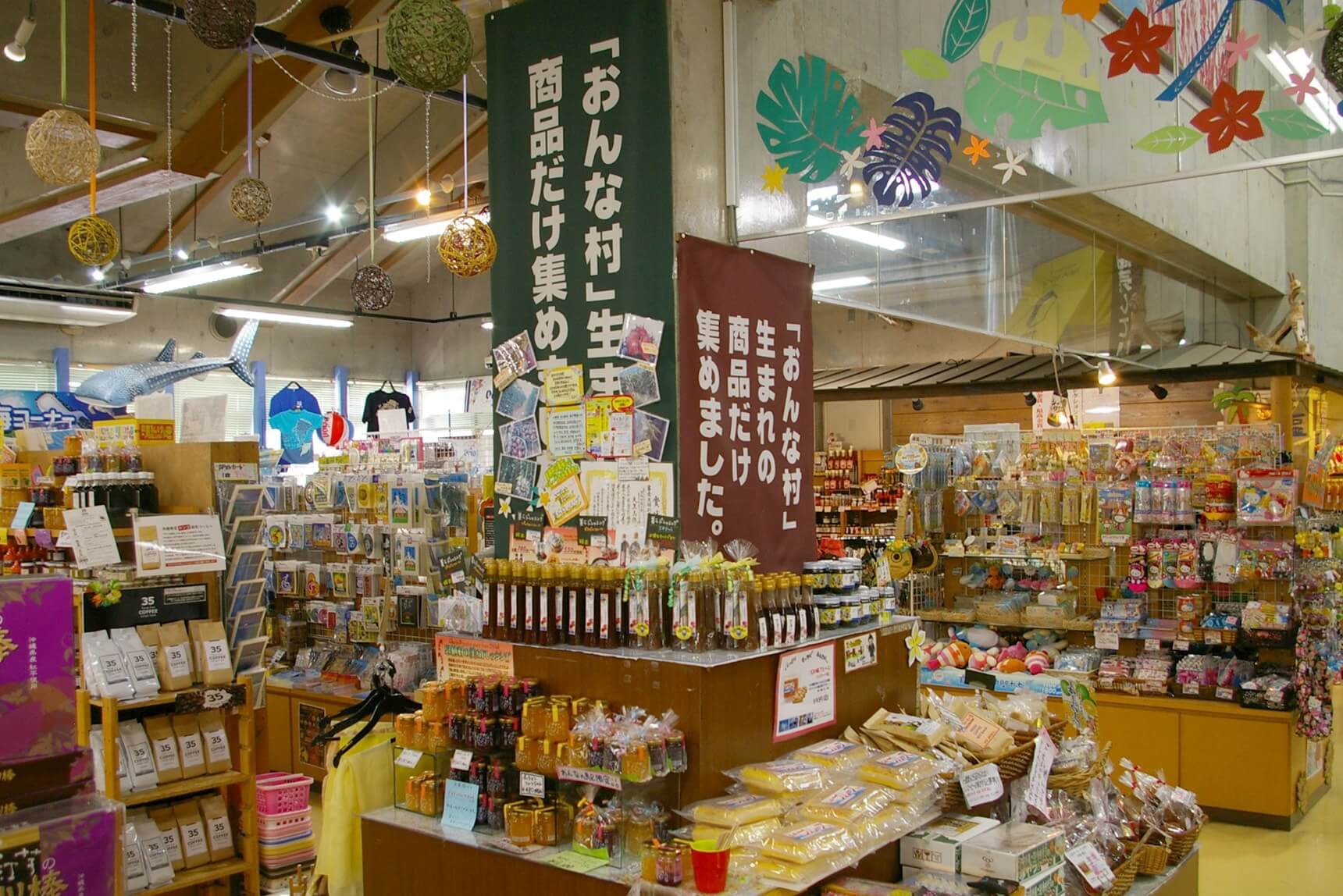 First, we'll introduce you to products sold in Onna no Ike Nakayukui Market. This special area in the market has a ton of local souvenirs. You can only find these here at the Nakayukui Market.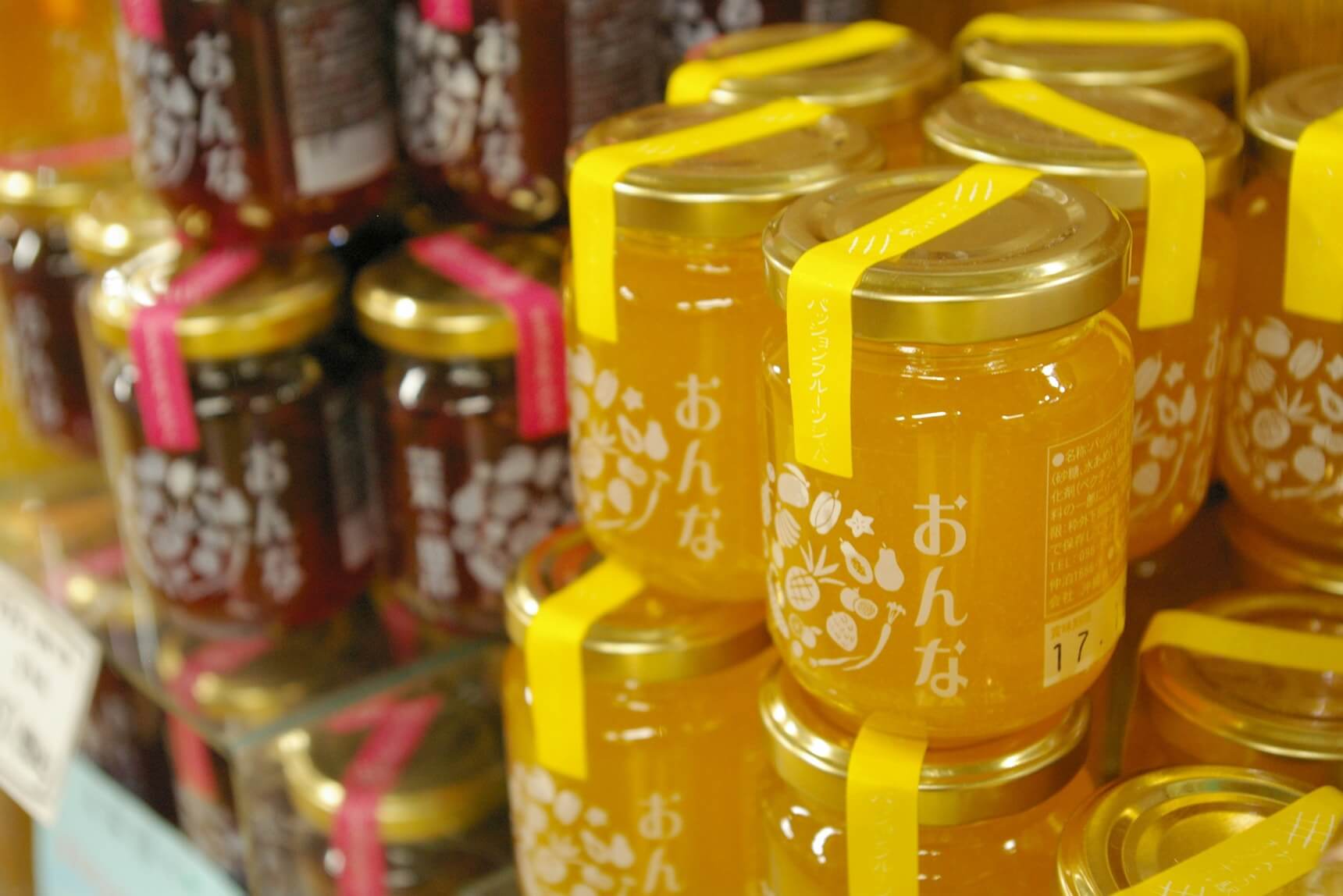 Jam and dressing made from passion fruit and other tropical fruit are popular. Not only are they delicious, but the vibrant colors are a sure hit with ladies.
Let's head over to the gourmet section next.
Creamy sea urchin sauce! Onna Village Seafood Direct Sale Store Hamanoya is a treasure trove of great seafood.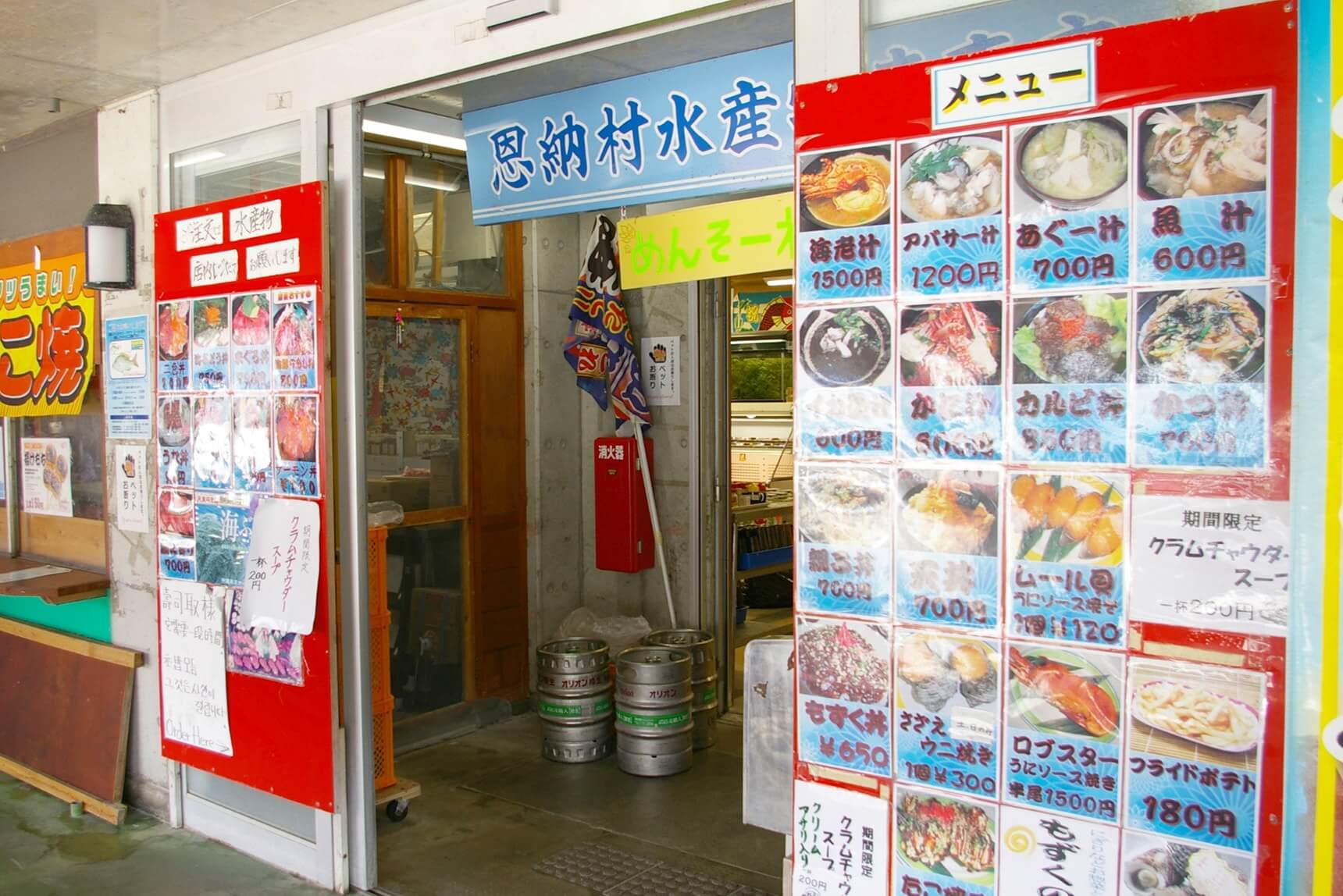 Hamanoya is busy as soon as it opens its doors at 10:00. You can purchase Onna Village's famous "sea grapes" – as well as other fresh seafood at a surprisingly reasonable price. You can try fish that would be expensive to have in other areas without much hesitation.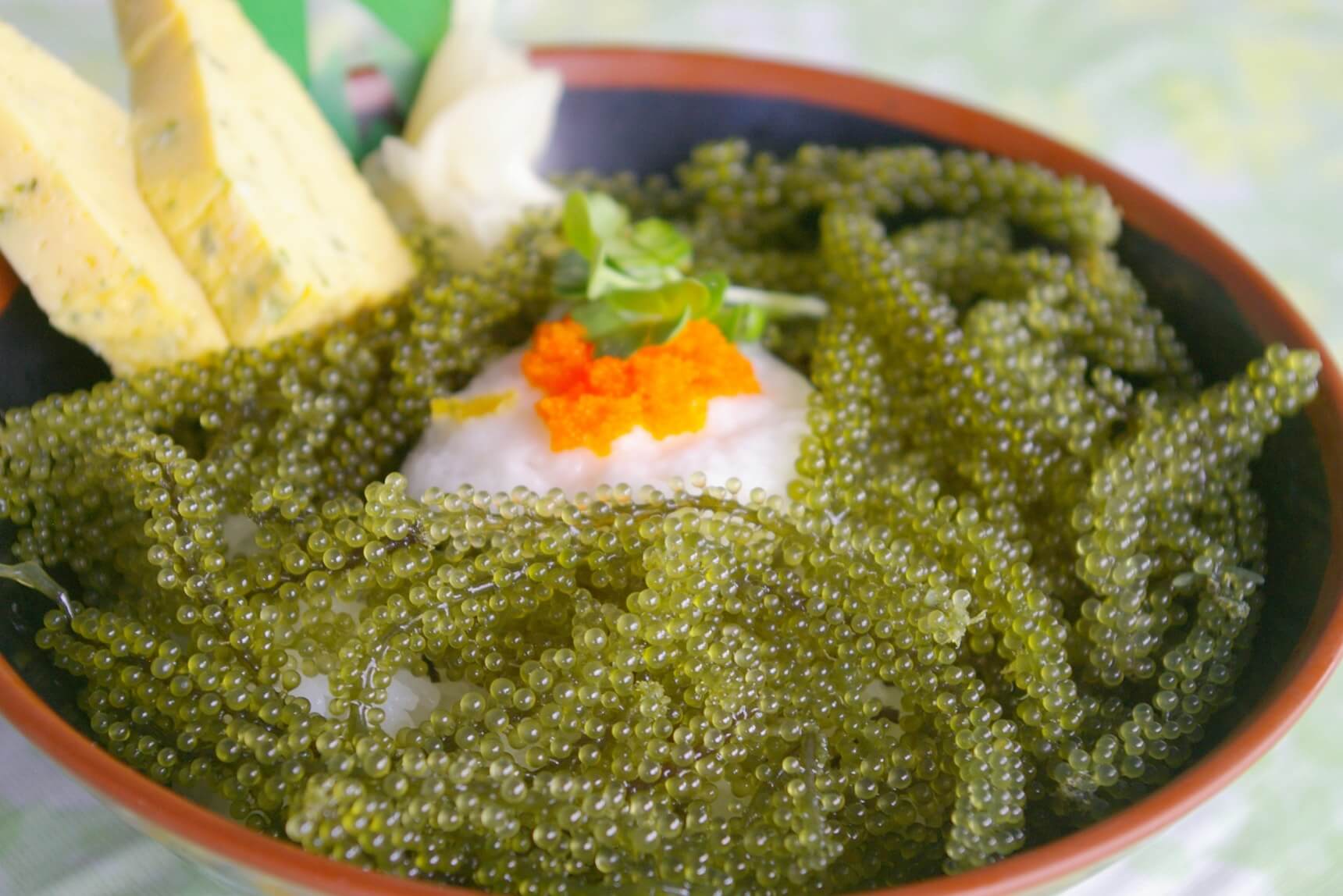 "Sea grape on rice" is a popular dish. Don't hold back; just stuff your mouth with sea grapes. That feeling of the sea grapes popping in your mouth is proof of its freshness.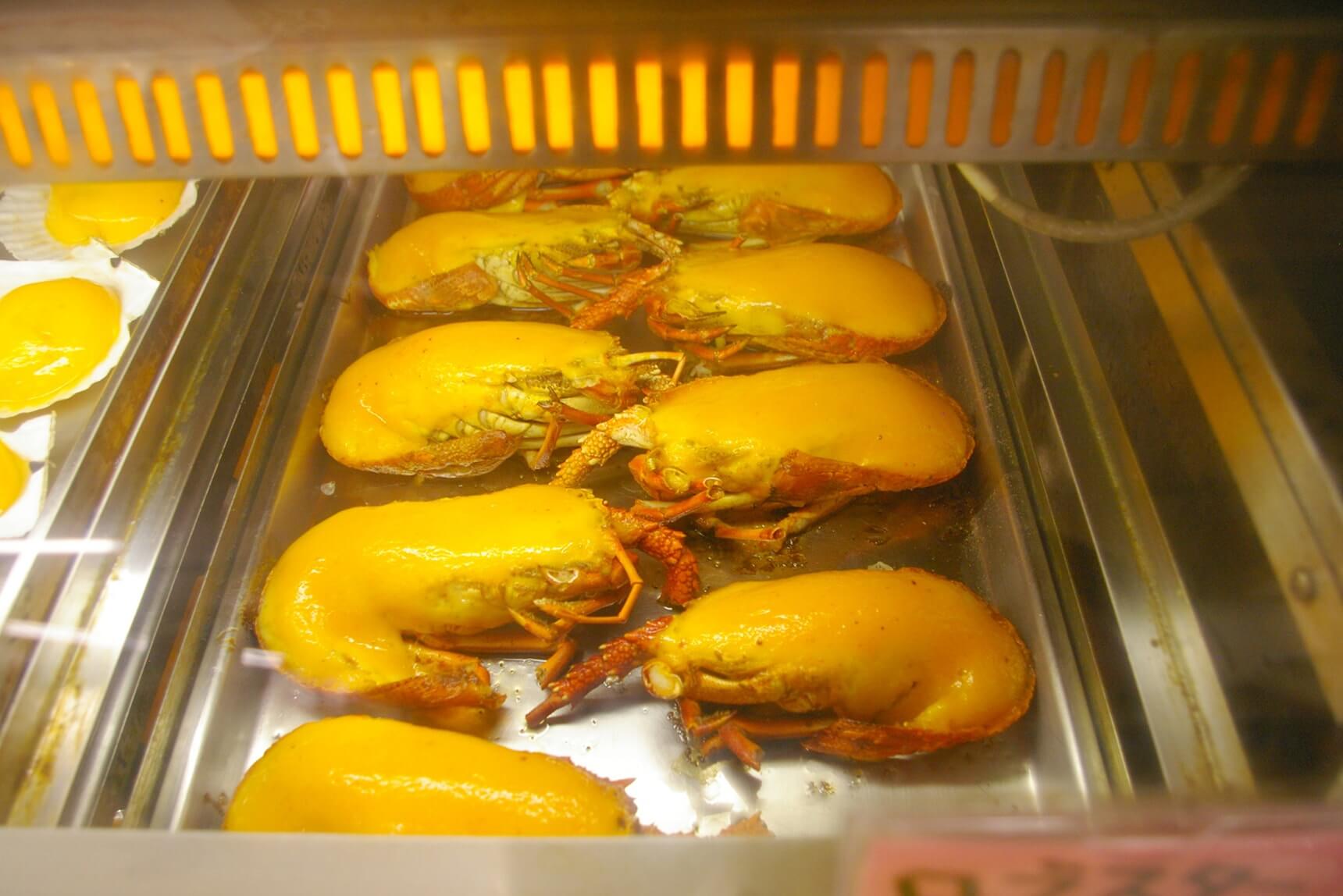 The "sea grape on rice" is the most popular meal – but the most popular light dish is "seafood grilled in sea urchin sauce". Various seafood such as mussels, scallop, and lobster are cooked with a special sea urchin sauce. The rich sea urchin flavor makes you feel "bourgeoisie", but the dish starts from 120 JPY, which is quite reasonable. You can enjoy this light dish without much hesitation.
Ryu-pin's shaved ice is topped with plenty of tropical fruit. They look great in photos.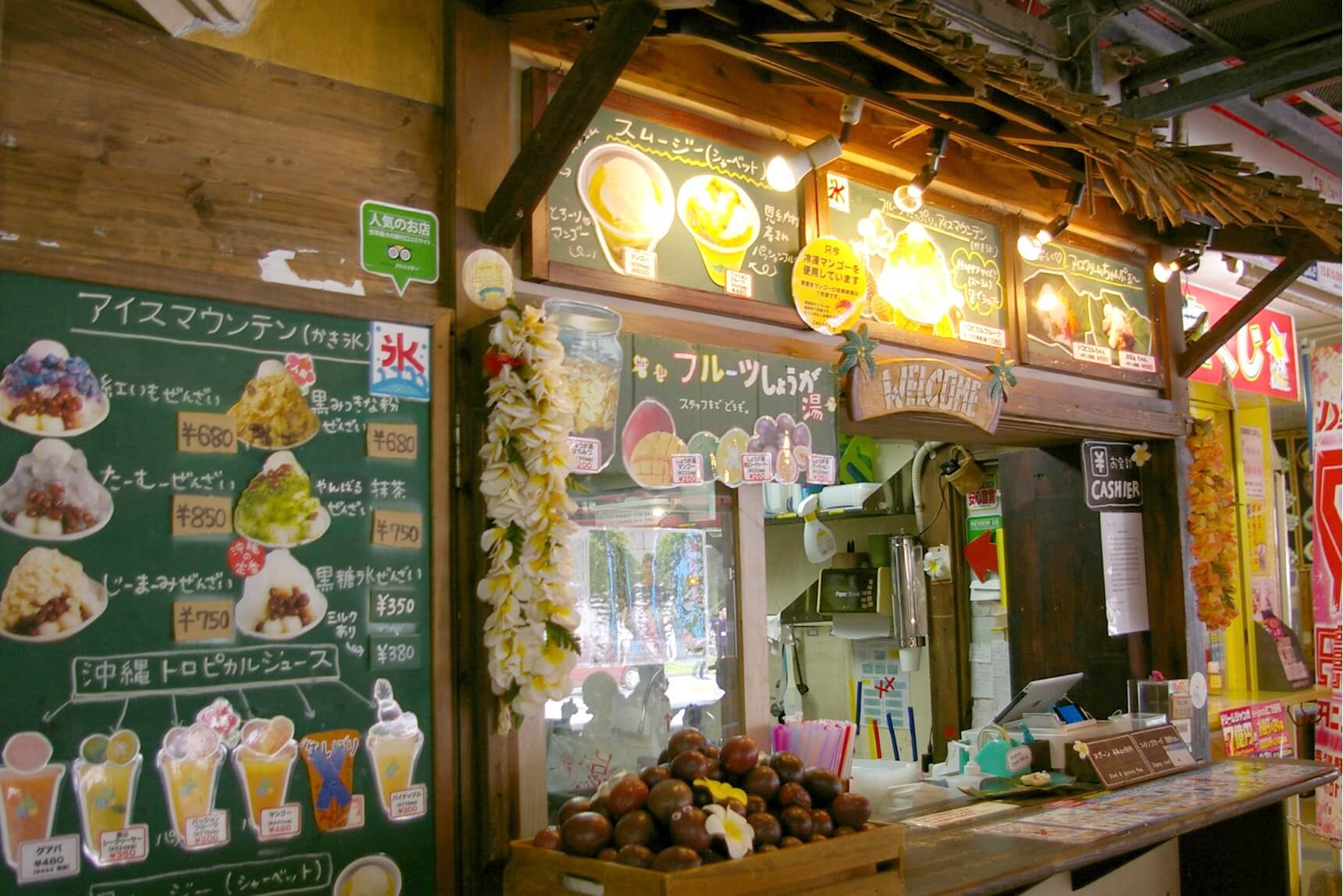 Inside of Ryu-pin is a very attractive tropical vibe. There you can enjoy a menu full of well-thought-out shaved ice flavors.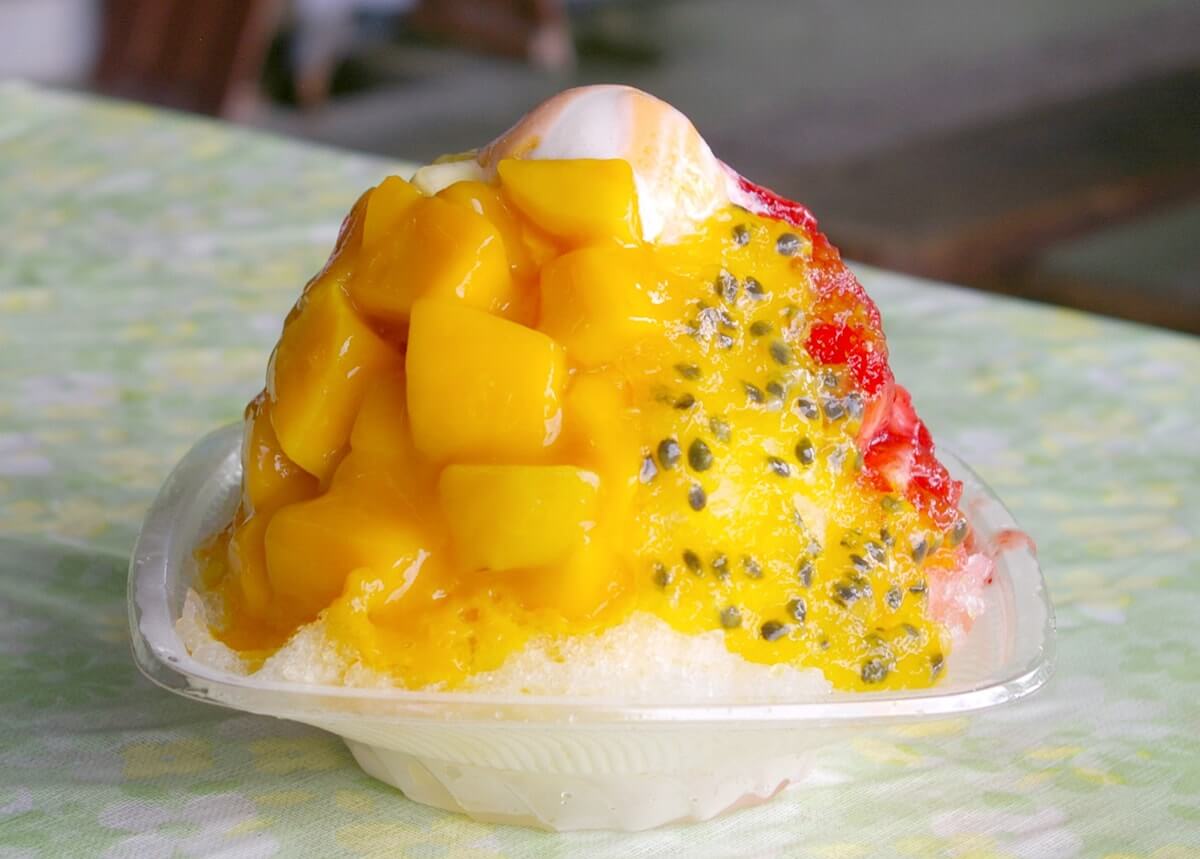 One type of shaved ice you have to try at least once is the "Tropical Fruit Mountain", which is a gigantic serving of shaved ice topped with Okinawan mango (seasonal), dragon fruit, and passion fruit. They can sell over a 100 of these on a busy day. This is a really big serving so you could probably share this with two people. Your taste buds will thank you for the fresh tangy flavor of the fruit, the coolness of the shaved ice, and the gentle sweetness of ice cream.
Pao is known for its fluffy and moist mozuku meat bun.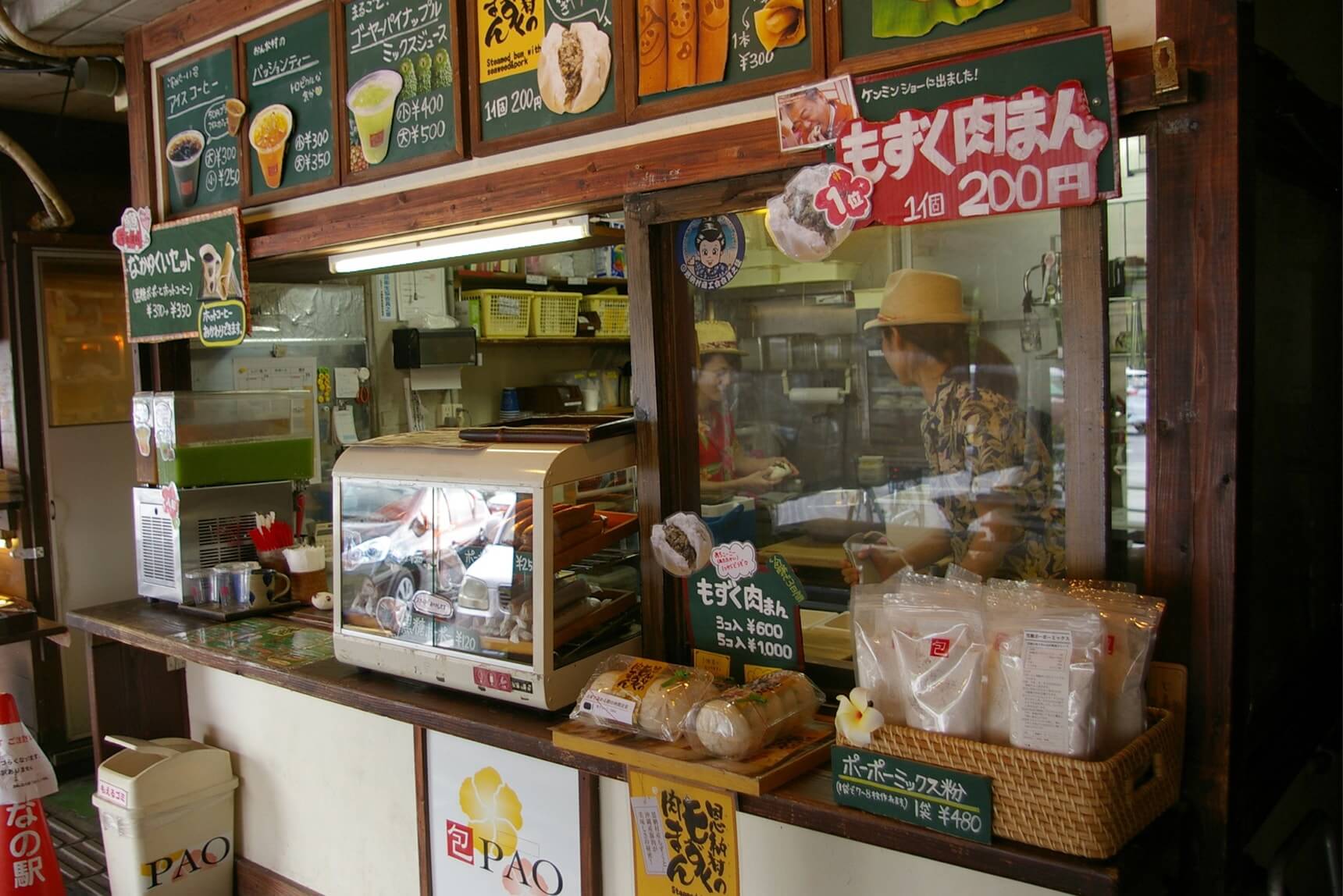 Pao is famous for their "mozuku meat bun". Mozuku, which is a specialty of Onna Village, is in the stuffing along with Okinawan agu pork and onions. The mozuku's thick texture goes very well with the flavor and texture of the other ingredients. Mozuku is also blended into the bun, and gives the bun its signature fluff, moisture, and the slight scent of the ocean.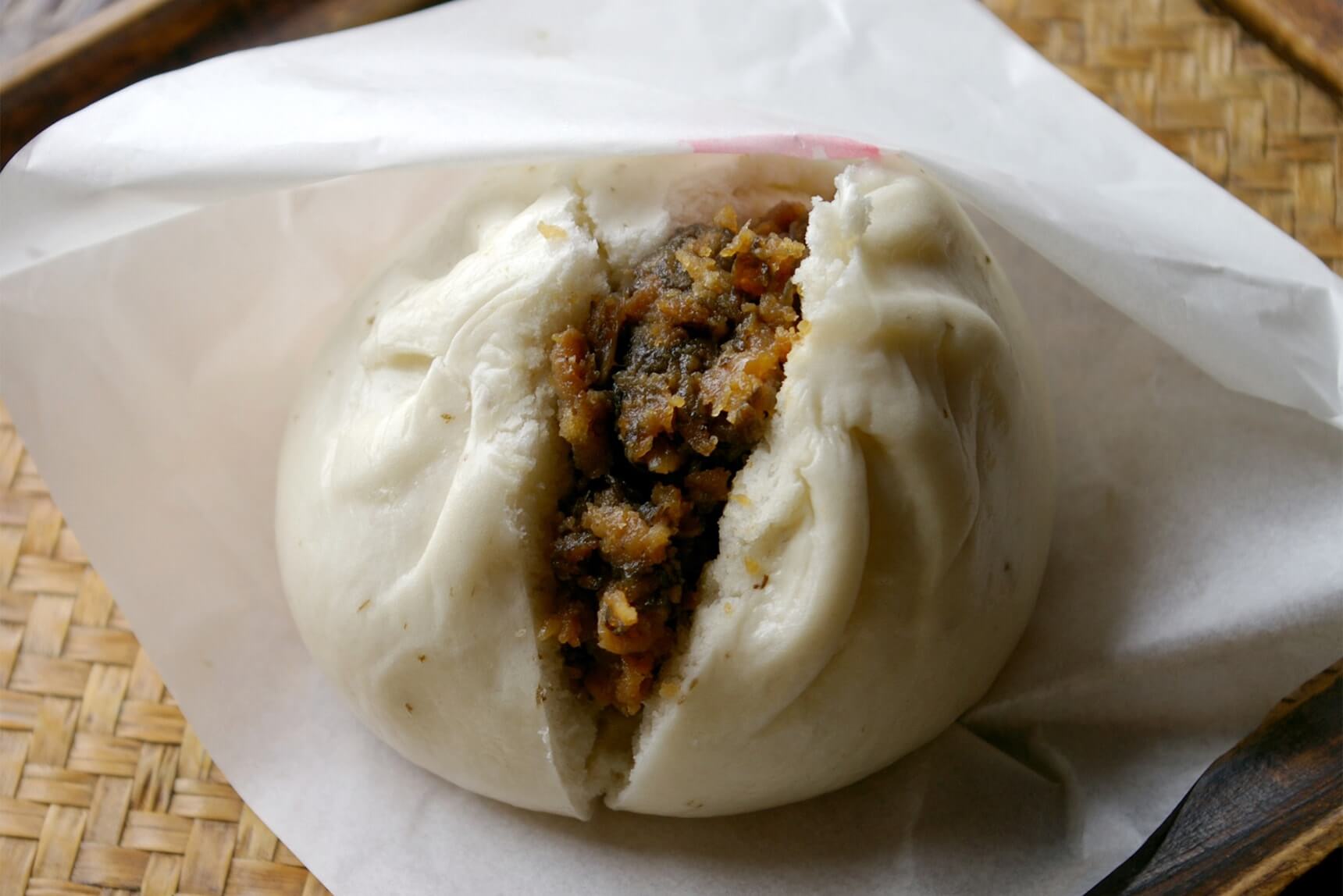 The meat bun is rather lightly flavored compared to your typical pork bun, so it's great for those who don't like greasy food. It also makes for a great healthy snack for children.
Butasaburo lets you enjoy the best of Okinawa at a reasonable price.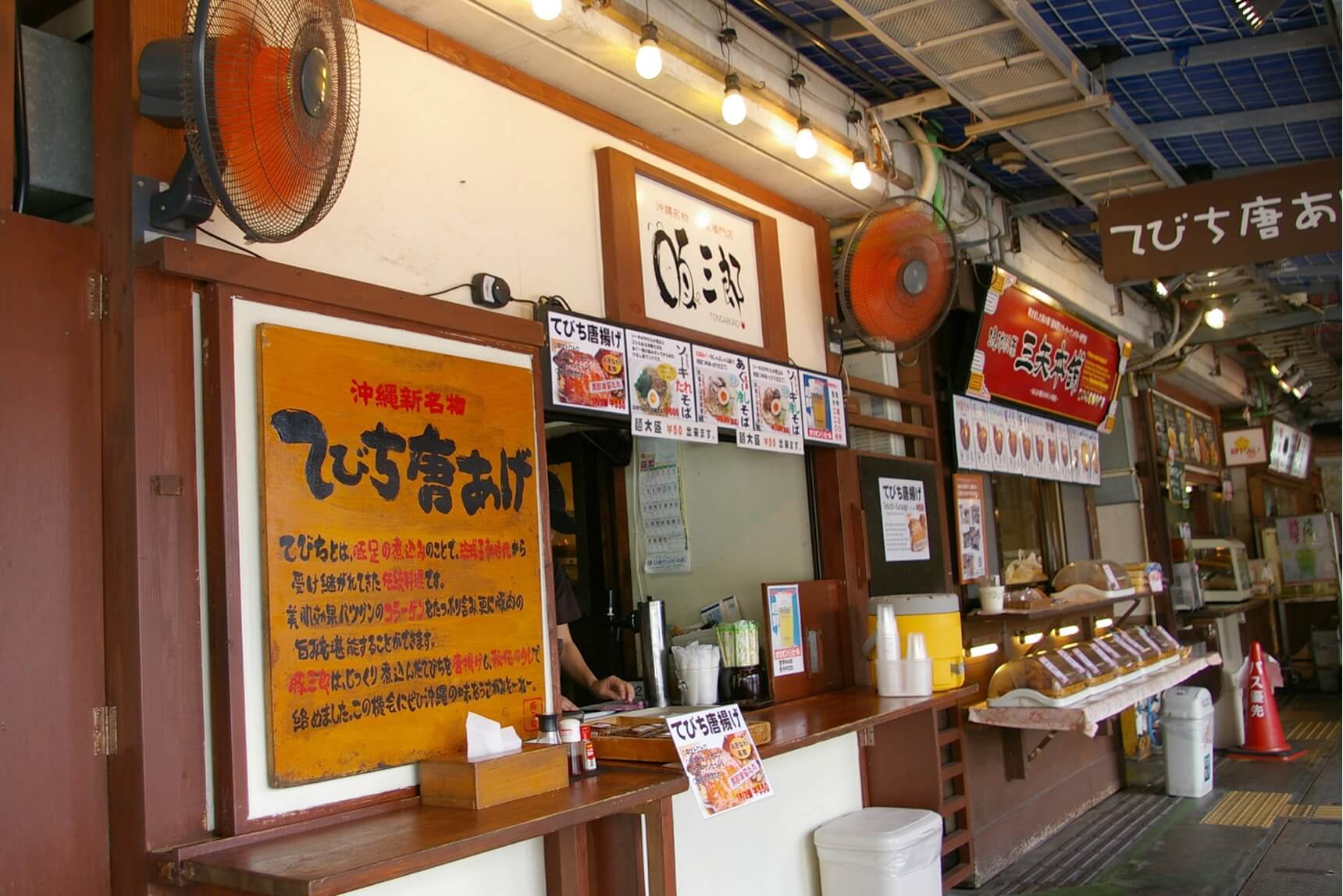 In Uruma City, which is adjacent to Onna Village, there is a restaurant called "Sakae Ryori Ten" that is well-known among the foodie crowd. Butasaburo is a branch of Sakae Ryori Ten where you can enjoy Sakae's top notch taste at a reasonable price like you're in a food stall.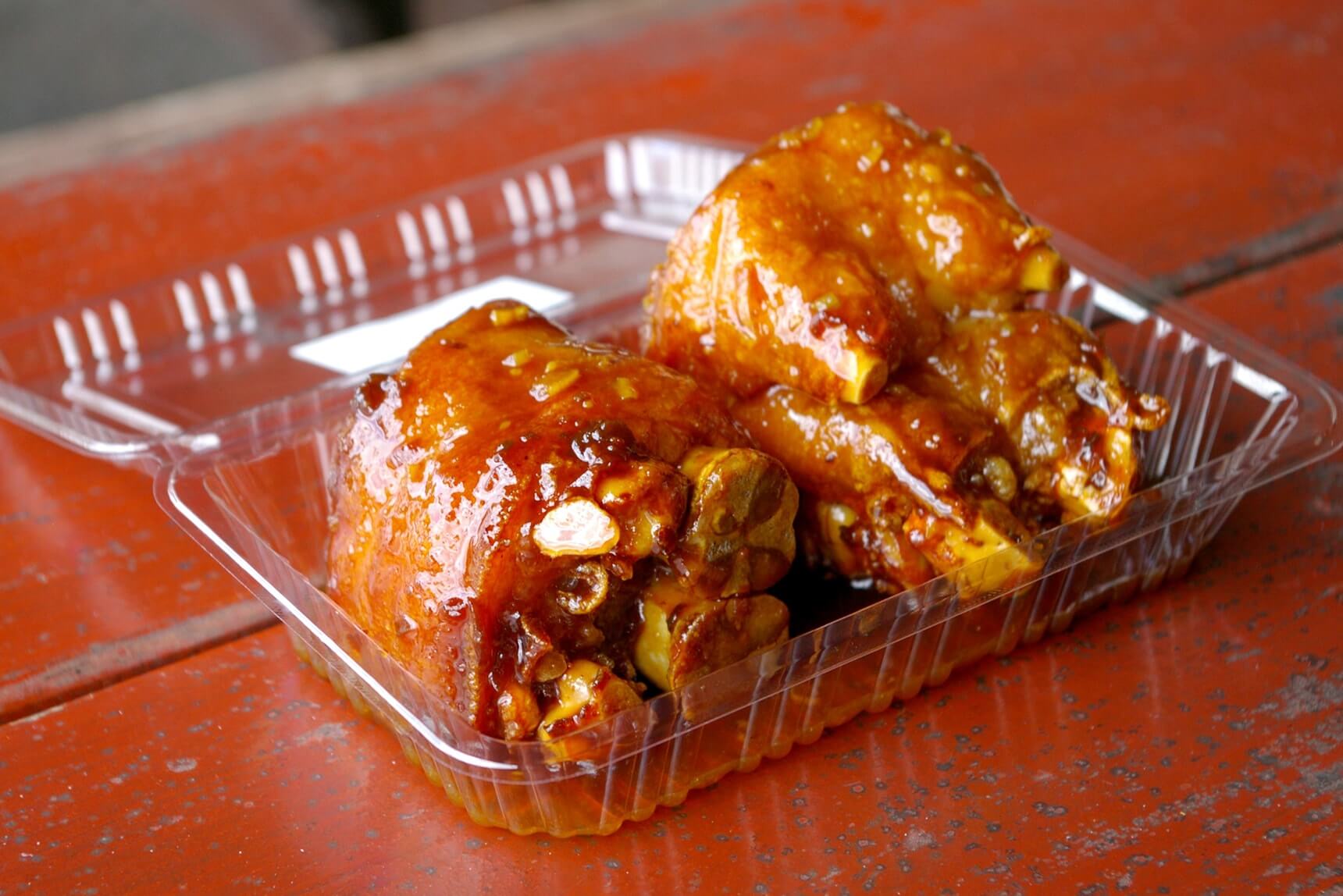 You especially have to try the "deep fried pork foot (2 for 550 JPY tax incl.)! Feet from Japanese pork is stewed for 6 hours in a lightly-flavored broth and left to soak the flavor over night, then quickly deep fried at a high temperature. They're then further flavored with a special sauce made with various ingredients including Japanese black vinegar. These extra efforts remove that distinct smell that pork feet are known for. They're crispy on the outside, incredibly soft in the inside, and have a fresh tangy taste of black vinegar. Noodle dish such as cold-served "agu noodles" and "pork spare rib noodles" are available seasonally. They are as popular as the pork foot, so you should definitely give them a try if you can.
---
There are plenty of more stores than what we've listed here. It'd be a waste to only drop by for a pit-stop! Take your time and stuff yourself silly. Enjoy Okinawan food!