Which do you prefer, ocean or forest? A selection of six stylish cafés in the southern Okinawa region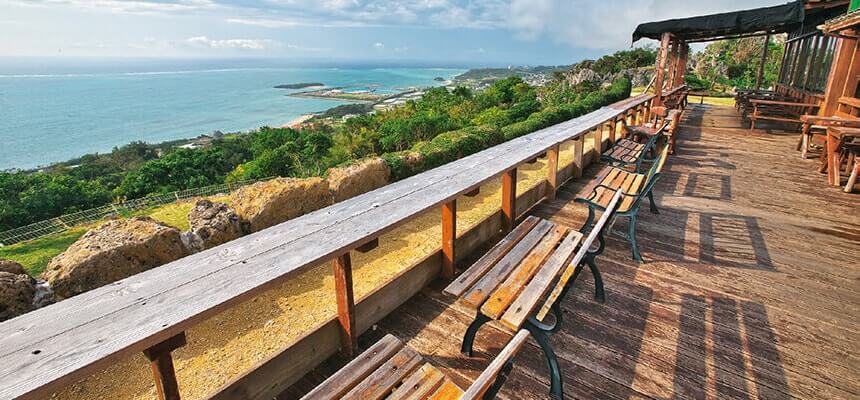 In Okinawa, there are many cafés where you can enjoy amazing views along with food and drinks. The southern area of the main island of Okinawa is close to the airport, so you can enjoy your time at a café on the day you arrive in or depart from Okinawa. We will introduce photogenic cafés that will make you want to upload photos on your SNS, from a seaside café with a great panoramic view of the Pacific Ocean, to a forest café surrounded by rich nature.
One of the pioneers of seaside cafés "Hamabe-no-Chaya (Teahouse on the Beach)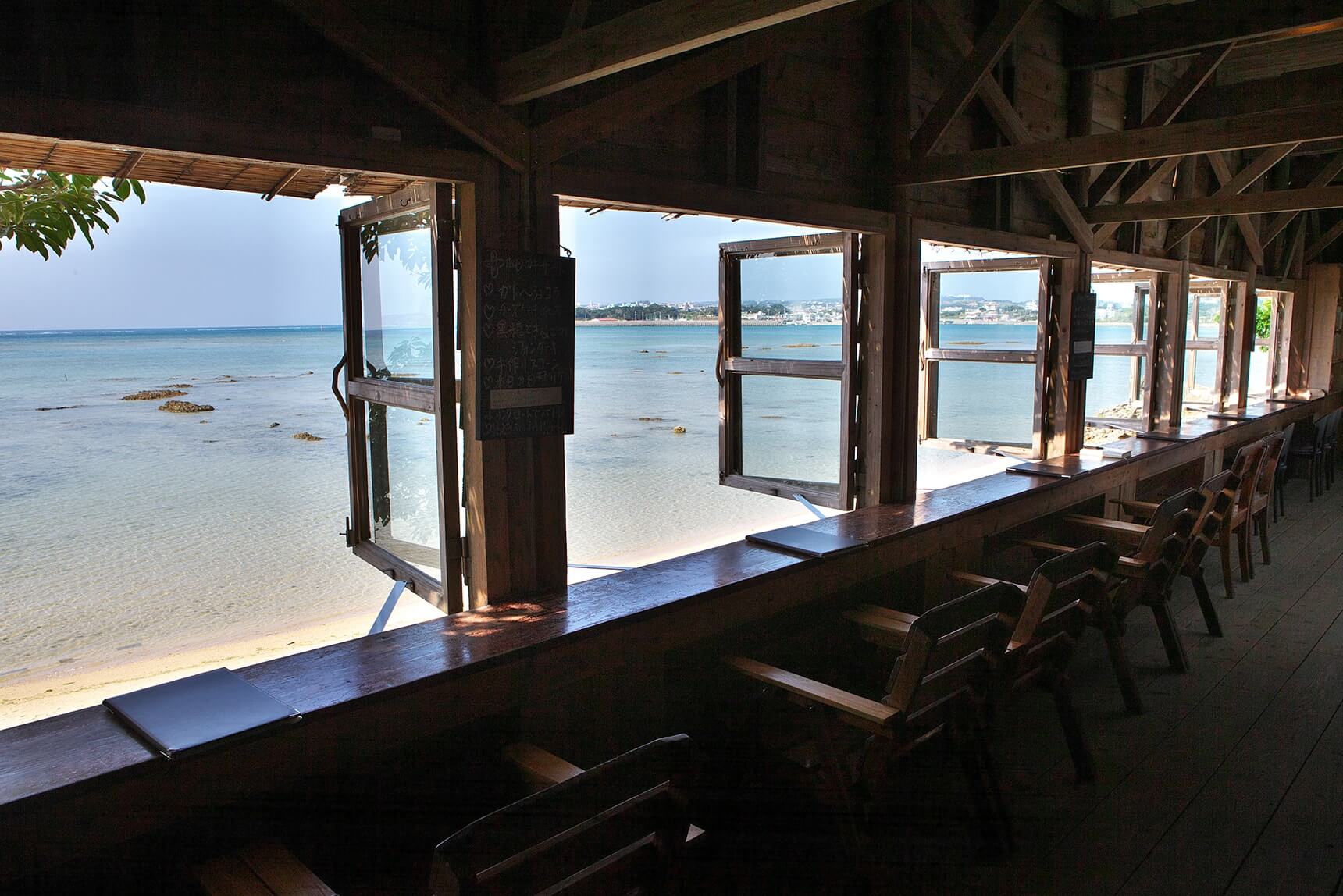 A café where you can enjoy a relaxing time while listening to the sound of the waves of Hyakuna Beach. In the recent years, it has become very popular among foreign tourists too. At the special counter seats by the windows, you will be able to feel the ocean up close with waves pounding right below the café at high tide. The sandwich made with Pain de Campagne (French sourdough bread) baked in the home stone oven goes perfectly with the freshly ground coffee. You will be able to indulge yourself with the seasonal Okinawan food and the beautiful scenery.
---
Have the magnificent view to yourself "Asian Herb Restaurant Café Kurukuma"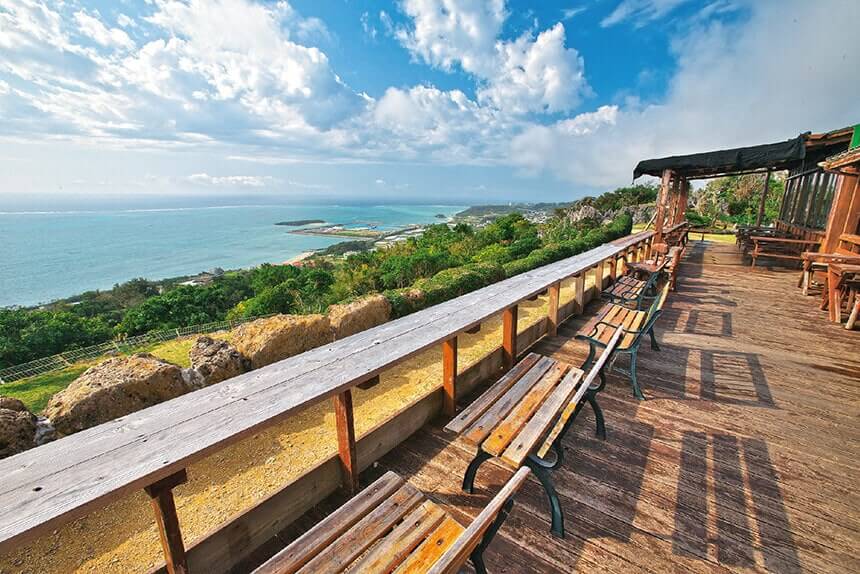 "Café Kurukuma" is one of the cafés in the southern Okinawa area with a magnificent view, located on a hill in Nanjo City. It is an Asian herb restaurant that serves authentic Thai cuisine. Many people come to enjoy the panoramic view of the Pacific Ocean from its terrace. Its original curry is big and very satisfying! And its popular tom yum goong is made using several types of herbs grown in their herb garden and a lot of coconut milk, giving it a great balance of freshness and richness. The swing installed in the garden is popular among children too. How about taking a walk in the garden after your meal?
---
An urban natural café where you can overlook the deep blue ocean "Cafe Yabusachi"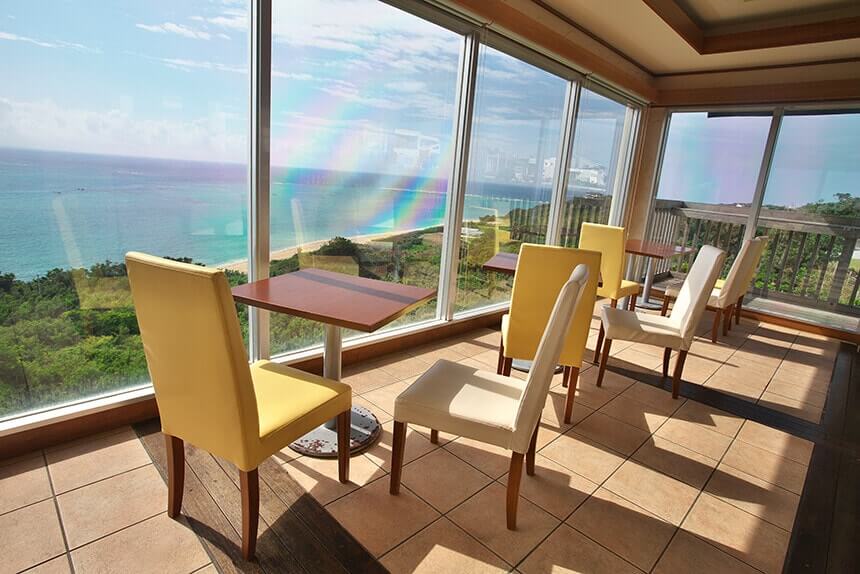 The café is located near Yabusatsu Utaki, one of the seven utaki (sacred places) of Okinawa. Because Yabusatsu is called "Yabusachi" in the Okinawan dialect, the café was named after it. From its large windows, you can look over Hyakuna Beach, a beach with one of the best levels of water clarity in Okinawa Prefecture. Since you can enjoy casual style French & Italian based cuisine, it is perfect for groups of women and couples. There are also various sweets available such as a tart with plenty of fruits and rich gateau au chocolat.
---
Treat yourself to a little luxurious adult time "Resort Cafe KAI"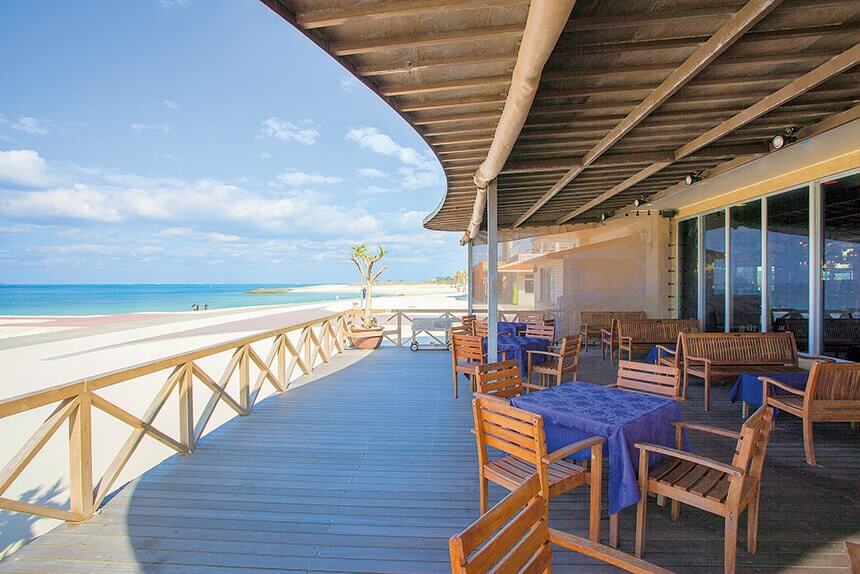 The full-scale "Resort Cafe KAI" is located at Chura Sun Beach in Tomigusuku City, which is a ten-minute drive from Naha Airport. Here, you can enjoy everything from a light meal, authentic cuisine to desserts, made with locally grown ingredients and organic vegetables. They have a wide selection of alcoholic drinks as well, so it is also perfect to use as a night café. At the large wooden deck, you will be able to enjoy the attractive view that gives you a feeling of being at a beach overseas.
---
Forget about your busy everyday life at "Yama-no-Chaya (Mountain Teahouse) Rakusui"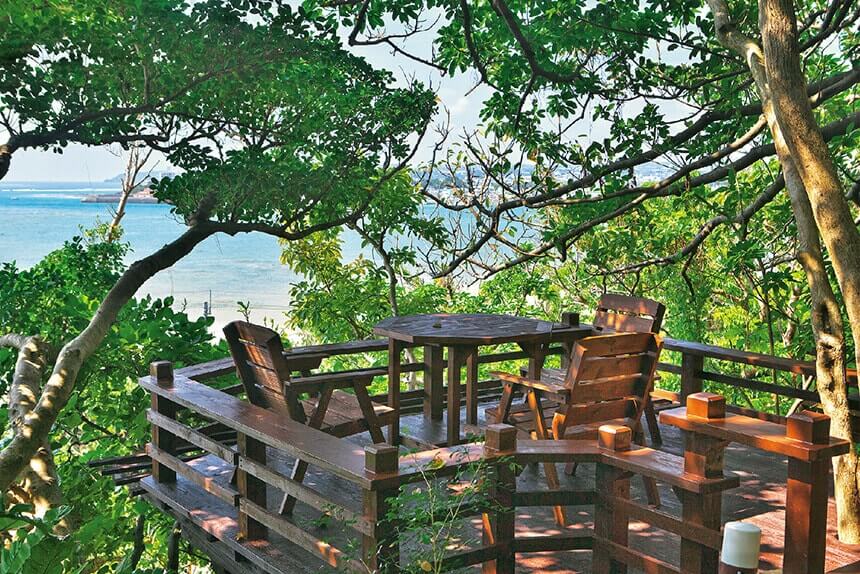 "Yama-no-Chaya (Mountain Teahouse) Rakusui" is like a hideout surrounded by greenery. It is located on a small hill and you can get there by climbing a short flight of stone steps. From the café's open windows, you can view the beautiful mountains, ocean and sky. Here, you can relax and enjoy the Okinawan cuisine and macrobiotic foods while being soothed by the grandeur of nature. The popular "Sachibaru Meal" that doesn't use any meat is especially recommended. It is a hideout café where you can forget about your busy everyday life by indulging yourself in nature.
---
The open midair terrace will excite you for sure! "Cafe Lodge"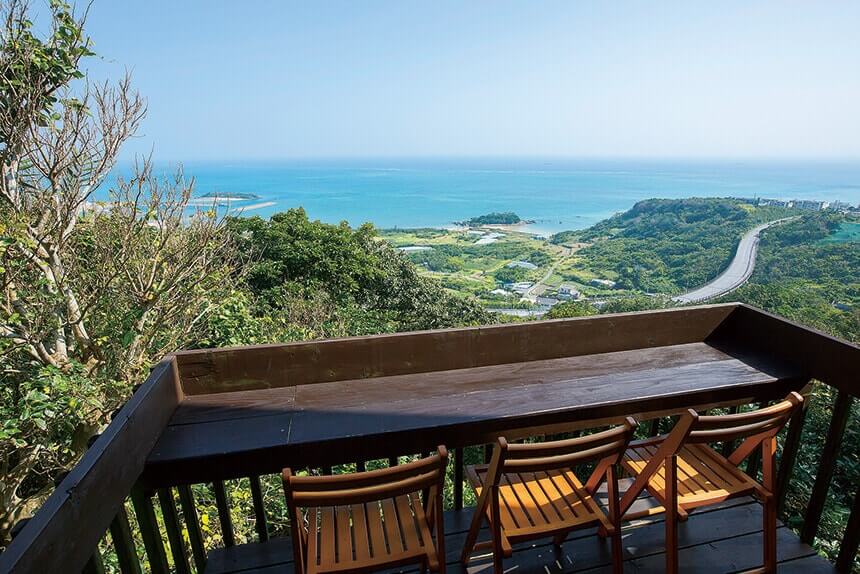 "Cafe Lodge (Formerly Cafe Fuju)" is located very close to Kakinohana Hija Spring in Nanjo City. At the center of the log house, there is an open ceiling space allowing the fresh breeze to blow through. There are tatami mat spaces and large tables perfect for group visitors. From the terrace seats, you can see the islands of Kudakajima, Kokamajima and Ajijima. Since some lunch specials are limited in number, we recommend that you go early! There are also meals made with lots of fresh vegetables and home-made cakes that will satisfy both your heart and stomach.