The beautiful ocean called Kerama Blue around Kerama Islands has been registered as a national park since March, 2014. Here are very useful info about great beaches in Tokashiki, Zamami and Aka islands. You can take one day trip from Naha to those islands.
The Kerama Islands consist of 20 islands that are located about 40 kilometers to east of Naha. Four of them are populated with the rest uninhabited.
Many tourists take one day trips to the Keramas as it's only a fifteen-minute drive from Naha Airport to Tomari Port, then a two-hour ferry ride at most to the islands. An express boat can take you to the nearest island within 40 minutes! The beautiful Kerama islands attract tourists from all over the world because of the clear blue water and untouched white sandy beaches. Whale watching tours can be booked in winter and of course are very popular.
What fascinates people about Kerama's ocean?
Let's take a closer look at the beautiful ocean surrounding the Kerama Islands that inspire the name "Kerama blue" that attracts tourists and divers from all over the world. Within this island-dotted sea, Tokashiki, Zamami and Aka Islands are the three most popular with tourists. Each island has a swim-friendly beach and its own charm. Visitors can always find a good time on a beautiful beach.
Tokashiki Island – a great beach for family and kids
Tokashiki is the biggest island of Keramas. This beautiful island is surrounded with unpopulated small islands. Aharen and Tokashiku beaches are the two main beaches.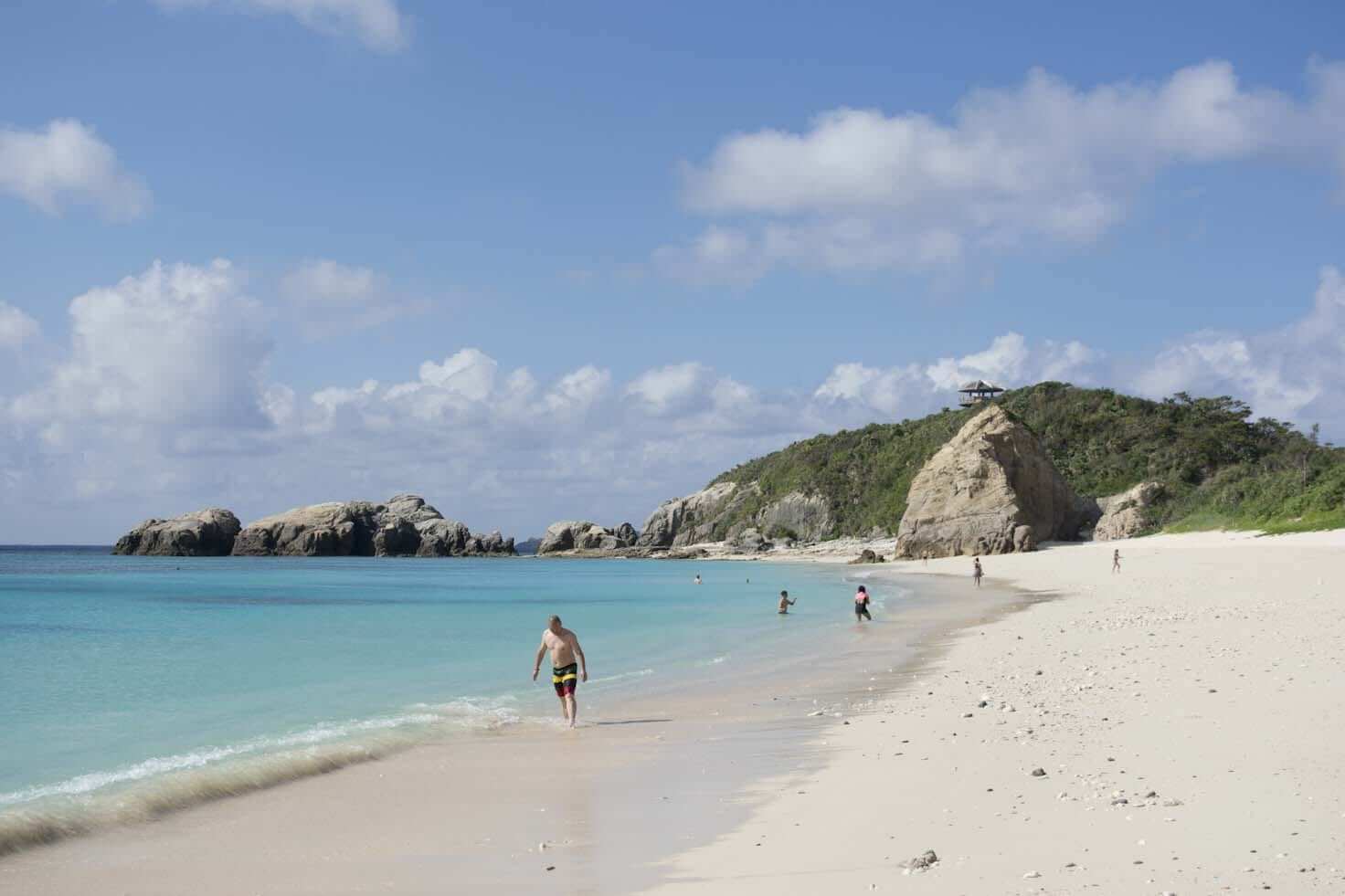 The white sandy Aharen Beach is located in front of Aharen village. The water is usually calm so you can enjoy observing fabulous corals near the shore.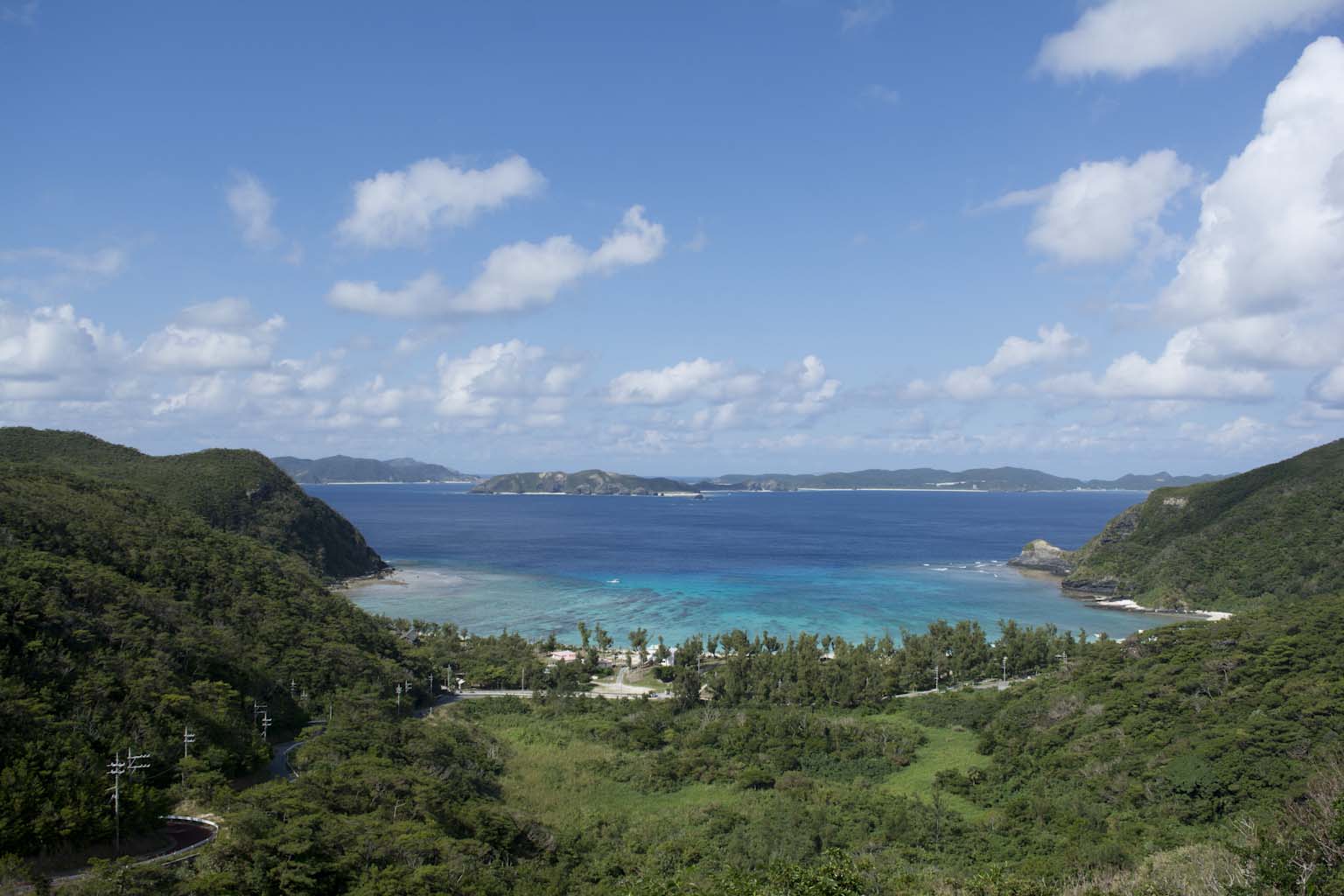 Tokashiku Beach is the second biggest beach on the island. This beach is more like a private beach as opposed to the popular and lively Aharen Beach. The arc shaped beach is known for the beauty geographically.
---
Zamami Island – an outstanding diving spot in clearness of water in Kerama Islands
Zamami Island is the second biggest island next to Tokashiki within Kerama Islands. Each island has different charms.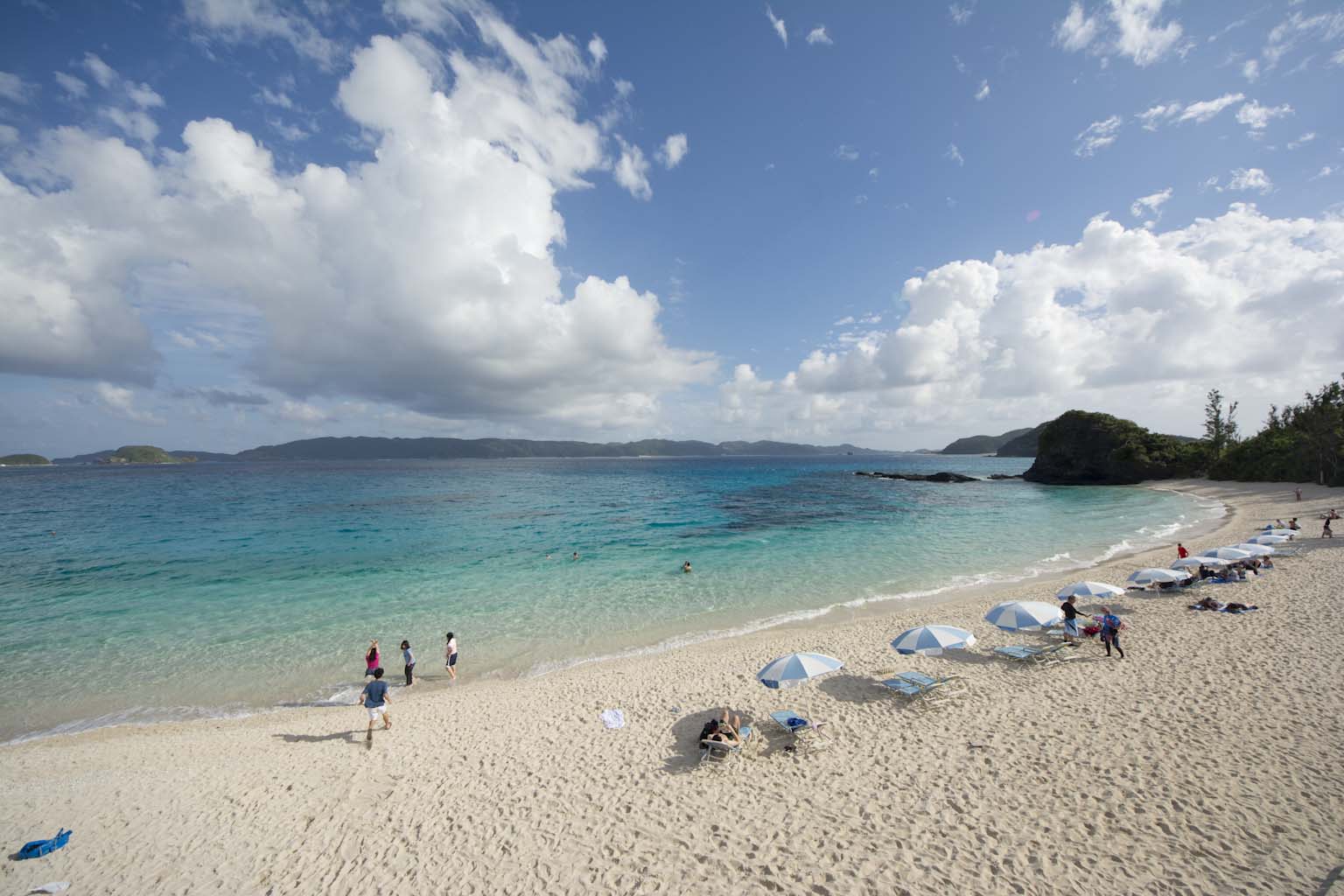 Furuzamami Beach – shuttle buses are available from Zamami Port. (*bus fees apply )The beach is known for extreme clear water and is a very popular beach for snorkeling. Pretty clownfish and coral reef shall be observed even near the shore. Changing rooms, showers and kiosk stands are conveniently located on or near the beach. Great beach for family and kids.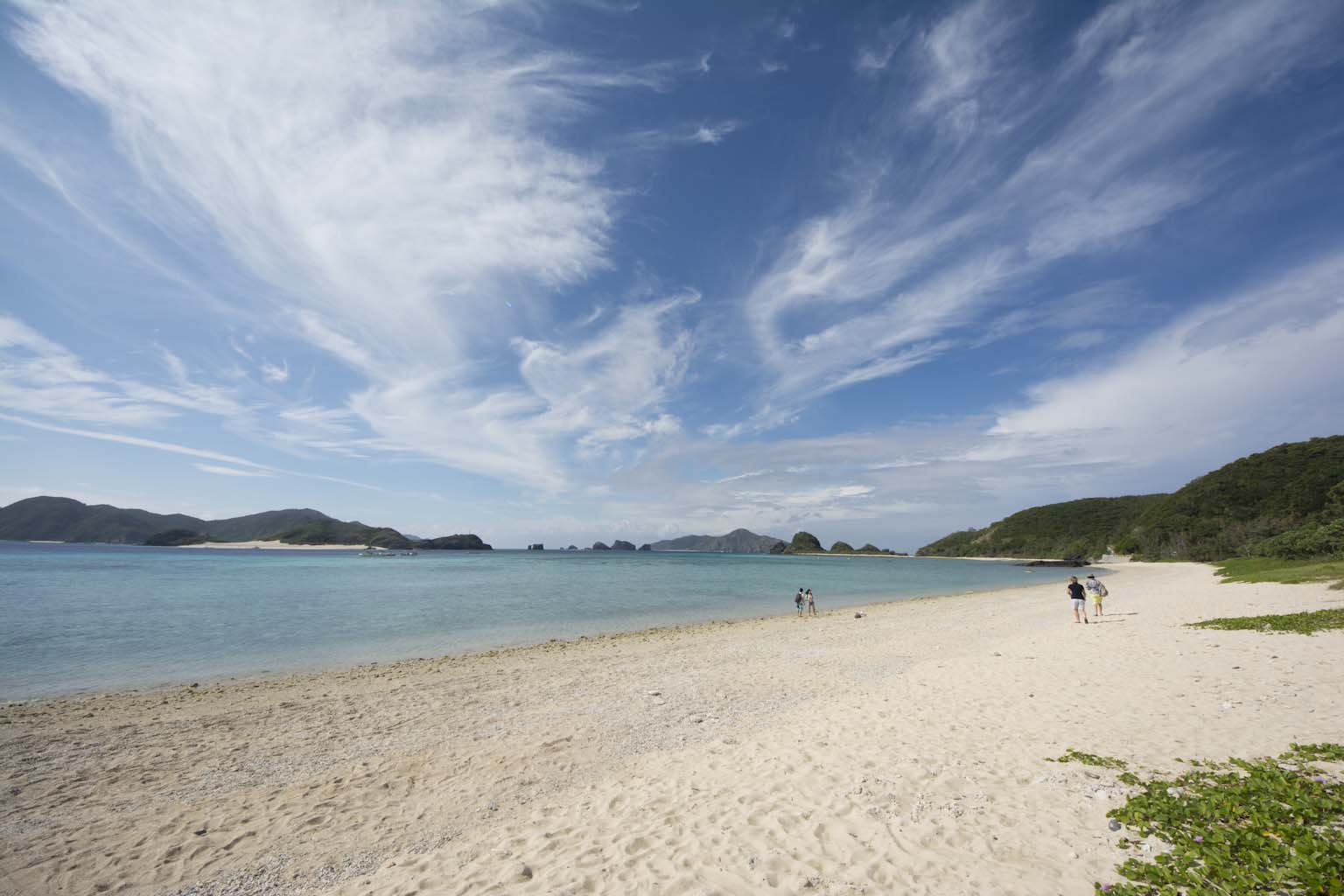 Ama Beach – belongs to Ama village on Zamami island. Fifteen-minute boat ride from Zamami Port takes you to this nice and quiet beach. Camping facilities and food stands are located nearby. The sea is shallow of the shore and the water is calm and very clear. It is almost hard to believe that this beautiful beach is made by nature not man-made.
---
Aka Island – lots of untouched nature and gorgeous beaches for your real vacation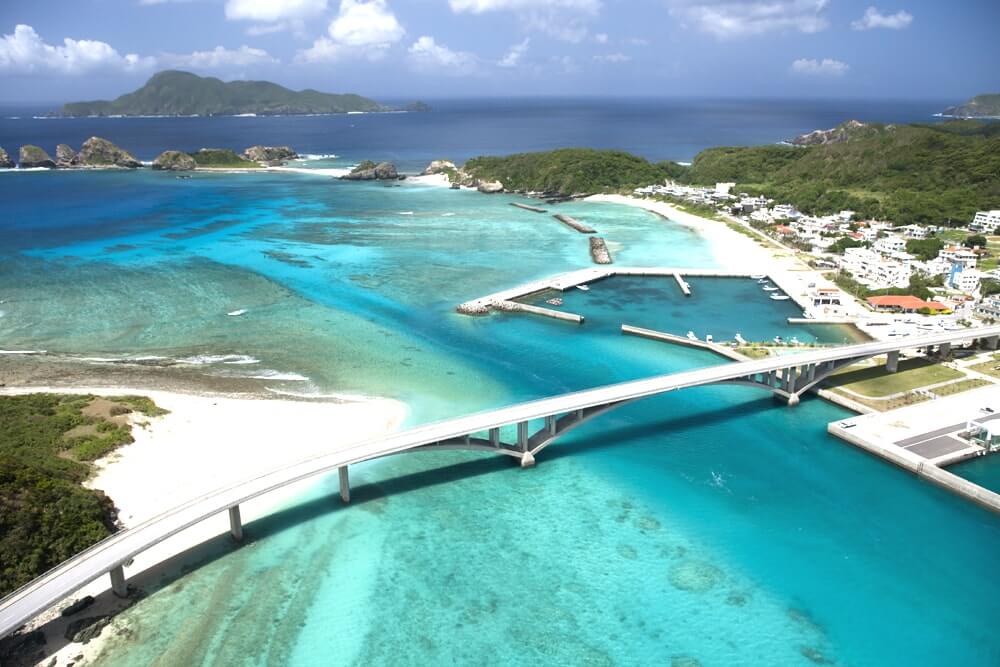 Aka Island is the second biggest island in Zamami village and located to the southwest of Zamami Island. Aka is connected to Geruma and Fukaji islands through a bridge. It is easily accessible between islands with cars and bicycles. Aka Island is also known for the home of Kerama Deer (Cervus nippon keramae), which has been designated as a special natural treasure.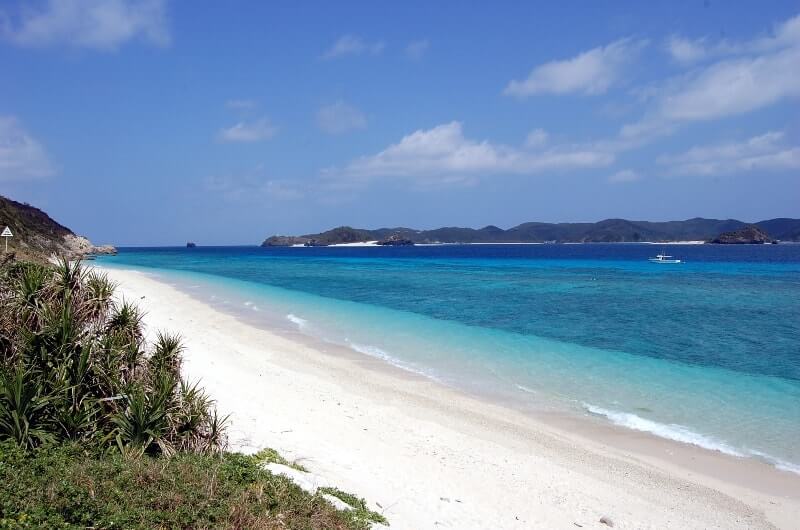 Nishibama Beach – one of the great beaches on the island. The blue water is just as clear as Furuzamami Beach's. The beautiful trees or tropical plants can be seen just a few steps off of the beach. Enjoy walking around or to the beach to get the most out of the nature in Okinawa. Renting a bike is another great way to the beach.