Let's visit "Shurijo Castle," Okinawa's must-see classic tourist spot!
Inscribed as "Shurijo Castle Ruins" on the Register of World Heritage Site in 2000, Shurijo Castle is a tourist spot that represents Okinawa. Many tourists visit the castle to catch a glimpse of its beauty. It has also gained attention as a spiritual power spot because of its construction based on feng shui. There are charge-free and paid zones in Shurijo Castle, each with different attractive features. So this time, we will introduce you to enjoying Shurijo Castle according to the charge-free and paid zones.
If you simply pass through, you don't know what you are missing! Let's enjoy the charge-free areas!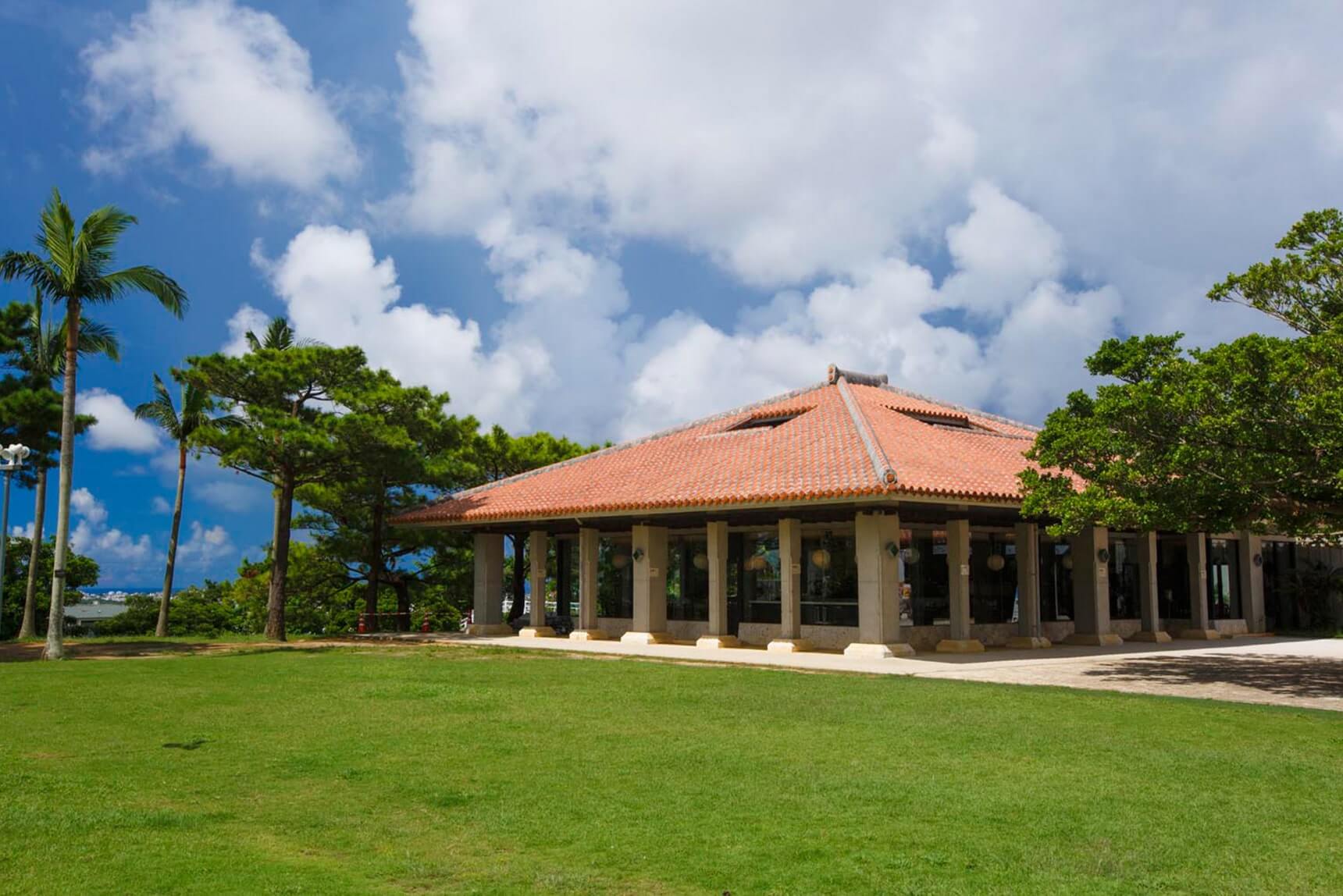 In Shurijo Castle, there is a facility called "Suimuikan," which houses a restaurant, cafe, and shops, in addition to an exhibition room where information and panels related to Shurijo Castle are displayed. Visitors can enjoy gourmet Okinawan food and shop around to pick souvenirs. Additionally, this is the place where you can pick up stamp "passports" and pamphlets that you need for strolling through Shurijo Castle. If you plan to do so, you should go to Suimuikan first. If you plan to go sightseeing with your ​​children, you should enjoy collecting stamps as you stroll through the various sites in Shurijo Castle. Stamp collecting is very popular with children! By collecting the stamps and taking the "passport" to Suimuikan, you can exchange it for a commemorative sticker sheet that will remain as a keepsake.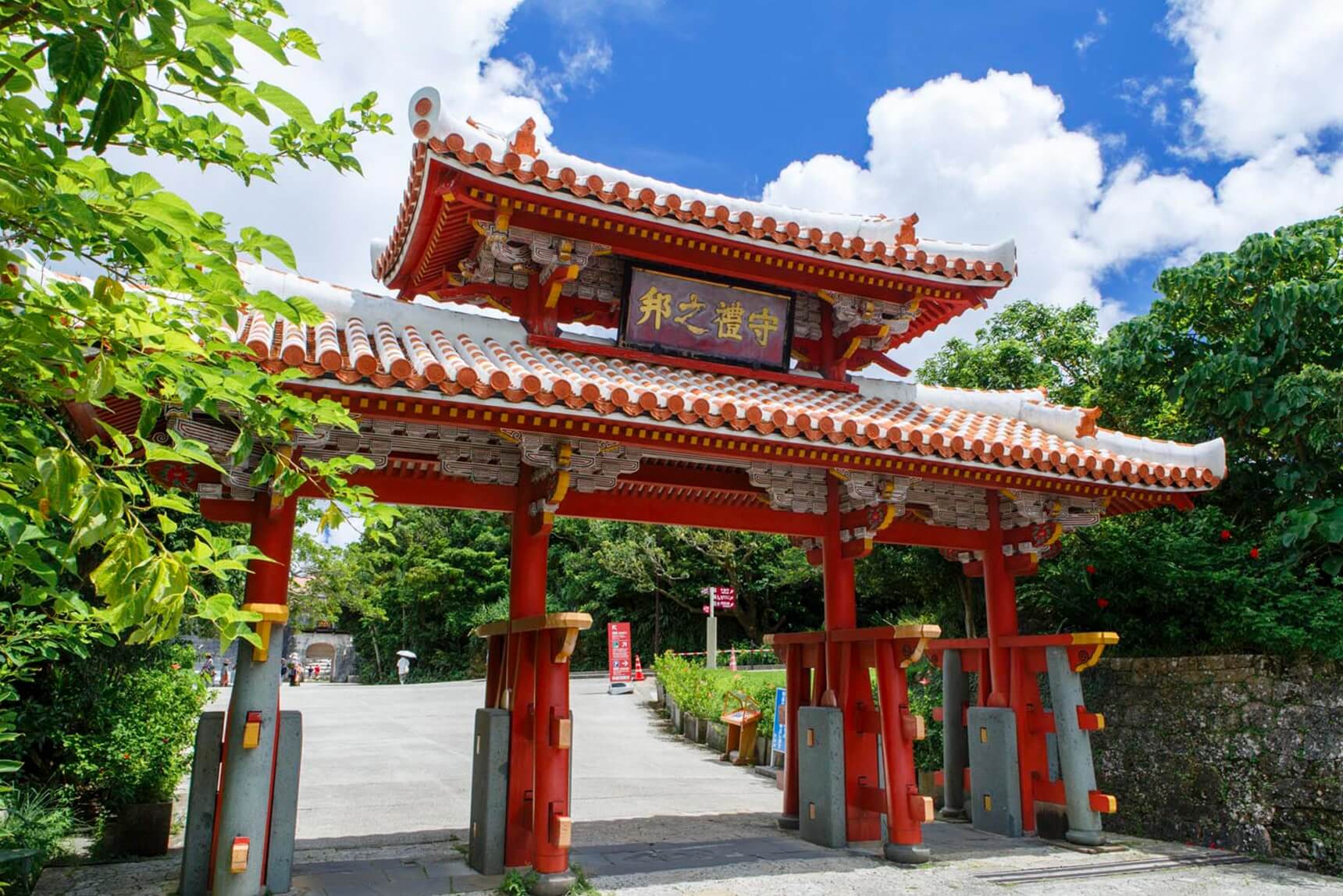 Awaiting you after you leave Suimuikan is "Shureimon Gate," an illustration of which is featured on the 2,000-yen bill. Its dignified appearance is very popular with tourists. Shureimon Gate still plays the role as a gate to welcome guests even now as it has done in the past. If you visit Shurijo Castle, this is one of the places where you must take a picture. We recommend you to shoot from the same camera angle as the illustration appears on the 2,000-yen bill. Doing so will create more depth, giving a beautiful finish to your photograph.!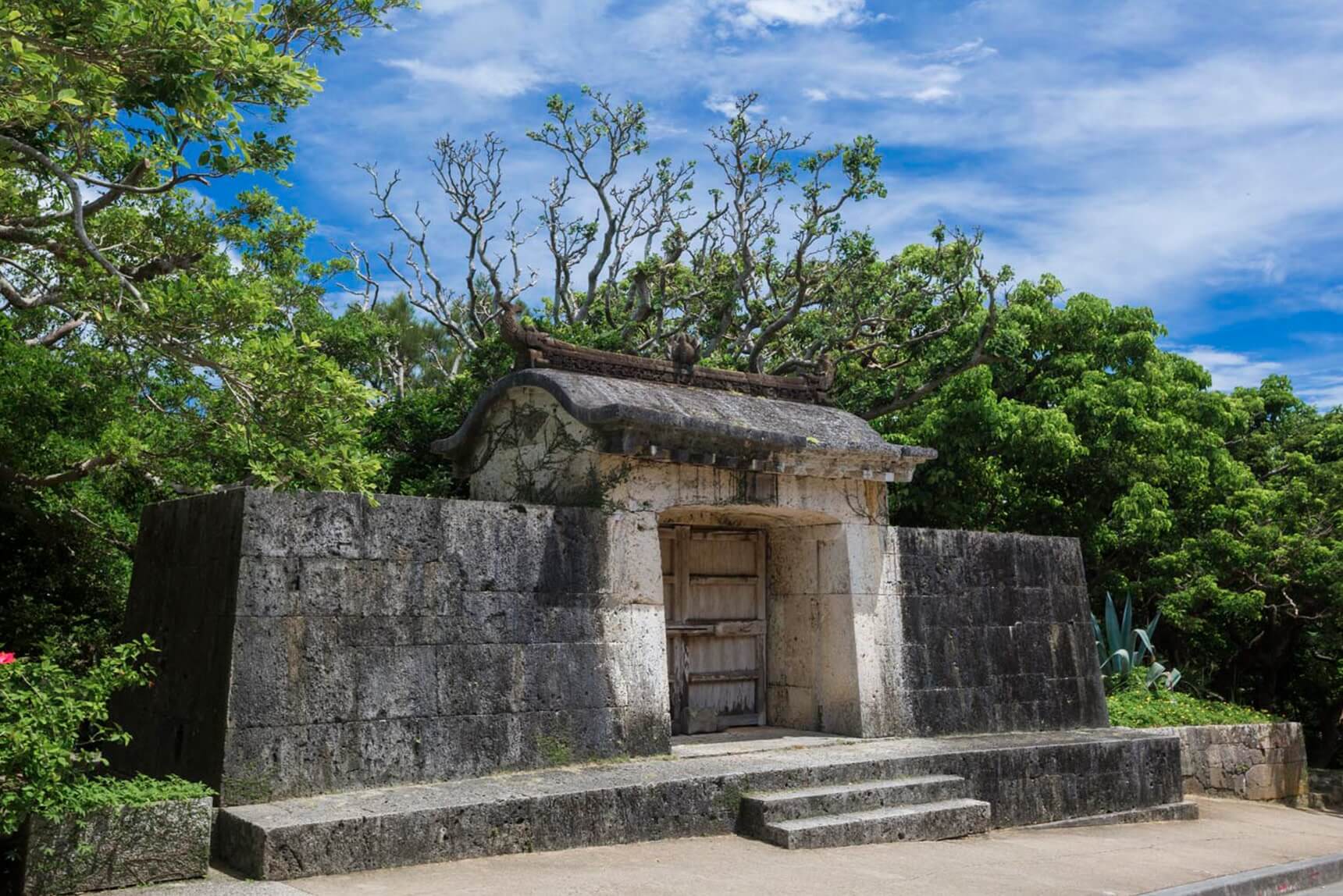 Moving on after passing through Shureimon Gate, you will see "Sonohyan-utaki Stone Gate," which has been registered as a part of the World Heritage Site. Utaki is a sacred place where gods gather. It is said that when the King of the Ryukyus departed on a long trip, rituals were always held at this place to pray for safety. It is now popular as a spiritual power spot.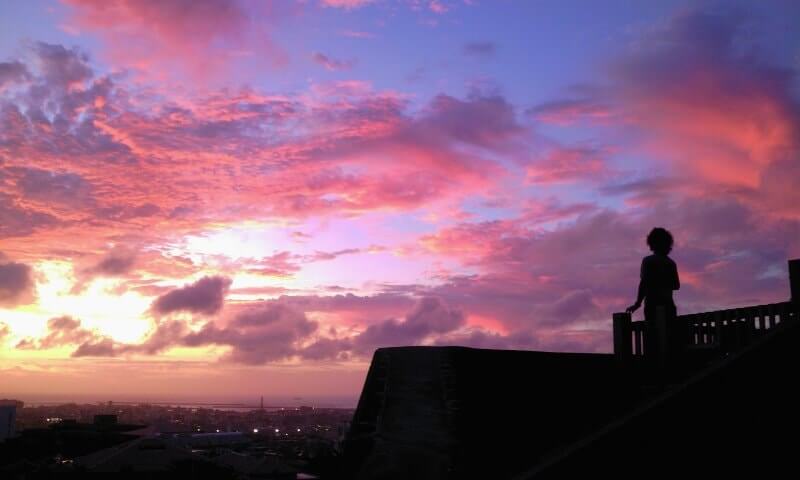 In addition, there are a lot of other attractive features at Shurijo Castle. Among them, "Iri-no-Azana" is a must-see.
"Iri" means west and "azana" means observation deck in the Okinawan language. It is said that in the past, a bell was sounded here to let people in the Shurijo Castle town know what time it was. Standing at an altitude of about 130 meters, this is an excellent spot from where to view the city of Naha. It offers a panoramic view ranging from houses whose roofs are lined with tiles with gentle shades of red to the Kerama Islands and Zanpa-misaki near the horizon when the weather is good. As the name indicates, it is located on the west side of Shurijo Castle, and you can enjoy the sunset if you visit at dusk.
Let's spend a luxurious time in the paid areas, entranced by the gracious charms!
After you have fully enjoyed the free areas, let's proceed to the "Seiden" (main hall).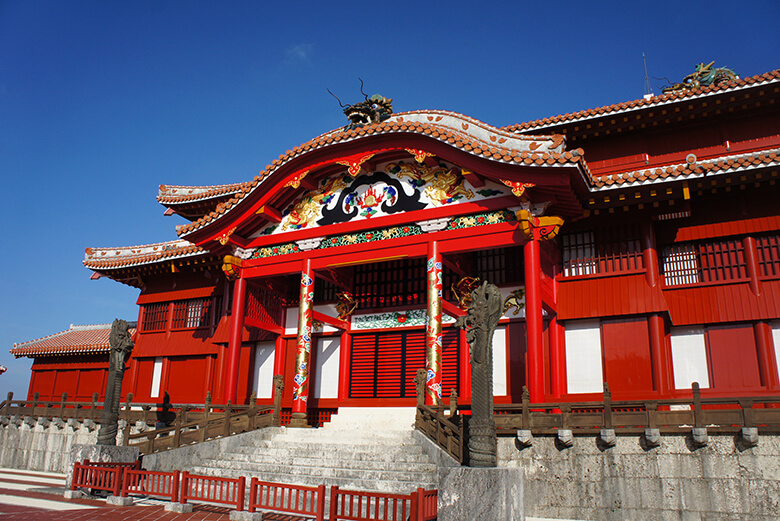 As the Seiden is painted in vermillion and adorned with colorful decorations, you may be fascinated by it gracefulness. Along with Shureimon Gate, the Seiden is a must-take photo spot. Please be careful not to let it fascinate you so much that you forget to take pictures.
Once inside the Seiden, you will see a throne called "Usasuka," which indicates a mingling of Japanese and Chinese cultures. It is decorated all over with carvings of golden dragons, and you will surely be fascinated by their splendor. Perhaps you might inadvertently feel like having become the King.
Also, please by all means visit the "Sasunoma," which is nearby.
It is a place where visitors can enjoy traditional Ryukyuan sweets and tea for 310 yen. Four types of confectionery are offered: "Hanabouru," "Kumpen," "Chiirunko," and "Chinsuko." A cup of "warm jasmine tea" is served with the confectionery. Why not take a rest, enjoying gentle, sweet confectionery and fragrant tea after strolling through Shurijo Castle from start to end? From Sasunoma, you can view the garden and enjoy a moment of bliss.
How was it? There are various ways you can find enjoyment when you visit Shurijo Castle such as experiencing Okinawan culture and appreciating Okinawa confectionery. Why not pay a visit and find your own way of enjoyment?
Park Hours
◆Free Area(Suimuikan, Shureimon Gate, Sonohyan-utaki Stone Gate, Iri-no-Azana)
Apr. to Jun. (8 a.m. to 7:30 p.m.) Last entry: 7 p.m.
Jul. to Sep. (8 a.m. to 8:30 p.m.) Last entry: 8 p.m.
Oct. to Nov. (8 a.m. to 7:30 p.m.) Last entry: 7 p.m.
Dec. to Mar. (8 a.m. to 6:30 p.m.) Last entry: 6 p.m.
◆Paid Area(Seiden, Sasunoma)
Apr. to Jun. (8:30 a.m. to 7 p.m.) Last entry: 6:30 p.m.
Jul. to Sep. (8:30 a.m. to 8 p.m.) Last entry: 7:30 p.m.
Oct. to Nov. (8:30 a.m. to 7 p.m.) Last entry: 6:30 p.m.
Dec. to Mar. (8:30 a.m. to 6 p.m.) Last entry: 5:30 p.m.
Admission
Adults / 820 yen
High School Students / 660 yen
Elementary and Junior High School Stunents / 310 yen
Free for 5 years old or under
---
*PHOT provided by Okinawa Commemorative National Goverment Park Shurijo Catsle Park