6 Spots to Check Out when Exploring Shuri – a Must-See Area in Okinawa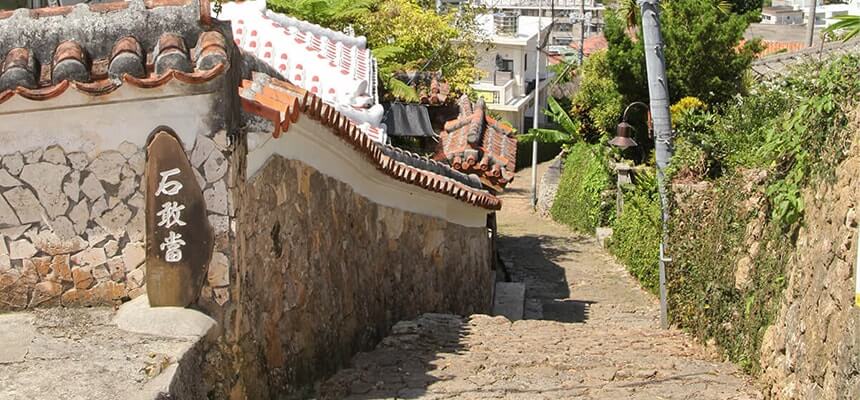 You'll find Shuri in Naha-City, the cultural and economic center of Okinawa. There are many places for tourists to visit in Shuri. Visitors can experience and learn about Okinawa's history at the World Heritage of Shuri Castle, the Stone Steps of Shuri, or in the workshops of a traditional textile factory. Of course, there's also something for the foodie in your group to find tasty dishes and where to go to try Okinawa's unique foamy tea. Start exploring Shuri on foot once you get off the monorail at Shuri Station!
Shurijo Castle – The Vermilion Symbol of Okinawa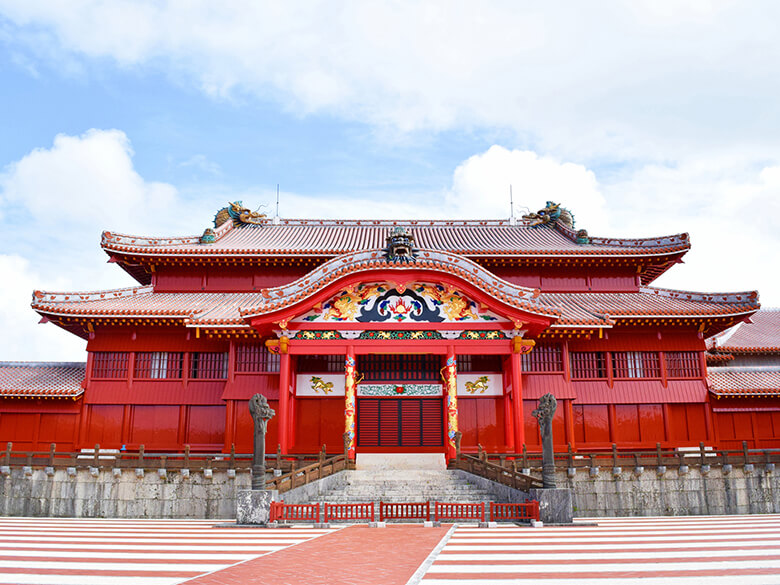 *PHOT provided by Okinawa Commemorative National Goverment Park Shurijo Catsle Park
Shurijo Castle is a place you should visit at least once on your vacation in Okinawa. This 11th World Heritage Site of Japan sits upon a hill overlooking the city of Naha. The castle is encircled by walls made of Ryukyuan Limestone. The enormous curved walls measure 6 to 15 meters in height, and approximately 1080 meters in total length. During the Battle of Okinawa, the entire building was burned down, but was restored in 1992. The structures vermilion color embodies the history of Okinawa. You can learn a lot of Okinawa's rich history as visitors may enter the main hall of the castle. The castle is lit up at night and it appears as though an unreal vision.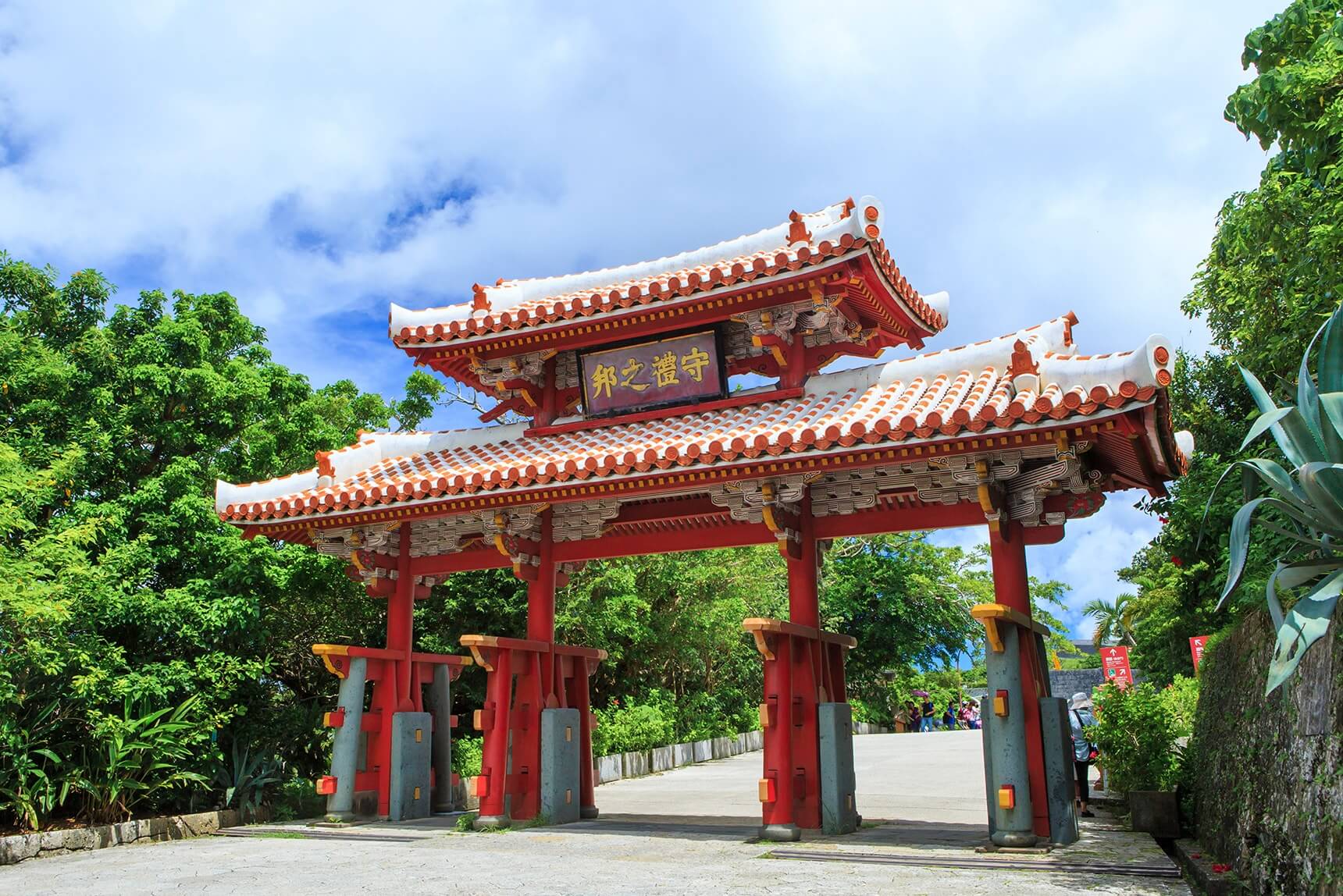 *PHOT provided by Okinawa Commemorative National Goverment Park Shurijo Catsle Park
To get into the castle, visitors must pass the Shureimon Gate and walk up a slight incline. The Shureimon Gate was built between 1527 and 1555 and was rebuilt in 1985 as it had been destroyed during the Battle of Okinawa. The characters you see written on the gate says "Shurei no Kuni," which roughly translates to "Ryukyu, the land of civility". If you want to take a photo of the gate, it would be best to go early in the morning since the gate attracts may tourists. They also have a paid photography service where you can take a picture of the gate wearing vibrant Ryukyuan kimono. There are many kimonos to choose from so you might have trouble deciding. Make ever-lasting memories of your trip by taking a photo here!
Shurijo Castle
1-2 Syuri Kinjyocho, Naha City, Okinawa
---
Tamaudun – the Mausoleum of Ryukyuan Kings and Registered World Heritage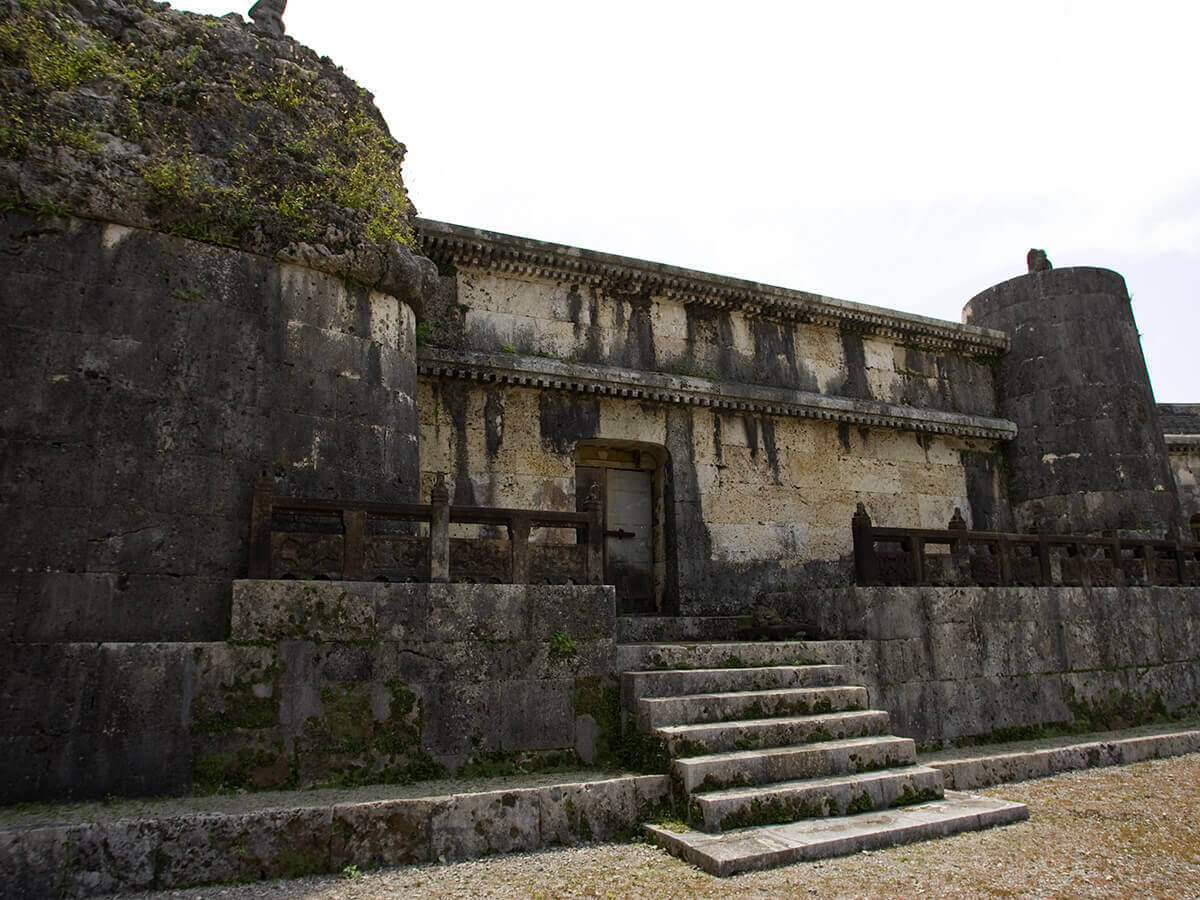 200 meters from Shureimon and surrounded by greenery is the Tamaudun. It is the mausoleum of past Ryukyuan Kings. There are three sections of the tomb. The eastern chamber is where the king and queen's cleaned bones were placed, the central chamber was where the bodies of the deceased royal rested until it was time for their bones to be cleaned, and finally, the western chamber was where the bones of other important members of the royal family were kept. There is a small museum on the first basement floor under the ticketing booth. Your visit would be more interesting if you stop by and read some documents regarding the mausoleum.
Tamaudun
1-3 Syuri Kinjyocho, Naha City, Okinawa
---
The Stone Steps of Shurikinjo-Cho – Feel the Rich History of Okinawa
The Stone Steps of Shurikinjo-Cho is about a 5 minute walk from Shurijo Castle. This is a great spot for those who want to really feel like they're in Okinawa. This is a prefecture-designated historic site and was chosen as one of the 100 most beautiful streets of Japan. The stone-laid path was constructed around 1522 and is about 4 meters wide and 300 meters long. The stone used for the path is the Ryukyuan limestone and individual blocks are laid in a random fashion. This is why we recommend you to visit with comfortable shoes for your safety. Ryukyuan limestone is very slippery when wet, so please be careful when you're visiting on a rainy day.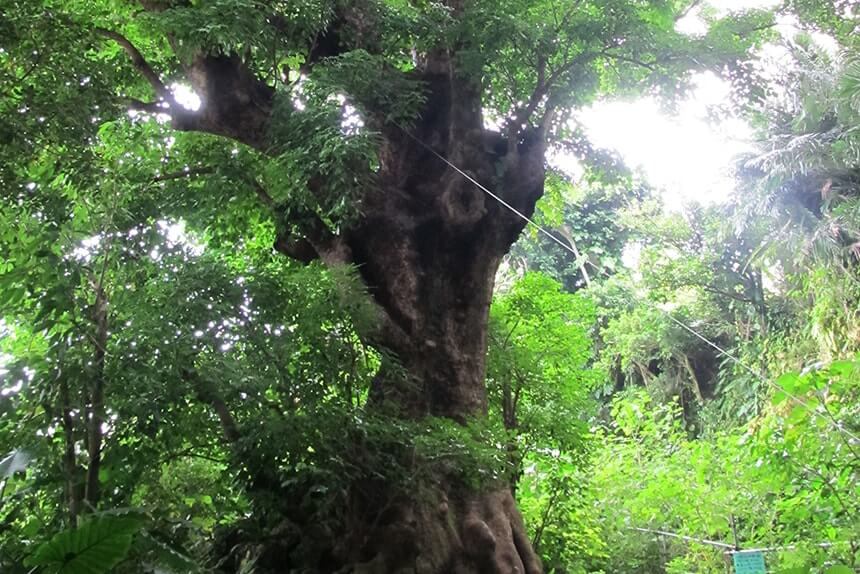 You can get to the Giant Bishop Wood of Shurikinjo-cho after a 6 minute walk from the Stone Steps. Long ago, Shuri was full of these trees, but most of these were burned down during the Battle of Okinawa. Here, visitors can see the last few that miraculously managed to survive the fires of war. The Giant Bishop Wood, the oldest of the group, at 20 meters in height and 4 meters in diameter, is estimated to be over 200 years old. The tree is absolutely majestic and impresses visitors who look up from the roots. The area surrounded by these trees are known as a spiritual power spot where you can feel the divine mood.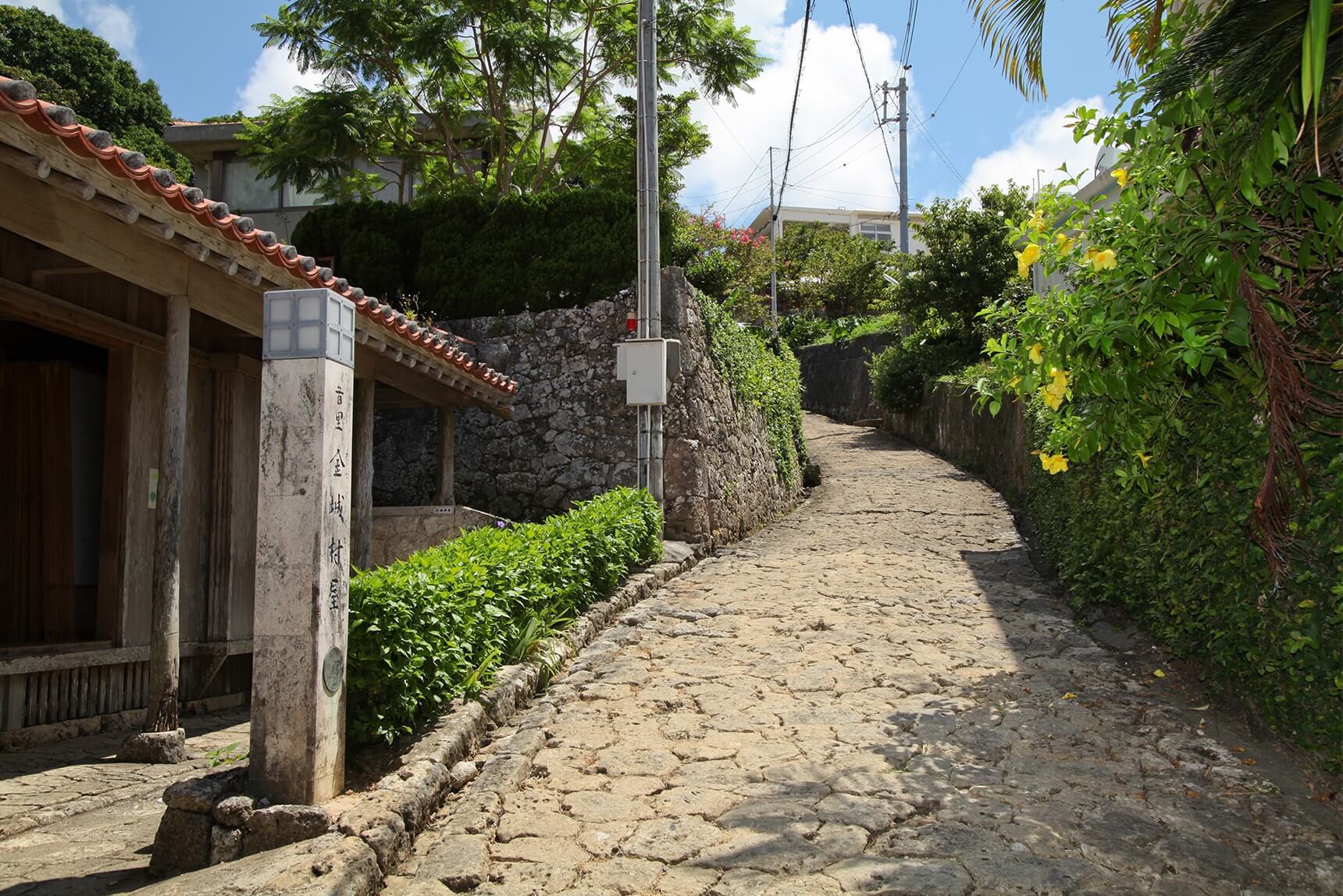 There is a free resting area when going down the Stone Steps of Shurikinjo-cho. The building is called the Kanagusuku Muraya and has traditional Okinawan red tiles used on the roof. The Stone Steps are quite steep, so this is a great place to rest if you're tired from all the exploring especially since the banyan tree in front of the house casts a nice shade. There is a Hatagashira (the upper portion of a flag used in ceremonies) on display inside as well. The house is usually used as the gathering place for the neighborhood association but is open to the public when not in use, and even has a smoking area, a restroom, and a vending machine.
The Stone Steps of Shurikinjo-Cho
Syuri Kinjyocho, Naha City, Okinawa
---
Shuri Ryusen – Make Your Very Own Trinket Using Coral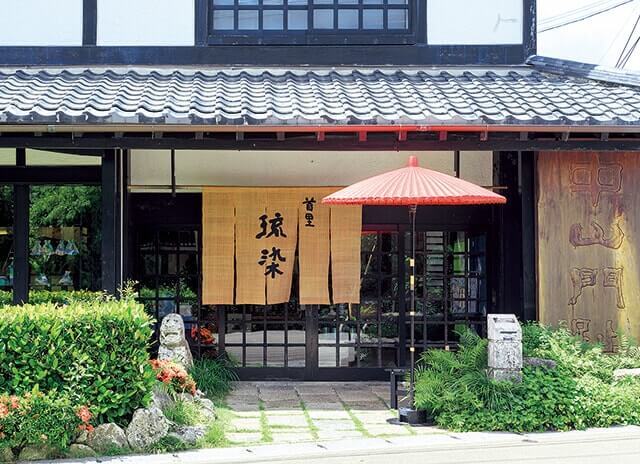 Shuri Ryusen is a 10 minute walk away from Shurijo Castle. Here, visitors can try their hands at bingata textile dyeing, and even coral dyeing which is the store's original way of dyeing Okinawan textile. The building is a Japanese style steep-roofed construction, which is quite rare for Okinawa, but blends in nicely with the aesthetics of Shuri with its traditional vibe. There is a studio where you can watch craftsmen work on their trade. The staff will guide you through the workshop in English, so you can take part in it even if you don't speak Japanese.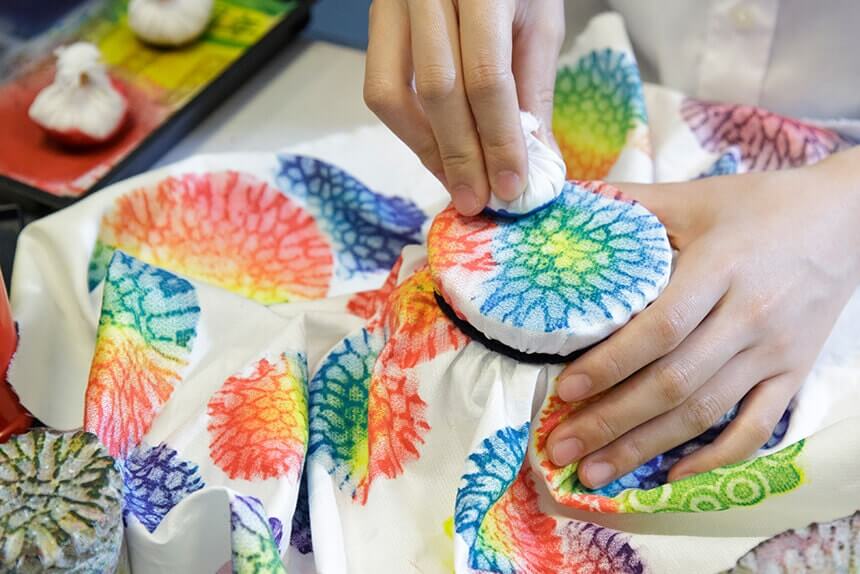 The bingata textile dyeing workshop is a simple one where you use a brush to color an A4 sized hemp cloth with traditional bingata patterns. The coral dying workshop is a popular experience you can only do here at Shuri Ryusen. Participants dye T-shirts, wrapping cloth, cotton towels, hand bags and other such items on differently-shaped calcified coral. The coral being used are ones that the owners found beached after a typhoon over 40 years ago. The four basic colors used are yellow, red, blue, and purple. You can use just one color or make your very own combination to personalize your item. The great thing about these personalized items is that you can take them home with you on the day of. The workshop itself only takes about 30 to 40 minutes, so you could stop by when you have some free time. There's also no time limit, so you can take as long as you want, if you'd rather go slowly. It does get busy around noon, so you should make a reservation when you're thinking about going around that time.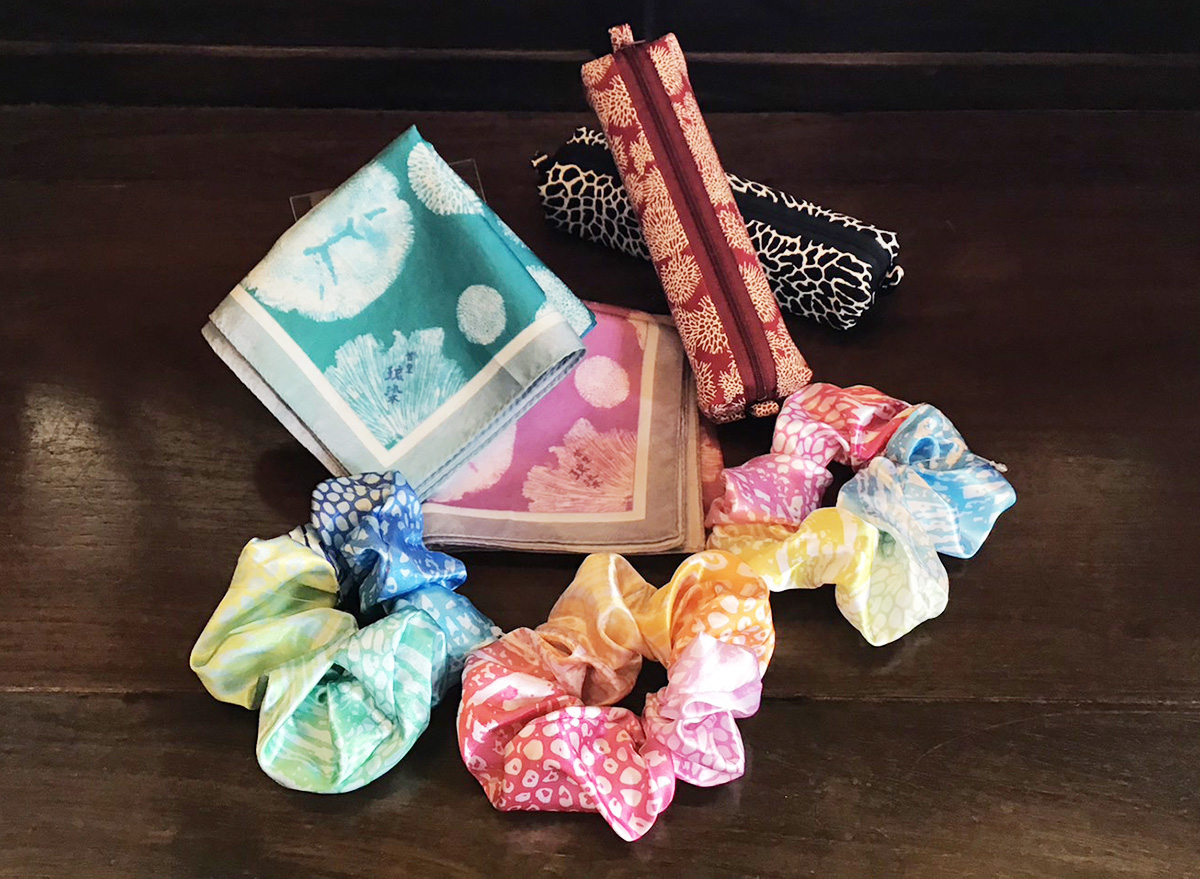 Shuri Ryusen sells products made by the craftsmen on the first floor of the building. Coral represents happiness, prosperity, and longevity so they make for great gifts. Tissue holders and handkerchiefs are hot-sellers as they are easy to carry around. You may want to consider getting one for yourself or your friends back home!
SHURI RYUSEN Okinawa Traditional Textile Studio
1-54 Syuri Yamakawacho, Naha City, Okinawa
---
Eating White Foam?! Koto Shuri Kari Specializes in Okinawan Bukubuku (Foamy) Tea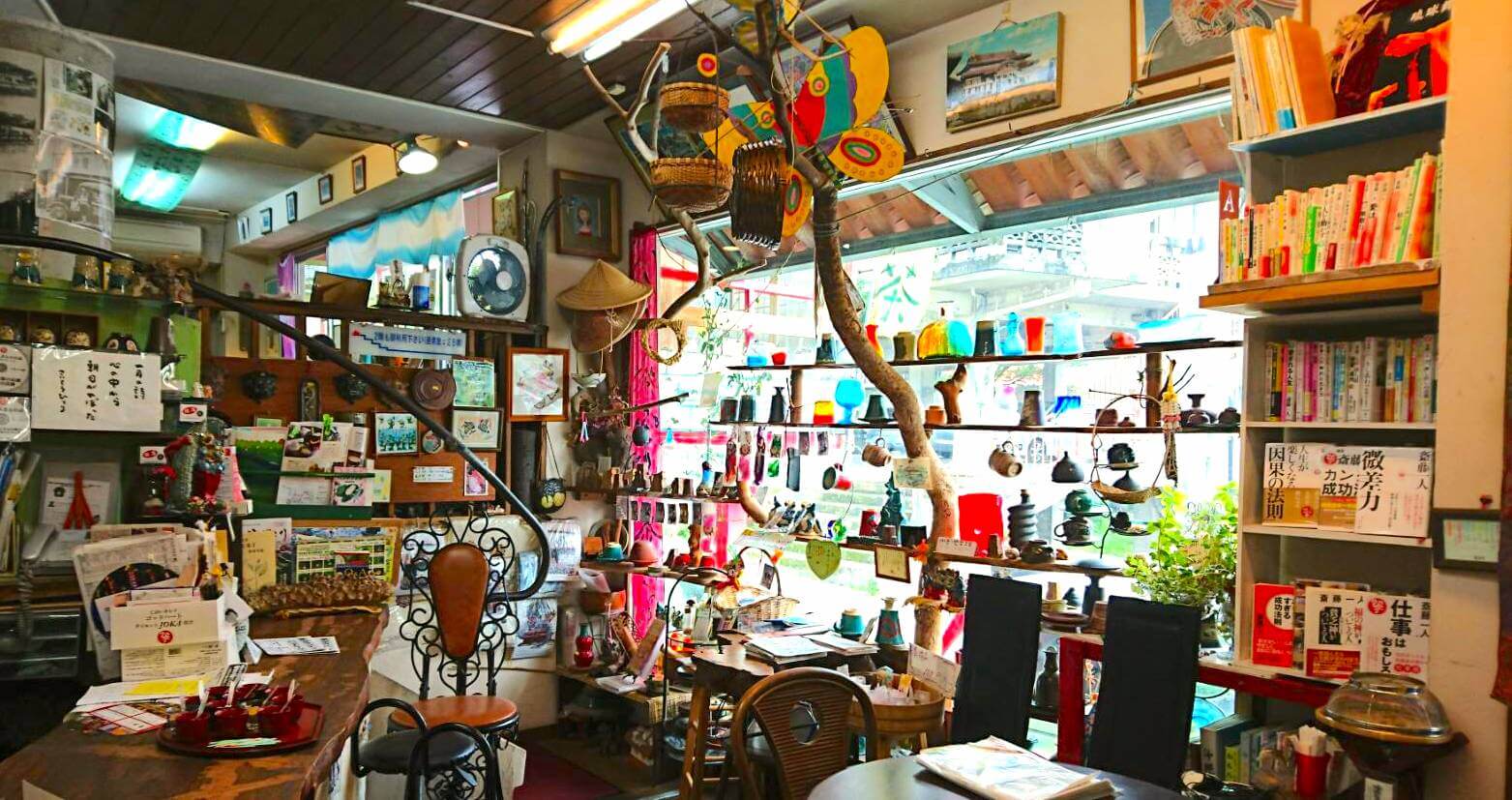 Bukubuku Tea Specialist Koto Shuri Kari is about a 5 minute walk from Shuri Castle. In this popular tea shop, visitors can order the traditional Okinawan foamy tea and even make their own foam. It's especially popular with people exploring Shuri by foot as a place for them to sit down and relax. The name of the store, Kari, comes from the Okinawan word that means "bringing good fortune". Also, Bukubuku, the Japanese onomatopoeia for "foamy" is phonetically similar to the Japanese word fuku, which means luck. This is why the people of Ryukyu Dynasty era drank this tea before ships set sail, and other such celebratory events. The store is filled with pottery and tea-related products that might be suitable for souvenirs, so visitors can enjoy their time while they wait for their tea to be served too.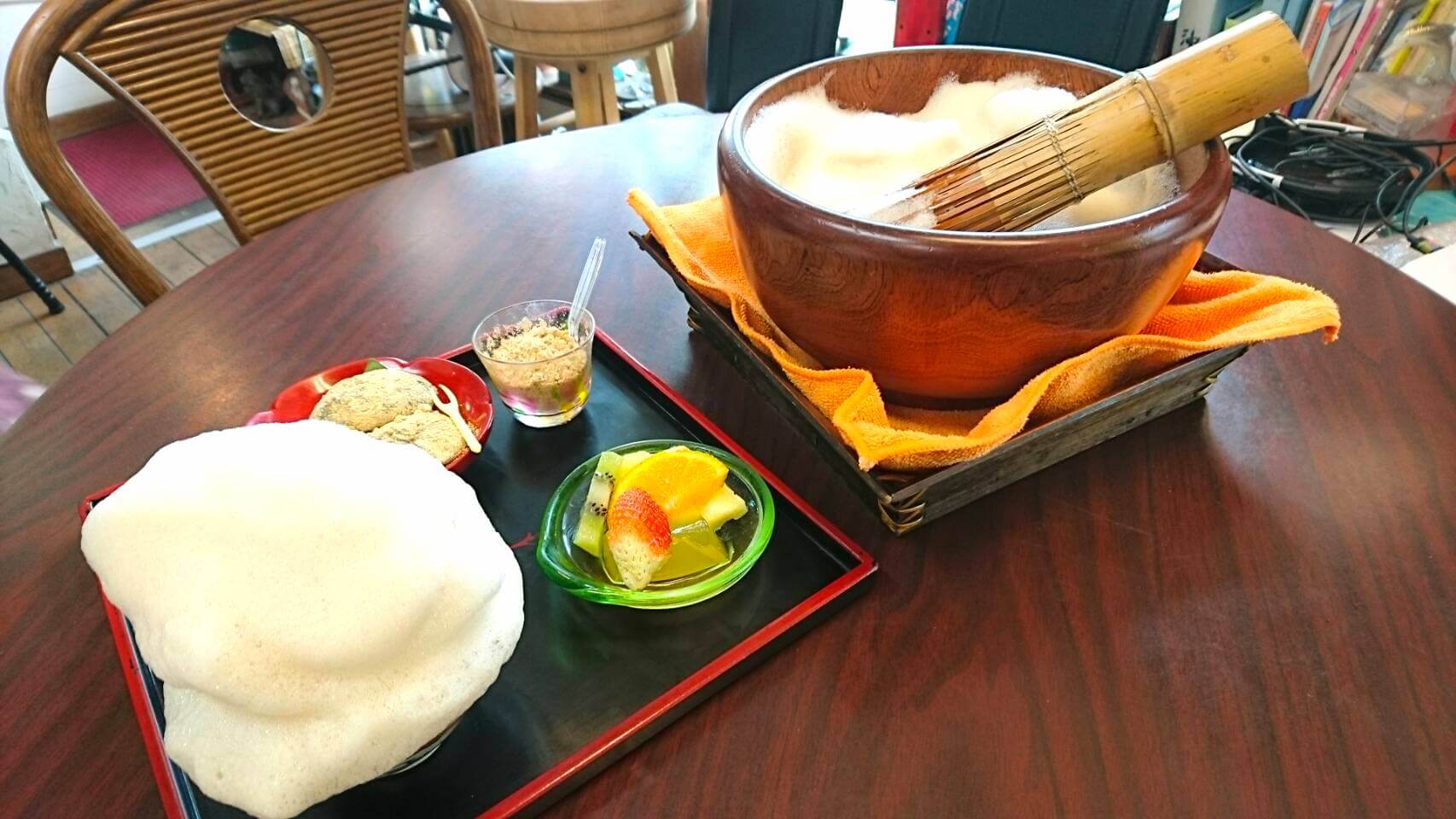 First, you will get a large wooden bowl filled with tea specifically for foaming. You'll use the tea whisk to foam that up. Try to beat the tea as if you're trying to blend air into it. After a while, your bowl will be full of fluffy foam. You'll take that foam and put it on the tea that you're going to drink. Pick up the tea cup with both hands and drink the tea while eating the foam. The reason why the tea foams up is because the water from Kakinohana Spring is hard, and full of minerals. The well has also been selected as one of 100 best water sources of Japan and its water is said to be good for health. There are 11 types of tea to choose from – the brown rice and jasmine tea being the most popular. Other types include herbal tea, shell ginger, hibiscus, lemongrass, and many more.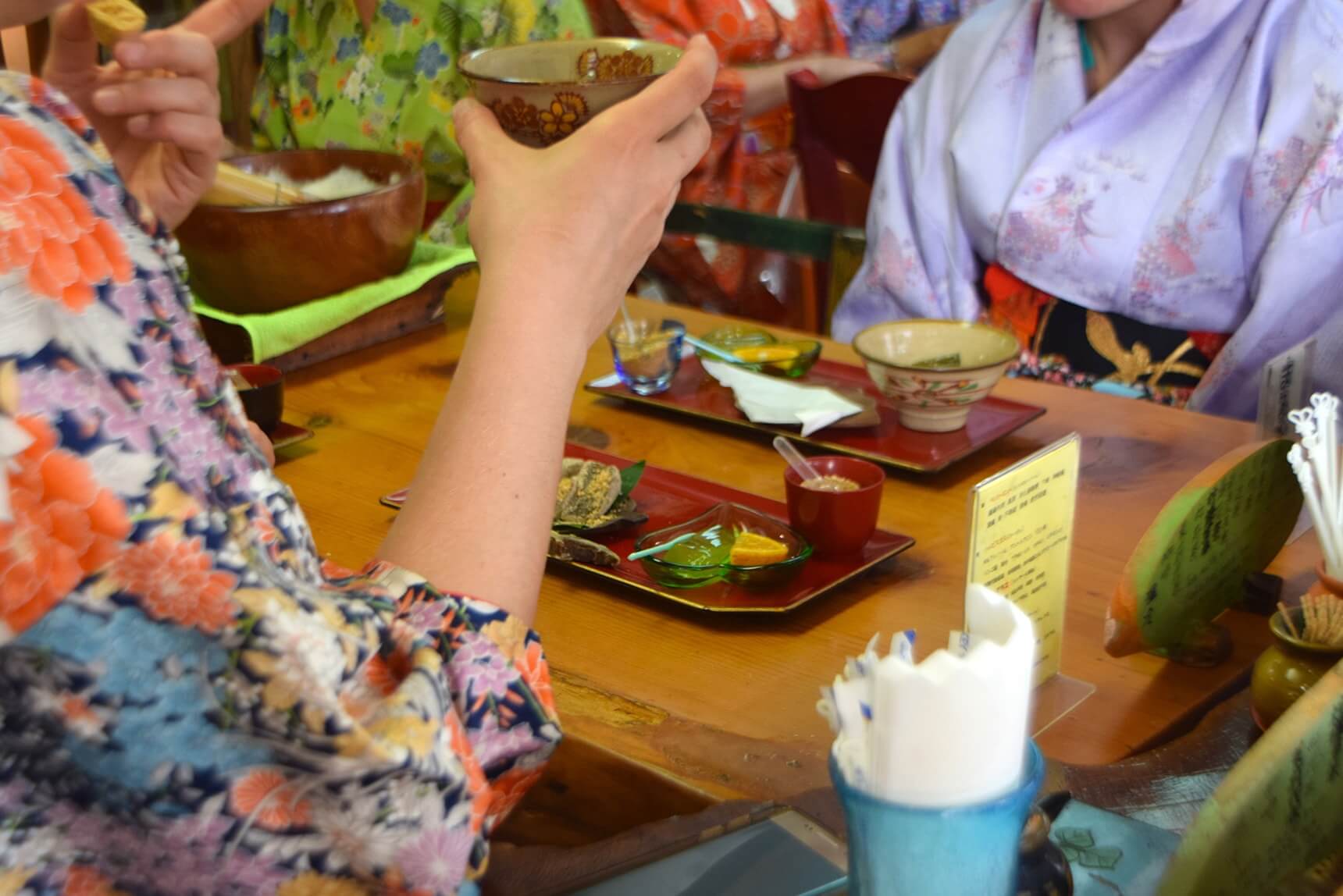 Tea sets come with chinsuko cookies, taro pie, kumpen confectionery, and fruit that go so well with the tea. There are lots of visitors who drop by after seeing Shurijo Castle. International visitors can even wear an Okinawan kimono while they have their tea to really get to know Okinawa's culture (reservation required). Don't forget to check this foamy tea when visiting Okinawa mainland.
Buku Buku tea specialty shop Old Capital Shuri Kari
9 Shuri Ikehatacho, Naha City, Okinawa
---
Iroha-tei – Enjoy Authentic Okinawan Cuisine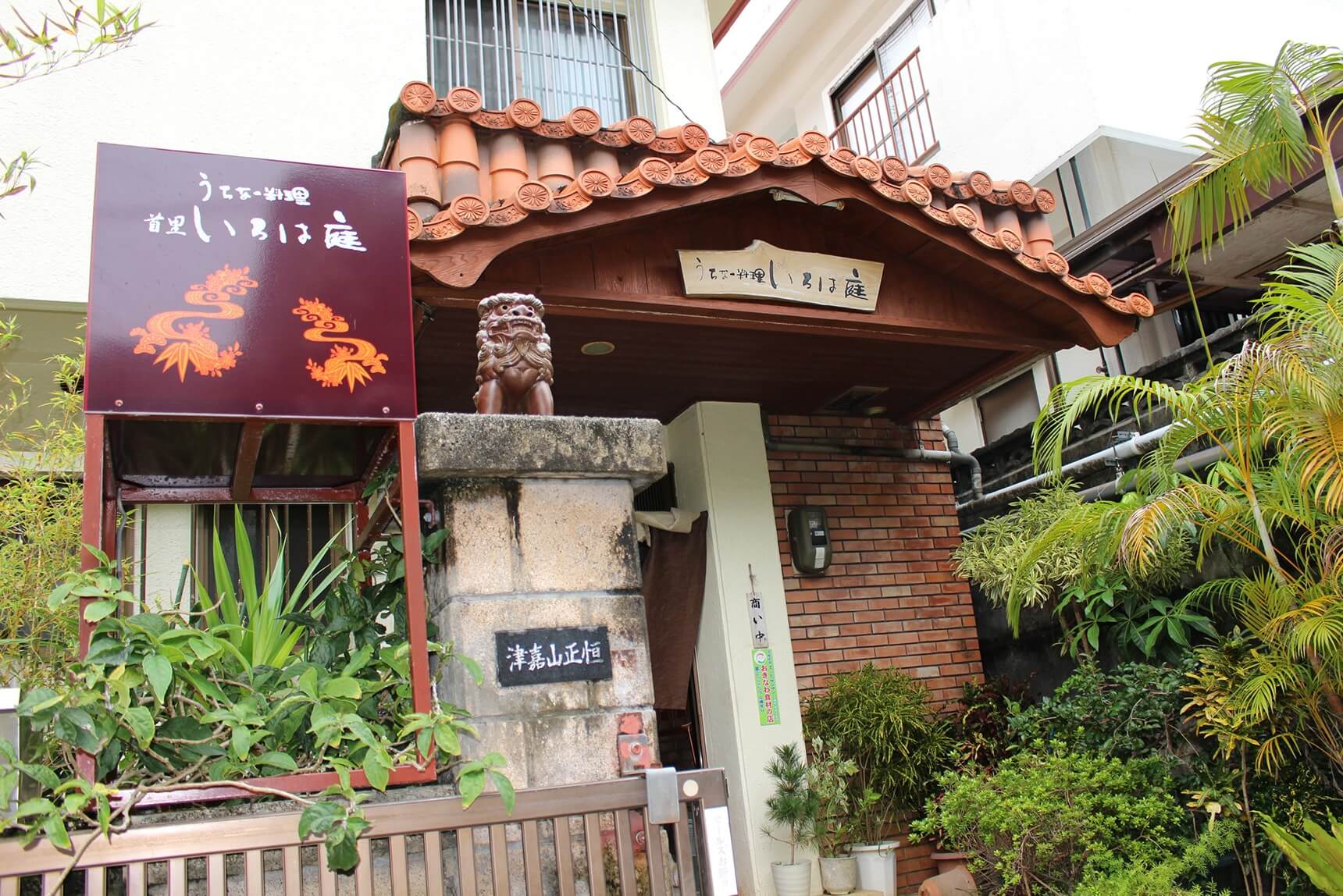 Iroha-tei is a restaurant where visitors can enjoy authentic Okinawan cuisine made with local ingredients. It is a must-go for those exploring Shuri. The renovated home-turned-restaurant is very relaxing and is just a 10 minute walk away from Shurijo Castle. The restaurant actively makes menus with local ingredients and has been officially recognized by the prefecture as an "Okinawa Ingredients Restaurant."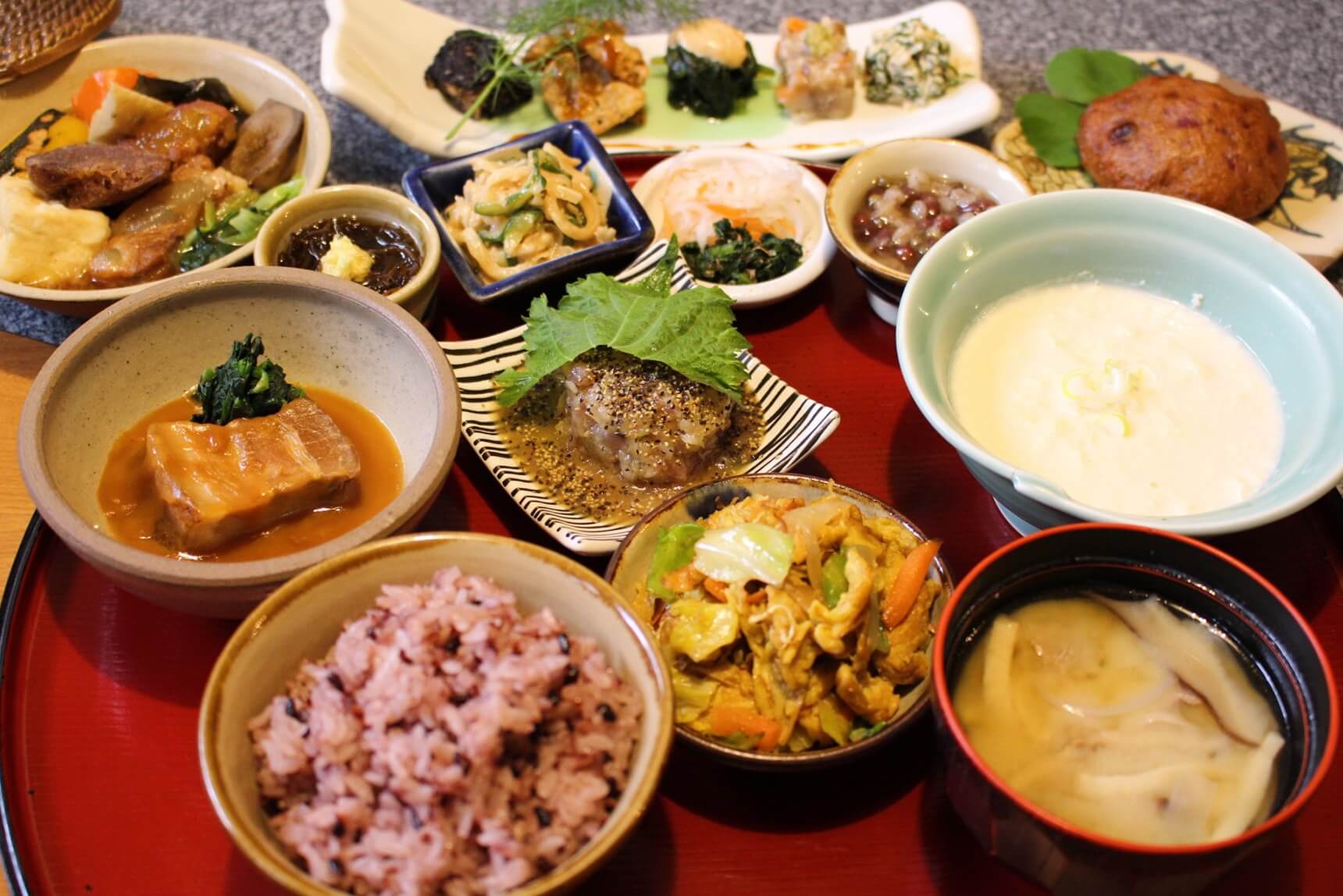 The owner and chef go to buy the ingredients everyday, and if they find something interesting, it'll get added to the dish of the day. They use seasonal ingredients, so the menu is different depending on what time of year you visit. The Shurei Dinner is a popular item on the dinner menu which includes 14 different types of dishes such as fu champuru (gluten stir-fry), tuna tartare and Okinawan shallot, and pork belly. You can taste all that Okinawa has to offer with this one item. The pork belly is Okinawan Beni pork. Its meat is so juicy and soft that it melts in your mouth. The meat is left cooking for two days straight, and its miso flavoring is difficult to find anywhere else in Okinawa because it takes so much time and effort to make. The tuna and Okinawan shallot tartare is a flavored with black pepper. Its slightly spicy taste goes very well with alcoholic drinks. The restaurant keeps their liquor cabinets well-stocked and you can get pretty much every brand of Okinawan awamori. You can choose to drink from yachimun (Okinawan pottery) or Ryukyu glass. The yachimun plates used to serve your meal is also worth paying attention to.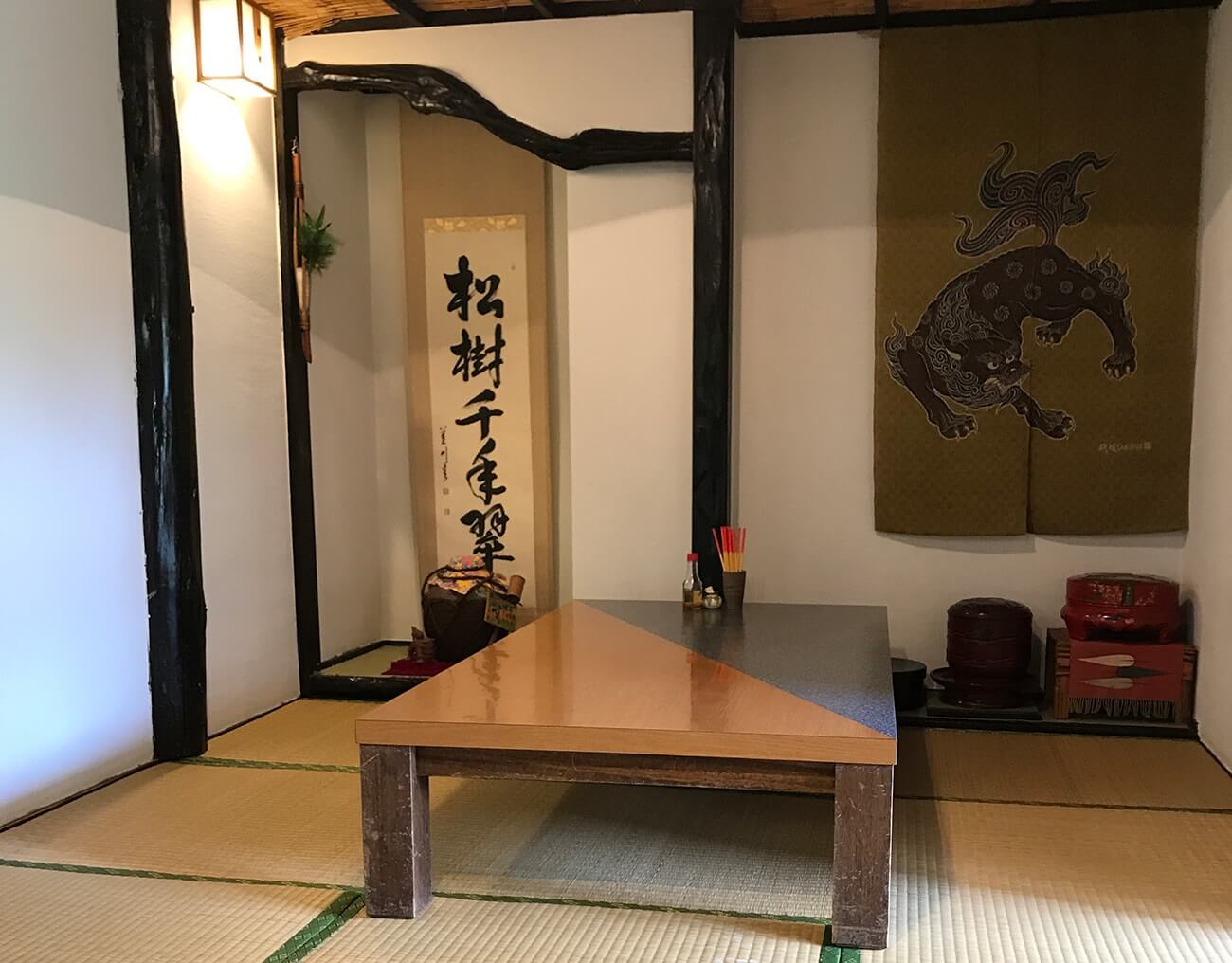 The renovated house-turned-restaurant is very spacious, which makes it ideal for small groups or even families with small children. The veranda gives you a nice view of the garden, and the atmosphere of the restaurant is very cozy and will make you not want to leave. There are 15 parking spots available, so driving to the restaurant is a viable option too.
Okinawa Cuisine Shuri Iroha-tei
3-34-5 Syuri Kinjyocho, Naha City, Okinawa
---
How did you like the list? There are still plenty of intriguing places in Shuri. Try to look for your own favorite spot in Shuri too.