A dedication to authentic Hakata flavors of Tonkotsu broth ramen
Experience the unique scent when walking along the Kokusai-dori street in Naha city from Don Quijote to the Makishi station. Behind McDonald's, you'll see "Hakata Ikkousha's Naha store" opened in September 2017. Lanterns hanged along the wooden frame imply Japanese sense of "Wa" (harmony) and a Japanese letter "one" written on the top of the entrance are very impressive. Black, red and gold colors are used in the store and you will be amazed by the monuments and ceiling ornamented by over 3,000 ramen spoons and glittering light bulbs. Chandeliers made up with red and black ramen spoons are also dynamic. Among other stores in Japan, you won't find a more spectacular one anywhere but in Okinawa. It lights up your Okinawa trip memories.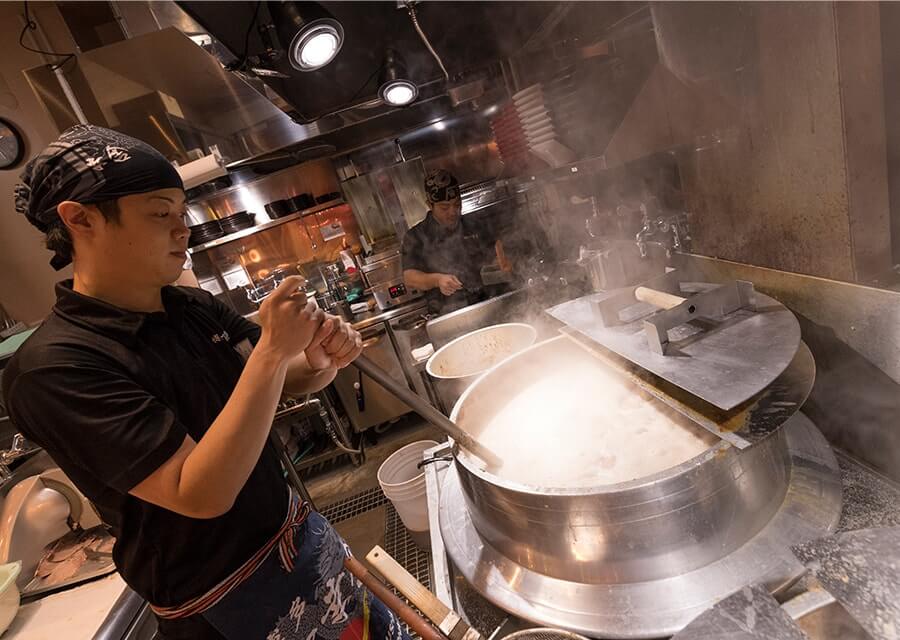 The savory bubbles and the condensed broth of pork bones are simply the essence of Ikkousha.
Purchase a ticket at the vending machine. Chinese & English menus are available. Hakata ramen is one of the top three ramens in Japan, and featured by its rich Tonkotsu Pork broth and thin noodles. "Hakata Ikkousha" preserves the soup broth based upon well-aging boiling preparation method, which was adopted long before as a Hakata tradition. The broth is being well-stirred in every 10 minutes and new pork bones are added twice every day. After days, crux of the bones just comes out as an unforgettable stimulation. The store is full of the scent of ramen that comes from fermentation of pork bones.
We serve three kinds of soup and there are special limited menu in Okinawa.
Ordered the Chef's recommendation "Pork slice Ramen with seasoned egg". The bowl is filled with dense soup broth topped with a slice of Chashu pork, a seasoned egg, jelly ears and green onion. You can customize your own ramen by choosing the strength of the broth and hardness of the noodles. Light taste is popular among foreign visitors, but traditional Hakata ramen always come with hard noodles, Try it and let it brings you the true taste.
Ramen is served like an artwork, but just start eating before the noodles get soggy! Soup smells little bit strong but it tastes smooth and creamy later. The thin slice of Chashu pork is stewed with the traditional but exclusive sauce that it matches perfectly well with the noodles. "Spicy pork ramen" is only served in Okinawa and one of the most popular menu. The red broth looks hot, but the spicy taste of the red pepper comes with the aromatic pork and it makes the ramen delicious. It's definitely a good choice for spicy lovers. You can customize your ramen by adding spicy mustard and ginger for changing spiciness and sourness. The store is crowded for a certain time so that we recommend to visit after 2 p.m.
Perfect combination of ultimate rich broth and the original handmade noodle
My next stop was Ramen TAKERAN located in an alley off of Kokusai Street.. This cozy, hole-in-the-wall is always filled with locals and tourists. The huge signs that say "Welcome" and "Thank you for choosing us" make you feel good even after several visits. The business hours vary and depend on how long the soup lasts. Today, I decided to fill my lunch appetite.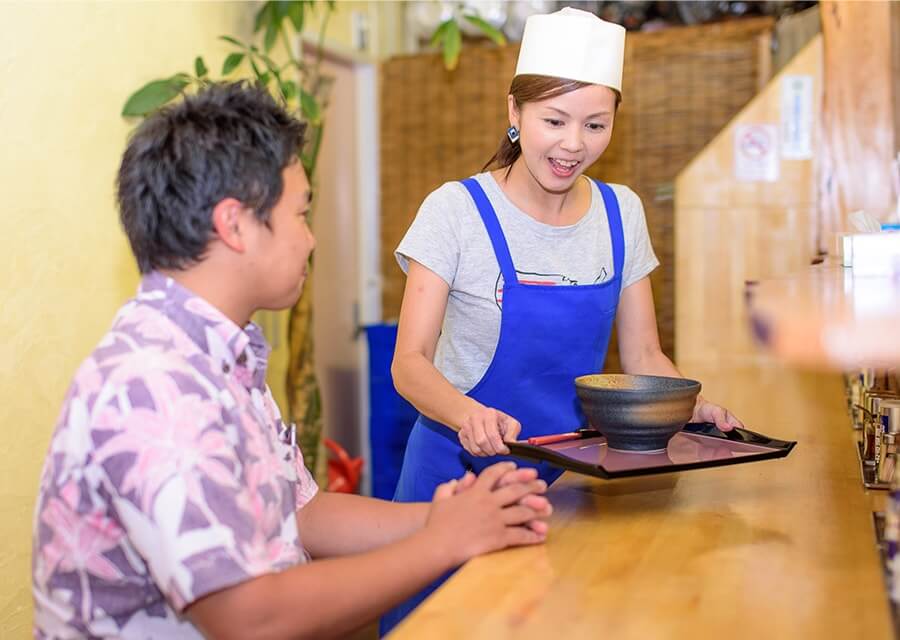 ONLY domestic or local ingredients are used for ramen and dumplings
I ordered my favorite Shimabuta Ramen. They make their own noodles using great quality wheat mixed with soy flour. For the soup, they only use natural ingredients – totally additive-free. Local pork bones, chicken and fish are extravagantly used for the rich and flavorful broth. Some regular customers who have fallen in love with the flavor order to-go ramen, even though Japanese people hardly ever order to go.
Here my order comes!
The several layers of shimabuta (island pork) cha siu make my stomach rumble. The soup has a great complex but not too rich flavor, and the noodles have a very nice chewy texture. I admire the combination and the perfect balance. The secret ingredients are the local garlics and gingers. This delicious soup will boost your stamina!
I am very satisfied with Shimabuta Ramen! The consistency is always there no matter how many times I visit. Other than ramen, the juicy dumplings are a must try item here. The famous dumplings contain lots of veggies, local pork, Okinawan garlic and squid. I've got to bring my friends for the special dumplings next time.
Other good places to eat ramen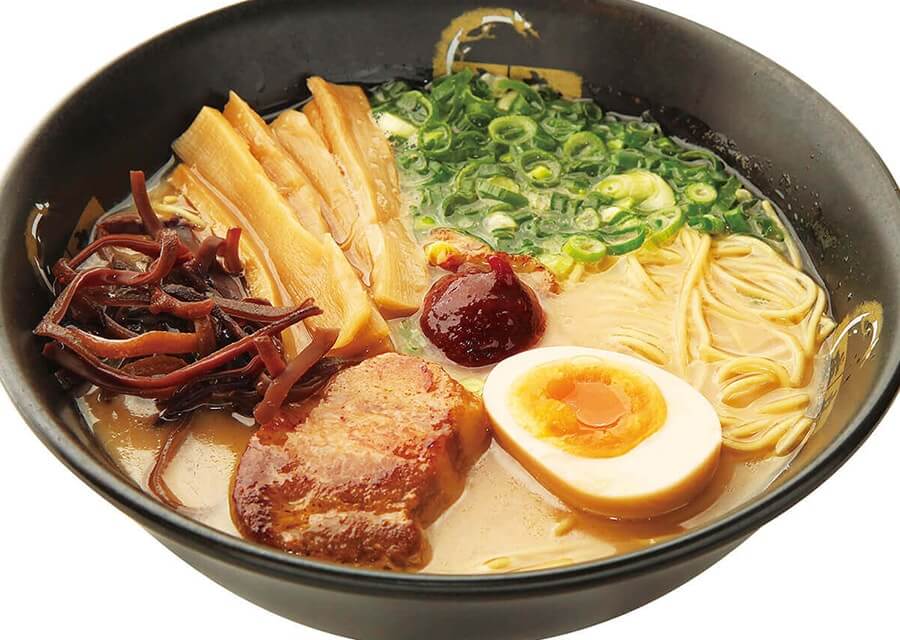 Ramen KORYU, Naha Matsuyama
Kaedama "ordering another serving of noodles only" is also available! Authentic tonkotsu ramen with rich soup
Tonkotsu "pork bone" soup is their specialty! The most popular dish on the menu is "build-your-own ramen," allowing you to choose your own particular firmness of noodles, richness of soup, and 4 out of 8 kinds of toppings -¥800.
---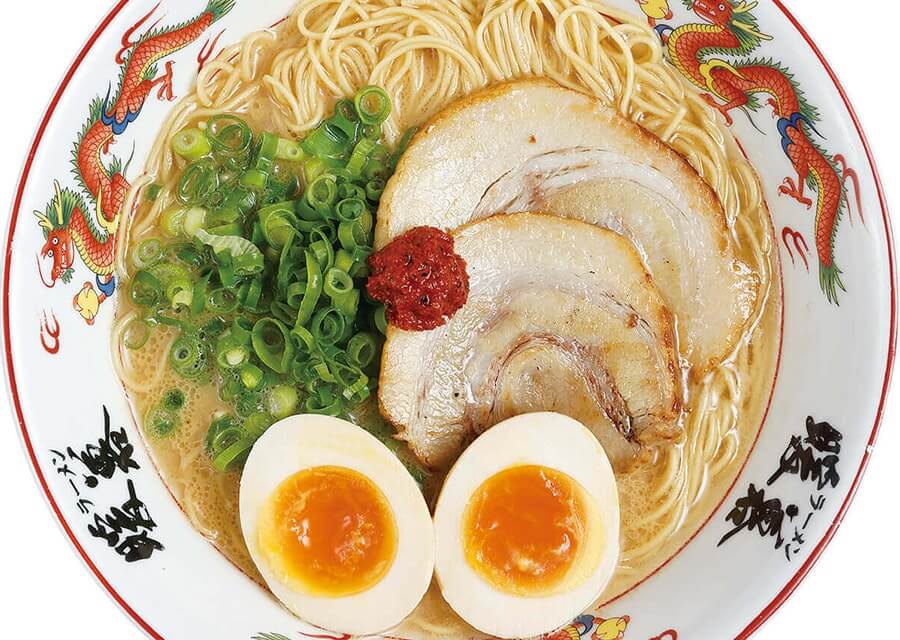 Ramen Restaurant DANBO, Naha Makishi
Tonkotsu ramen so popular they're lining up to try it
The soup is made with a rich broth created by boiling special parts of tonkotsu "pork bone" at high heat and alkaline water. Special thin noodles are cooked not too soft to go with the soup perfectly. This is rich, tasty ramen.