Ramen freaks have fallen in love with the "ultimate bowl of ramen" in Okinawa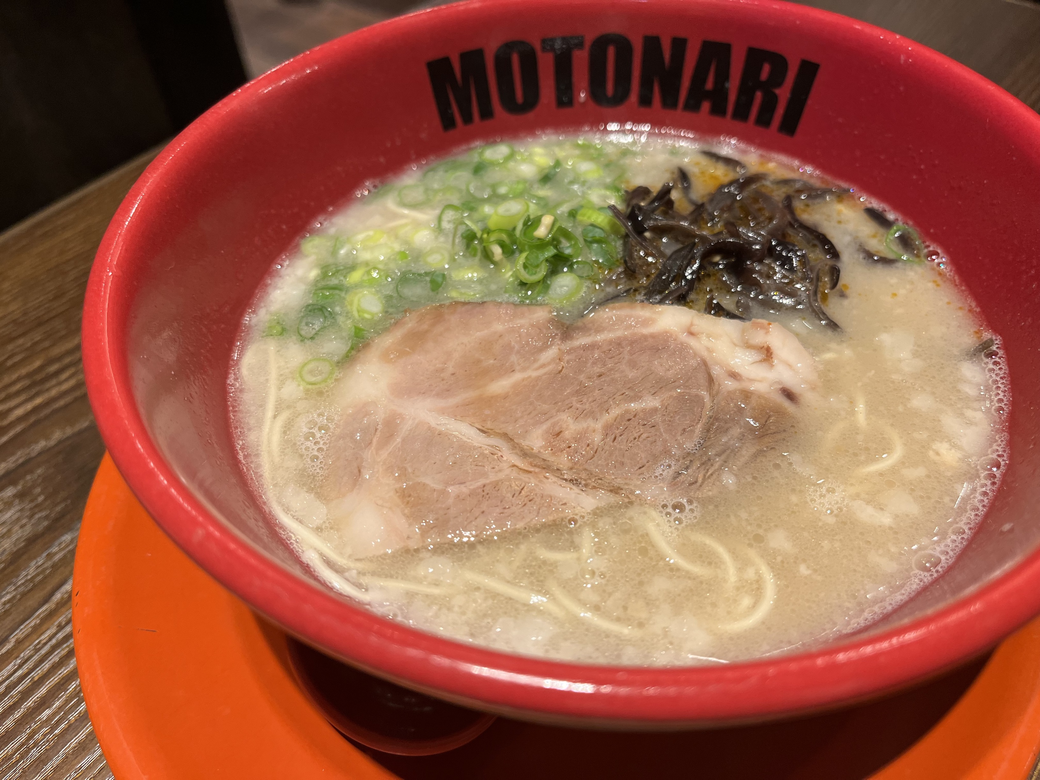 The only ramen shop in Naha Airport! The rich white pork broth and their homemade ramen noodles are a perfect match!
Menyagu Motonari Naha Airport Shop opened in August 2022, within the Fukugi Hall located on the third floor of the domestic terminal in Naha Airport. From the domestic terminal, it's about a 5 to 10-minute walk, so you can enjoy a nice bowl of ramen as soon as you arrive at Naha Airport, or just before departing from Okinawa. At the front of the restaurant, you'll find a lantern with a large sign for ramen, and inside, you'll find 5 table seats, and also 10 counter seats. The atmosphere is relaxing so that you can enjoy your ramen in comfort.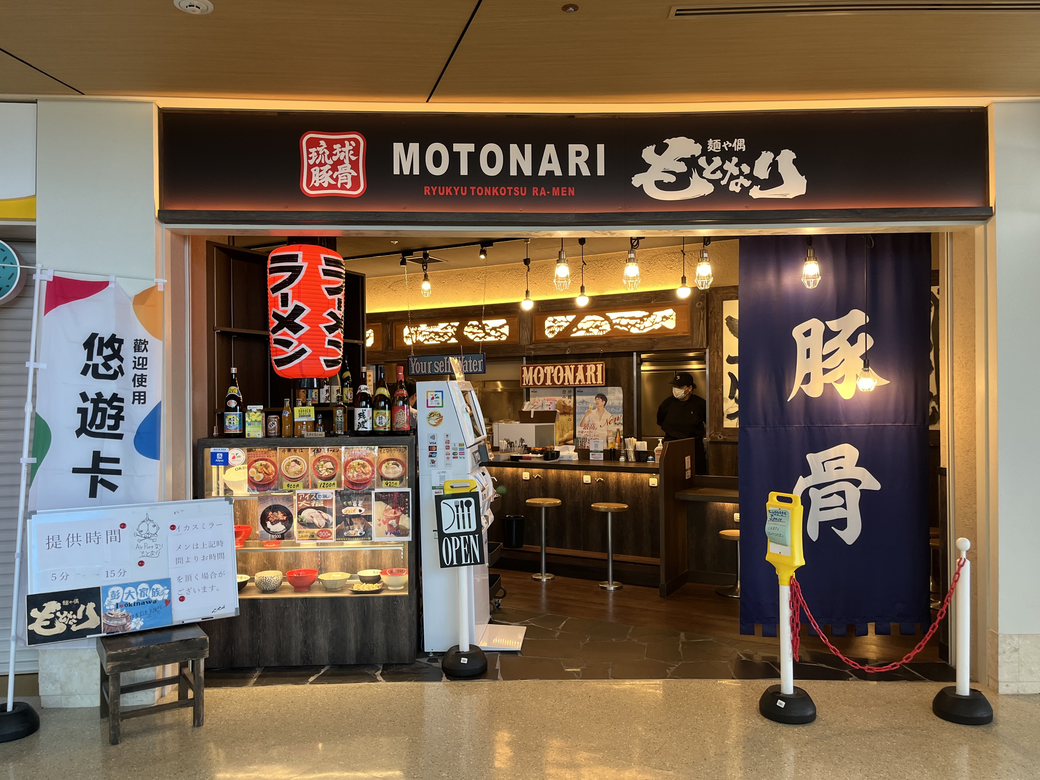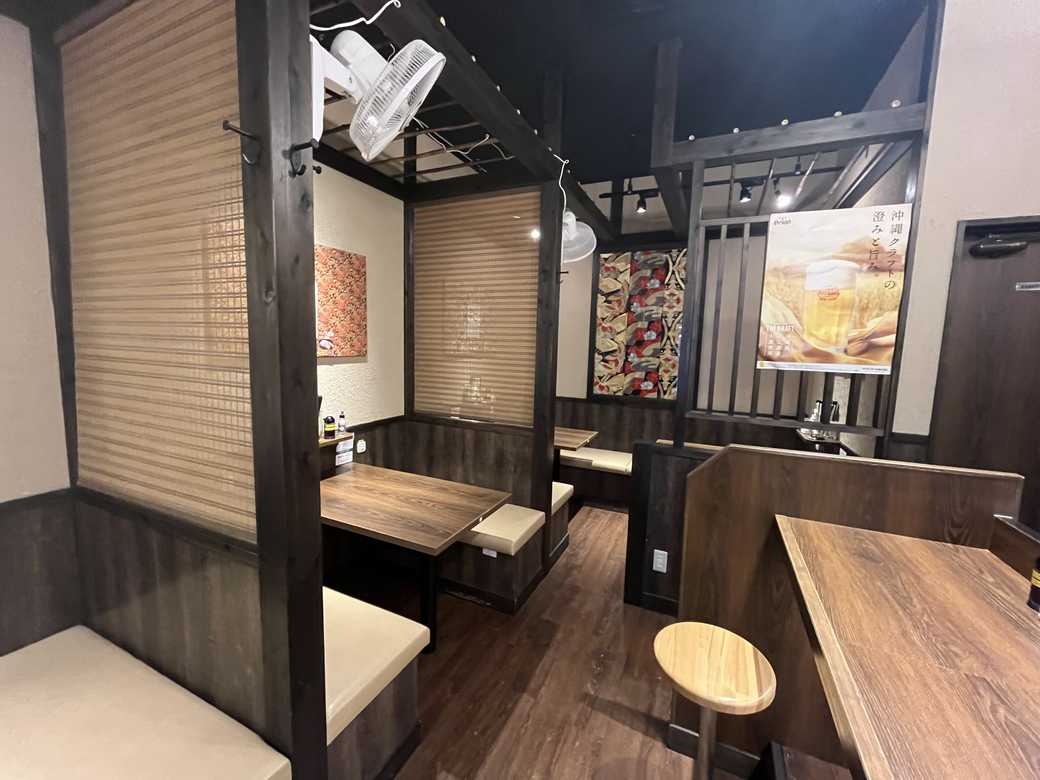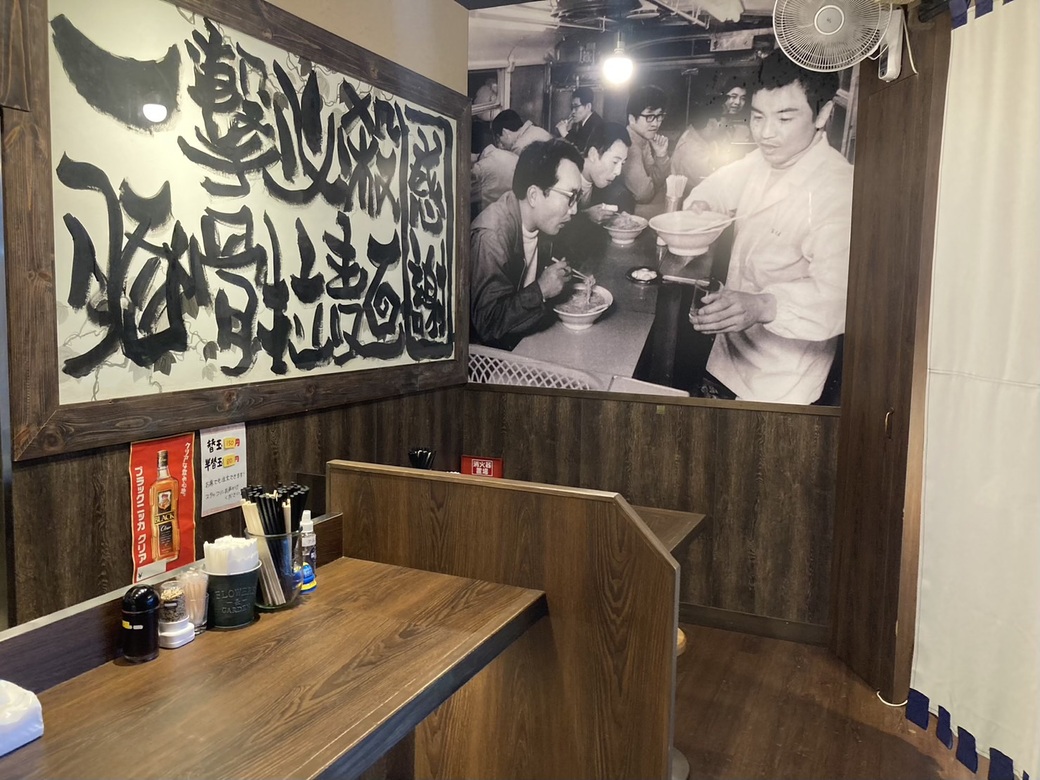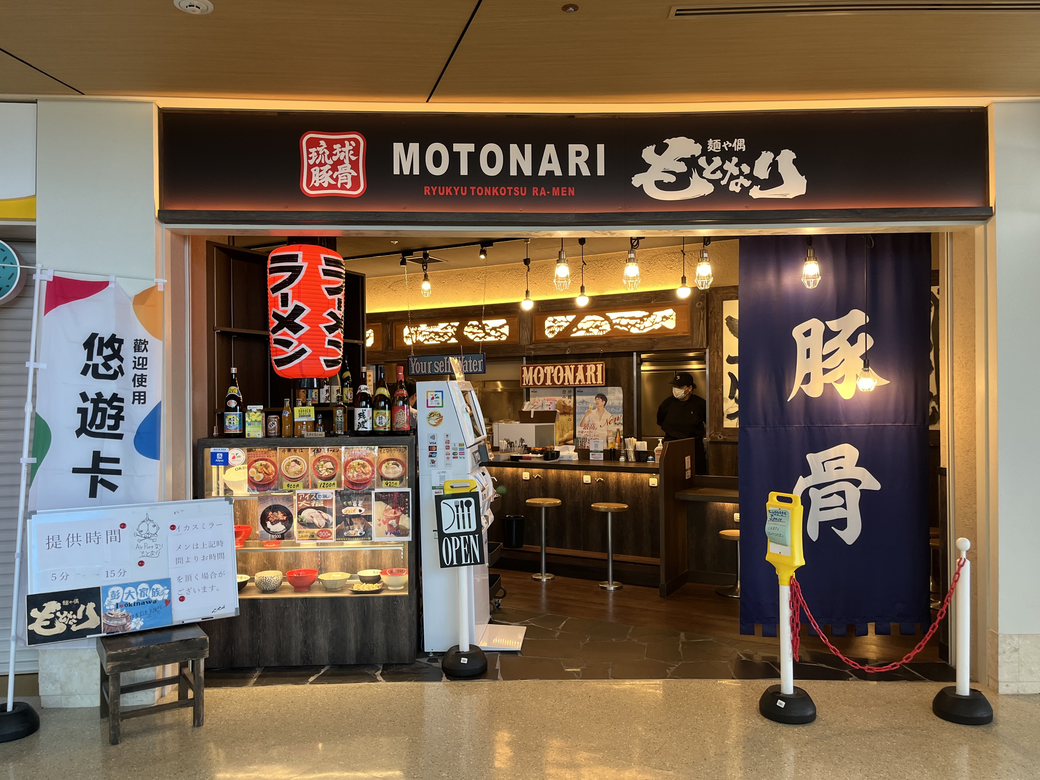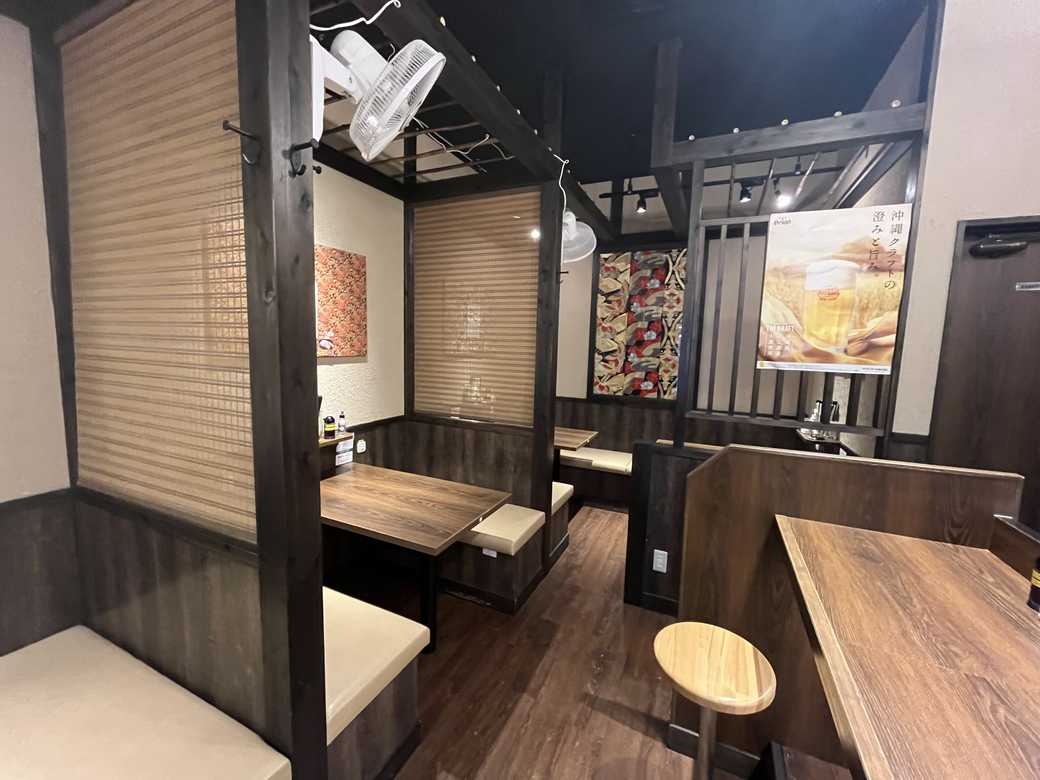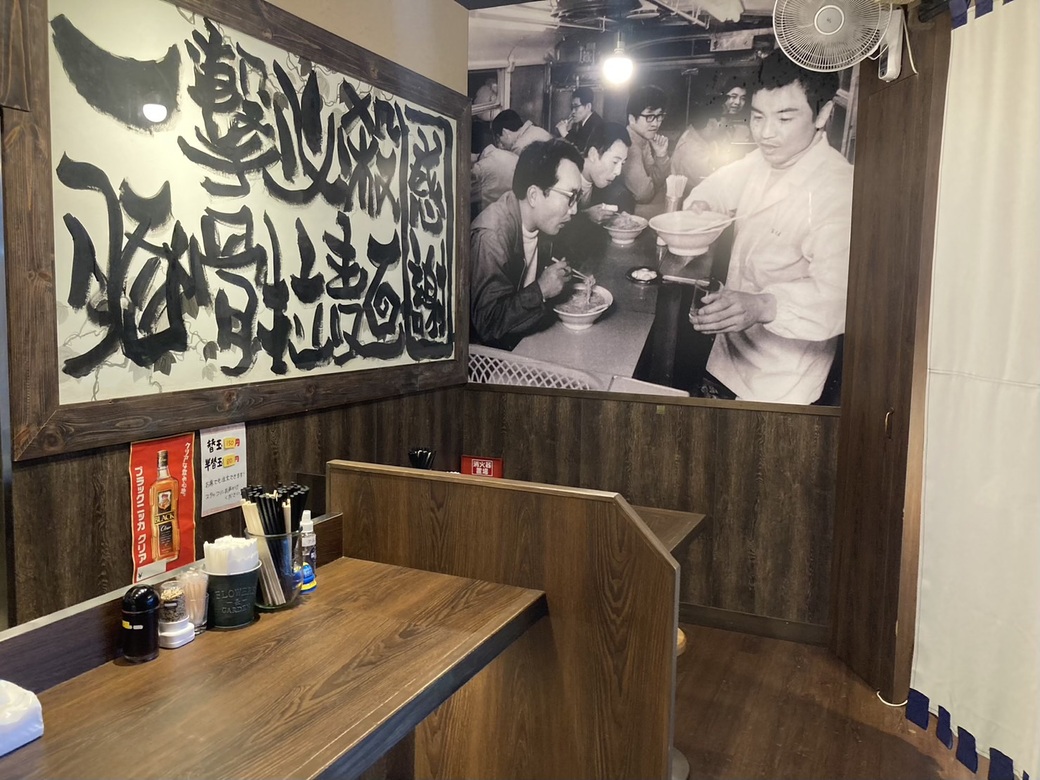 As you enter, purchase your order from the touch-panel vending machine. The machine has English displays so there's no need to worry about the language barrier in placing your order from purchase to payment. The shop offers side dishes like bite-sized gyozas as well as Okinawan dishes, so you can enjoy the tastes of Okinawa here, too. You'll also find soft drinks and alcoholic beverages that are only available in Okinawa.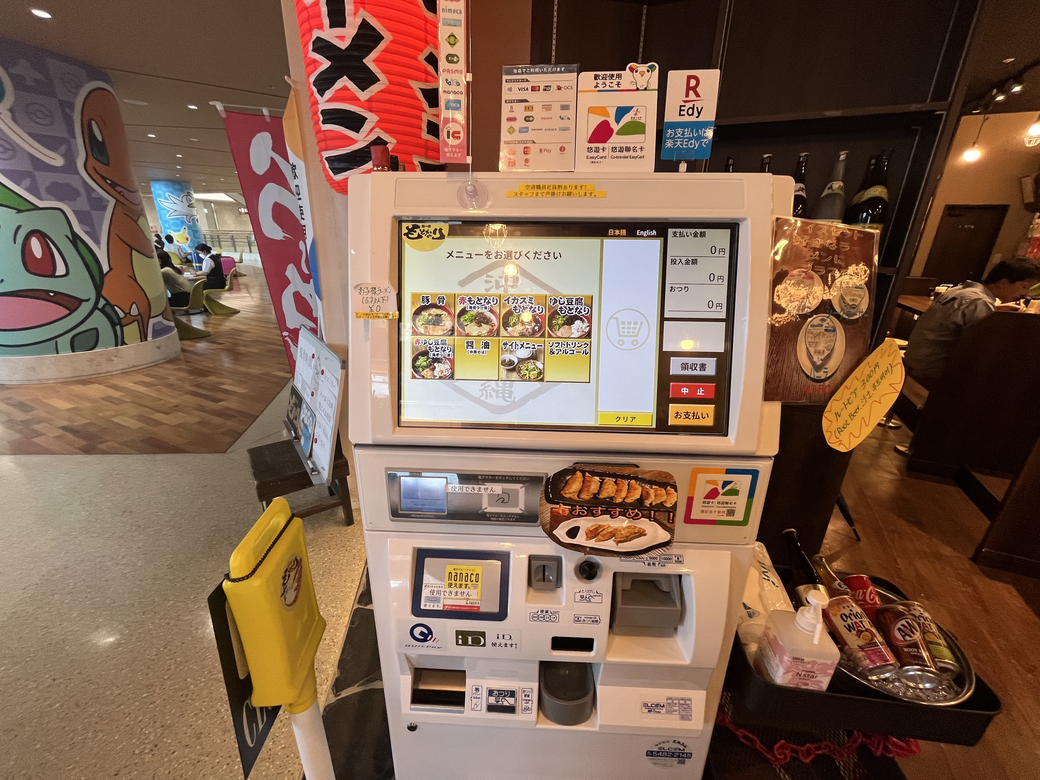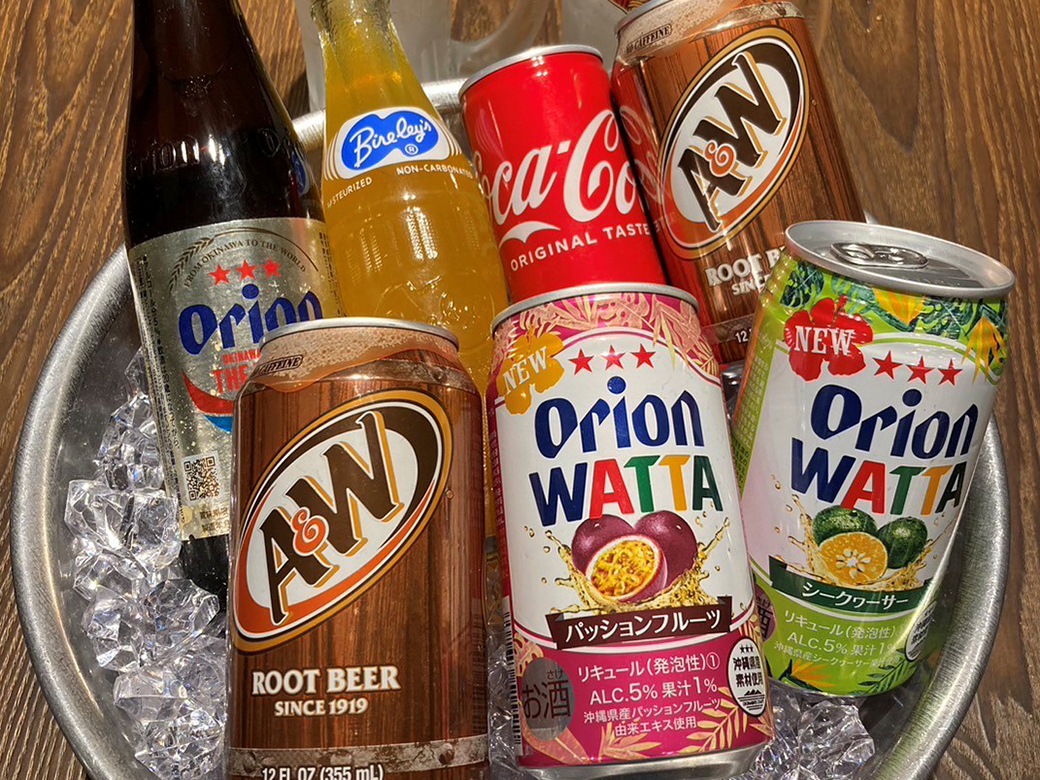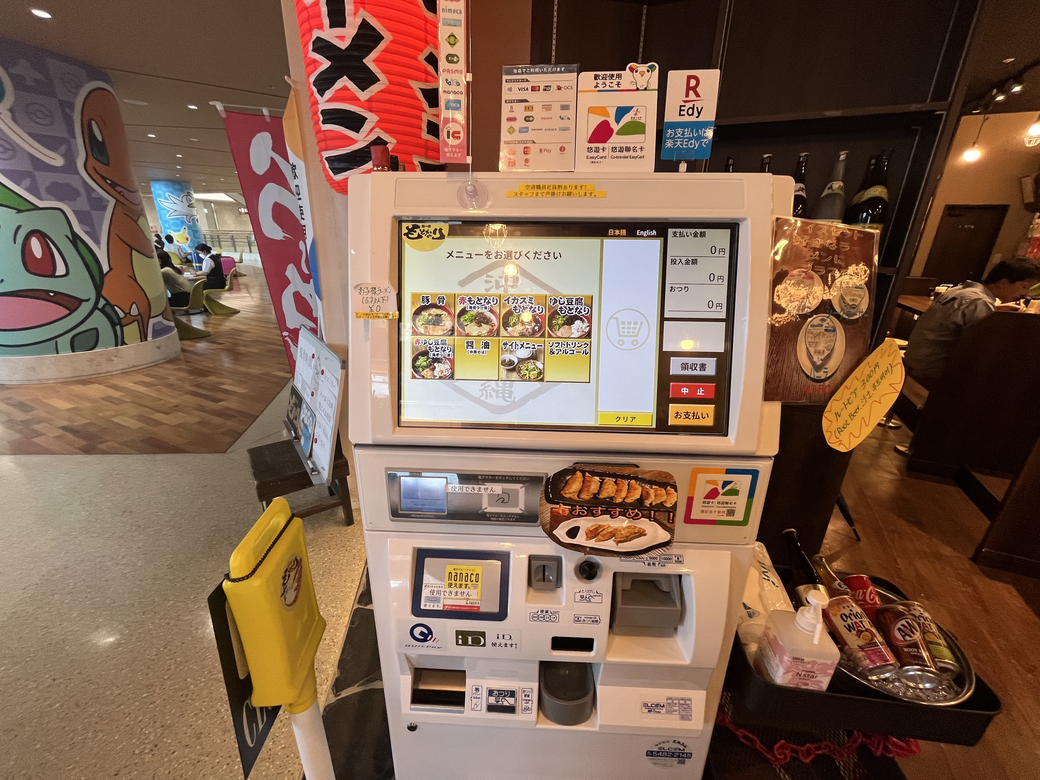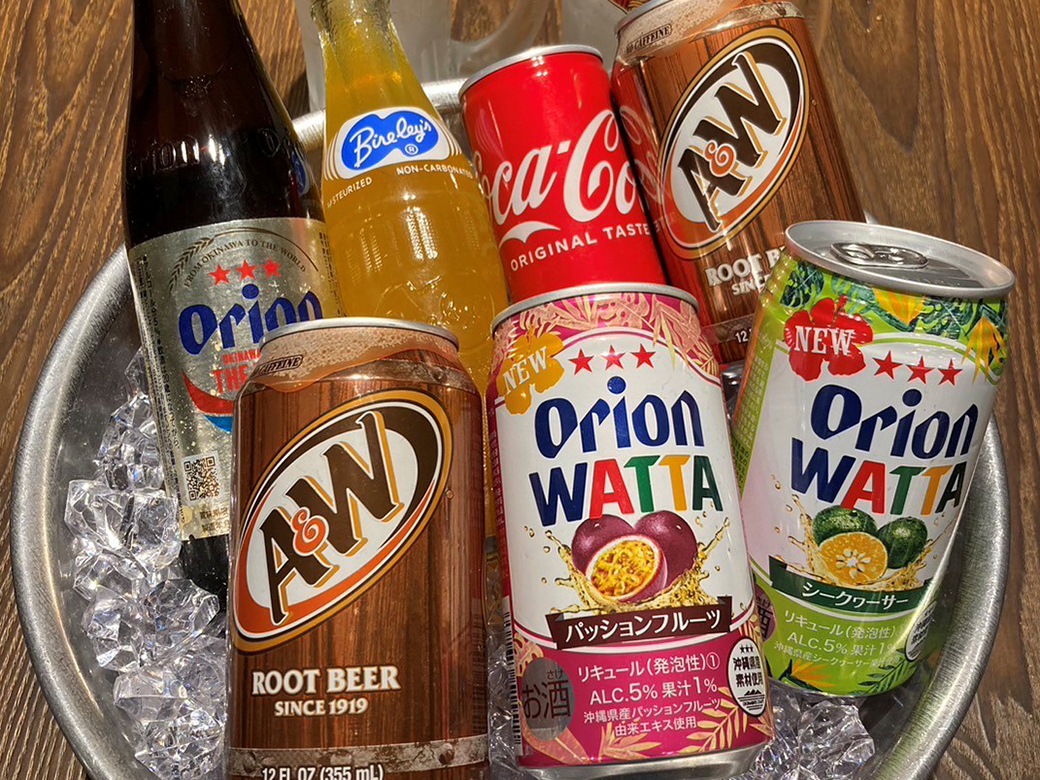 Menya Motonari is a popular ramen establishment with 4 shops in Okinawa and another in Taiwan! Their soup is made with great care, using mainly the head of the pork which gives rich flavors, as well as local vegetables that are combined and cooked for over 15 hours! The creamy soup without the uniquely strong aroma of pork broth goes well with the textured noodles. The soup isn't overly rich and offers a great taste together with their ramen noodles.
motonari is only available at the Naha Airport branch, and the combination of pork bone broth and squid ink is pleasantly light, and the squid pieces topped on the noodles are very satisfying! They have aprons handy so you don't have to worry about getting ink on your shirt, too.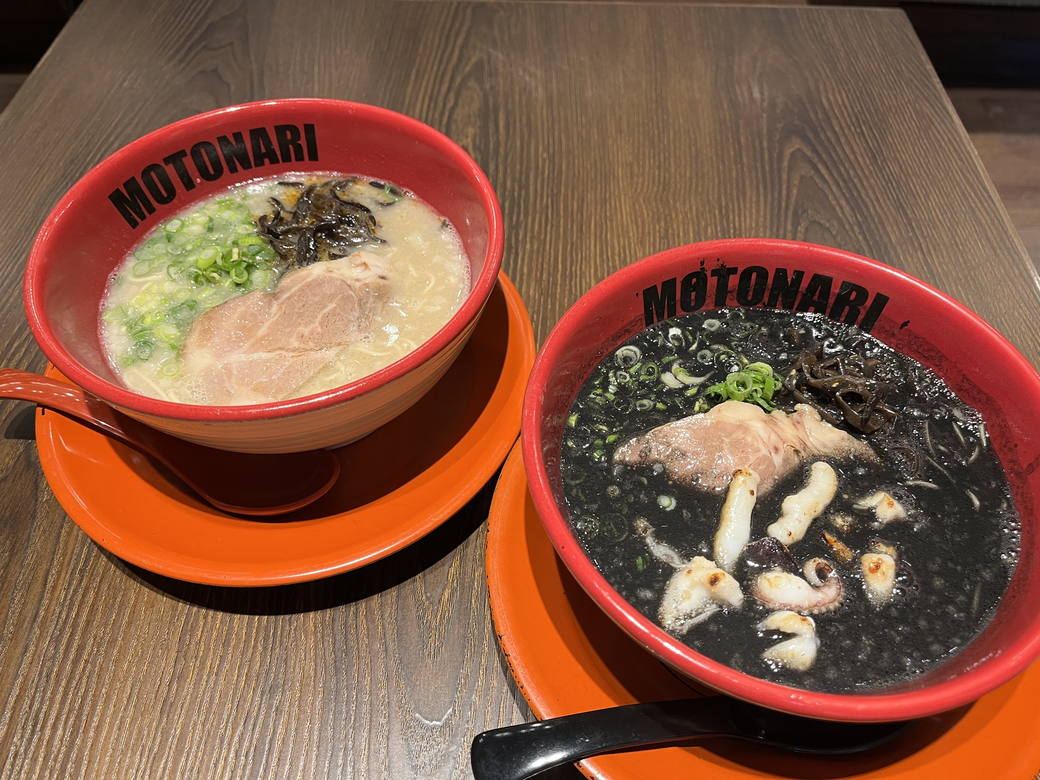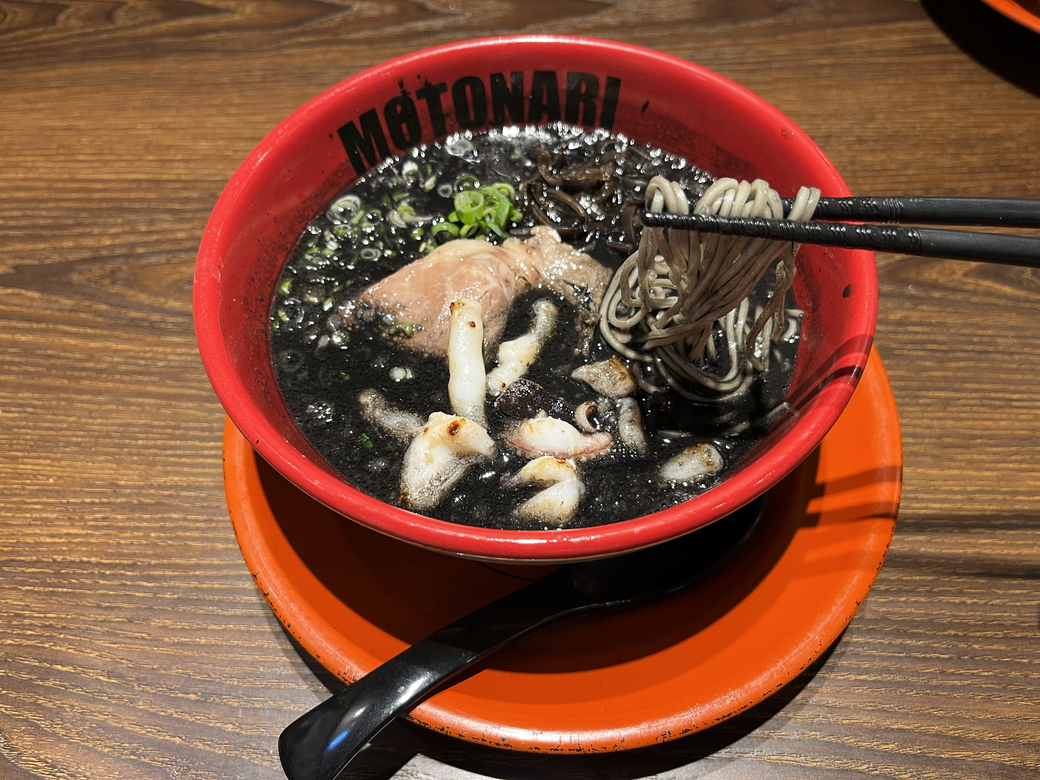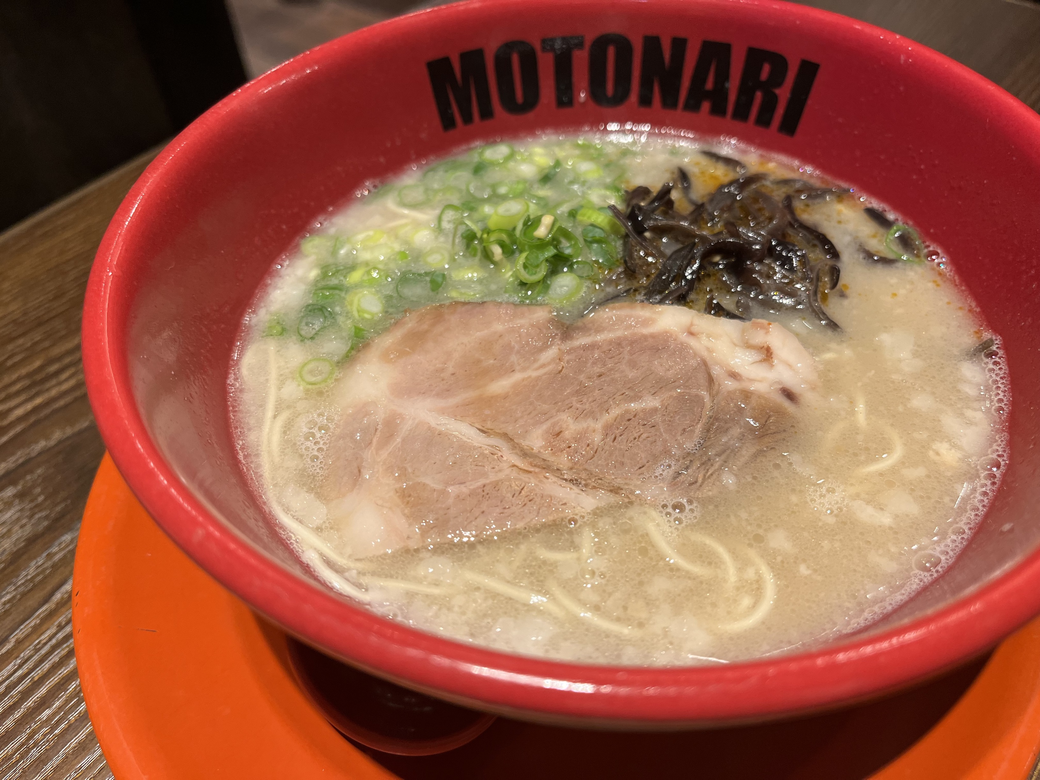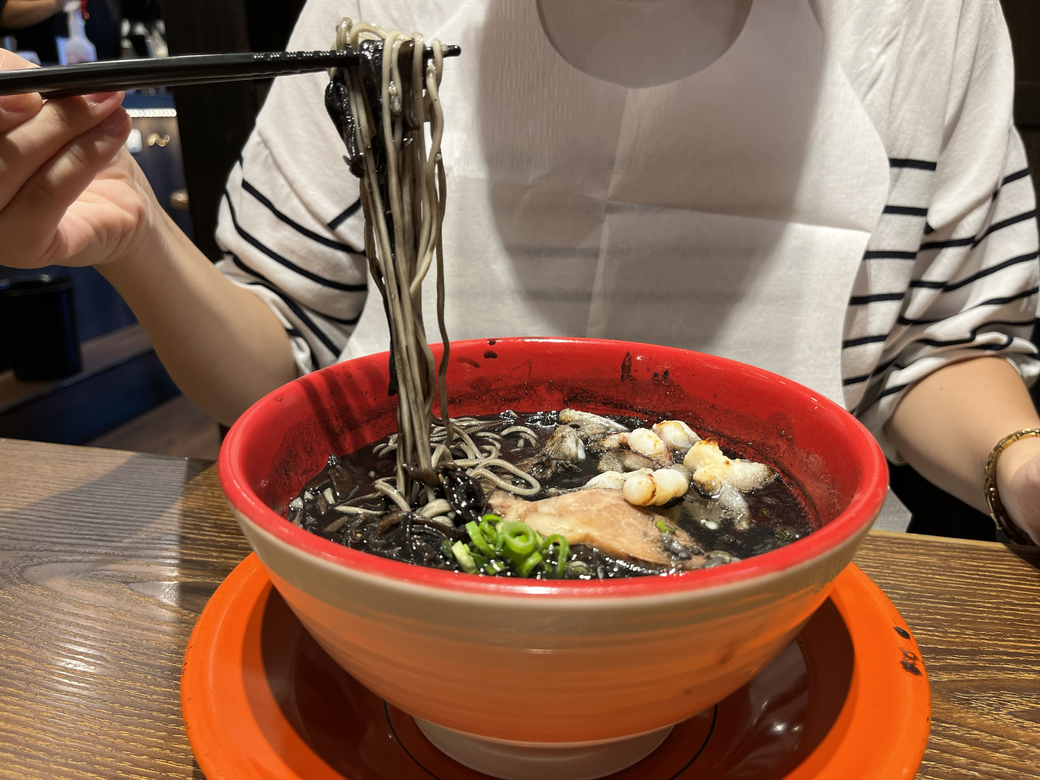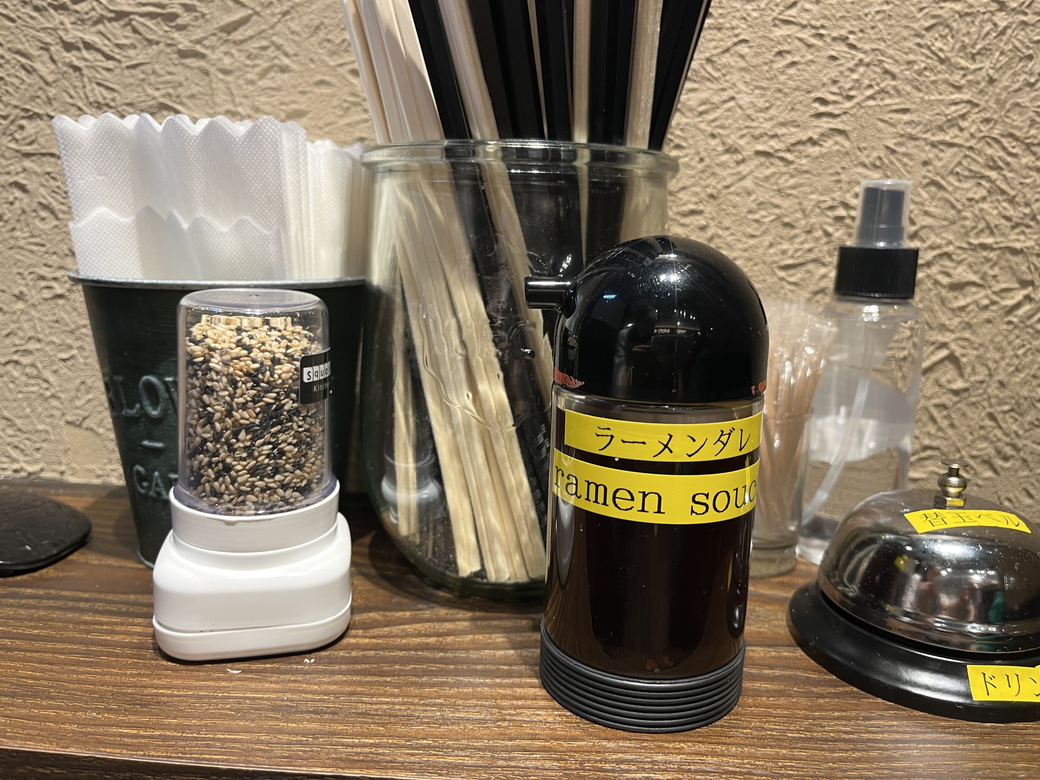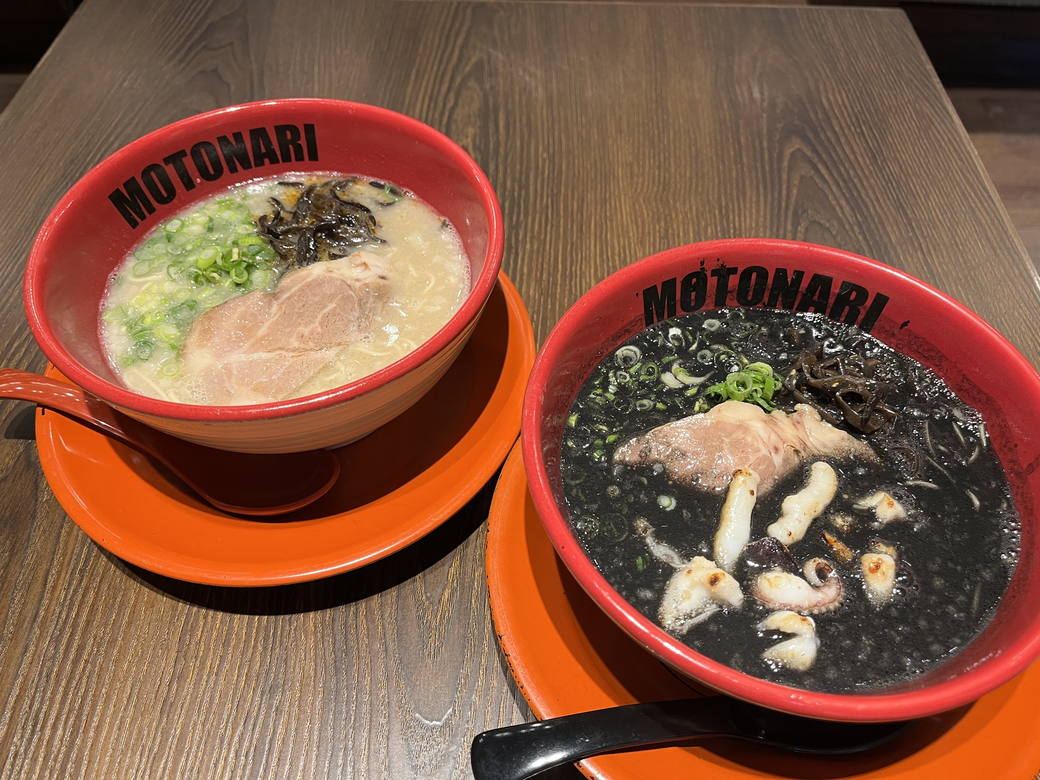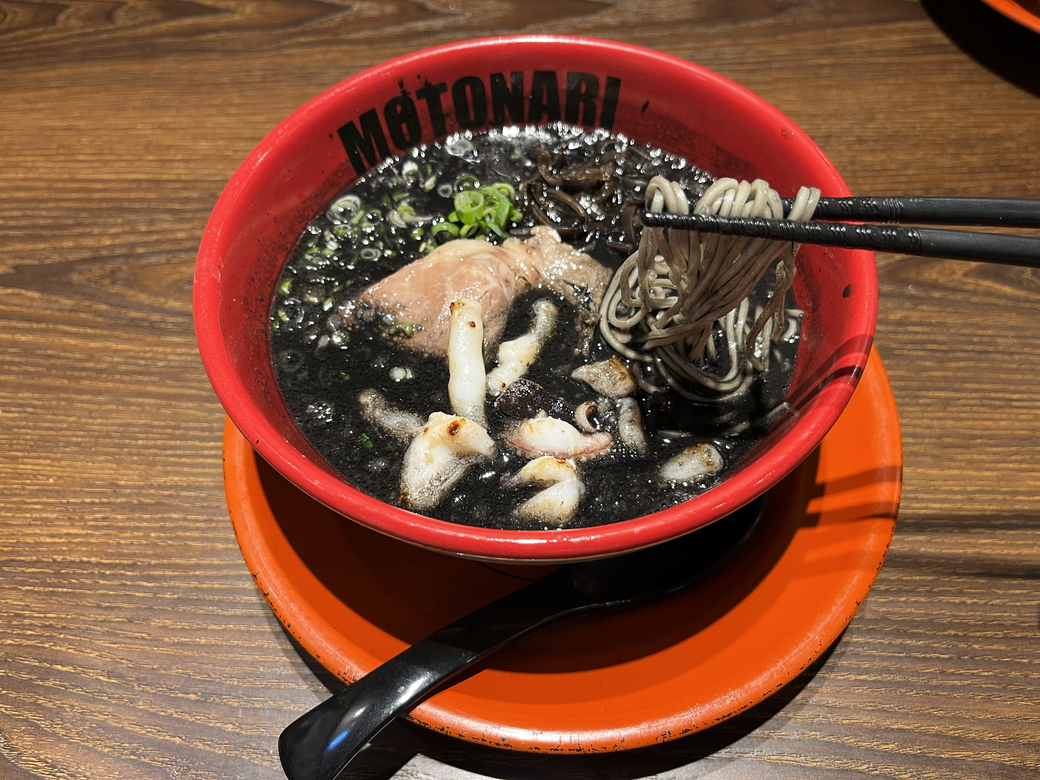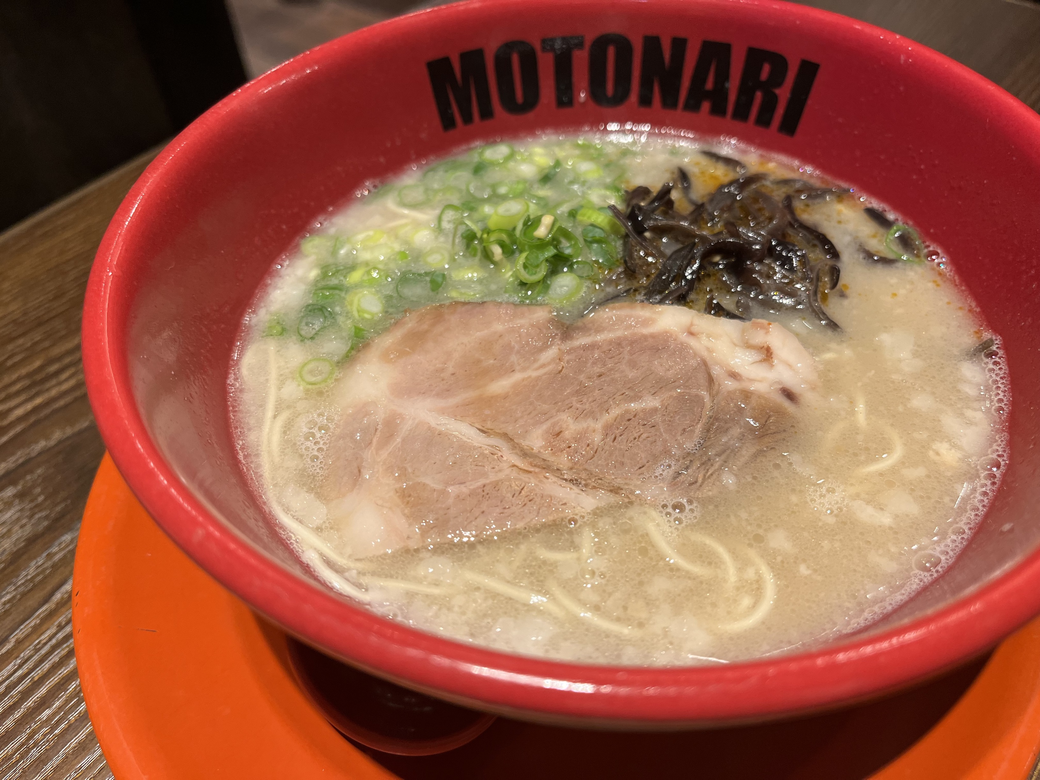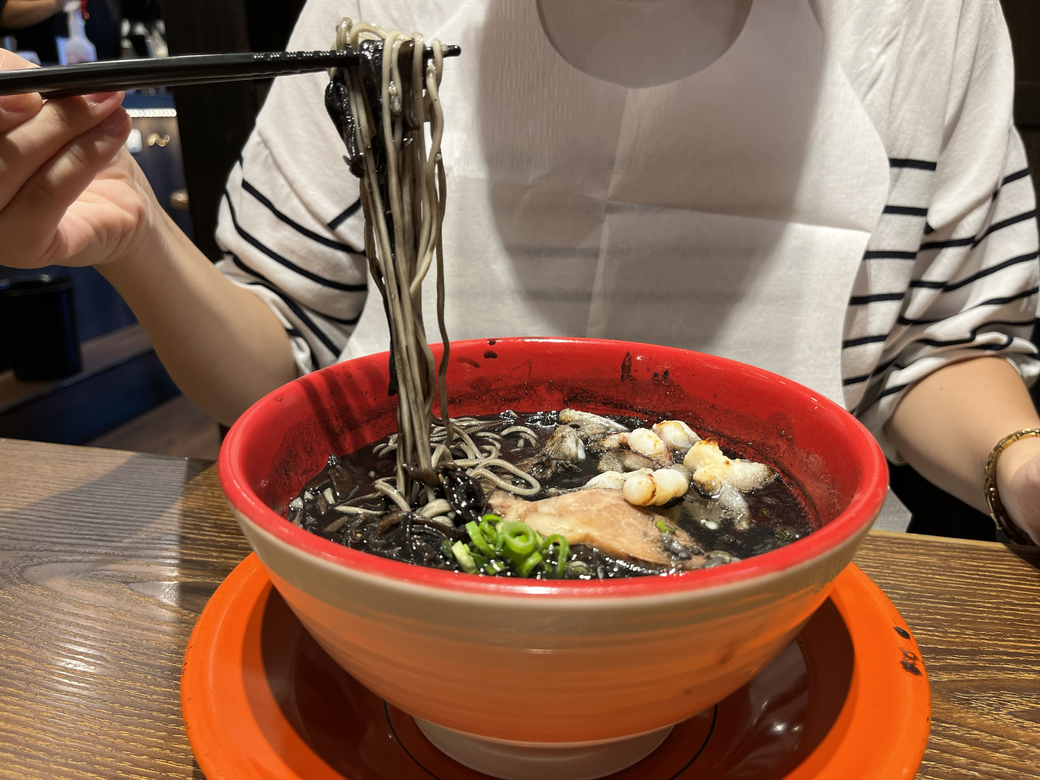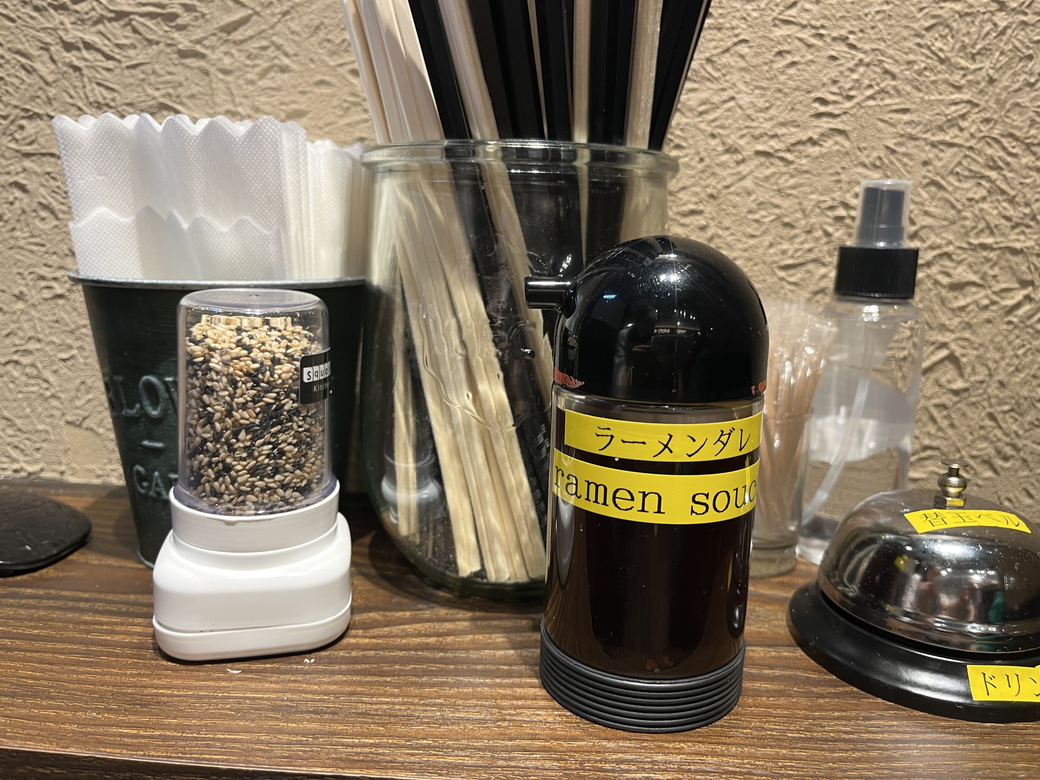 The Kuruma Ebi Prawn Rayu Motonari is also a popular choice here. It's a little spicy, but is light, and can be enjoyed by anyone. Other items on the menu are only available at the Naha branch, like the Yushi Dofu Motonari, Chuka Soba, and others, so you'll enjoy a different taste with each visit.
A ramen shop originating in Okinawa. People flock to the restaurant every day for a taste of their two popular menu items: the Tonkotsu Ramen and Shio Ramen.
Situated near the airport, just three minutes on foot from the Oroku Station of the monorail, and with shopping malls and rental car shops nearby, this popular ramen shop has both locals and visitors lining up at their doors every day. Inside is spacious and you'll find counter seats, tables, and also tatami room tables at the far end. Although it was after lunchtime when I visited, the tables were full and the restaurant was packed and lively.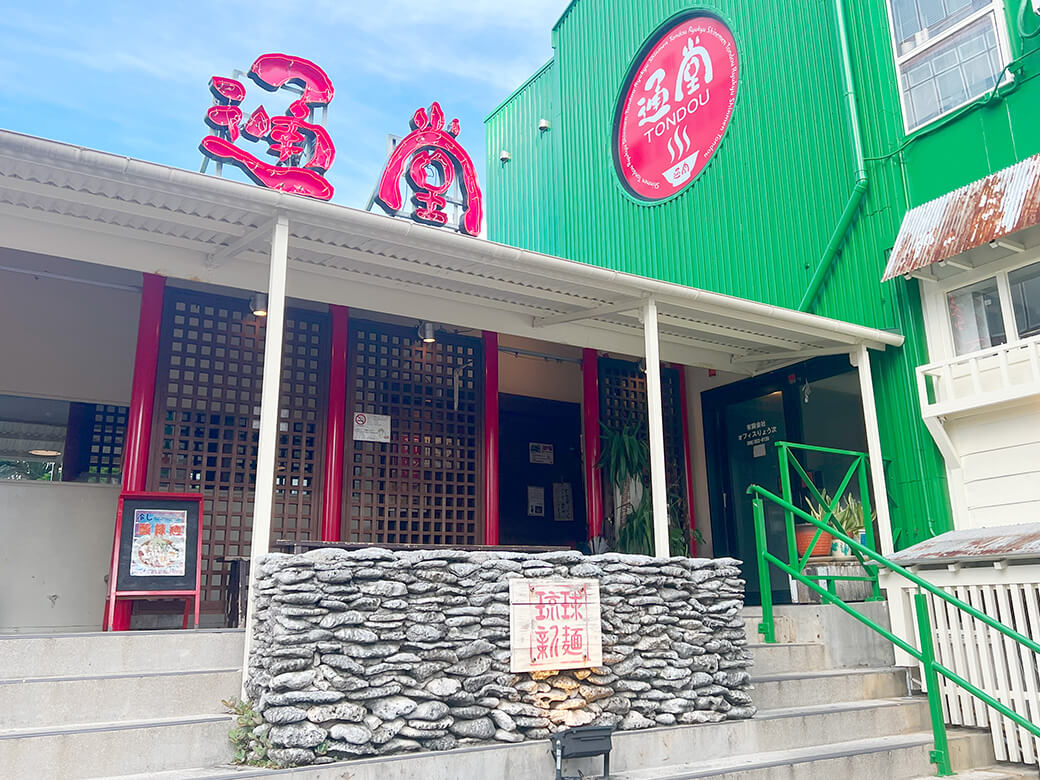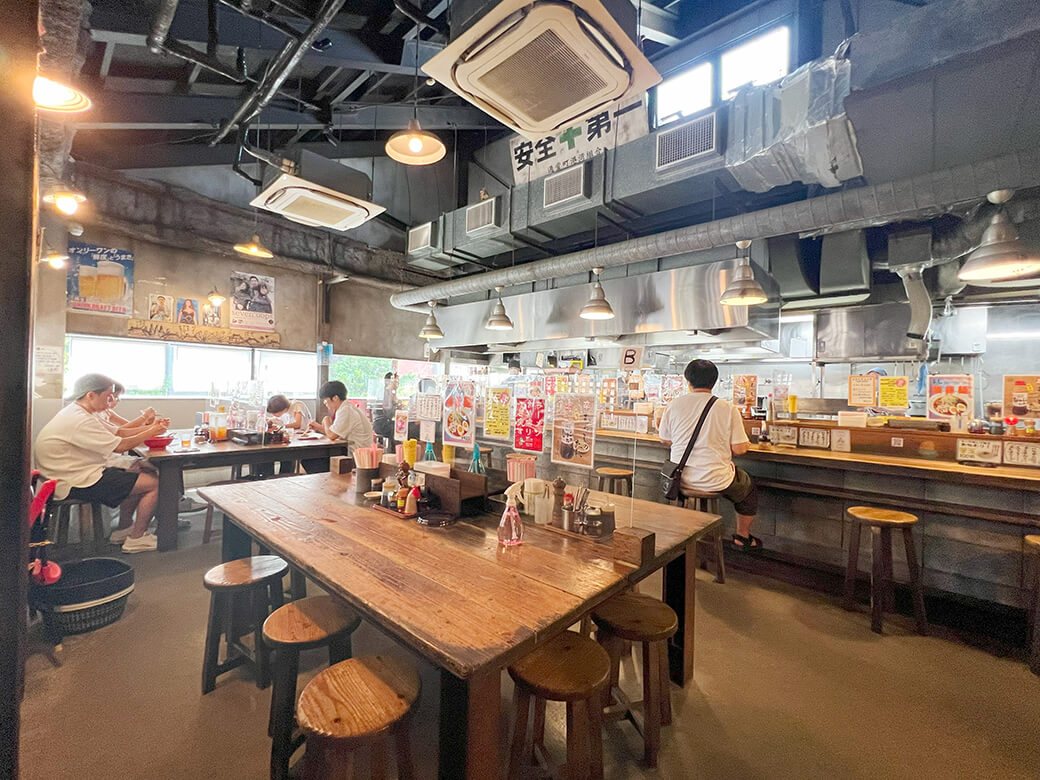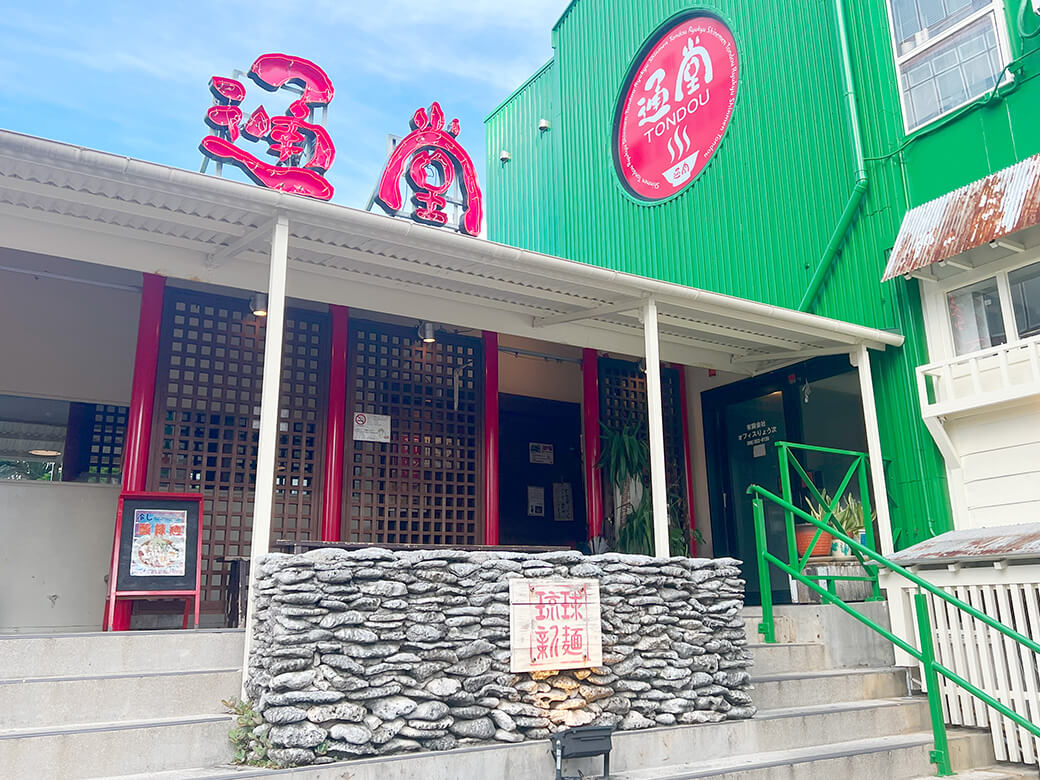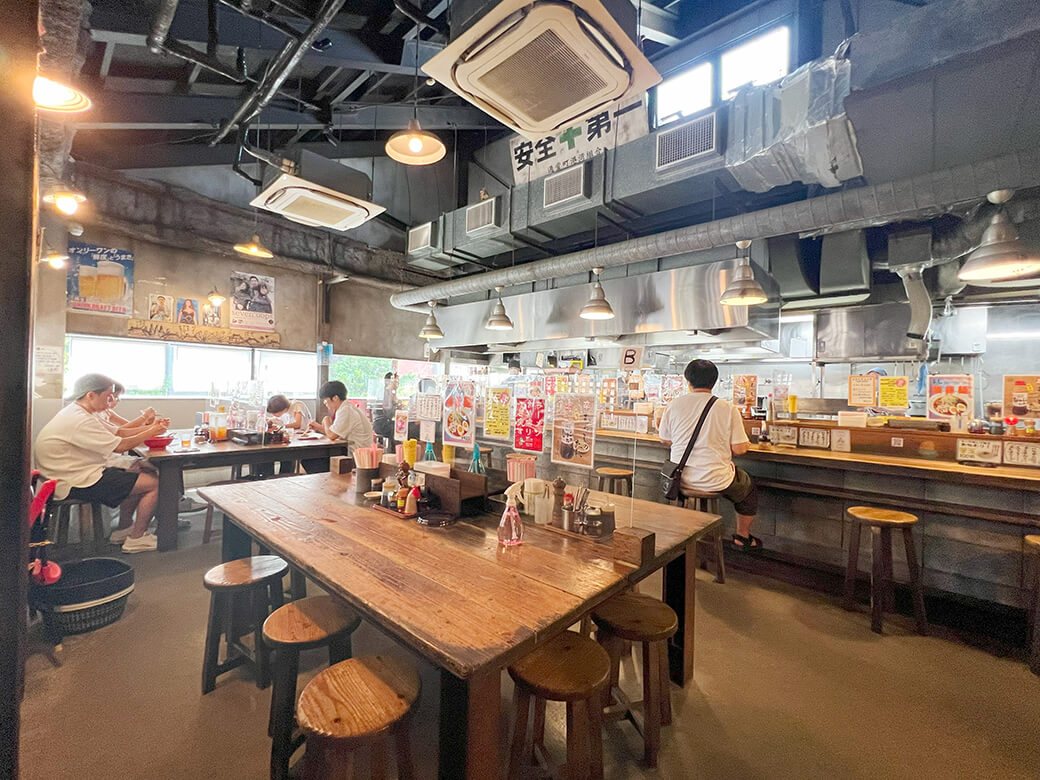 An unforgettable bowl of ramen inspired by the drive to "introduce a local ramen" in Okinawa!
Determined to plant and root a ramen culture in Okinawa, Tondou introduced their original noodles, the Ryukyu Shinmen. Their Tokontsu Ramen and Shio Ramen bring out the best of the Okinawan ingredients with soup that is based on authentic Hakata Ramen. On this visit, I ordered their Tokontsu Ramen. The pork bone broth of the Tonkotsu Ramen was rich and the noodles were thin and with a good texture. Topped on the Ramen were Chasu Pork, Nitamago Egg, bean sprouts, green onions, and Kikurage mushrooms. The Ramen was both flavorful and gentle at the same time. It was delicious and understandable that some regular customers even order the Tonkotsu Ramen to go, too.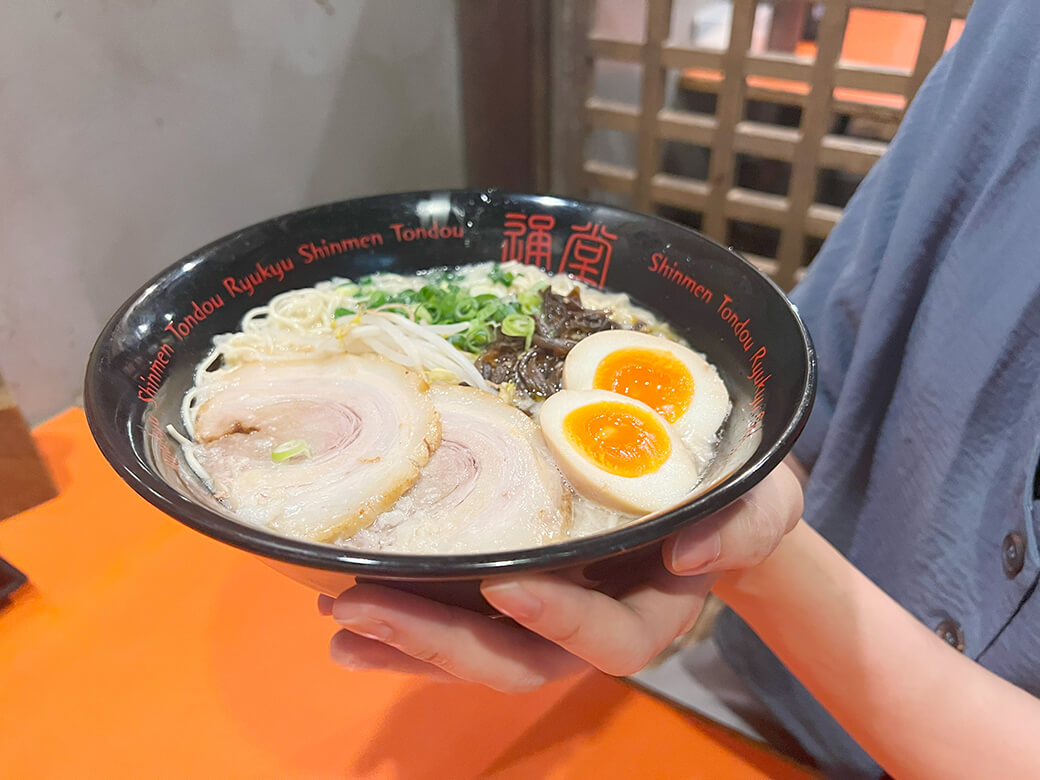 Besides their Ramen, there's another secret to their popularity!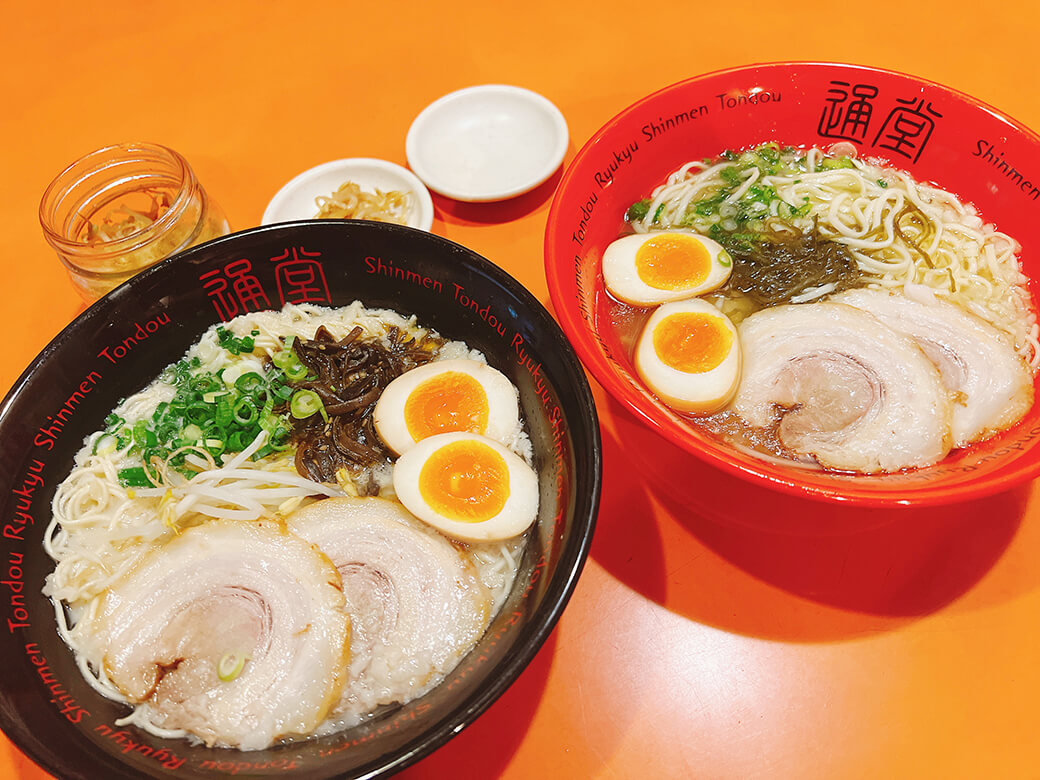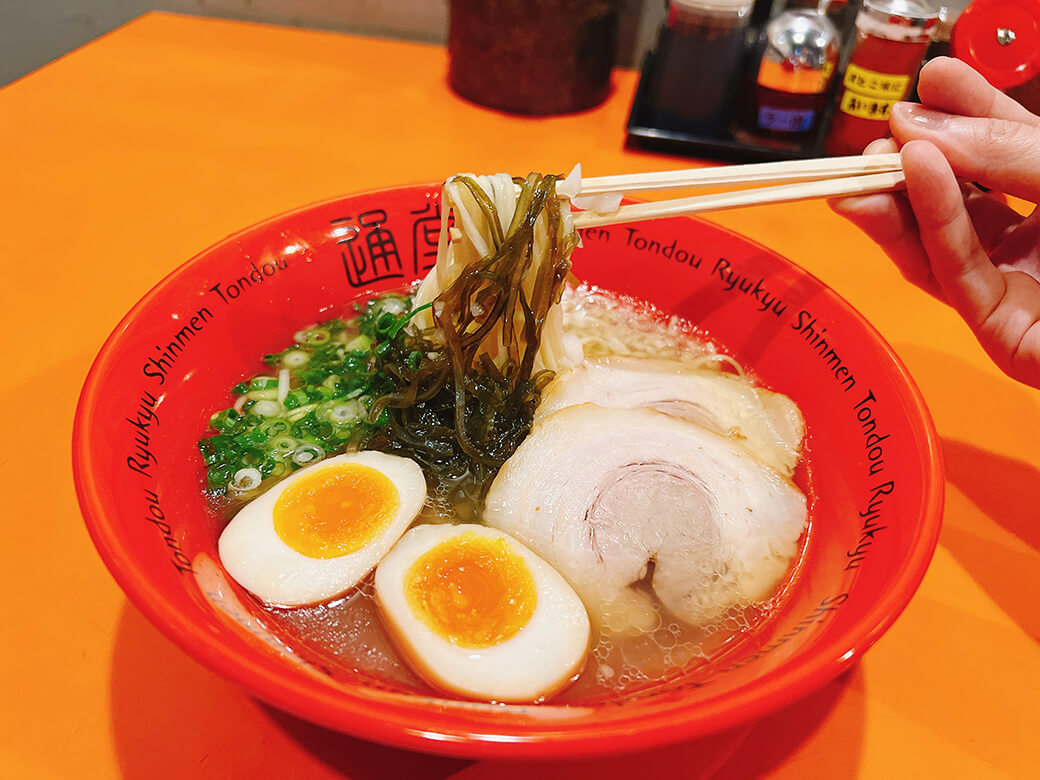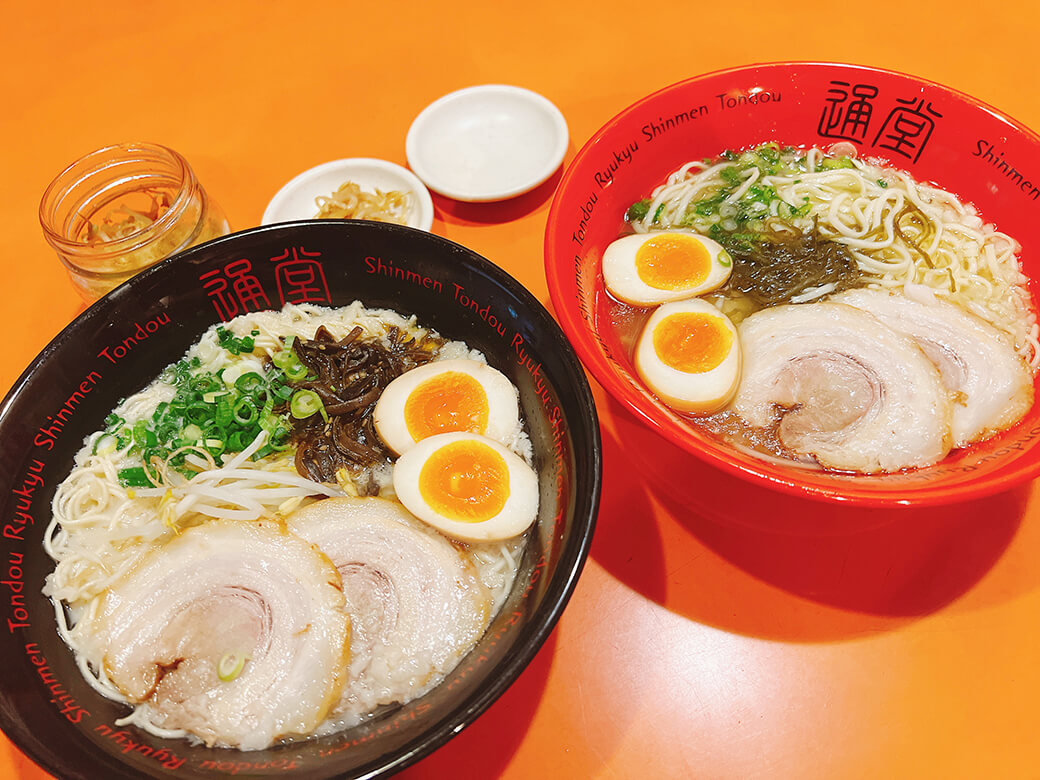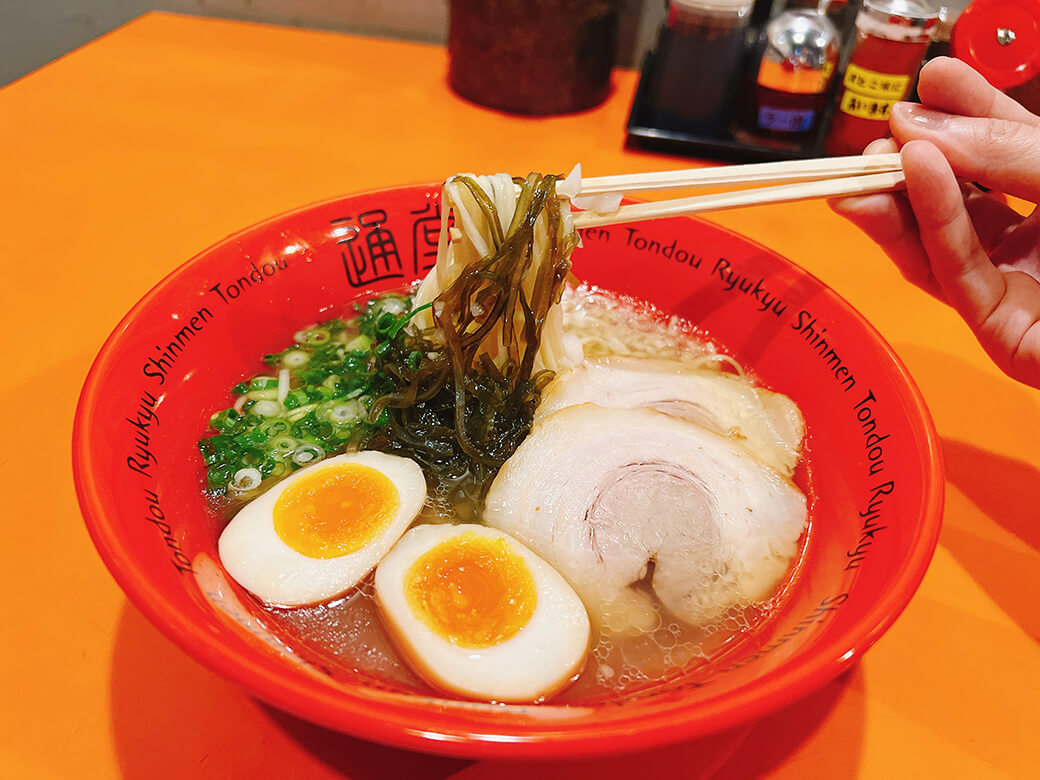 The two major tastes they offer at Tondo are their Otoko Aji and Onna Aji flavors. The Otoko Aji is a Tonkotsu Ramen that comes in a black bowl with a soup that is rich but also gentle and clings nicely onto the thin noodles. The Onna Aji, on the other hand, is served in a red bowl with a clear chicken broth soup that is light but so flavorful that you'll want to drink it to the last drop, with smooth, straight noodles.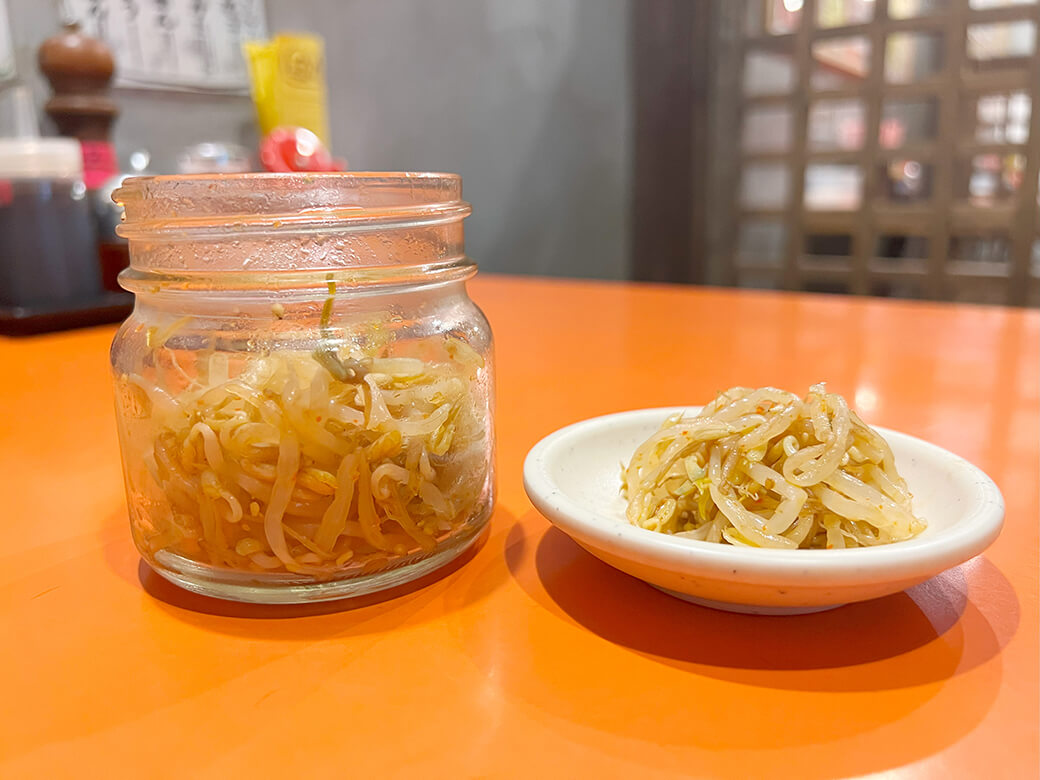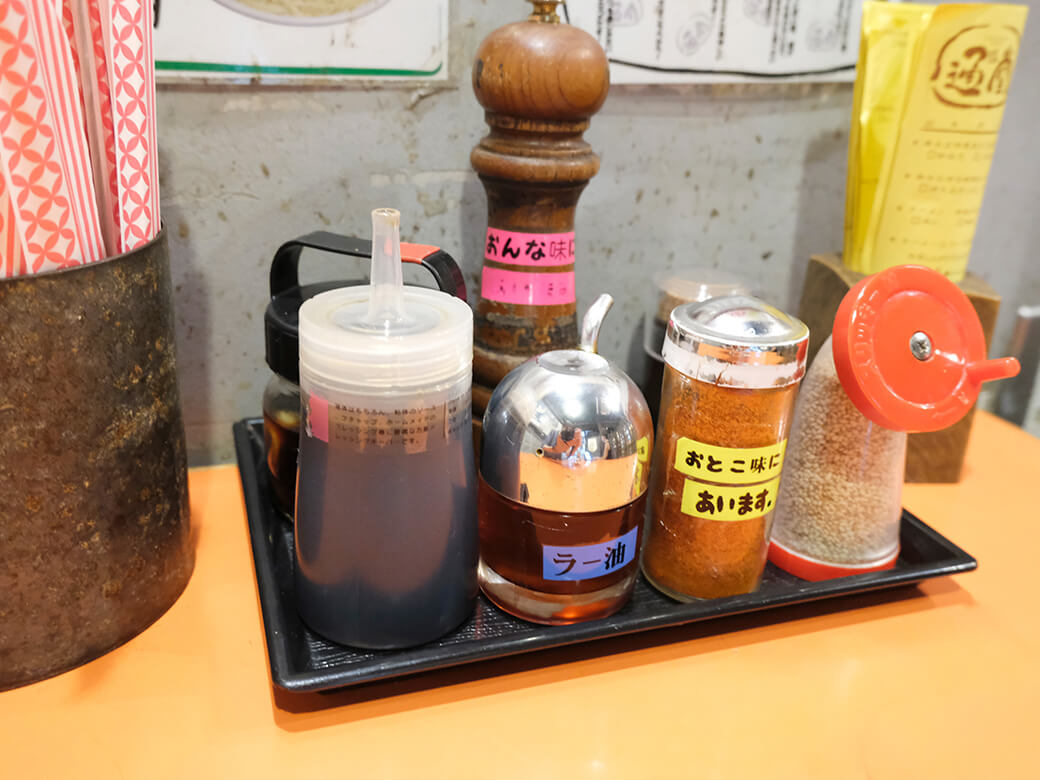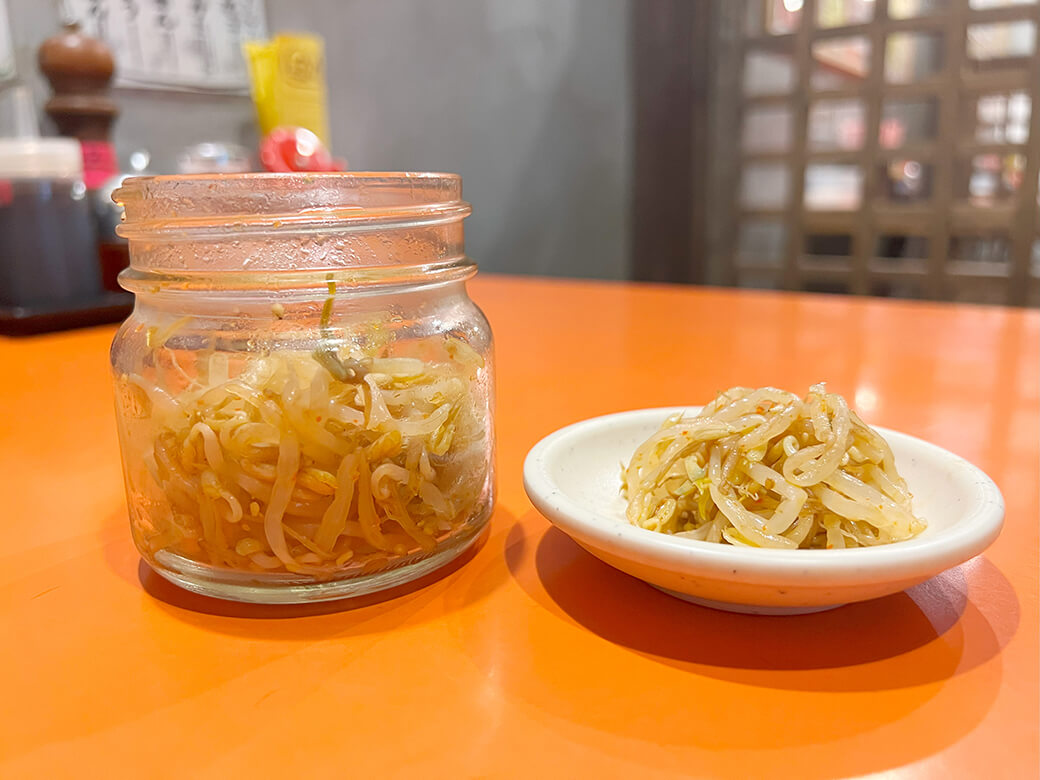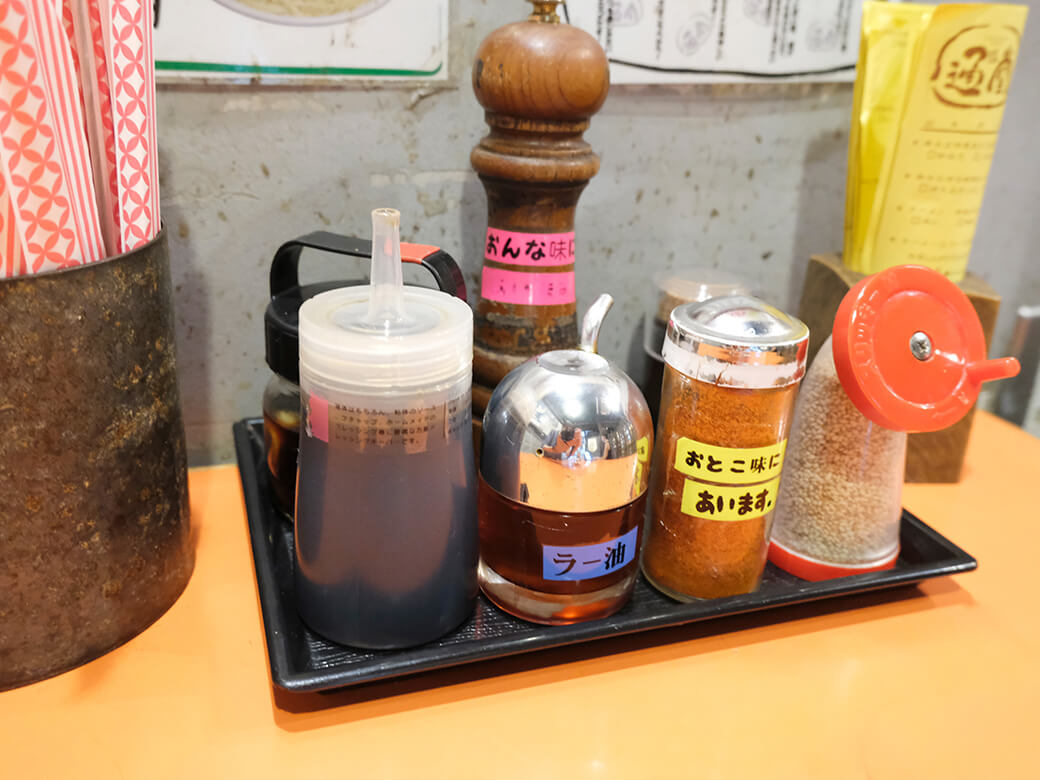 The house-made spicy bean sprouts offered for free for diners is also very popular. We wouldn't be exaggerating if we said that some people come repeatedly to enjoy their special bean sprouts. They really do go well with the ramen and with one bite, your chopsticks will keep going back for more! Be sure to stop by with a healthy appetite!
Other good places to eat ramen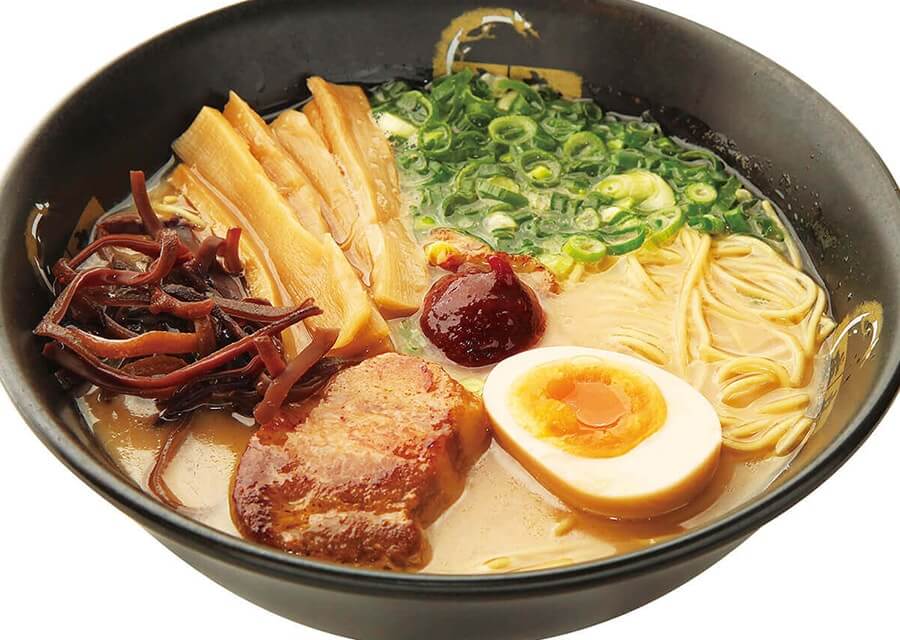 Ramen KORYU, Naha Matsuyama
Kaedama "ordering another serving of noodles only" is also available! Authentic tonkotsu ramen with rich soup
Tonkotsu "pork bone" soup is their specialty! The most popular dish on the menu is "build-your-own ramen," allowing you to choose your own particular firmness of noodles, richness of soup, and 4 out of 8 kinds of toppings -¥800.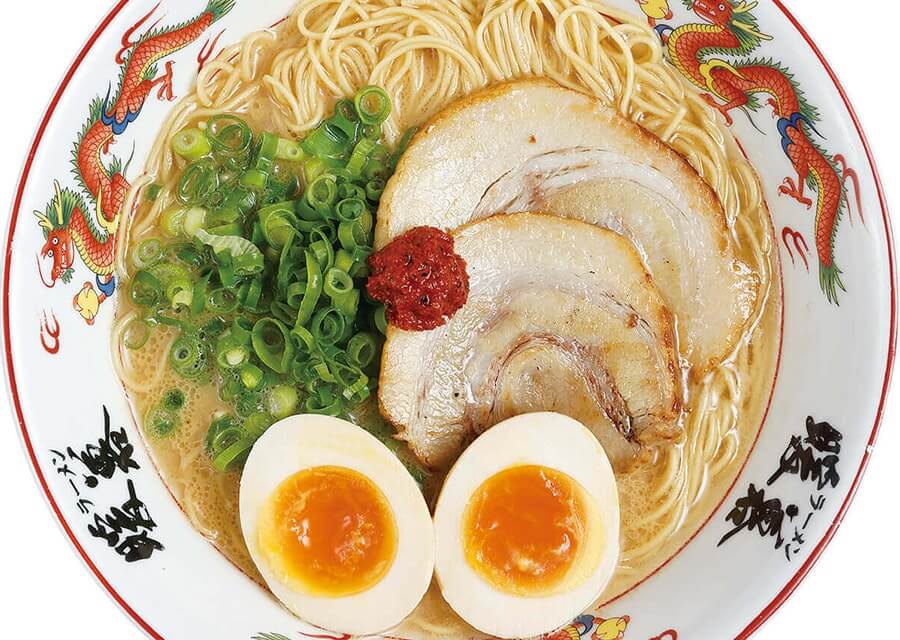 Ramen Restaurant DANBO, Naha Makishi
Tonkotsu ramen so popular they're lining up to try it
The soup is made with a rich broth created by boiling special parts of tonkotsu "pork bone" at high heat and alkaline water. Special thin noodles are cooked not too soft to go with the soup perfectly. This is rich, tasty ramen.