Head straight to Okinawa Churaumi Aquarium with Okinawa Airport Shuttle! Find out more about this excellent bus trip.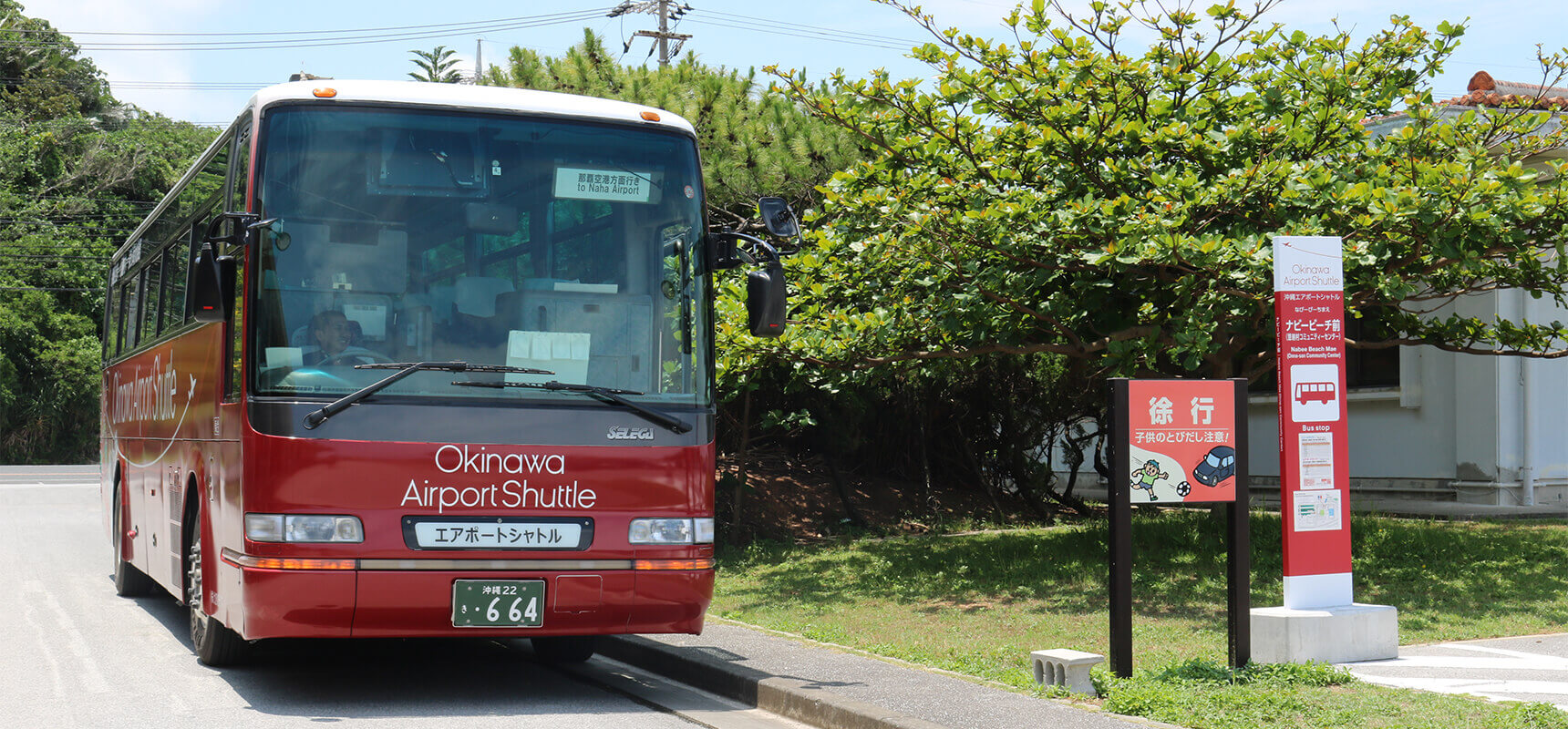 Okinawa Airport Shuttle began operating in May 2018. Take just one bus to get to Okinawa Churaumi Aquarium from Naha Airport! It's about a two-hour drive to get to the aquarium, even on the expressway. Avoid exhaustion from driving and worrying about getting lost by using the bus, and instead just enjoy the scenery and conversations with your friends and family. Since this isn't a guided tour bus, you can come up with your own schedule; it's nice that you have less time restrictions. Here's our report on how to make your trip to Okinawa Churaumi Aquarium even more enjoyable by using Okinawa Airport Shuttle!
The bus design is perfectly Okinawan. Just a glance at it got us excited to see the island!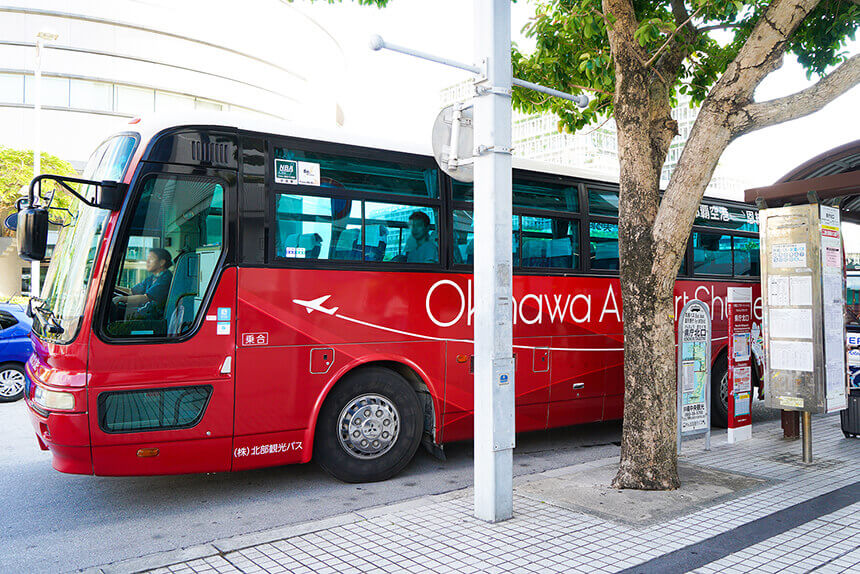 You can board Okinawa Airport Shuttle from some major bus stops in Naha, and the fee is fixed wherever you board in the city. For this trip, we boarded from Kencho Kitaguchi, or the northern entry of the Prefectural Government Office, situated at the entrance of Kokusai Street.A vermillion bus with an Okinawan flower design arrived at our bus stop.
Let's board the bus! You can choose to pay the fare either upon boarding or ahead of time online. If you paid online, simply tell the driver your reservation number and your name. Large items like suitcases can be stored in the baggage compartment; just let the driver know.
Here's our advice if you're heading towards Okinawa Churaumi Aquarium: you'll see the ocean on your left side, so take the seats on the left side of the aisle! If there aren't any, try sitting in one of the front rows and check out the water from the front.
Heading into Onna, a resort town. We couldn't help but take a bunch of pictures of the beautiful scenery!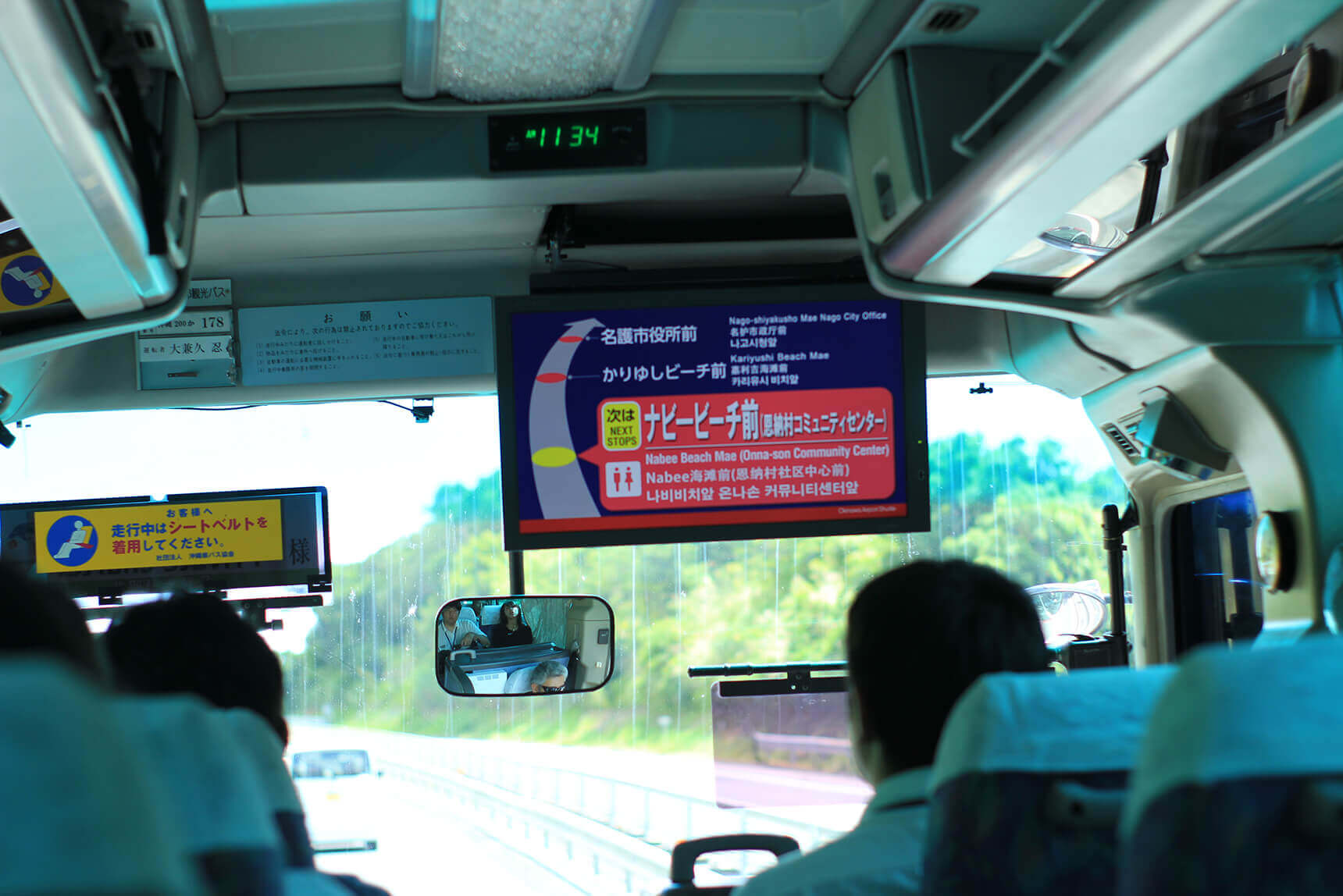 The stop after Omoromachi Ekimae Hiroba is Nabee Beach Mae in Onna, which is 40km from Naha. The shuttle takes the expressway in between the two stops; there are no traffic lights or stops, so the ride time is shorter than before.
After getting off the expressway, the bus takes local roads to get to Onna, one of the best resort towns in Okinawa. The ocean view from the large windows (that go as high as the ceiling and go as low as your waistline) is spectacular! Kids will be able to see the view, too, without getting up—they will love it for sure! Free wi-fi is available on the bus (no password needed), so you can upload your pictures right away on social media.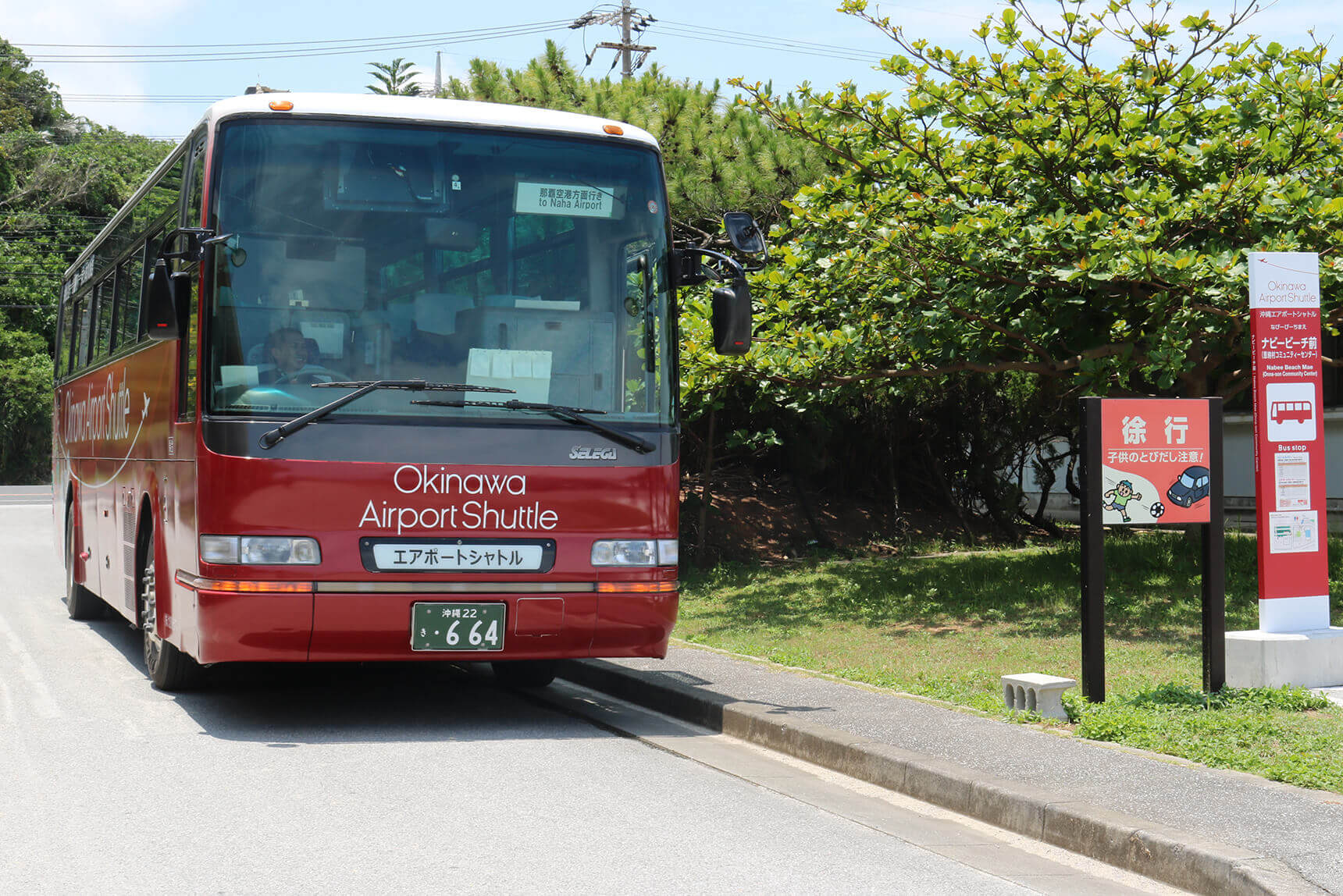 We didn't realize how far we'd already come until we got to Onna's Nabee Beach Mae stop. The ride felt so short because we were keeping ourselves busy watching the scenery and looking up things on the internet. There will be a 10-minute bathroom break here. It's an hour drive from here to Okinawa Churaumi Aquarium, so we recommend that you stretch during this time.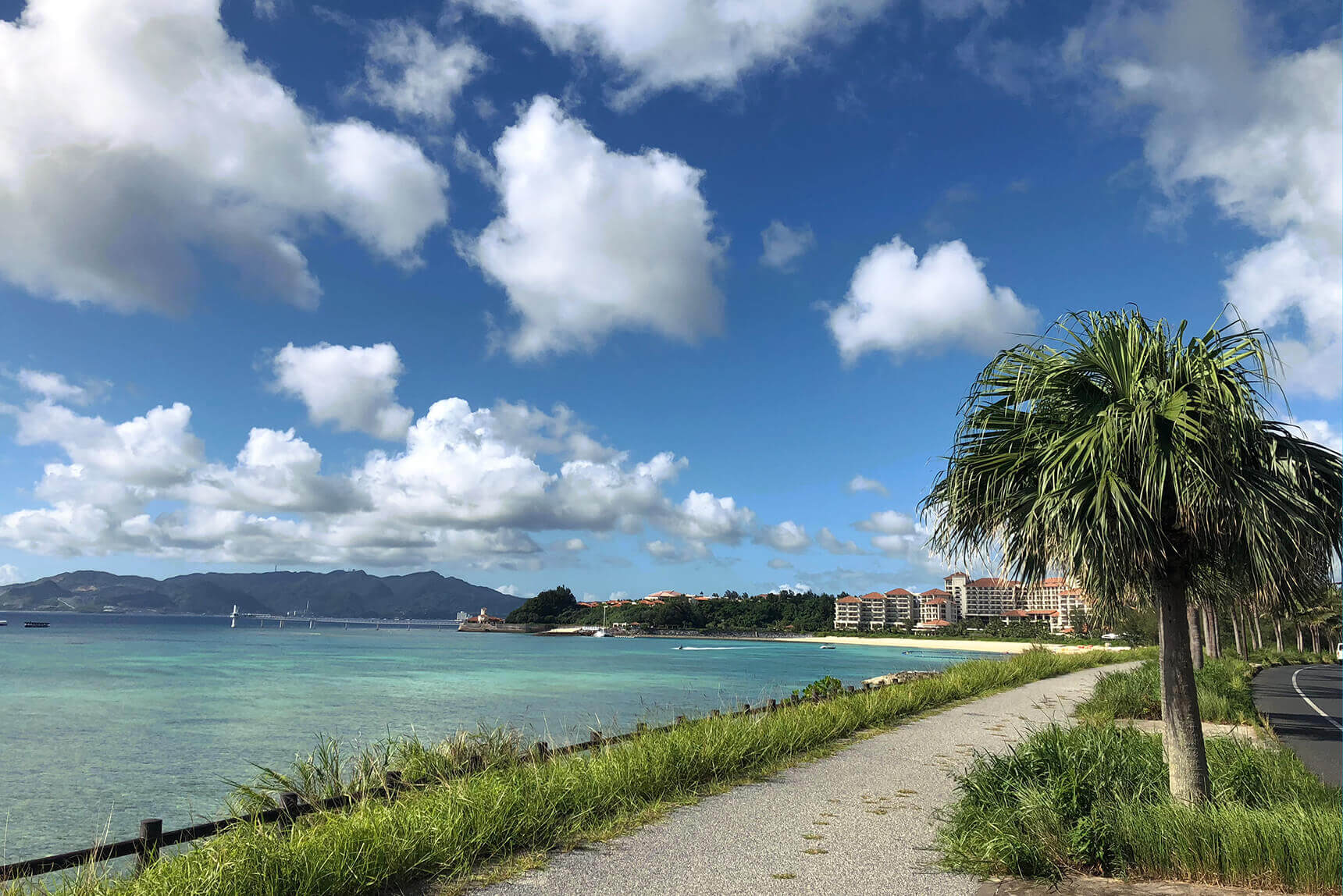 The bus will make four stops before it gets to the aquarium. All of the announcements on the bus will be in Japanese, English, Chinese, and other languages, so you will know when to press the "get off" button, even if it's your first time riding the bus or if you're from abroad.
Getting close to the destination! We have more to share with you on the amazing bus trip.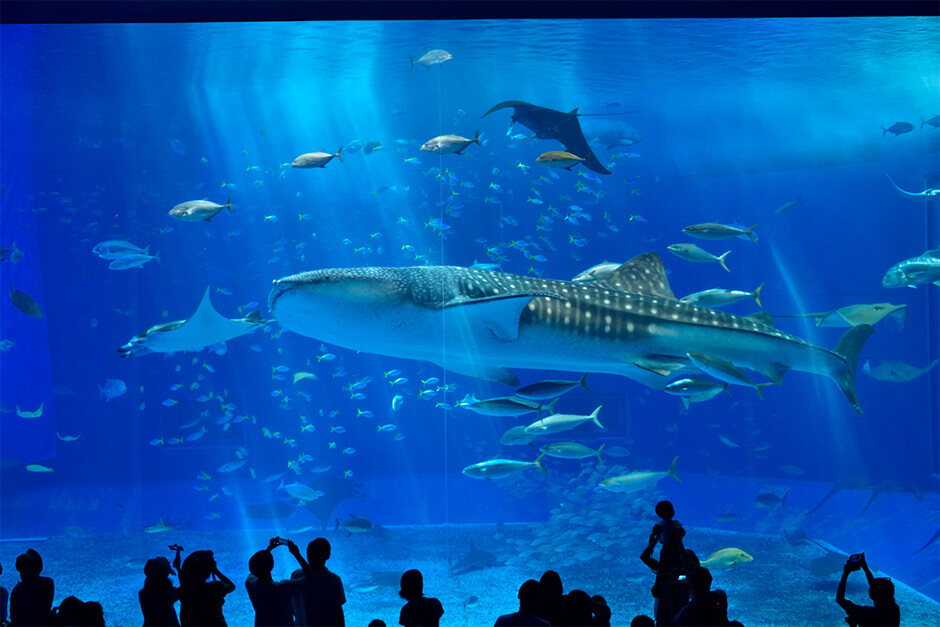 Photo provided by OCEAN EXPO PARK (Okinawa Churaumi Aquarium)
Get off at Kinenkoen Mae and head to Okinawa Churaumi Aquarium! It's always a hassle trying to find a parking spot at the aquarium because it's one of the most popular tourist destinations in Okinawa. But we didn't even have to deal with it because we came by bus. Nothing could get us down before getting to the aquarium.
Okinawa Airport Shuttle is perfect for people who want to thoroughly enjoy Okinawa Churaumi Aquarium. When you're on a guided tour, you always have to worry about getting back to the bus by a certain time. But that's not necessary with Okinawa Airport Shuttle. They run as many as 25 buses in a day, so you can stay at the aquarium however long you want. The last bus leaves at 19:02; the bus comes every hour until then. It's amazing that you are in control of your stay at the aquarium.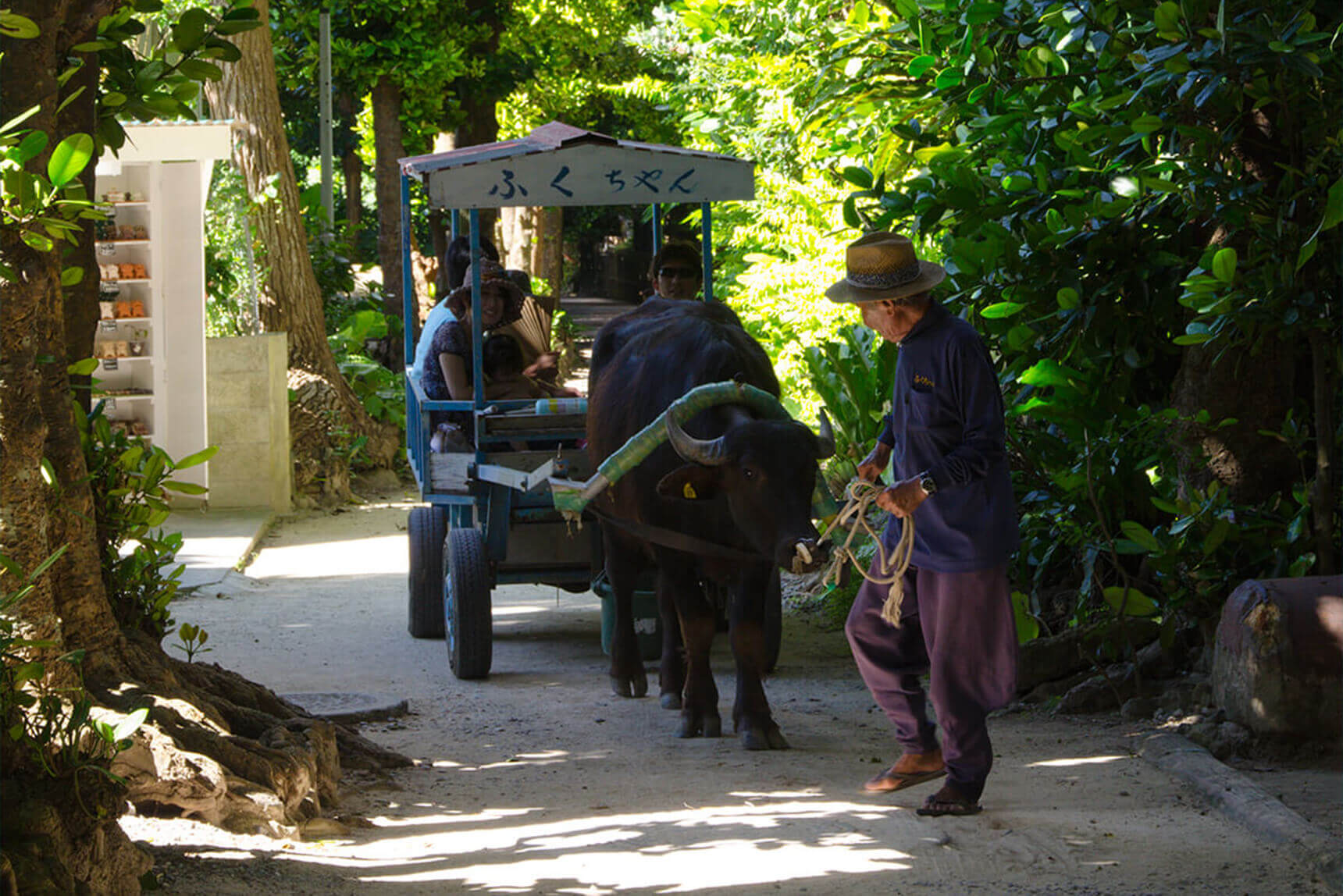 We took a 10-minute walk to Bise Fukugi Tree Street after the aquarium. It's a popular "power spot," with approximately 20,000 fukugi trees lined up. You can take a walk, rent a bicycle, or take a water buffalo-drawn carriage. To get back to Naha, catch a bus at the Hotel Orion Motobu Resort & Spa bus stop. It's a 6-minute walk from Bise Fukugi Tree Street.
You can call yourself an Okinawa connoisseur if you learn to utilize the bus this way: the advanced way to use Okinawa Airport Shuttle!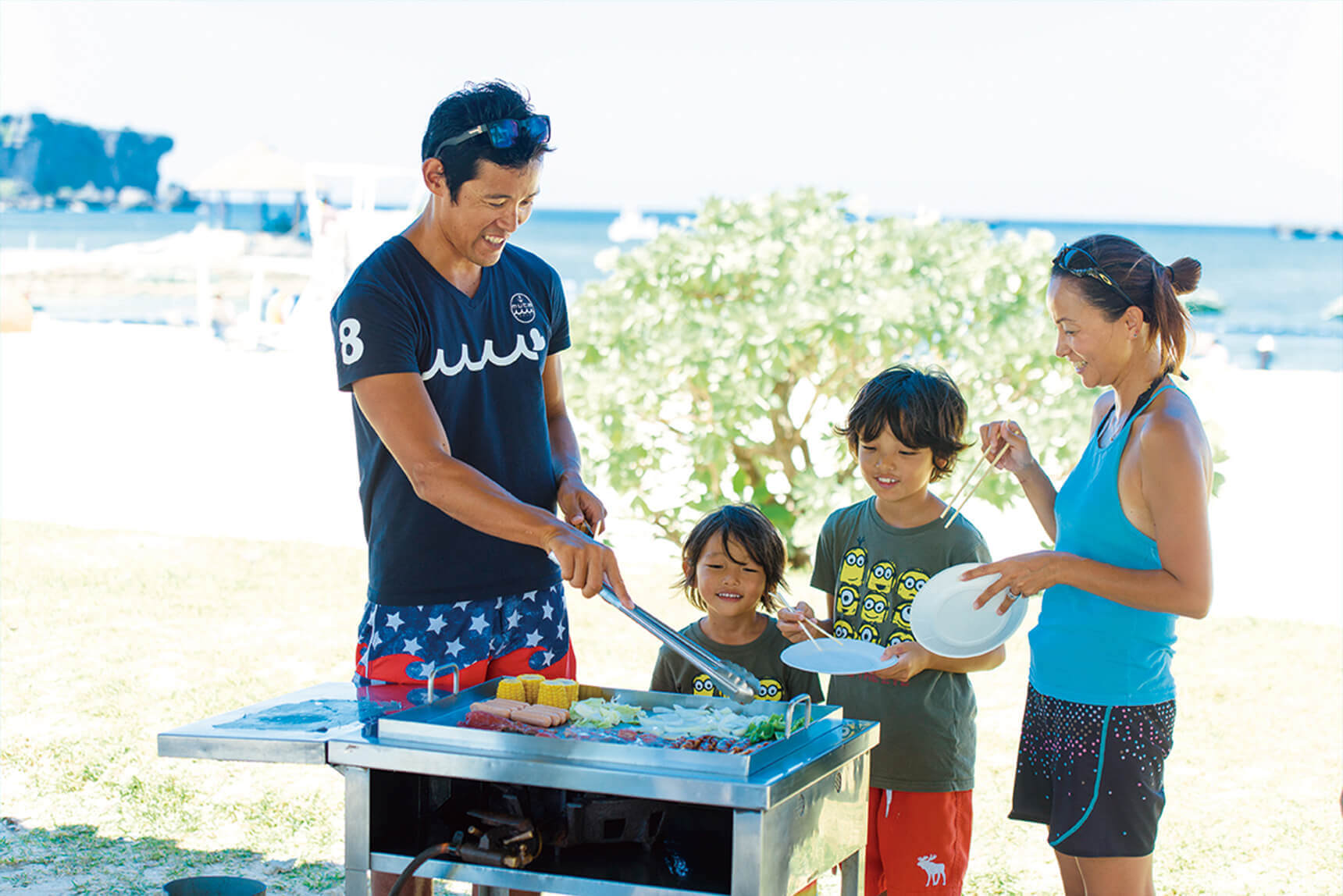 Okay, so you checked out all of the major tourist destinations, and now you're ready to head back to your hotel in Naha… Before you do that, squeeze in one more activity! If you get off of the bus at Nabee Beach Mae, you get to BBQ at the beach as you watch the sunset. Enjoy every bit of Okinawa with a beach BBQ, which is popular among Okinawans. You do not need to take your own equipment, food, or sauces. No need to take the trash back to the hotel either. (*Reservations required.)
---
With Okinawa Airport Shuttle, all you need to do is to ride the bus. You can drink during BBQ, plan for the following day while on the bus, and take a nap on the bus, too.Experience a more carefree and relaxing Okinawa trip with Okinawa Airport Shuttle, a new means of transportation on the island!