Okinawa consists of 4 big islands of the mainland, Ishigaki, Iriomote and Miyako, and other approximately 160 smaller islands. They also are surrounded by an ocean of coral reef which excels at leading the world in transparency, and valuable animals and plants inhabit the forests and groves.
Naha a City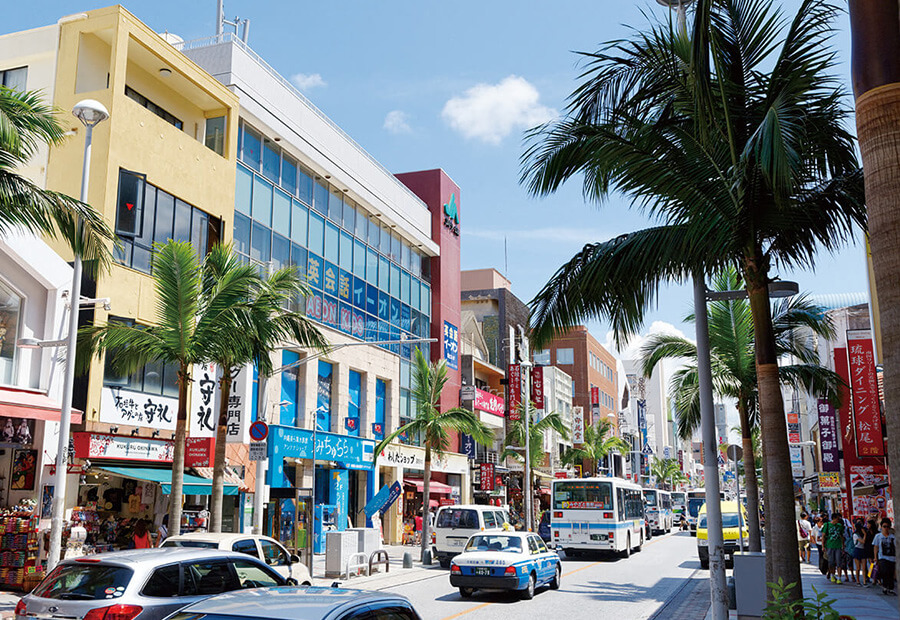 The main sightseeing areas of Naha areKokusai Dori and Shurijo Castle. Kokusai Doriis the busiest street, with department stores,souvenir shops, eateries and so on. Around Shurijo Castle, a World Heritage Site, you cansee many valuable cultural assets. Both areasare subject to frequent traffic congestion, soit's recommended to take the monorail, walk,or rent a bicycle.
Transit Mall In Kokusai Street
【DATA】Every Sunday,12:00~18:00 【Place】 Kokusai Street *Traffic is regulated and automobiles, and other vehicles are prohibited in principle.
Makishi Public Market

Here you can see Okinawan fish, pork, fruit, island vegetables and other unusual ingredients. You can have the foodstuffs you buy in the market cooked for you in the cafeteria upstairs.

Tsuboya Yachimun Road

The pottery district with a 300-year history. Stroll among the pottery studios, galleries and kiosks and find yourself a treasure.

Shintoshin

An area featuring DFS Galleria Okinawa and a shopping center with over 130 overseas brands.
The stone pavement way of Kinjo town

It is an old stone path of approximately 300m leading to the south side of the Shurijo Castle, which has been extended for 500 years.

Shurijo Castle

The castle was the royal court and administrative center for the culture/government/diplomacy of the Ryukyu Kingdom for 450 years. The present building was restored in 1992. *PHOT provided by Okinawa Commemorative National Goverment Park Shurijo Catsle Park

The stone gate of Sonohyan Utaki

It is the place where the king prayed for national prosperity and for the safety of his parading out of Shuri castle. The gate is made of Ryukyu limestone.

Tama-udun

It is a long line of huge imperial mausoleums from the Second Sho Dynasty. It is said that King Sho Shin built it to transfer his father King Sho En's remains in 1501.

Shikinaen

It is the biggest imperial Ryukyu household villa, which was built at the end of the 18th century. It was used not only as a rest room for the imperial family but also as a place to entertain the Imperial Chinese missions called Sakuhoushi.